This post contains affiliate links. Please read my disclosures.
Eccles Cakes are a traditional British tea time treat. Beautifully flaky gluten-free pastry bursting with fruit and spices.
I have always made Eccles Cakes regularly, they are both my mum's and Luke's favourite teatime treat so if either of them are ever in need of spoiling or cheering up then there is no better place for me to start than by whipping them up a batch. I can never make too many, they always seems to disappear as quickly as I can produce them.
What are Eccles Cakes?
Eccles Cakes are more pastries than cakes really and have a history dating back three hundred years. They hail from the town of Eccles in the North of England and like a lot of traditional recipes are remarkably similar to the Banbury Cake and the Chorley Cake with little discernible difference.
It's the Eccles Cake though that is the most familiar since its commercialisation in the 1970s means you can pick up a dry doughy sub-par version in a packet at most supermarkets. If these are the only versions you have tasted then you absolutely have to try your hand at making your own.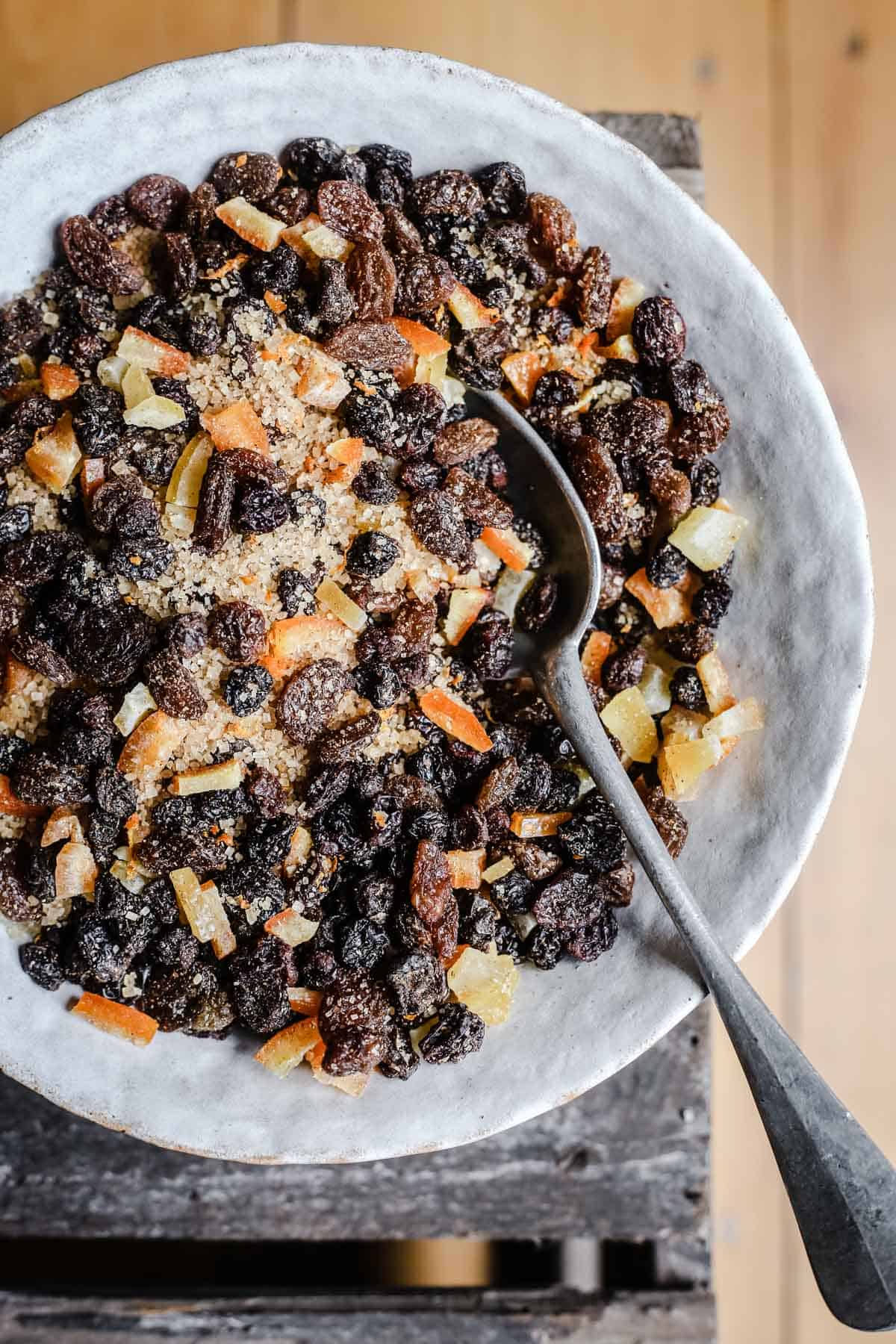 How do you make Eccles Cakes?
As like most old recipes there is debate about how a real Eccles Cake should be constructed. To my mind they are best when they are made from flaky pastry, rather than puff, to encase a luscious filling of spiced juicy fruit.
Here we use currants and sultanas and also include a couple of tablespoons of Homemade Mixed Peel. If you don't have any Homemade Mixed Peel knocking around the kitchen then you could obviously use shop-bought. However, a tablespoon of marmalade also gives a lovely citrus taste (since our family is not a fan of bought mixed peel).
The fruit is sprinkled with orange zest, cinnamon, mixed spice and nutmeg then held together with melted butter and sugar. Once the filling has rested for 1 hour you are ready to fill your Eccles Cakes. Once it has been tucked inside its pastry casing it is baked until golden brown with a sprinkling of crunchy demerara sugar on top.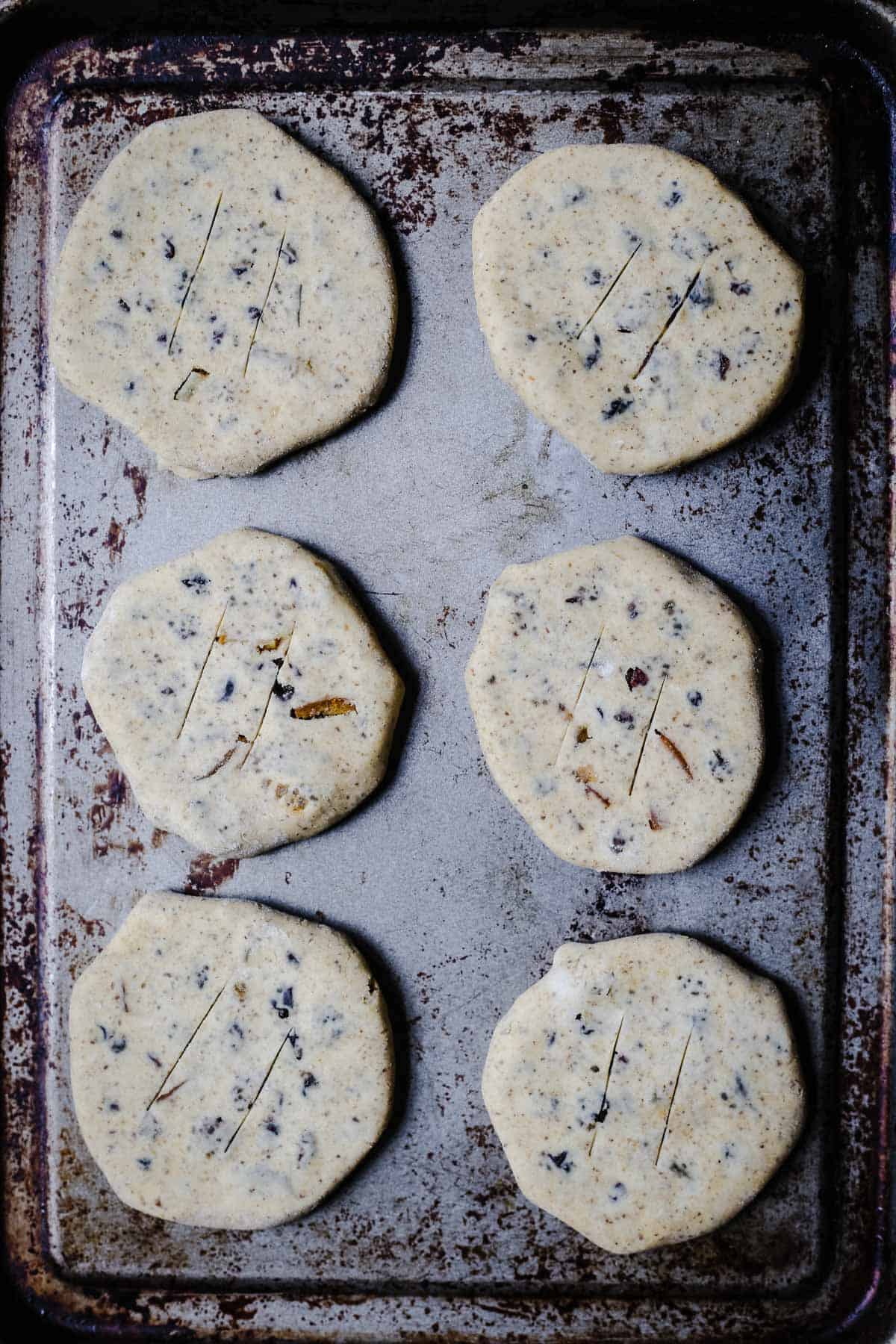 Really there is no substitute for the homemade Eccles Cake, in particular if you time it perfectly and can present your offerings straight out of the oven. The scent of spice as you bite in is intoxicating, the fruit oozing from within as the pastry flakes at the corners of your mouth. If you're especially lucky the buttery filling might have made a bid for freedom outside of the pastry during the bake so the sugar has caramelised chewily around the opening.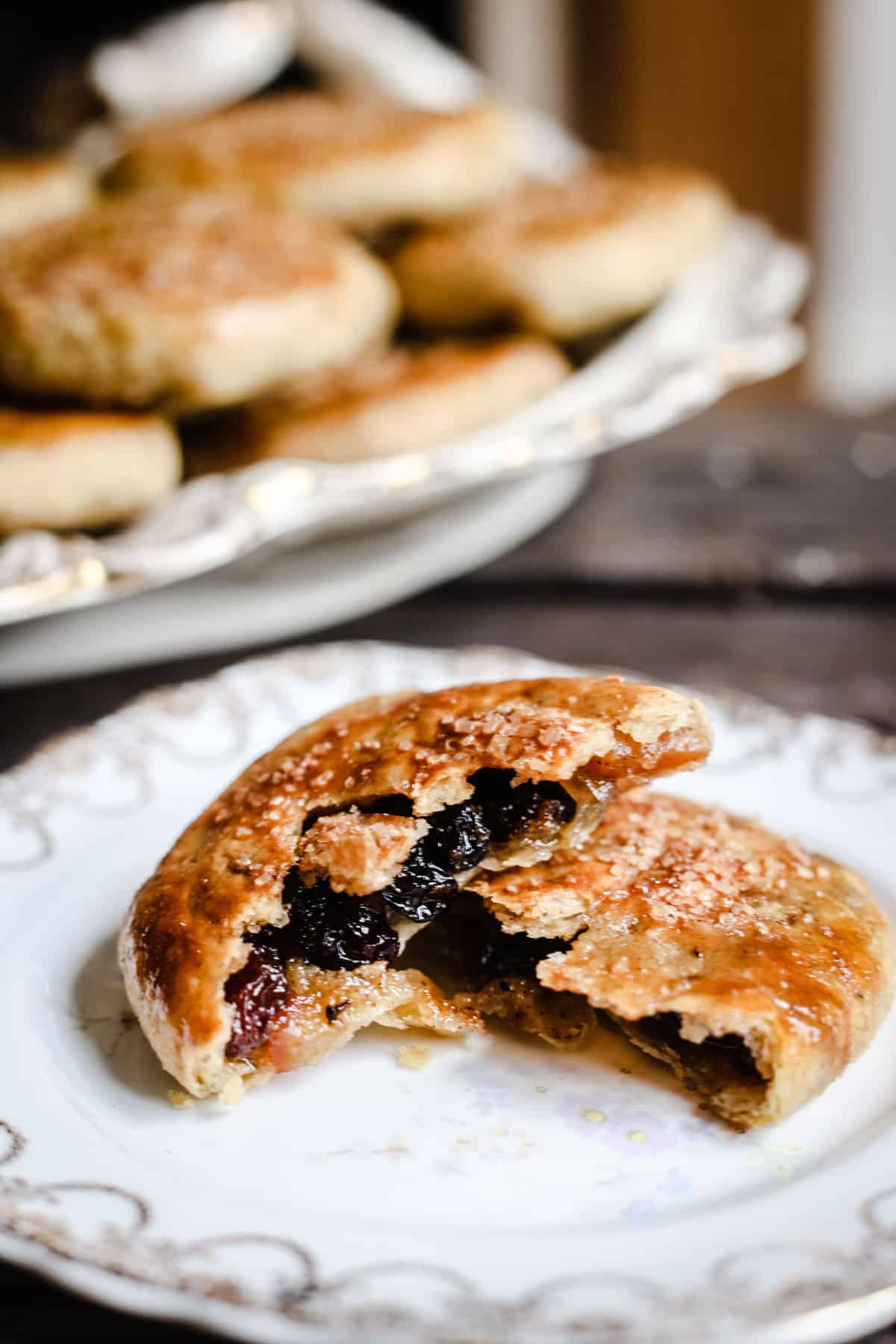 I think Eccles Cakes may have been one of the first recipes I cracked when I had my own kitchen many years ago and I have found over the years there is a definite knack to getting them absolutely perfect. Of course the game completely changed when I became gluten-free a few years ago and I had to find a new pastry to make my Eccles Cakes with.
Gluten-Free Flaky Pastry
I have tried a few gluten-free flaky pastry recipes but the one I have listed below is the closest to the real deal and comes courtesy of an adaptation of Alanna Taylor-Tobin's Flaky Pie Dough in her book Alternative Baker
. The list of ingredients is long but necessary and actually once you have measured it all out then it is just as easy to come together as the wheat version I made in days of yore.
The pastry rolls really well and is actually quite forgiving thanks to the inclusion of chia seeds which act a little bit like gluten in that it gives the pastry stretch so is more pliable when it comes to filling your pastry rounds with the fruit filling.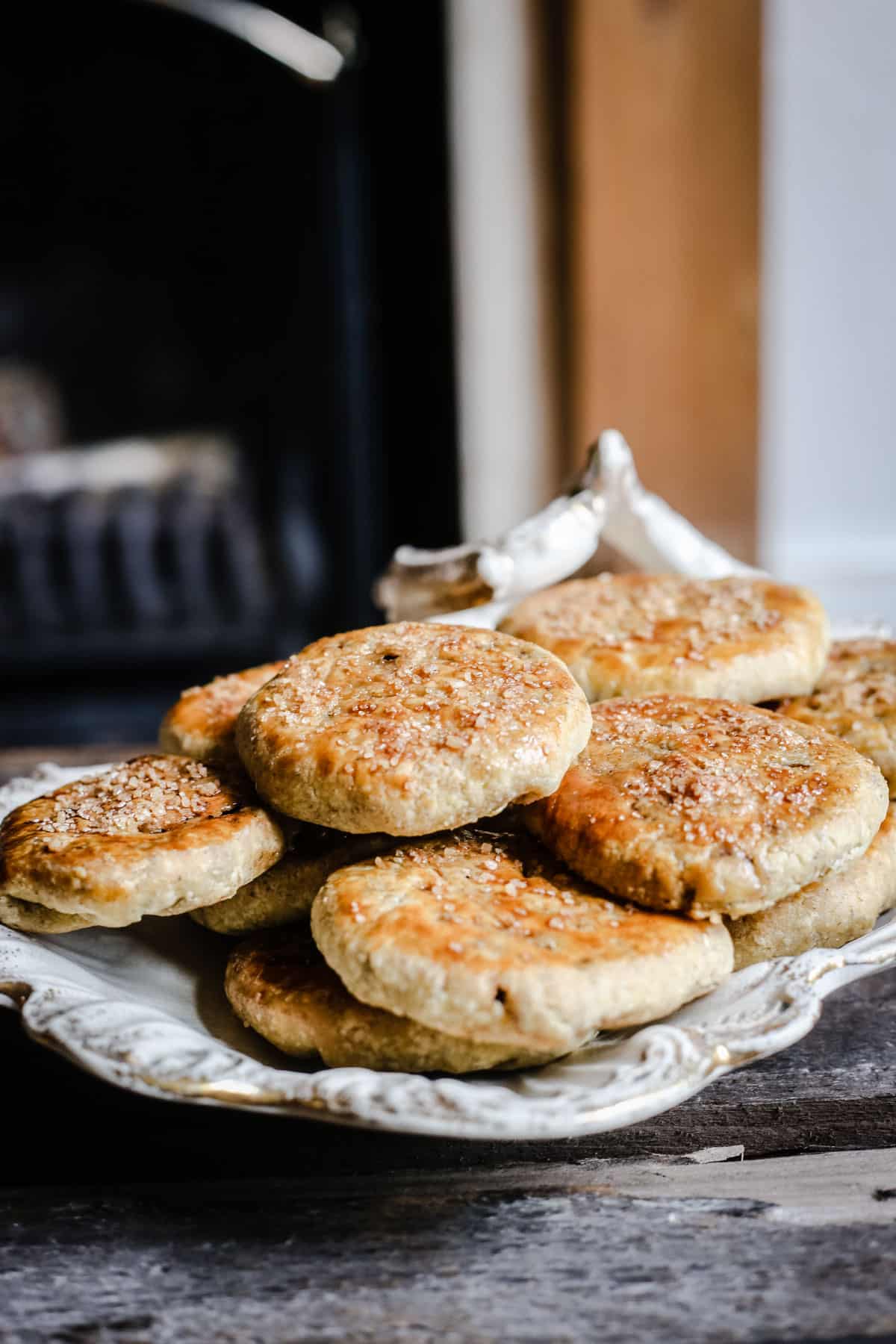 How to assemble Eccles Cakes
The key to a successful Eccles Cake is to roll the pastry to a 3mm thickness which isn't too thick or thin. I bought a special metal cutter for my Eccles Cakes which is 12cm in diameter and makes for a perfectly sized Eccles Cake.
The filling shouldn't be too wet either. Let the filling rest for about an hour before using so it can be dry enough to scoop into the pastry without making it soggy.
Don't overfill your Eccles Cake. Otherwise the pastry will break and the filling will spill out. Two teaspoons is plenty.
Pull the dampened edges of the pastry over the top of the filling to stick together. You don't want the fruit to puncture the pastry.
If you have rolled the pastry a bit thin and it does break a little then simply grab a little excess pastry and patch it up.
To finish, you turn the little pastry ball over and roll it out a fraction with your rolling pin to flatten it into a beautiful round. Then slash the top a couple of times with a sharp knife so the steam has somewhere to escape. Brush with a little egg wash to give it a lovely golden hue and sprinkle over the demerara sugar before baking.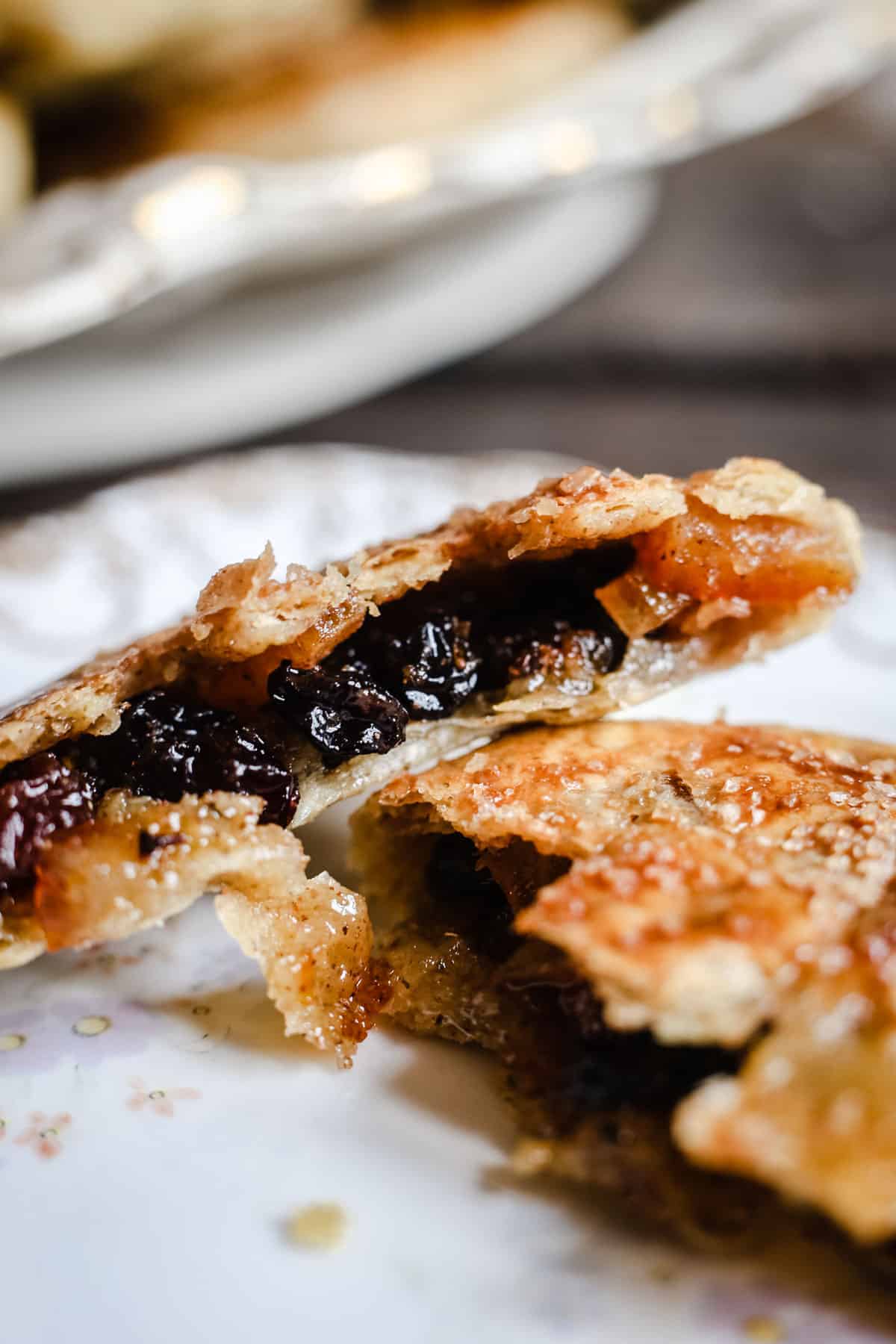 When I asked Luke why he loves Eccles Cakes so much he waxed lyrically about how the filling is spread thinly and evenly between the buttery flaky layers of the pastry, so the treat is rich but light and not heavy like the way mince pies can be a little cloying. He's so right but this is what also can make the Eccles Cake a little dangerous as eating more than one is very easy to do.
The best way to serve Eccles Cakes
The traditional way to serve an Eccles Cake is with a lovely wedge of Lancashire Cheese and if you're lucky enough to take a table at St John's Restaurant that is exactly how they serve it as part of their dessert menu. It's the best of both worlds with the perfect balance between a cheese course and a pudding course.
Still if there happen to be Eccles Cakes in our kitchen at breakfast time then that's how we eat them here.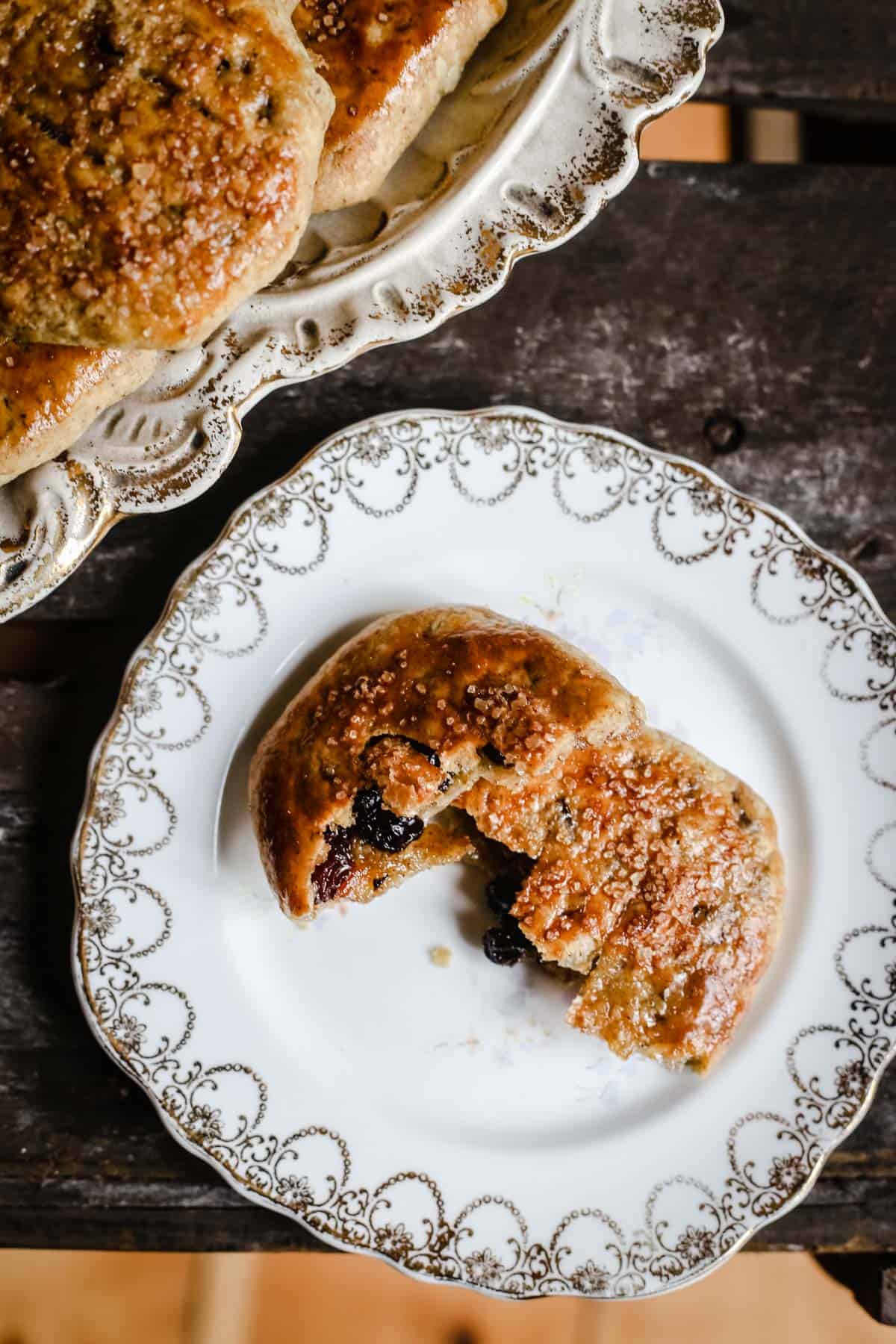 Shop the Recipe:
Would you like more traditional British tea time recipes?
I urge you to give these Eccles Cakes a try. If you do then please leave a comment below and give the recipe a rating which helps others find the recipe on Google. If you then go on to use this recipe as a launch pad for your own culinary creation then I'd also love it if you'd share it and tag me on Instagram. It is so lovely for me to see your versions and variations of my recipes.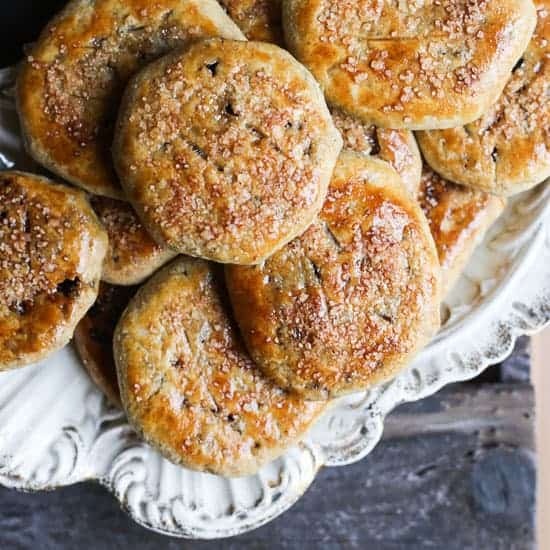 Gluten-Free Eccles Cakes
There is nothing more inviting than a freshly baked Eccles Cake, warm from the oven, the pastry beautifully flaky and the spiced plump fruit just short of bursting through its buttery trappings.
Ingredients
Filling
100

g

unsalted butter

120

g

currants

80

g

sultanas

50

g

mixed peel

-

preferably homemade*

125

g

demerara sugar + extra for sprinkling on top

Zest of ½ orange

½

teaspoon

cinnamon

1

teaspoon

mixed spice

¼

teaspoon

nutmeg
Gluten-free flaky pastry*
80

g

sweet white rice flour

40

g

oat flour + 4 tablespoons for rolling out the pastry

35

g

millet flour

30

g

cornflour

15

g

tapioca starch

15

g

ground chia seeds

½

teaspoon

sea salt

115

g

cold unsalted butter

-

straight from the fridge

1

egg

-

medium, lightly beaten

2-4

tablespoons

cold whole milk

2

egg yolks

-

for glazing the Eccles Cakes

2

teaspoons

whole milk

-

for glazing the Eccles Cakes
Instructions
First make the filling by melting the butter in a large saucepan over a low heat.

Once fully melted, pour in the rest of the filling ingredients, stirring thoroughly to make sure everything is coated in butter. Set aside for 1 hour and make the pastry in the meantime.

To make the pastry, combine the flours, chia seeds and salt into a large mixing bowl.

Grate the cold butter into the flour then gently mix together with your fingertips so the mixture turns quite shaggy.

Stir in the beaten egg with a fork.

Add the cold milk one tablespoon at a time and start to bring the dough together with a pastry scraper. It should start to form quite quickly. It should be slightly sticky to the touch.

Tip the dough onto the work surface and quickly bring the ball into a round ball with your hands. You don't really need to work the pastry as there's no gluten to activate.

Wrap the pastry ball in cling film and flatten it slightly to make it easier to roll out when ready.

Place in the fridge for an hour to chill.

When you are ready to assemble the Eccles Cakes pre-heat the oven to 170°C.

Take the pastry out from the fridge, remove the cling film then tear the pastry in half to make it easier to roll out. Use the extra oat flour to dust the worktop and the rolling pin.

Roll out the pastry to about 3mm thickness then cut out circles of pastry using a 12cm round pastry cutter.

Spoon in two teaspoons of filling into the centre of each round.

Whisk the egg yolks and whole milk together into a small cup.

Damp the edges of the pastry lightly with the egg yolk and milk mixture, then bring all the sides together, pressing firmly to seal.

Flip each Eccles cake over then gently roll out with the rolling pin to flatten slightly so the filling is just showing below the surface.

Set the Eccles Cakes onto a large baking tray, using a sharp knife make two little slits in the centre of each cake then brush each surface with the egg yolk and milk mixture and sprinkle with demerara sugar.

Bake for 15 minutes until golden.
Notes
*Pastry adapted from the Flaky Pie Dough recipe in Alanna Taylor Tobin's Alternative Baker
*As I am not a big fan of shop-bought mixed peel if I do not have any Homemade Mixed Peel to hand then I often add in a couple of tablespoons of orange marmalade instead of the mixed peel and also the zest of a lemon. I would then omit the orange zest.
Nutrition
Calories:
272
kcal
Carbohydrates:
34
g
Protein:
2
g
Fat:
14
g
Saturated Fat:
8
g
Cholesterol:
72
mg
Sodium:
97
mg
Potassium:
156
mg
Fiber:
1
g
Sugar:
21
g
Vitamin A:
445
IU
Vitamin C:
0.6
mg
Calcium:
33
mg
Iron:
0.9
mg
Have you tried this recipe?
Head to the comment section and let me know what you think!