This post contains affiliate links. Please read my disclosures.
Triple Citrus Shrub is a wonderful way to start your day. Fresh orange, lemon and grapefruit puree smartened up with raw apple cider vinegar for all its health benefits and a good glug of honey to sweeten up the proceedings.
I have been beginning every morning with a generous glass of Triple Citrus Shrub to help aid my digestion, provide me with the necessary vitamin c to ward off this ghastly flu that is doing the rounds and generally because it is pretty delicious.
If you are unfamiliar with a shrub, it is a specially brewed drinking vinegar. Originally produced to preserve the fruit juice of the season, they can also be made with alcohol instead of the vinegar, but that makes a very different kind of shrub that probably isn't going to be your first choice to accompany your breakfast toast.
The recipe can be pretty basic by just steeping together fruit, vinegar and sugar and if you have used enough vinegar and sugar it can keep for an absolute age in the fridge.
Depending on how much you like the zingy vinegar taste you can dilute your shrub as much or as little as you like. I found that I started out diluting it a lot then got a little bit more generous in my fingers of shrub as I got more and more into it.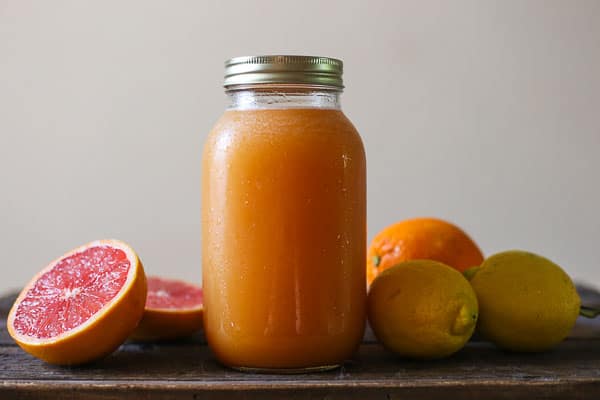 I mentioned at the top that I have been drinking my shrub to aid digestion and that's because I have been really suffering with horrible acid reflux for the past couple of months of this pregnancy. I am trying to avoid drinking copious amounts of Gaviscon or bicarbonate of soda to ease it (as I did when I was pregnant with Cole) as it plays havoc with your gut and so I'm trying all sorts of natural remedies to counteract it instead.
So far I've got off pretty lightly this pregnancy with my complaints (save the initial morning sickness) but this acid reflux is really getting me down as it's making me dread eating or drinking since anything seems to be sparking it off.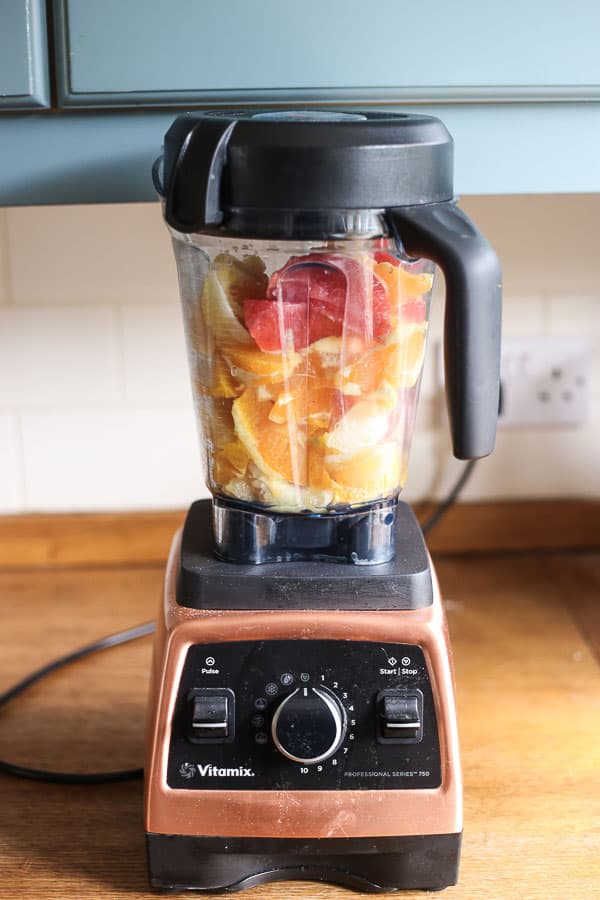 So here comes the shrub. I had been drinking diluted apple cider vinegar in the mornings which among its many health benefits like reducing blood sugar levels is said to aid digestion. This is due to buying the raw unfiltered vinegar which contains the 'mother' which is a by-product of the fermentation process and contains lots of healthy proteins, enzymes and friendly bacteria to help repair your gut.
However, I had not been getting on so well with the apple cider vinegar as it seemed to be producing an initial heartburn which wasn't pleasant. So when I found myself with copious amounts of orange, lemon and grapefruit flesh going begging as a result of my Homemade Mixed Peel I tried my hand at turning it into a very basic shrub to help the apple cider vinegar be ingested more pleasurably.
The experiment has been great. I am a great believer that if something is working for you then it works and don't question it too closely. I am not by any means a nutritional therapist but I am feeling better drinking my shrub everyday, whether it's the placebo effect or is actually doing something pretty beneficial to my gut is beyond my knowledge but it is delicious and you can't knock the amount of vitamin c that the shrub contains and so far (touch wood!) I have yet to have a cold this winter.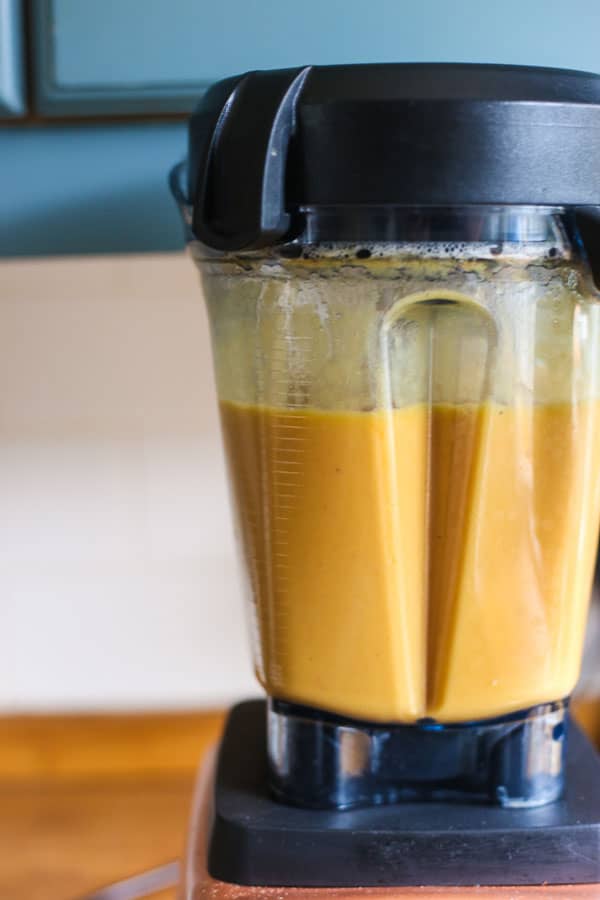 I didn't make my shrub in any traditional way as by the time I started properly investigating the recipe then I had already blitzed up all my fruit flesh in the blender and it was too late to steep the whole citrus segments in the vinegar which is what I learnt later I should have done.
However, the method I did use was quick, easy and produced a shrub that was available to drink straightaway. All I did was blend the citrus flesh, boil up the puree with a good amount of honey, re-blend the sweetened fruit with the vinegar and pour it into a kilner jar (1lt) to store in the fridge.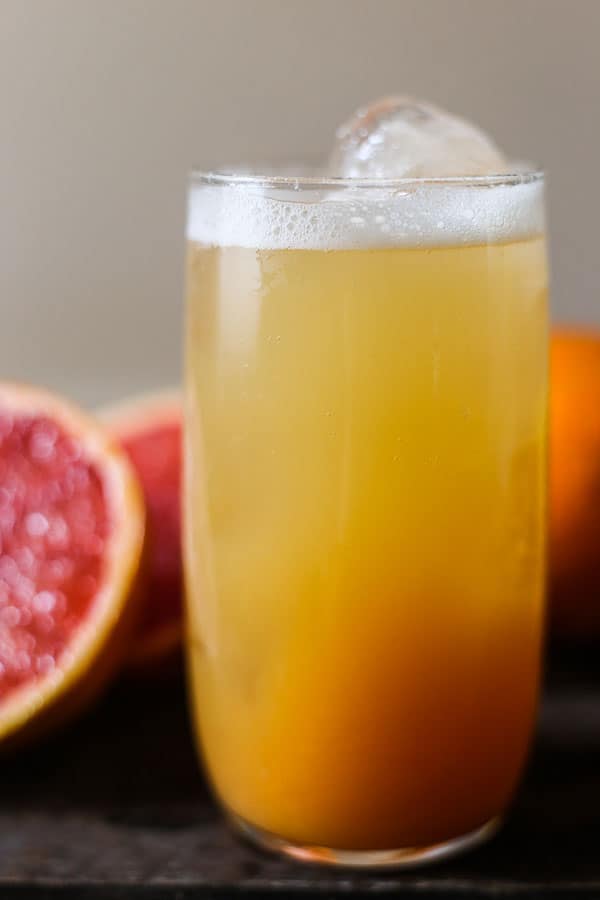 You can dilute the shrub any way you see fit. In the mornings I am happy with a quarter part shrub whisked in with three quarters cold water. However, I have also been finding in the evenings that if I mix the same amount of shrub with three quarters sparkling water then I have my very own healthy fancy cocktail.
If I'm feeling especially exotic I have been known to add a sprig of mint in to really jazz it up.
Homemade shrubs are a favourite of mixologists at the moment as they can create really excitingly flavoured cocktails and I can totally see why with all the tangy sweet and sour notes going on. For now though, I can feel pretty saintly as I drink it. Talk to me in a few months though when I am free to glug a bit of gin into my shrub as well. Still perhaps, not at breakfast time.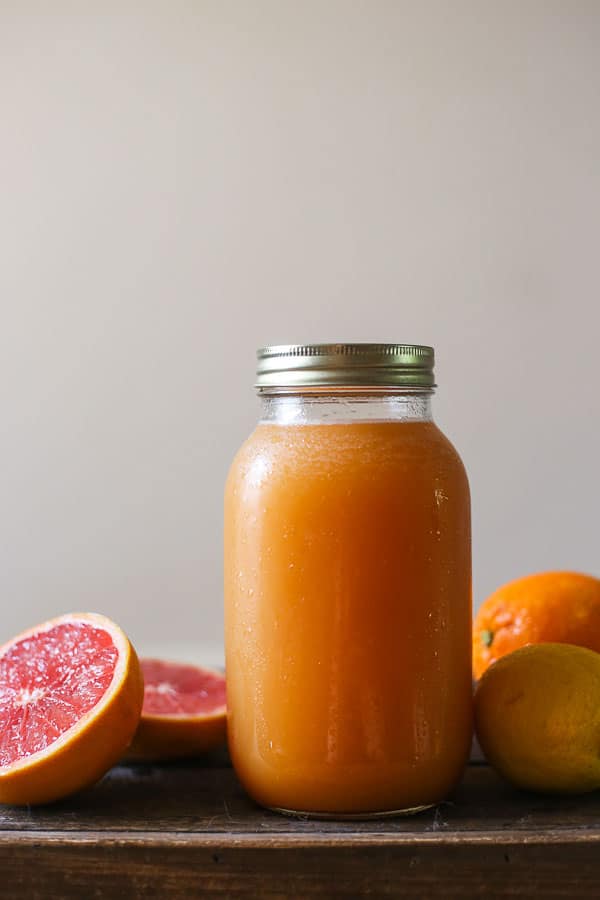 Shop the Recipe:
If you like this recipe then you may like this recipe for Homemade Almond Milk.
I urge you to give this Triple Citrus Shrub a try. If you do then please leave a comment below and give the recipe a rating which helps others find the recipe on Google. If you then go on to use this recipe as a launch pad for your own culinary creation then I'd also love it if you'd share it and tag me on Instagram. It is so lovely for me to see your versions and variations of my recipes.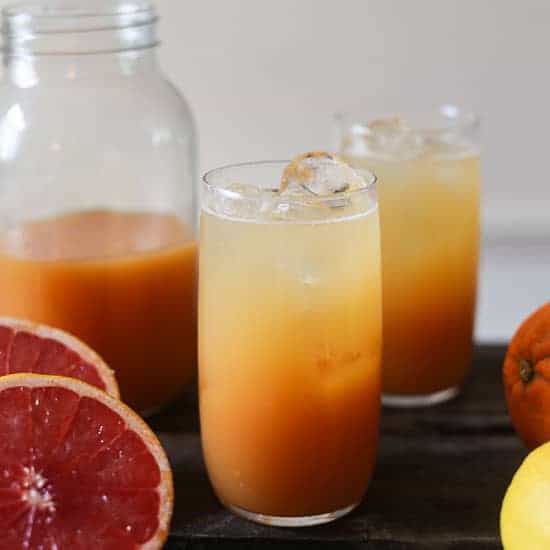 Triple Citrus Shrub
Triple Citrus Shrub is a wonderful way to start your day. Fresh orange, lemon and grapefruit puree smartened up with raw apple cider vinegar for all its health benefits and a good glug of honey to sweeten up the proceedings.
Ingredients
4

lemons

4

oranges

1

grapefruit

450

ml

honey

500

ml

raw apple cider vinegar

-

with the mother
Instructions
Carefully remove the peel, pith and seeds from the fruit until you are left with only the flesh.

Place all the fruit flesh into a blender and blitz until smooth. You should have about 1 litre of fruit puree.

Pour the fruit puree into a saucepan along with the honey, whisk them together and heat gently until boiling.

Remove from the heat and pour back into the blender.

Pour in the apple cider vinegar and blitz for a minute or so until mixed completely.

Pour into a large jar and leave to cool then store in the fridge.
Notes
The shrub can be kept in the fridge for up to a month.
Yield 1 litre
Nutrition
Calories:
486
kcal
Carbohydrates:
125
g
Protein:
3
g
Sodium:
12
mg
Potassium:
618
mg
Fiber:
7
g
Sugar:
112
g
Vitamin A:
1025
IU
Vitamin C:
146.7
mg
Calcium:
109
mg
Iron:
1.5
mg
Have you tried this recipe?
Head to the comment section and let me know what you think!