This post contains affiliate links. Please read my disclosures.
Gingerbread Ice Cream is an incredibly smooth and creamy treat. Warmly spiced with all the flavours of your favourite gingerbread and intense with dark sugar and treacle.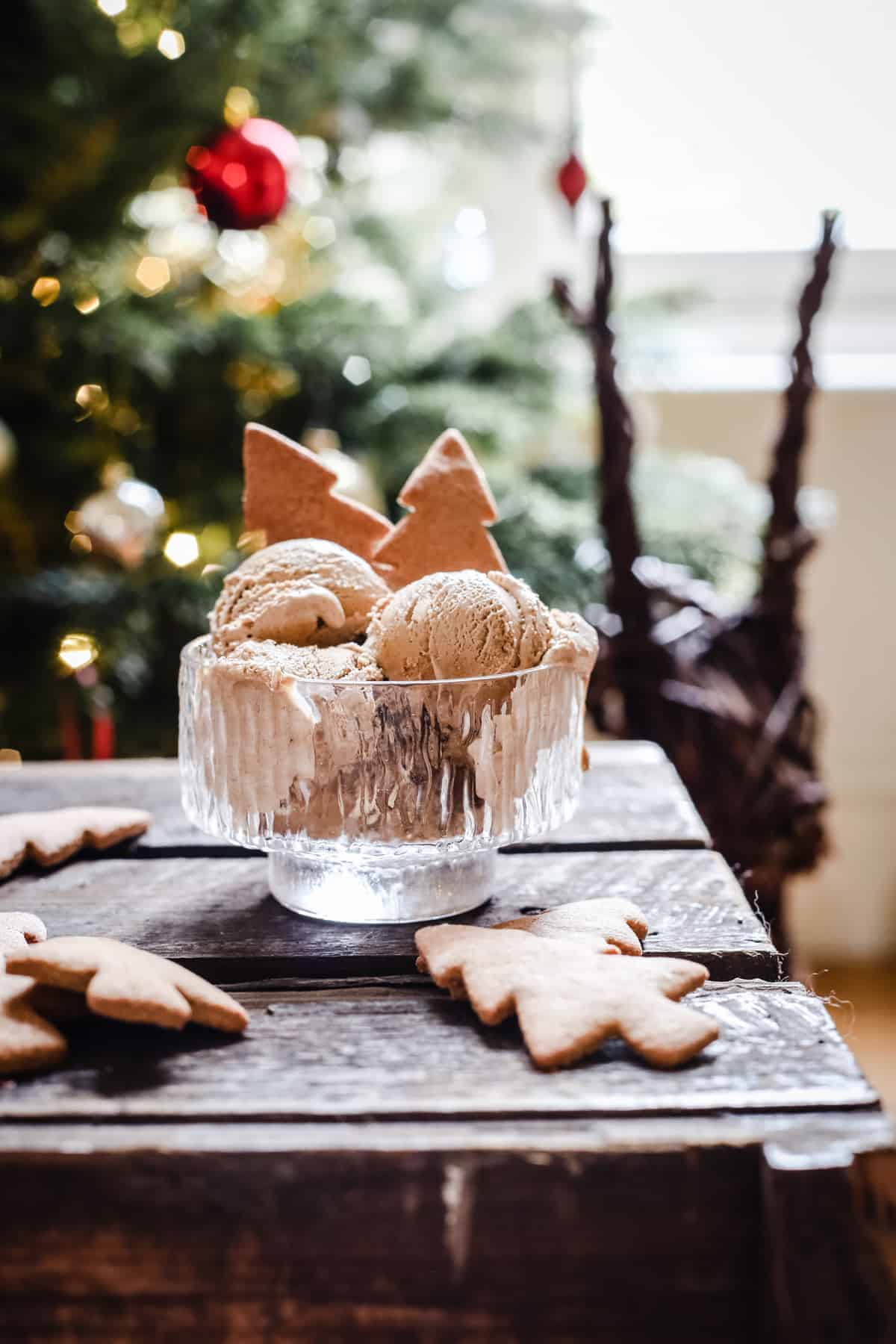 This Gingerbread Ice Cream has been sorting out all of my Christmassy food needs. Just like my previous pregnancy I have been craving ice cream all the time. When specific food cravings hit I am so happy I live in London where I can access the best ice cream parlours. My favourite is definitely Udderlicious on Upper Street in Islington. They have so many delicious flavours which are impossible to choose from and are open until 11pm so if Luke and I are ever organised enough to book a babysitter and have dinner out then we usually go somewhere in Islington and nip over to Udderlicious for ice cream afterwards.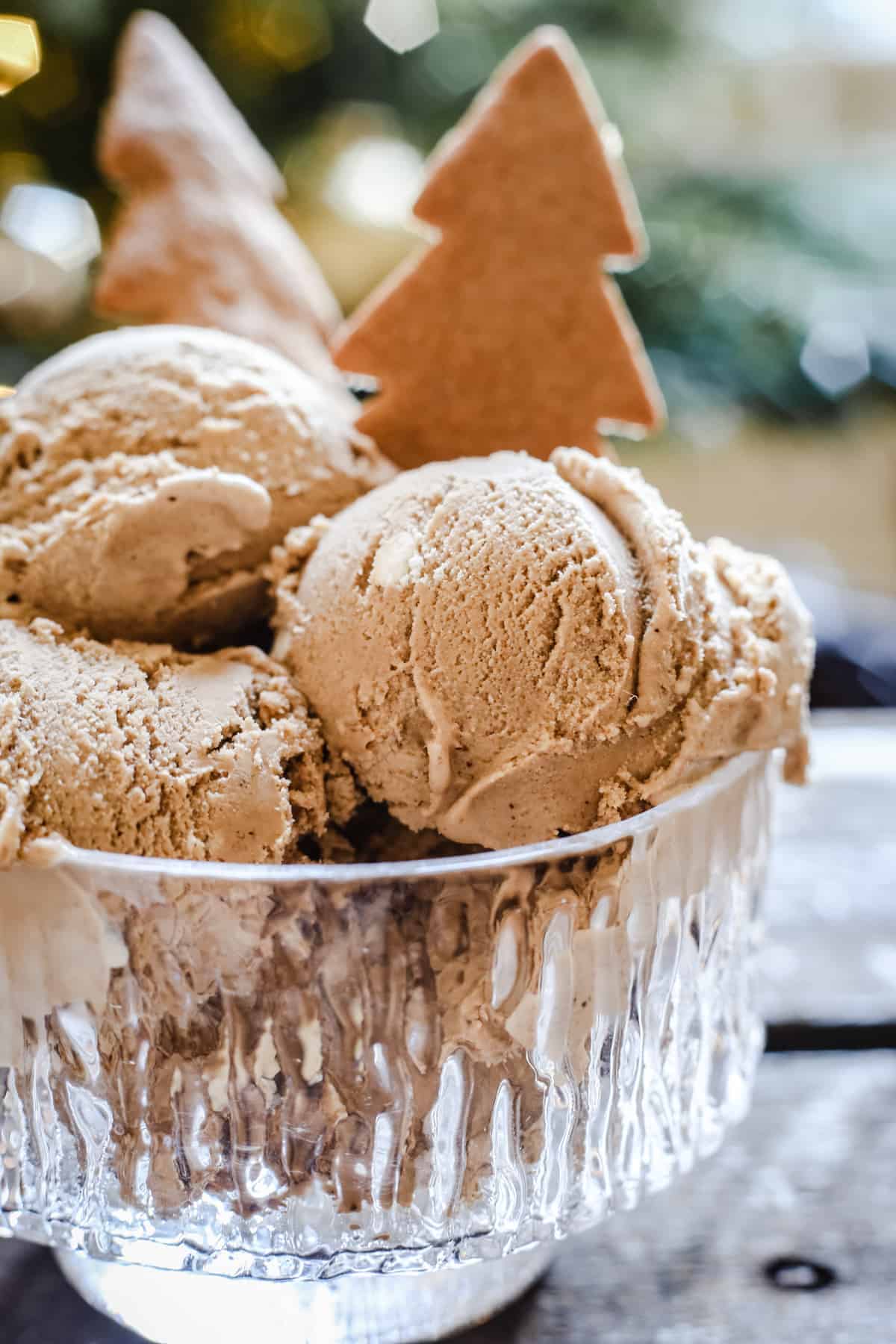 I don't actually have to travel as far as Udderlicious though in most cases as our local ice cream café in Crouch End, Rileys, offers some pretty amazing gelato with different flavours every time we go. Which is a lot. Cole is an ice cream ninja too and I treat us almost every Wednesday afternoon to a trip to Rileys. It's incredibly cute as he's convinced the girl who works there is Elsa from Frozen. It's true that she is very pretty with ice blonde hair which she usually wears in in a plait over her shoulder so he isn't too far off. When we watch Frozen and I ask Cole where Elsa works he happily replies that she works in the ice cream shop making tea. Sounds about right.
Cole invariably chooses mango sorbet at Rileys or if they don't have that then chocolate ice cream is a pretty decent second choice. I usually go with my cravings so it could be anything from a fruity sorbet to stracciatella to peanut butter. A couple of weeks ago though they had the most divine ginger and black treacle ice cream which epitomised my most favourite Christmas flavours. Darkly spiced but rich and creamy. So my inspiration here has derived from that amazing ice cream.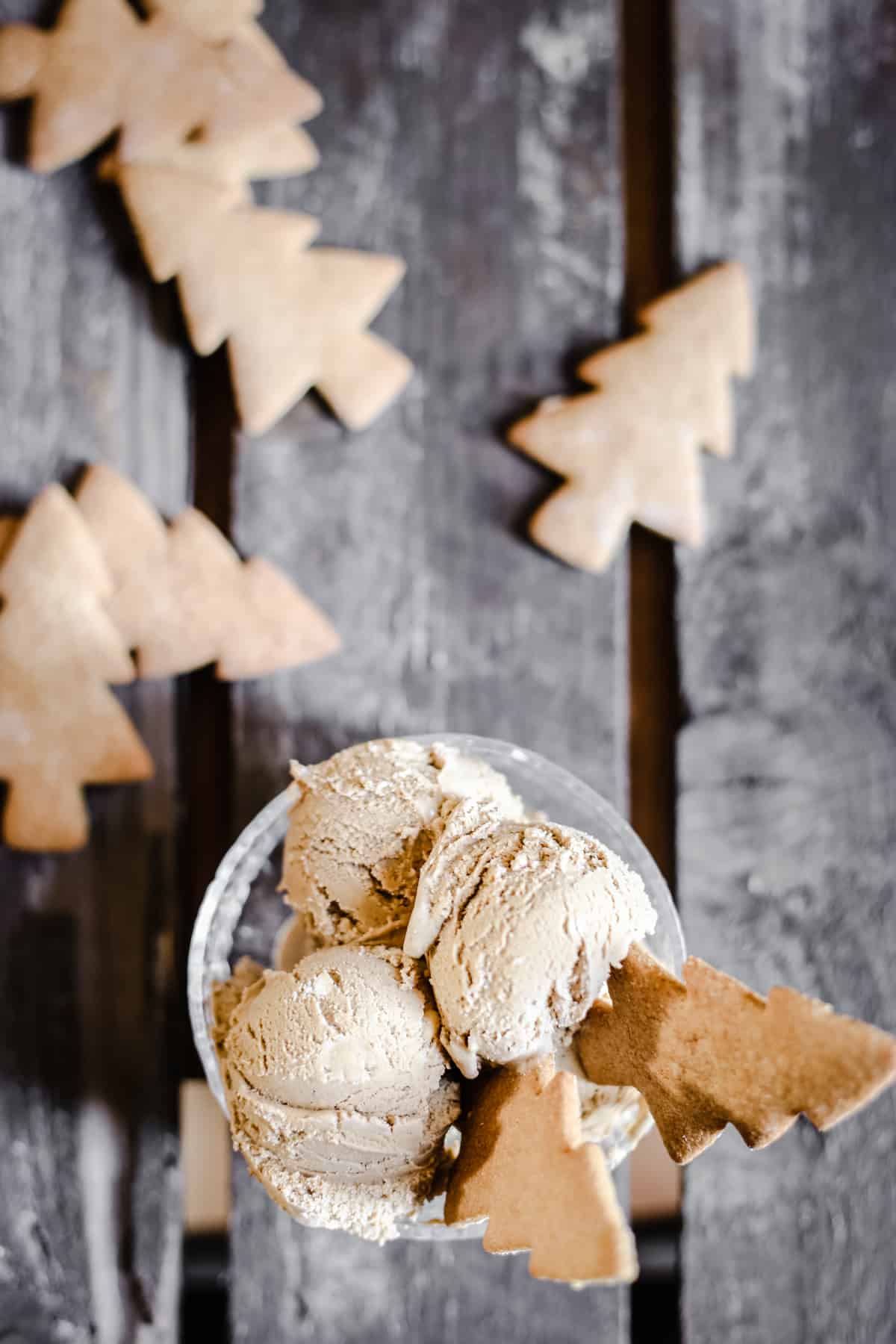 Looking back over the past month or so it becomes apparent that ginger has also become a bit of a thing for me as well. See Lemon Iced Stem Ginger Parkin and Sticky Ginger and Whisky Cake with Lime Drizzle. There is something about the fiery heat of fresh ginger, intensified by the even temper of the ground ginger that means you can happily eat ice cream even on the snowiest and coldest of days. The dark muscovado sugar and black treacle have an almost warming effect despite arriving at your bowl direct from the freezer.
These flavours pair beautifully with this incredibly versatile ice cream base which is made from a custard. Here I infused the custard with ginger and spice, but the whole base is made even richer and creamier by whipping up some double cream to fold in thickly before churning.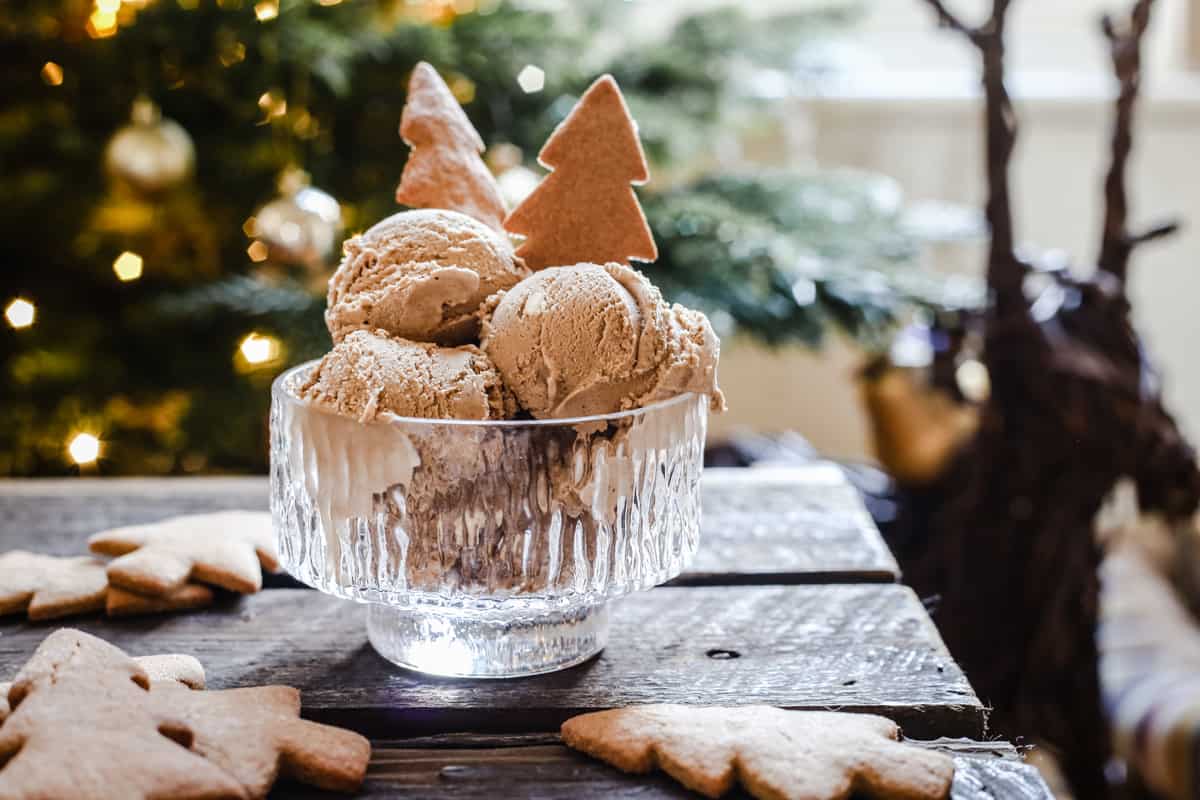 Gingerbread Ice Cream is perfect for offering as a Christmas dessert. I'd even go so far as to say that you'd be very wise to offer it alongside the Christmas Pudding for the ultimate indulgence. I'm not sorry to admit that I heated up one of my mince pies made with Victorian Mincemeat a few nights ago and scooped a load of Gingerbread Ice Cream onto the top. It was simply divine. A real Christmas treat.
Gingerbread Ice Cream is also very forgiving as like most of my favourite ice cream recipes it doesn't set too firm or have the tendency to turn into ice crystals if you don't cool it fast enough. Even the laziest ice cream maker (yes, that's me) can get this perfect first time.
SHOP THE RECIPE >>> Ice Cream Maker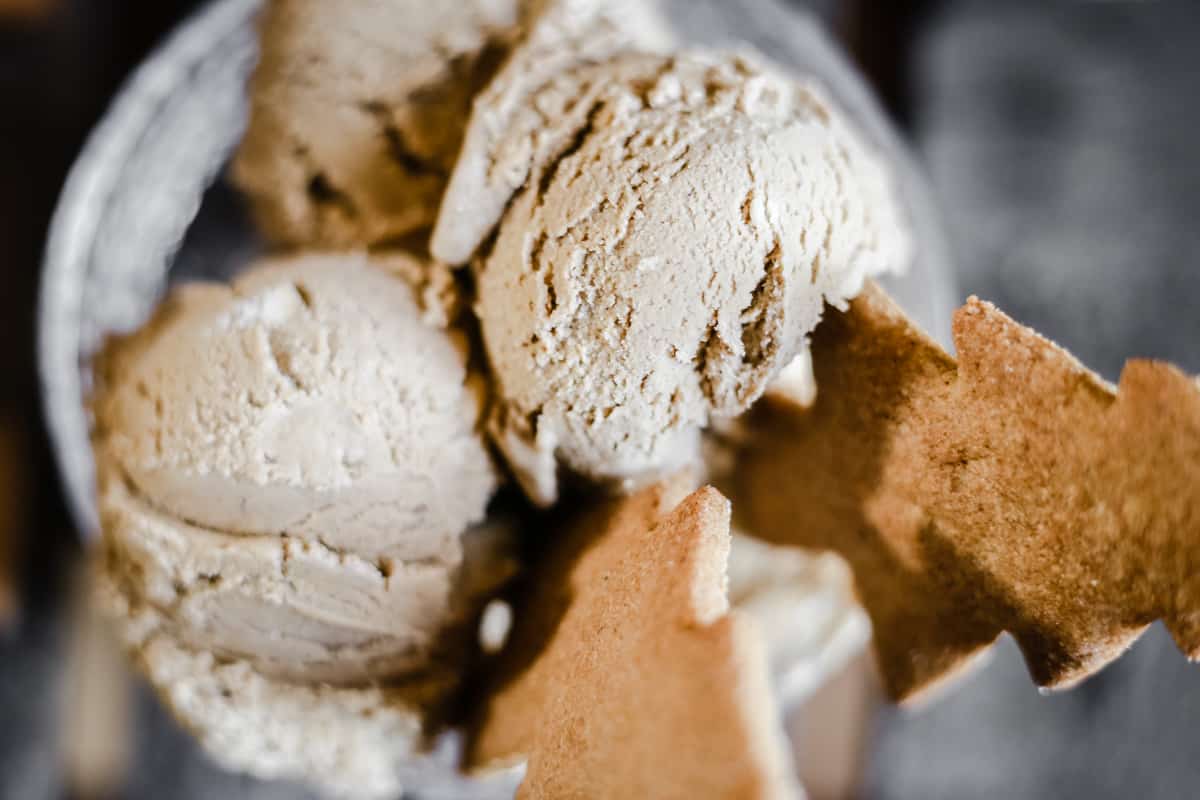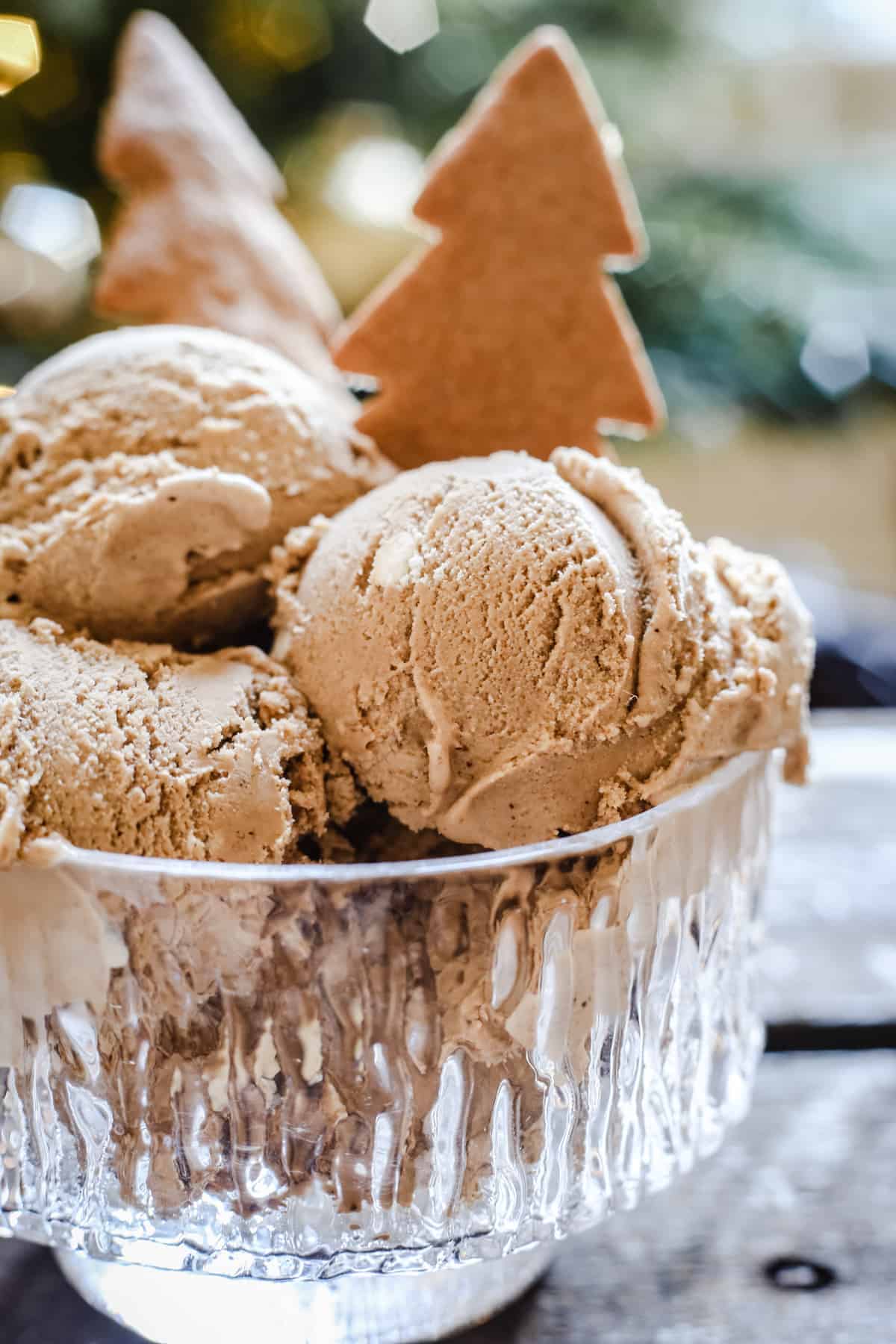 Gingerbread Ice Cream
Gingerbread Ice Cream is a warmly spiced ice cream, intense with dark sugar and treacle and thickened with double cream for rich creaminess.
Ingredients
300

ml

single cream

8

g

peeled fresh ginger

-

grated

1

teaspoon

ground ginger

1

teaspoon

ground cinnamon

¼

teaspoon

ground cloves

4

egg yolks

1

tablespoon

cornflour

100

g

dark muscovado sugar

1

tablespoon

black treacle

300

g

double cream
Instructions
Pour the single cream into a saucepan and whisk in the fresh ginger, ground ginger, cinnamon and cloves.

Turn the heat on and bring to just below a boil.

Turn off the heat and leave for a couple of hours to infuse then sieve the cream.

Next you'll make a custard by beating the egg yolks, cornflour, sugar and treacle until smooth then heat the single cream again until just under a boil.

Pour the hot cream into the egg mixture, whisking continuously until all the cream has been added and the mixture has totally combined.

Pour the custard back into the saucepan and heat gently, whisk until thickened but not so the custard is boiling.

Remove from the heat, pour the custard into a bowl then cover and put in the fridge overnight to completely chill.

The following day whip the double cream until it reaches soft peaks then fold gently into the gingerbread custard until everything has completely combined.

Pour this extra thick custard into an ice cream machine and churn per the machine's instructions*.

You can eat the ice cream straight away from the ice cream machine but it's very soft serve or you can pour into a container and place in the freezer until needed where it will solidify to a firmer ice cream texture.
Notes
*If you are using the Magimix Le Glacier or a machine similar then I have found that churning the mixture for about 20 minutes is plenty.
Yield 2 pints
Nutrition
Calories:
164
kcal
Carbohydrates:
8
g
Protein:
1
g
Fat:
13
g
Saturated Fat:
8
g
Cholesterol:
95
mg
Sodium:
17
mg
Potassium:
64
mg
Sugar:
6
g
Vitamin A:
530
IU
Vitamin C:
0.2
mg
Calcium:
44
mg
Iron:
0.4
mg
Have you tried this recipe?
Head to the comment section and let me know what you think!