This post contains affiliate links. Please read my disclosures.
Chocolate and Orange Ricotta Ice Cream is a light and zesty orange ice cream, tangy with ricotta and studded with dark chocolate shards.
I find ice cream one of the most relaxing and joyful things to make. One of the key notes about Diane Keaton's character in It's Complicated- oh we quote the highbrow art here – is that if she can't sleep she makes ice cream. Typically for a Diane Keaton role she is uptight and neurotic so her freezer is bursting with ice cream. However, that comforting and gentle experience of making ice cream is something I can completely relate to.
When I stopped working full time last year I went on a bit of an ice cream bender. I made all the flavours I had been setting aside for the many years I had worked in an intense and long-houred career. I was now free to produce tubs of salted butter ice cream, apple pie ice cream, cornflake ice cream, and malted milk ice cream. I bought gallons of double cream and whole milk, experimented, I infused and I churned like a milk maid gone wild. There were no losers in this scenario. It took my mind off the terrifying prospect that I had just voluntarily given up the career I had proudly worked all my adult life to achieve and it helped me reflect on exactly what I planned to do next. Plus my husband loves ice cream so he was as happy as a pig in Mississippi mud pie ice cream. Which was also delicious.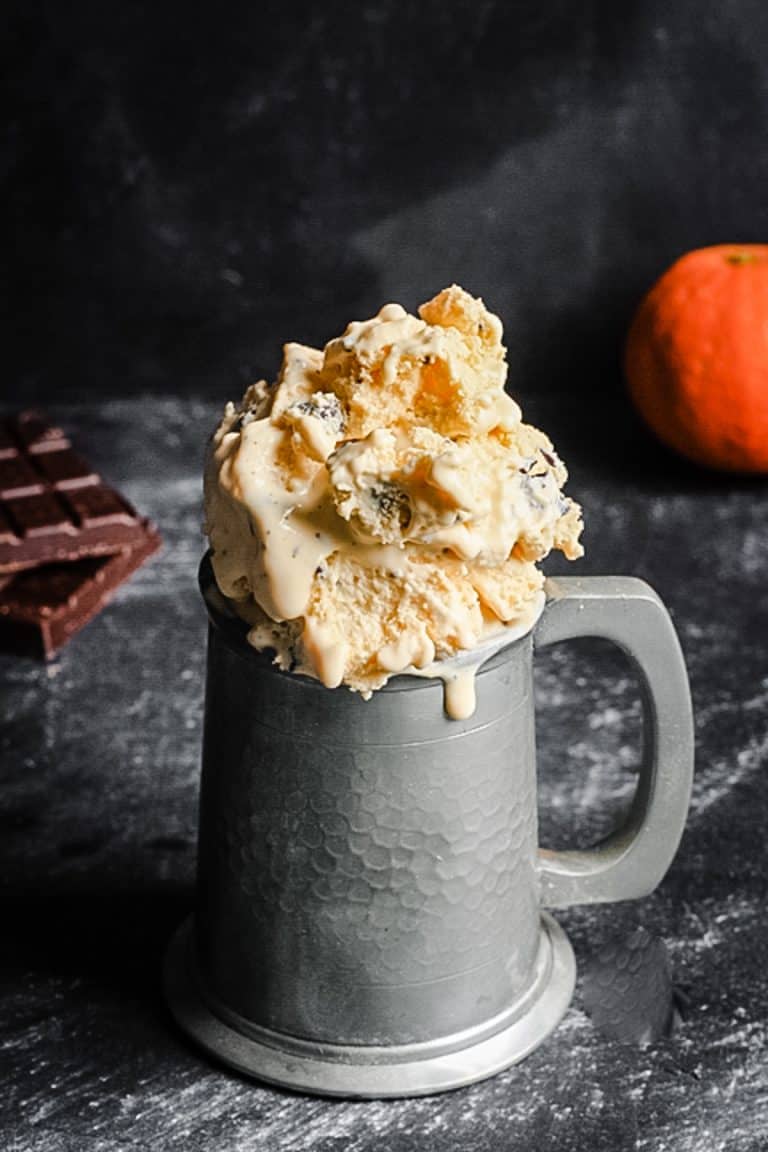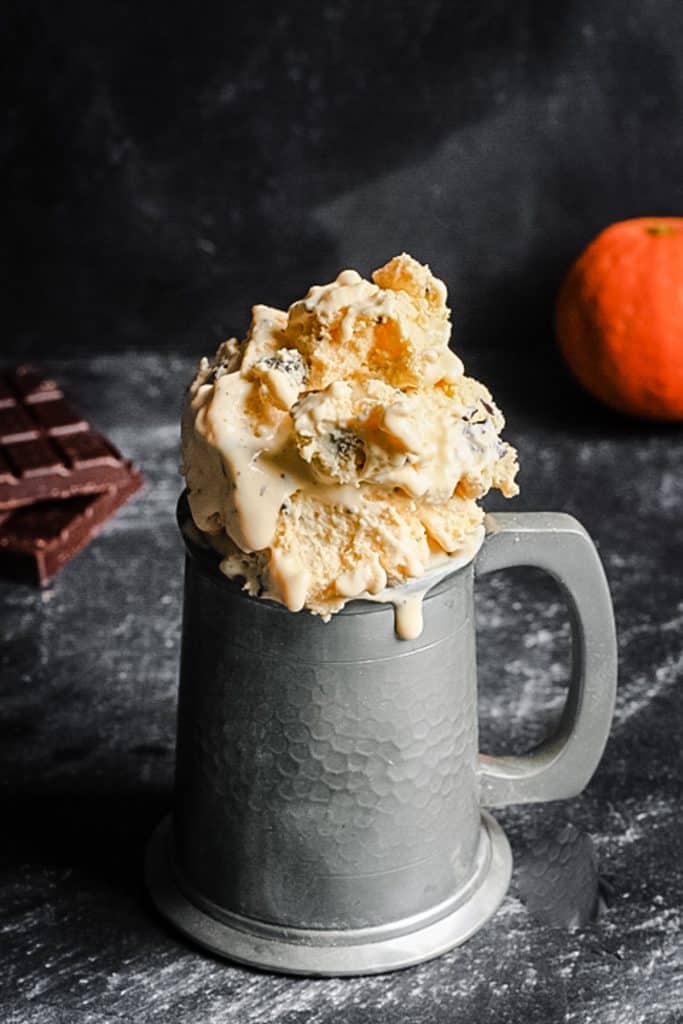 It's surprising then that I haven't talked much about ice cream in the few months I have been writing here. I suppose I took a bit of a hiatus, after all our freezer isn't the giant American style megalith that Diane Keaton had and it could only take so much. The good news is that my ice cream supply is now dwindling and I have been slowly picking up the pace these past couple of weeks to build it back up again. Unfortunately it has coincided with the time of year that the freezer needs defrosting, but that just means we'll have to eat it as quickly as I make it. Again, there are no losers in this scenario.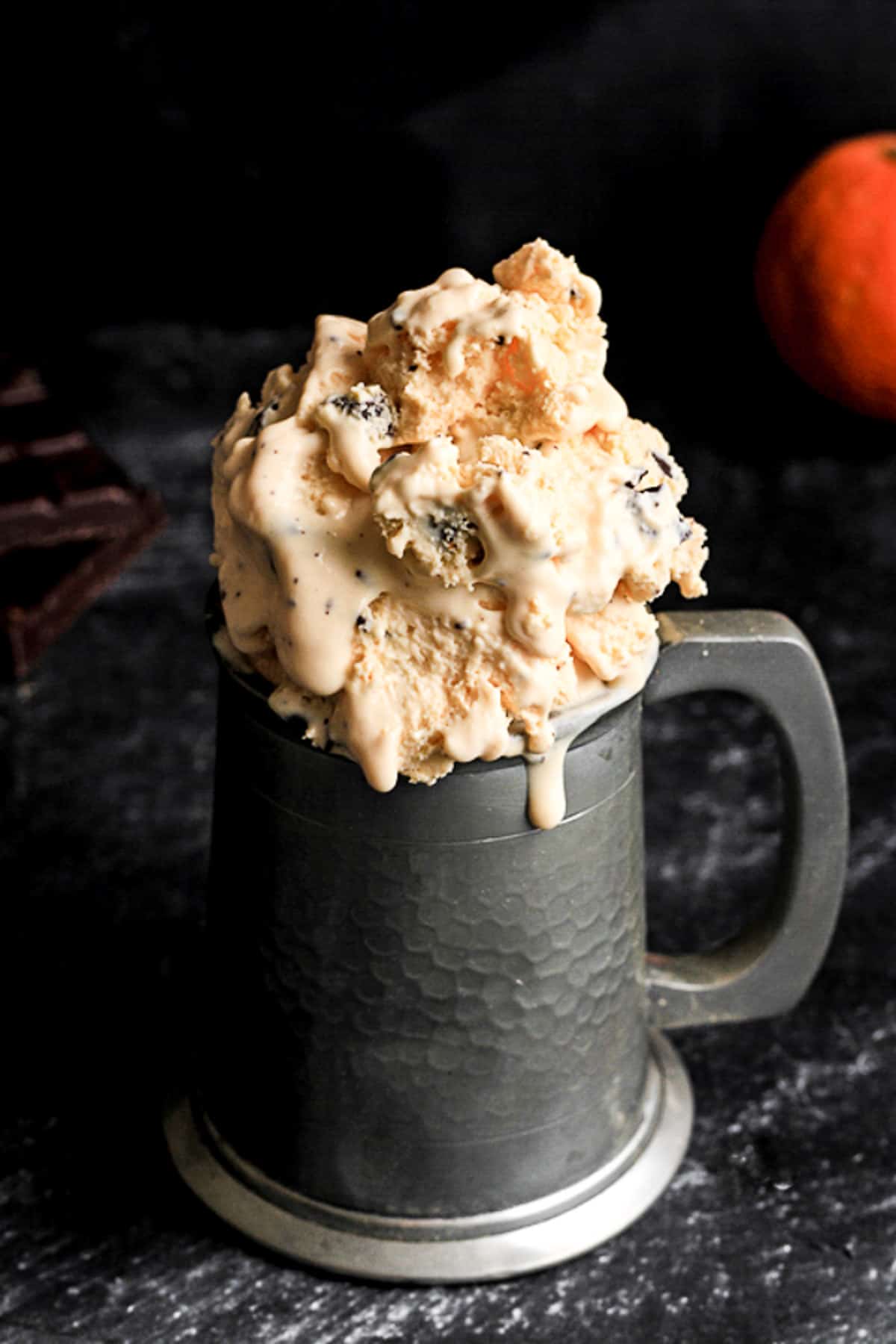 Chocolate and Orange Ricotta Ice Cream
A light and zesty orange ice cream, tangy with ricotta and studded with dark chocolate shards.
Ingredients
250

ml

double cream

100

ml

whole milk

1

orange

-

zest only

240

g

ricotta

6

egg yolks

90

g

caster sugar

50

g

dark chocolate
Instructions
Mix together the double cream, milk and orange zest in a medium saucepan and warm through. Set aside for 1 hour to infuse.

Mix the ricotta in with the cream mixture and heat in a medium saucepan until just under a boil.

In a large bowl whisk together the egg yolks and caster sugar until smooth.

Pour the ricotta mixture into the egg mixture in very slow and steady stream whisking constantly.

When everything is combined pour back into the saucepan and heat until just under a boil and the mixture has thickened.

Strain to remove the zest, then chill for at least 4 hours.

Churn in an ice cream machine for 20 minutes until thickened. Sprinkle in the chocolate chips and continue churning for a minute to evenly disperse.

Decant into ice cream tubs and freeze for at least 8 hours before serving.
Nutrition
Calories:
400
kcal
Carbohydrates:
25
g
Protein:
10
g
Fat:
30
g
Saturated Fat:
17
g
Cholesterol:
275
mg
Sodium:
67
mg
Potassium:
214
mg
Fiber:
1
g
Sugar:
20
g
Vitamin A:
1125
IU
Vitamin C:
11.9
mg
Calcium:
167
mg
Iron:
1.6
mg
Have you tried this recipe?
Head to the comment section and let me know what you think!
SHOP THE RECIPE
Many years ago Luke tried to persuade me than I didn't need yet another space hogging kitchen gadget that I didn't use so I bought my ice cream maker on the sly. I honestly haven't looked back and I am always thrilled to reach down for it and put it to use. I chose the Magimix Le Glacier 1.1 Ltr Ice Cream Maker (White)
on a whim but it's been absolutely brilliant and was very reasonable so I heartily recommend it.