This post contains affiliate links. Please read my disclosures.
This is the Easiest Gluten-Free Banana Bread which takes about 10 minutes to get into the oven and delivers the most deliciously moist and flavourful cake.
This isn't called the Easiest Gluten-Free Banana Bread for nothing. It's a cinch. I also have to admit it's a complete bonus recipe as I really didn't intend on this being the next post but it was just so darn tasty I couldn't not publish it.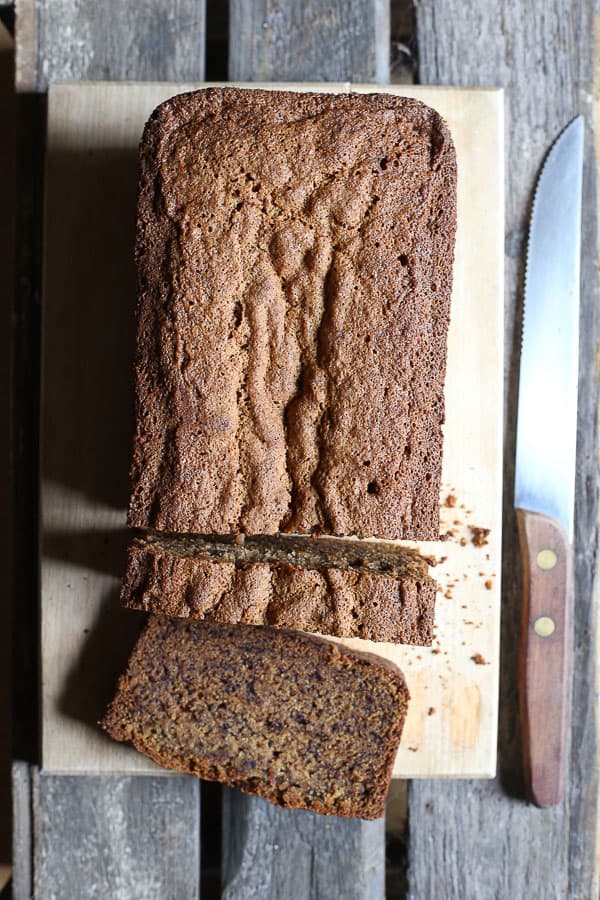 This recipe was intended for me only, just to prove to myself how easy it is to convert a simple loaf cake into a gluten-free version just using half ground almonds and half plain gluten-free flour instead of the wheat flour. After all I said as much in my last post in the Gluten-Free Flours series about nut flours. I typed in banana bread and went right to the top of the Google chain and proceeded to adapt the banana bread that had the most positive reviews and the least ingredients.
Luckily I had the requisite amount of bananas in which were the correct amount of being past their best in the fruit bowl and turned out a banana bread within 40 minutes of planning to bake one. It was fine, but a little bit flat looking. I do like my loaf cakes to tower so it wasn't a perfect looking banana bread but I left it on the dining table to let it cool before tasting.
It was the last I saw of the banana bread.
Well, I exaggerate a little, Billy Buddy graciously left me a neat little corner that he couldn't quite manage. Totally my fault for leaving the chair not tucked into the table so he had perfect leverage for leaping and the poor thing looked sick as a parrots so I could hardly be grumpy at him. I ate the little crumb he left me and immediately hot footed it to Sainsburys to buy more bananas. This was a banana bread worth doing properly and serving up to Luke without being dog chewed.
This time I adapted the recipe slightly and basically doubled the ingredients so the cake would be a more gracious height, changed the sugar to brown sugar for extra flavour and amended the amount of bananas as my original banana bread sank a little, probably due to the enormity of the bananas I was using.
This new and improved banana bread takes the same amount of time to weigh out and mix up, about 10 minutes, but a little longer in the oven due the larger loaf. It's astoundingly good though. The ground almonds help add moisture without tasting too nutty and also take the edge off the plain gluten-free flour which alone would have made the banana bread quite dry and lifeless.
This kind of banana bread is a baking staple. You need one of these in your back pocket for breakfasts, slathered in butter, afternoon tea with a lovely cuppa and something to offer an unexpected guest. I'm so pleased I did this little test as now I have my go-to banana bread and the one against which every banana bread from now will be measured against.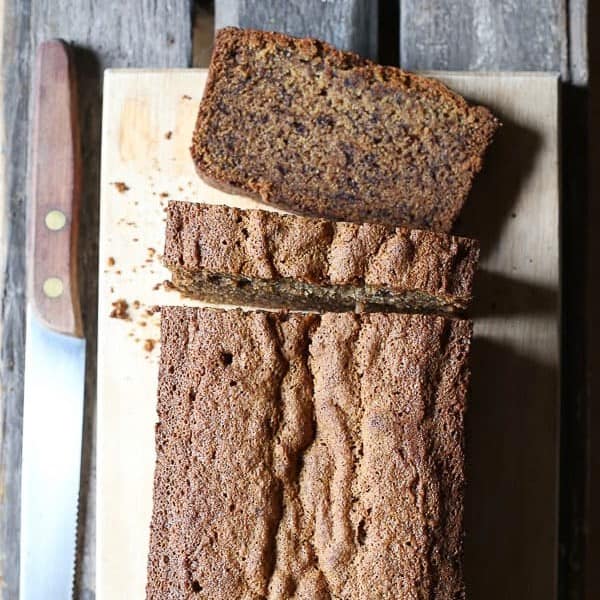 Easiest Gluten-Free Banana Bread
This is the Easiest Gluten-Free Banana Bread which takes about 10 minutes to get into the oven and delivers the most deliciously moist and flavourful cake.
Ingredients
4

large

bananas

-

about 500g without skins

200

g

caster sugar

150

g

soft light brown sugar

2

eggs

120

g

melted butter

200

g

ground almonds

200

g

gluten-free flour

2

teaspoons

bicarbonate of soda

1

teaspoon

salt
Instructions
Pre-heat the oven to 160°C and line a grease a 9 inch loaf tin.

Mash the bananas then pour them into a large bowl or food mixer along with the sugar, eggs and melted butter. Mix the ingredients well.

In another bowl combine the ground almonds, gluten-free flour, bicarbonate of soda and salt then add them into the wet ingredients and mix together.

Pour the banana batter in the loaf tin and bake for 70-80 minutes or until an inserted toothpick comes out clean.

Remove from the loaf tin and allow to cool on a wire rack.
Nutrition
Calories:
453
kcal
Carbohydrates:
64
g
Protein:
8
g
Fat:
21
g
Saturated Fat:
7
g
Cholesterol:
59
mg
Sodium:
555
mg
Potassium:
227
mg
Fiber:
5
g
Sugar:
43
g
Vitamin A:
380
IU
Vitamin C:
4.7
mg
Calcium:
77
mg
Iron:
1.8
mg
Have you tried this recipe?
Head to the comment section and let me know what you think!
If you like this recipe then you may like...