This post contains affiliate links. Please read my disclosures.
These gluten-free Cheddar Olive Buttermilk Scones are the real deal. Brilliantly portable for picnics and essential for afternoon tea.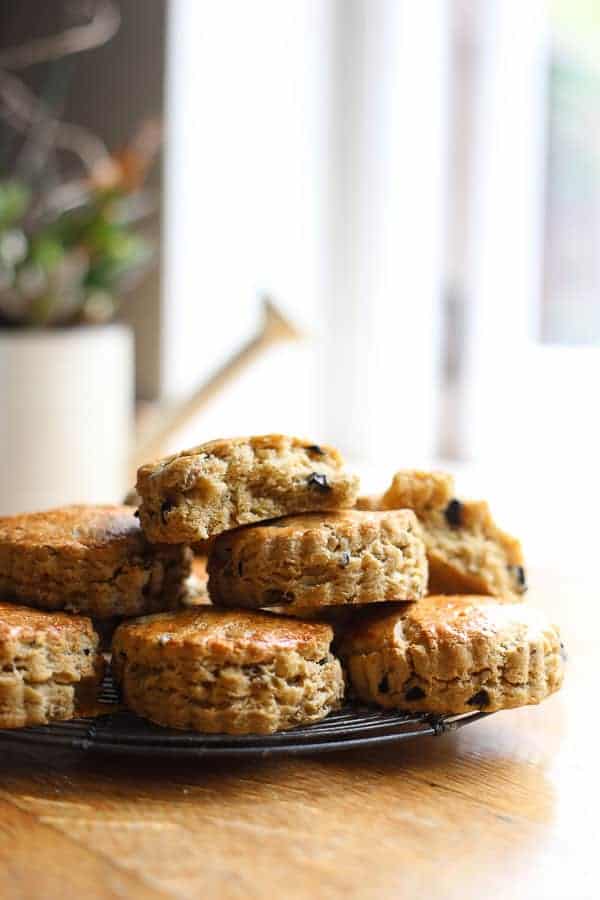 These Cheddar Olive Buttermilk Scones are a particularly special recipe to me. I make a lot of scones in the summer months. As soon as this season's jams start to appear in the kitchen then I am hard pressed not to find a reason where an impromptu cream tea isn't required. Scones are an ideal last minute bake as the ingredients are usually in, needing little more than the essentials; flour, eggs, sugar and milk.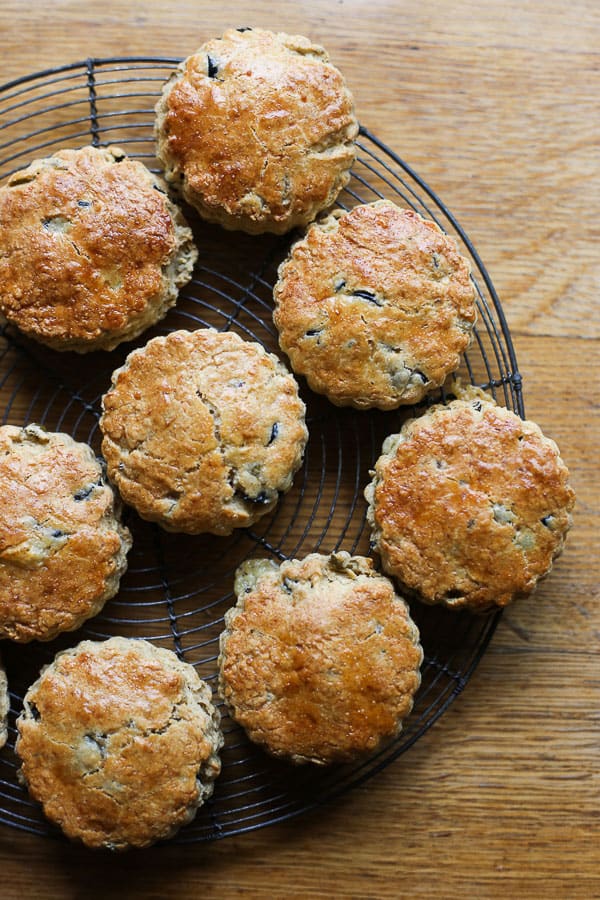 Whenever I make scones though my mum usually makes a not so gentle request for cheese scones as she has much more of a savoury tooth. Cheese scones are so delightful to bring along to picnics and family gatherings as they don't suffer from being schlepped around. They are at their best with a spot of butter but really pretty good straight from the tupperware.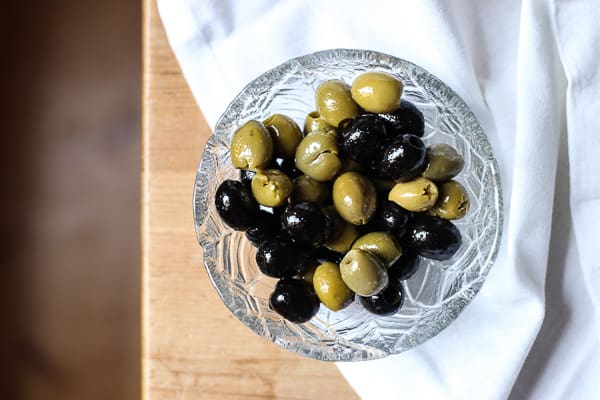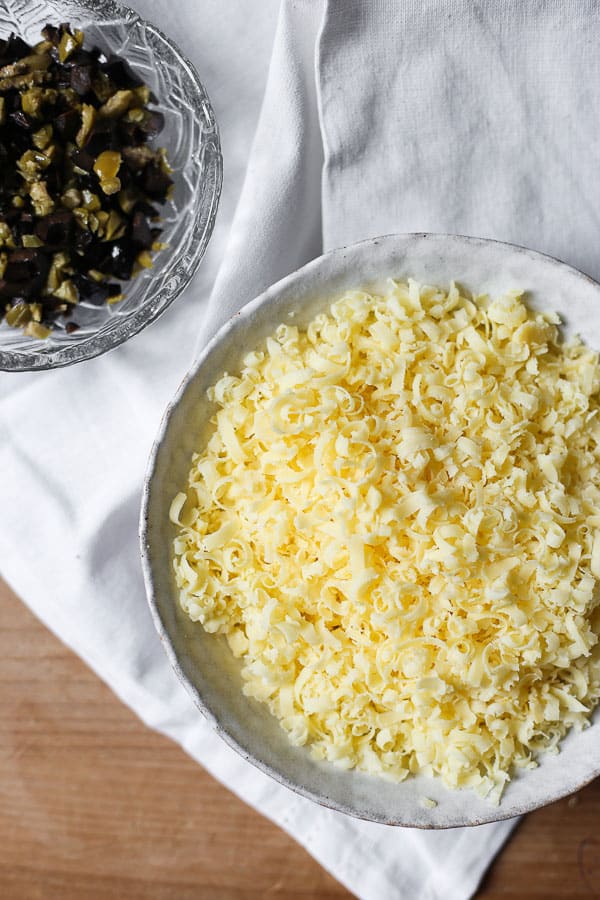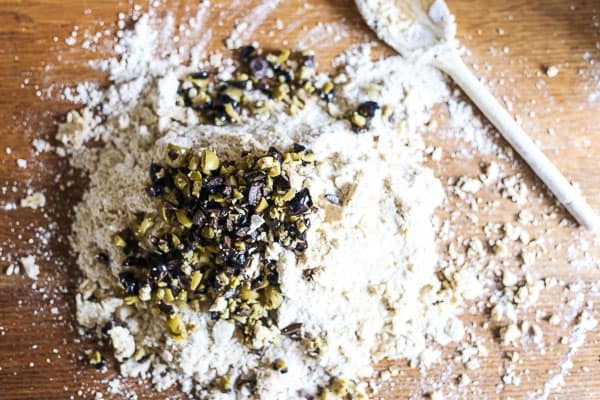 I had only baked these Cheddar Olive Buttermilk Scones once up until now. They had got lost in the shuffle when I started baking only gluten-free as it took me a while to perfect my gluten-free scone recipe. Now I finally have a scone which can pass muster alongside its wheat filled brethren it seemed appropriate to bring these guys out of hiding this week.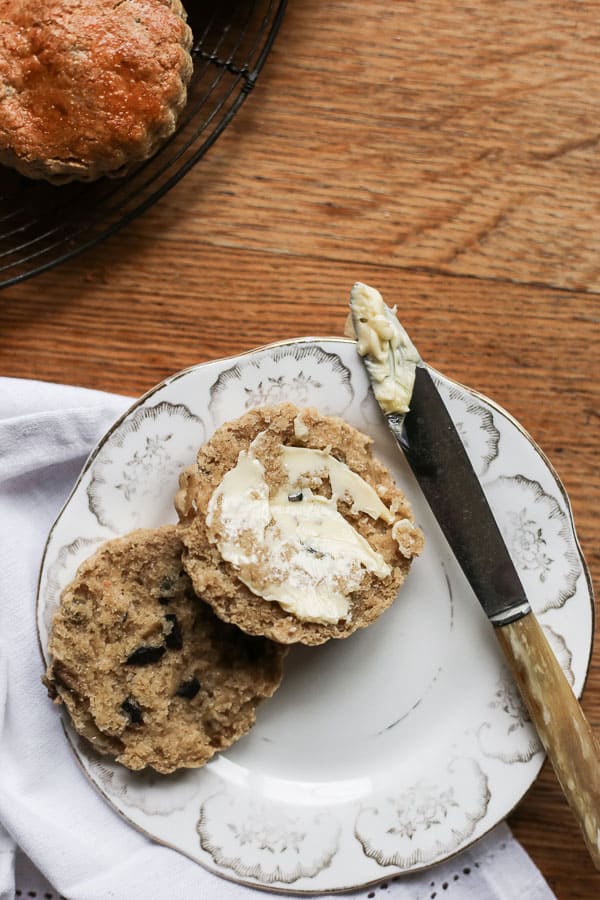 I originally created the recipe in memory of my Nan after she passed away two summers ago. It would have been her birthday next week and although I'm sure she would never have described herself as a great cook, (she was much more known for her immense family love, great humour, fierce loyalty and utter stubbornness) she cooked memorable meals for us throughout my childhood and I wanted to remember her this week by baking in her honour. Her name was Olive and she would have really loved these scones.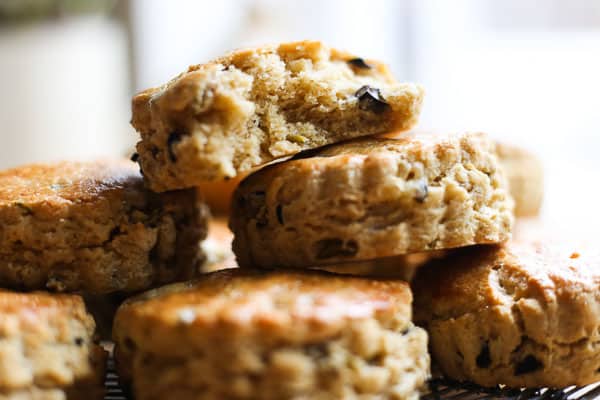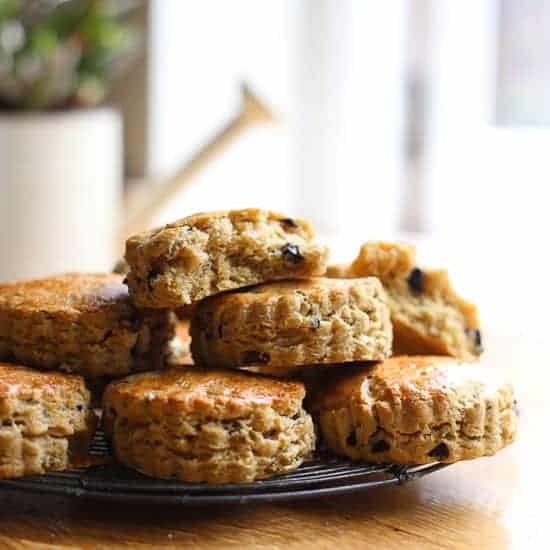 Cheddar Olive Buttermilk Scones
These gluten-free Cheddar Olive Buttermilk Scones are the real deal. Brilliantly portable for picnics and essential for afternoon tea.
Ingredients
140

g

sweet rice flour

100

g

oat flour

80

g

millet flour

40

g

potato starch

40

g

tapioca starch

60

g

unsalted butter

-

at room temperature

170

g

cheddar cheese

¼

teaspoon

ground white pepper

¼

teaspoon

mustard powder

1

tablespoon

baking powder

2

eggs

-

lightly beaten + 1 egg for the egg wash

175

ml

buttermilk

-

+ a splash extra for the egg wash

100

g

pitted olives

-

mixture of green and black
Instructions
Pre-heat the oven to 170°C and line a large baking tray with baking parchment.

Tip the flours and starches into a large mixing bowl and whisk together well. Add the butter then rub together with your fingertips until the mixture resembles breadcrumbs.

Stir in the white pepper, mustard powder and baking powder.

Grate the cheese into the bowl and gently stir into the other ingredients.

Pour in the beaten eggs and turn into the mixture with a wooden spoon until completely incorporated.

Finally stir in the olives.

Once the olives are evenly dispersed carefully pour in the buttermilk, bringing the dough together with a wooden spoon.

Tip the dough onto a floured surface (you can use any flour, but not too much) and pat the mixture together, gently folding and turning the dough until the flour is incorporated.

Once the dough is dry enough to work with then using the palm of your hands flatten out to 1 inch thickness.

Cut the scones out of the dough using a 68mm round pastry/biscuit cutter with fluted edges.

Place the scones on the baking trays, then brush the tops with a little beaten egg mixed with a splash of buttermilk. Be careful not to let the egg wash drip over the sides of the scones or they will not rise evenly.

Bake the scones in the oven for 12-15 minutes until risen and golden.

Serve with plenty of whipped butter.
Notes
The scones are at their best warm from the oven. They don't really last longer than a day before getting a little stale.
If you are not gluten-free then just substitute the sweet rice flour, oat flour, millet flour, potato starch and tapioca starch for 400g plain wheat flour.
If you don't have buttermilk to hand you can use whole milk. Using the buttermilk though gives the scones a lovely soft crumb and a bit of a tangy note which pairs nicely with the salty olives and cheese.
Nutrition
Calories:
200
kcal
Carbohydrates:
22
g
Protein:
6
g
Fat:
10
g
Saturated Fat:
5
g
Cholesterol:
44
mg
Sodium:
199
mg
Potassium:
189
mg
Fiber:
1
g
Sugar:
1
g
Vitamin A:
290
IU
Vitamin C:
0.1
mg
Calcium:
145
mg
Iron:
0.9
mg
Have you tried this recipe?
Head to the comment section and let me know what you think!