These flourless, dairy-free Peanut Butter Oaty Chocolate Cookies are no fuss to make and are one of the most satisfyingly chewy cookies you will have the pleasure to bake. Directions for converting the cookie to vegan and refined sugar-free are also included below.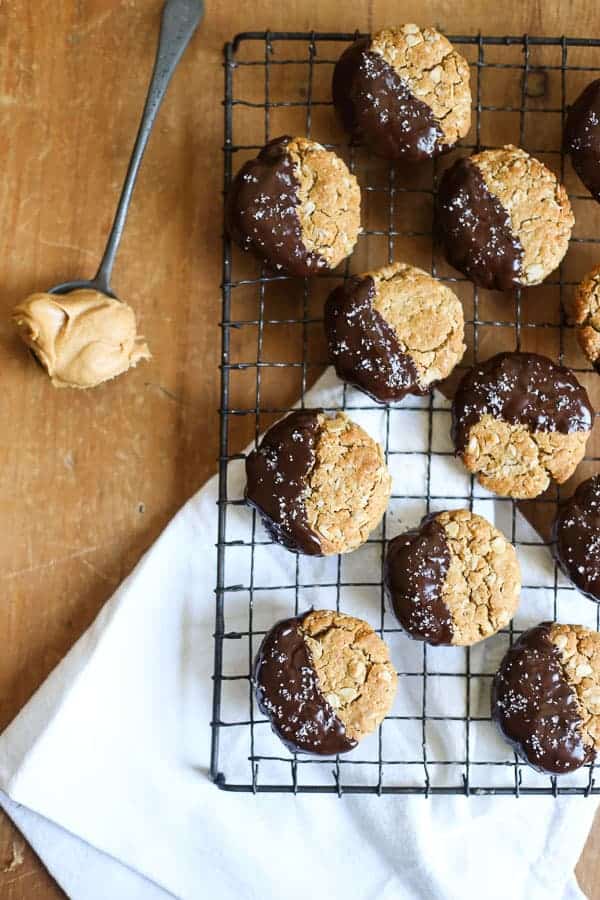 Sometimes you hit upon a food/ingredient/ recipe which is perfect for exactly where you are in your life. I said last week that I was having a bit of a love affair with oats but it also goes further than that. I am utterly devoted to and thinking about running away with these Peanut Butter Oaty Chocolate Cookies. They are the only thing I want to eat all the time and at this point I think my body is just being fuelled by peanut butter, oats and chocolate.
It took a while to get these cookies exactly how I wanted them so I made many batches. Each one delicious but needed tweaking here and there. I am unashamed to say I pretty much ate every cookie of every batch. Despite the tweaking it turns out that you can't really go wrong with peanut butter and oats. I have eaten these cookies by the tray load. For breakfast, for mid-morning snacks, at 3am feedings and in lieu of any meal that may have snuck up on me unawares. There is never a time for this cookie to not hit the spot.
The last batch though I perfected. These Peanut Butter Oaty Chocolate Cookies were magnificent. So I did what any generous baker would do when they have hit upon cookie pay dirt, I sealed them in Tupperware and hid them at the back of the fridge without informing any members of my family. Then I ate them in secret. To be honest, it has been a little like having an affair. So many lies and deception. On more than one occasion Cole would run into the kitchen wondering what I was doing inside the fridge. 'What are you eating Mummy?' 'Nothing,' I would mumble, oats falling out of the corners of my mouth 'Open your mouth Mummy,' My toddler would demand. He was a lot harder to fool than Luke and I may have had to slip him a cookie or two to aid his silence.
Then when I finally confessed to Luke what I had done and his feelings were a little hurt that I felt it necessary to hide such an important part of my life with him I magnanimously agreed to bake him a batch. I had run out of my stash so baking more cookies might have been on my agenda anyway.
These Peanut Butter Oaty Chocolate Cookies are so wonderful as they require minimal ingredients. Seven to be exact. And only a brief moment of your time concocting them in the kitchen. They don't have flour, just oats. They are dairy-free (if you use vegan dark chocolate) and they are loaded with hunger satiating peanut butter. Whipping up a quick batch for Luke was no hardship. I did it with my baby in a sling and my toddler standing on a stool next to me helping 'weigh' out the ingredients. To be honest, he was eating as much as he was weighing out. Plus he thinks that all measurements in recipes are 'fifty hundred grams' so he's got a bit of way to go before he's a completely reliable sous chef.
The chocolate dip at the end, after the cookies have cooled, are not a game changer. If you just want a quick peanut butter cookie fix then you have all you need right there. But if you can't resist a bit of chocolate with your peanut butter then I urge you not to. The dark chocolate dip sprinkled generously with sea salt is what takes these cookies to above and beyond the call of duty. I had to keep them in the fridge so the chocolate didn't melt on the crazily hot day we had in London last week (our premature summer didn't last, yesterday it was hailing golf balls) but actually that worked in its favour. I loved the cookies straight from the fridge and the fact that the chocolate hardened into a crisp shell surrounding its chewy peanut butter interior.
The only thing I would ask of you when making these cookies is that you use natural peanut butter without salt (or any other ingredient for that matter) and use it from the top of the jar when it's still beautifully golden and runny. You don't want the hard stuff that's been languishing at the bottom of the jar for a few weeks as the cookies won't have enough moisture to hold together. However, I have made them with the peanut butter remnants at the bottom of the jar and if that's all you have and can't be bothered to nip to the shops then just add a tablespoon or two of milk (I used coconut milk) for extra moisture.
I also, for good measure, tested this recipe as a vegan and refined sugar-free recipe. The cookies were still good so by all means go down that route if that's the only way you would get to try these cookies. I just preferred them made with an egg and a bit of brown sugar. For the vegan cookie, replace the egg with a chia egg and for the refined sugar-free version, replace the brown sugar with dates. The notes on these changes are included in the recipe below.
Now, you must rush to the kitchen immediately and bake up these bad boys. Although you might not forgive me if you become as obsessed with them as I am.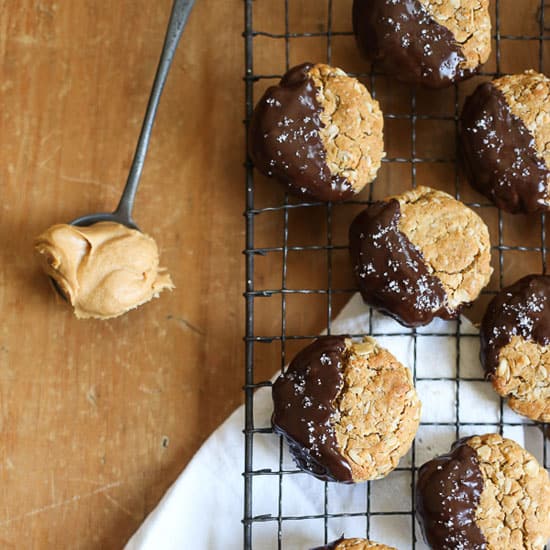 1

egg

100

g

soft light brown sugar

300

g

natural peanut butter

125

g

jumbo rolled gluten-free oats

1

teaspoon

bicarbonate of soda

¾

teaspoon

sea salt

plus extra for sprinkling

100

g

dark chocolate chips

melted
1

egg

100

g

soft light brown sugar

300

g

natural peanut butter

125

g

jumbo rolled gluten-free oats

1

teaspoon

bicarbonate of soda

¾

teaspoon

sea salt

plus extra for sprinkling

100

g

dark chocolate chips

melted
Whisk the egg and sugar together in a large mixing bowl until pale and smooth.

Add the peanut butter, oats, bicarbonate of soda and sea salt and mix until the batter is smooth and thick.

Using the palms of your hands roll up the dough into balls of about 45g each and place on a baking sheet a couple of inches apart. Press down slightly so the top of the cookies are flat.

Bake for 6-8 minutes until the cookies are just turning golden.

Remove from the oven and leave on the baking sheet for 5 minutes to firm up before moving them to a wire rack to finish cooling.

Dip each cookie in melted chocolate and sprinkle on sea salt then leave to set.
*For a vegan cookie, replace the egg with 1 chia egg. (1 tablespoon ground chia seeds whisked into 3 tablespoons water and left to set for 5 minutes in the fridge. Use then the way you would the normal egg)
*For a refined sugar-free cookie, replace the sugar with 8 pitted dates, blended to a puree. The mixture will be a little stickier before going into the oven but comes out pretty much the same cookie consistency.