This post contains affiliate links. Please read my disclosures.
This Gluten-Free Red Velvet Cake knocks socks off its peers. It is light, fluffy and flavourful but incredibly moist and topped with a richly whipped cream cheese buttercream.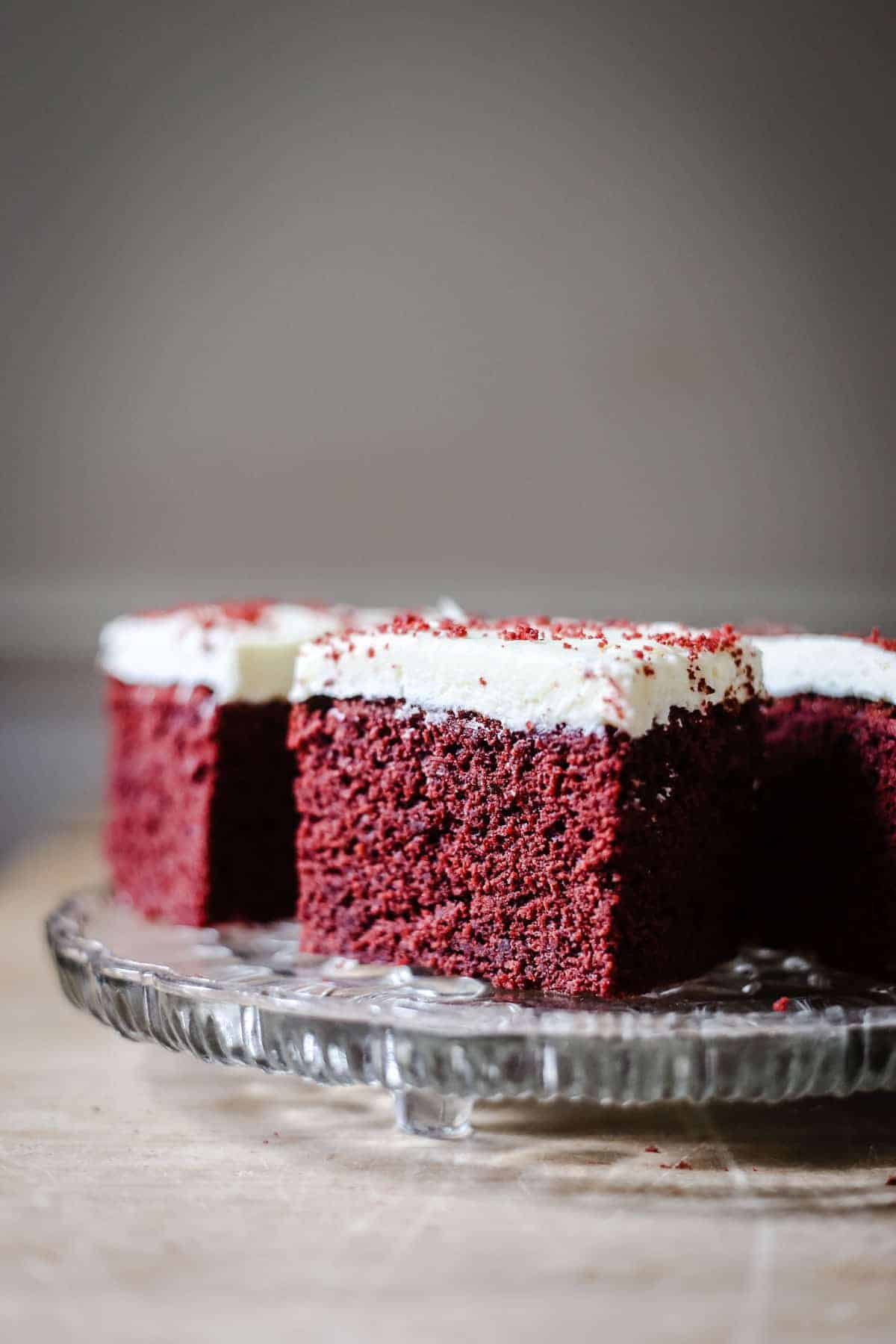 I hadn't made a Red Velvet Cake in ages and before I revisited the recipe with Cole earlier this week I wasn't intending it to be my next blog post. But I had forgotten how much I love this classic cake and actually I think I prefer this version with alternative flours to any I have made before. And I have baked a lot of Red Velvets. The flavour here is richer, thanks to the oat flour, without any compromise on texture and moisture balance, thanks to the white flour and tapioca flour. I didn't think it was possible but I have become super excited about Red Velvet Cake once more. It's like 2005 all over again.
The first time I tried a Red Velvet Cake was when the Hummingbird Bakery first opened its doors in Notting Hill and the production company I was with had ordered dozens of this incredibly trendy cupcake to celebrate the end of a project we had been slogging away at. The cupcake revolution was at its humble beginnings and American baking was just starting to make headway in the UK. We ate a lot of cake in our office, well I did anyway, the hours were long, the work was challenging and the clients were frustrating. A little bit of cake to see in 4pm was my beacon of light during the day. However, this particular cupcake, the colour, the texture, the buttercream, is seared into my memory. I remember with clarity the speech given by our Head of Production, how the cakes were arranged on the table and who I giggled with about sneaking my third cupcake. It's really akin to my baking origin story. I wasn't so much hit with a bolt of lightning or bitten by a radioactive spider but ate my first bite of red velvet cake and my love of baking which had been lying dormant whilst I pursued a demanding career in production was reawakened.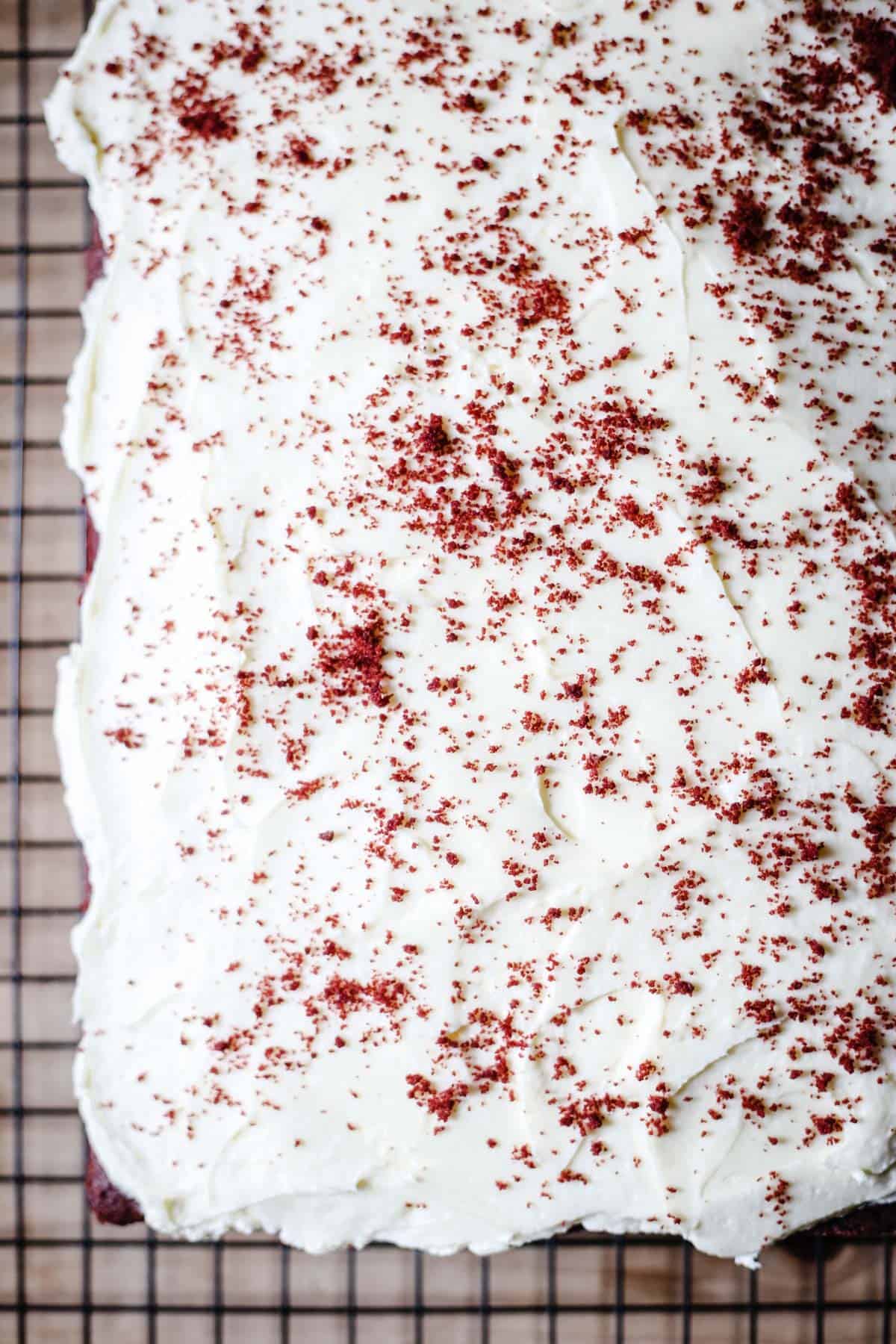 Red Velvet Cake was the first cake I completely obsessed over. I trekked across London religiously to The Hummingbird Bakery to have yet another red velvet. I scoured cookbooks for recipes and when I discovered food blogs I followed all the baking bloggers I could find, consumed by the world of cake which had suddenly opened up. As soon as the Hummingbird Bakery published its first cookbook I put in my pre-order and when it arrived I thrillingly re-created its Red Velvet Cupcakes time and time again for friends, family and work colleagues. Over time I adapted the cake to suit my evolving tastes and when I launched my first cake stall my layered Red Velvet Cake was one of my best-sellers. It sold out consistently as customers were lured in by its tantalising colour and then would then return next week for its amazing flavour.
Gradually as I offered a greater variety of cakes, focusing on new and interesting flavours, I didn't make as many Red Velvets. By then you could buy them almost anywhere and they weren't nearly as interesting a showpiece. Customers didn't order them as much and then after I re-launched the cake stall as a gluten-free extravaganza, well the Red Velvet Cake just hasn't made an appearance. This has been a huge mistake I now realise.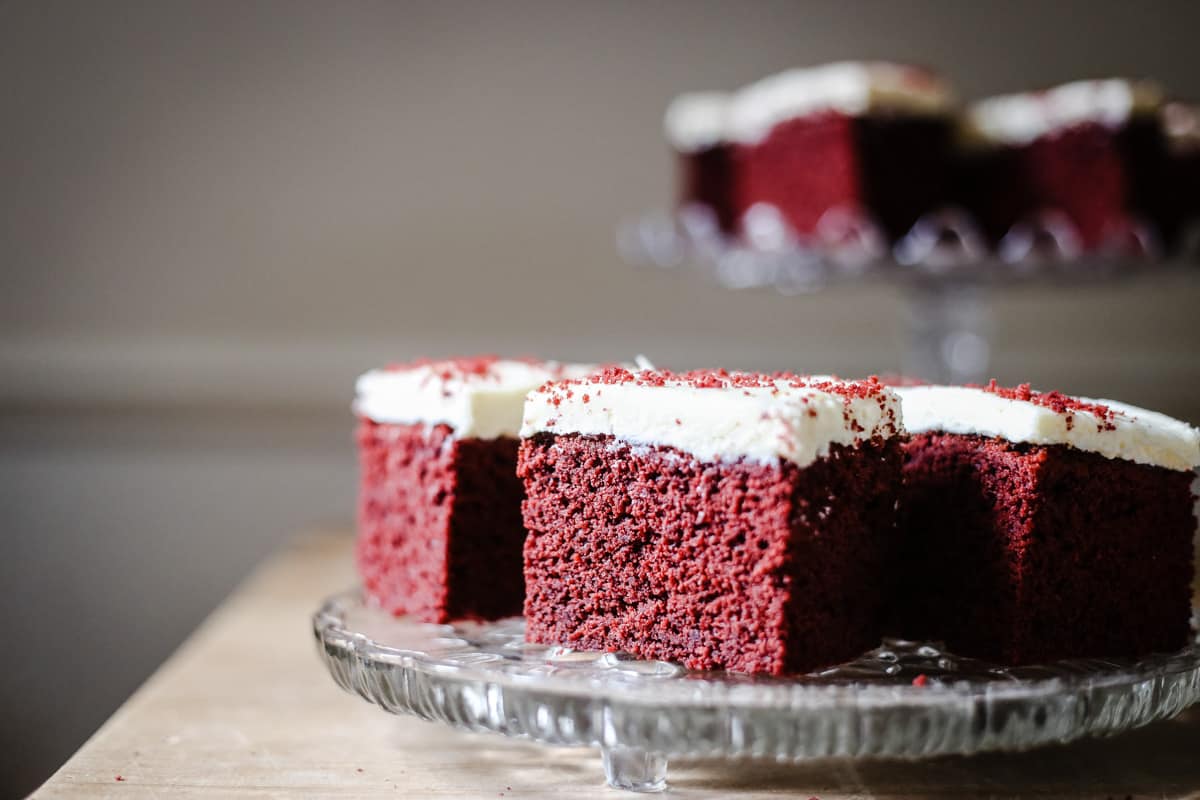 Last Wednesday my mum and I took Cole and Beau for cake and babyccinos at a little local café after our toddler gym class. Now Cole is pretty taken with the colour red. I mean, he really likes it. The tantrums we encounter at Diddidance if there isn't a red ribbon or hula hoop left when it gets to Cole's turn is intense. His wellies are red, most of his clothes are now red, his sunglasses, hat, water bottle, toy dinosaurs, Nana's new car. It's all red red red.
So when we went entered the cafe he spotted the red velvet cake at the front of the glass display instantaneously. 'Red cake,' he squealed excitedly. He had never had red velvet cake before so I treated him to a slice, looking forward to having an illicit bite myself. Now I know I'm a complete cake snob, I have hugely high standards, but this cake was dire. Actually I should have known better, it didn't look great, the colour was muted, the buttercream yellowing and the whole thing was covered in cling film, but I figured Cole isn't terribly fussy. However it was horrible. So terribly stale, hard at the edges, with a heavy taste of oil and little else, plus I was now deeply concerned about the health of the buttercream. How long it has been languishing on display was anyone's guess. So unfortunately for Cole the cake was whisked away (cue horrific screams) and I promised him we would make a much better red cake that afternoon.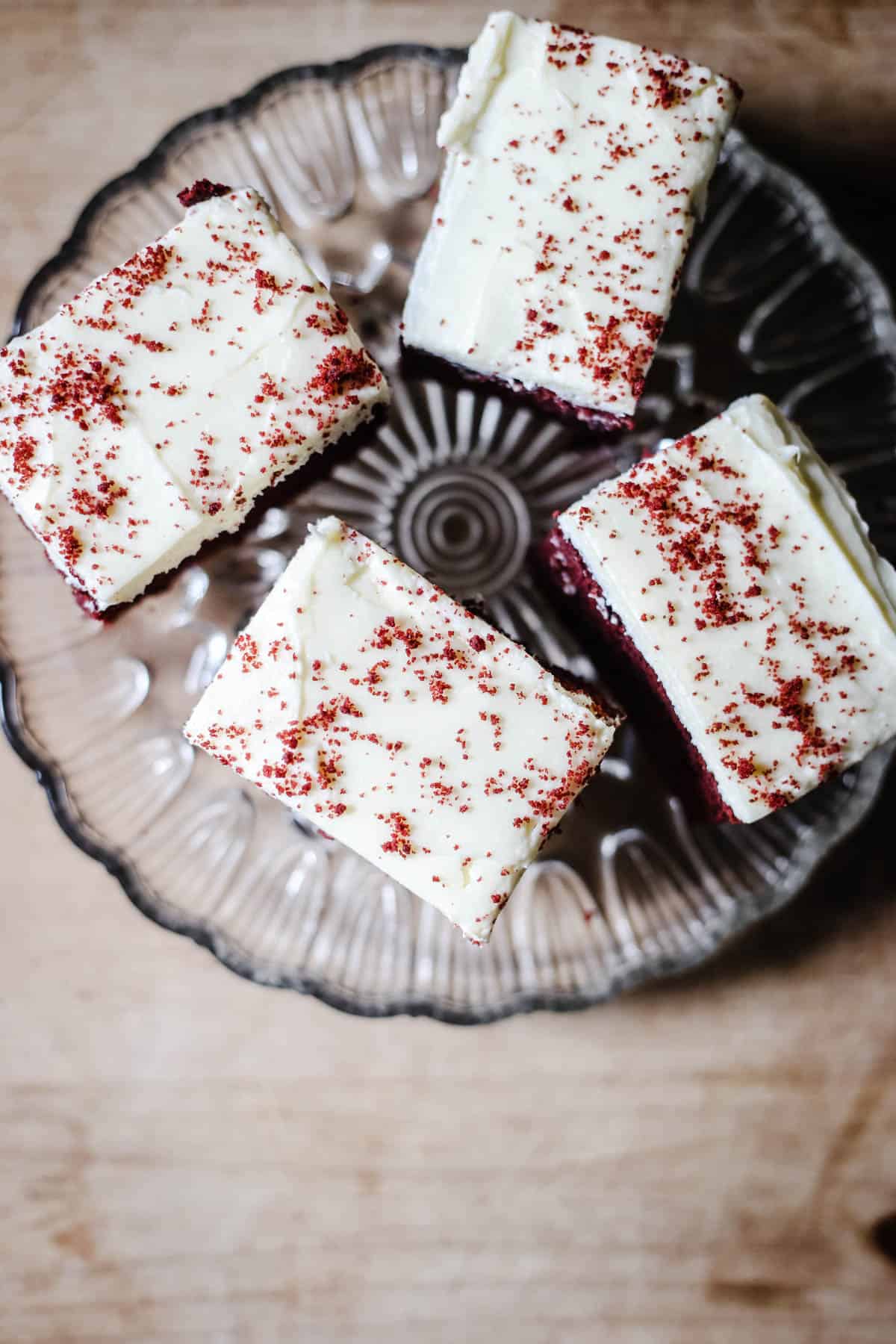 Well we did, I never break a cake promise. But as I said above I had really forgotten just how amazing a really good Red Velvet Cake can be. Even with Cole lending a hand to the proceedings the results were outstanding. It was my first time making this cake gluten-free and it lost absolutely nothing in the translation. The crumb is soft and tender from the buttermilk and vinegar combination and the cocoa flavour just peeks through with the vanilla giving you a cake which is best of both worlds, a little bit chocolatey and a little bit vanillary.
The cream cheese buttercream is my go-to recipe, it's not too sweet and really rich and creamy. The secret is the pinch of salt and the vanilla extract which bring out all the flavour. I can often give or take buttercream but not this one, I'm all in on this cream cheese buttercream and it sets off the red velvet cake so well.
With a Red Velvet Cake it's all about the colour. I love a beautifully rich red, not too garish. The beauty of the cake being gluten-free is that you can't overmix it when the flours are added so wait until the batter is completely ready before adding your colour then you can ensure the exact shade you want. If the colour isn't rich enough for you then just add more. I have erred against giving you directions on how much colour to add below as it completely depends on the brand you use. I like using Squires Kitchen Professional Poinsettia Food Colour Pastes as they don't add any extra moisture to the cake. The shade I used here is Poinsettia, 1-2 teaspoons.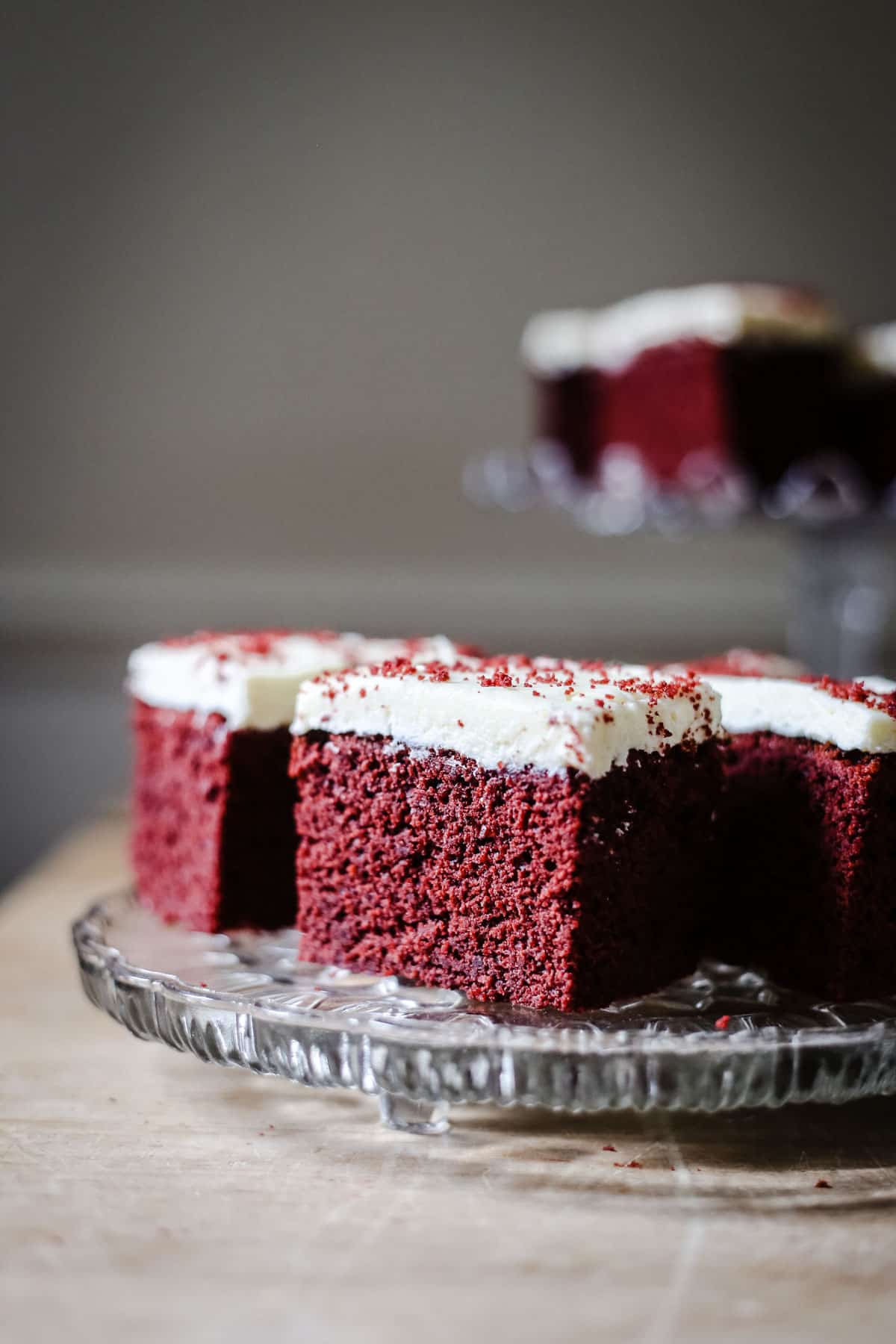 My cake stall is on hiatus at the moment but I'm really looking forward to returning and putting Gluten-Free Red Velvet Cake back on the map. In the meantime you can guess which cake Cole will be requesting every single time we have baking afternoon from now on.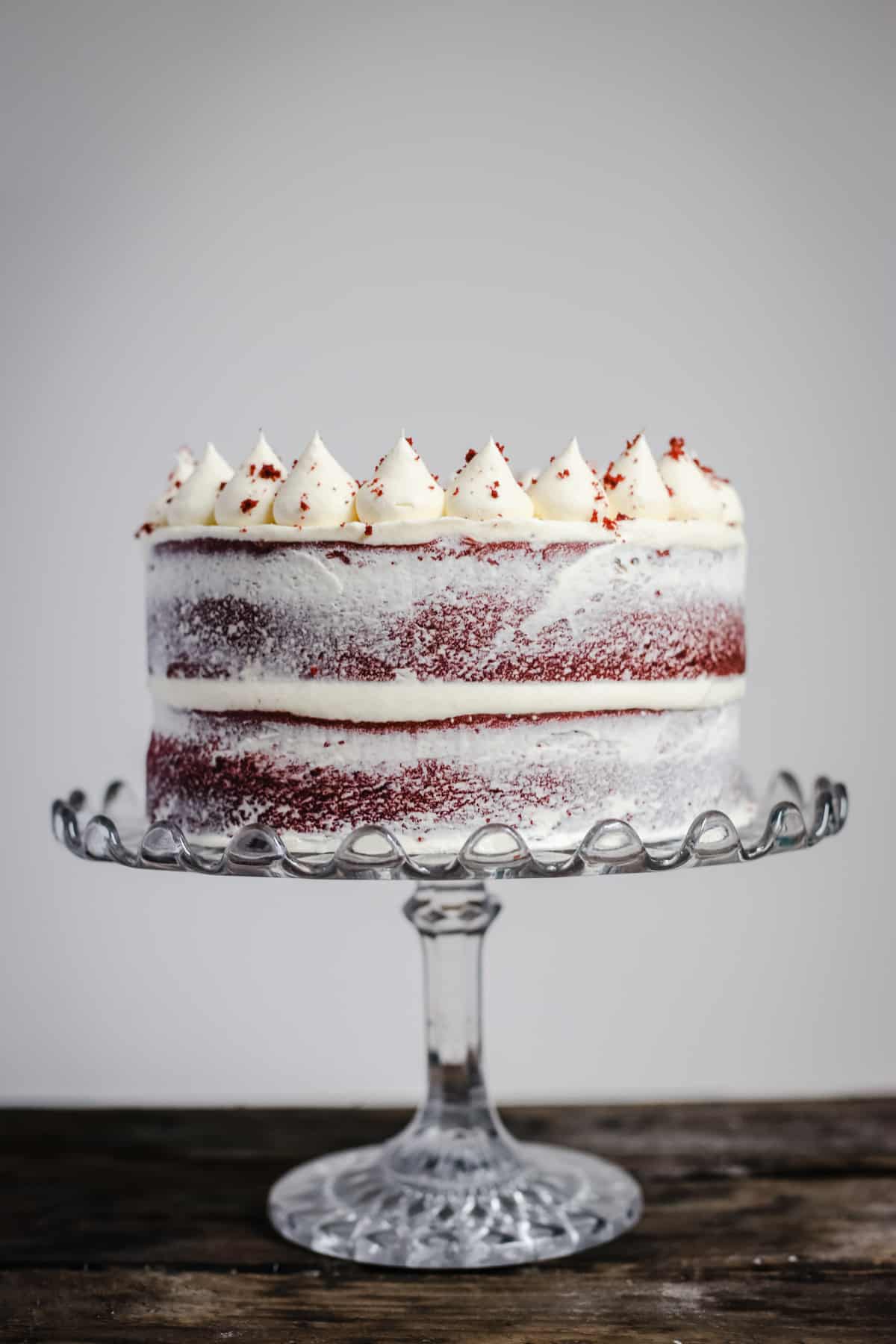 Shop the Recipe:
If you like this recipe then you may like...
I urge you to give this Gluten-Free Red Velvet Cake a try. If you do then please leave a comment below and give the recipe a rating which helps others find the recipe on Google. If you then go on to use this recipe as a launch pad for your own culinary creation then I'd also love it if you'd share it and tag me on Instagram. It is so lovely for me to see your versions and variations of my recipes.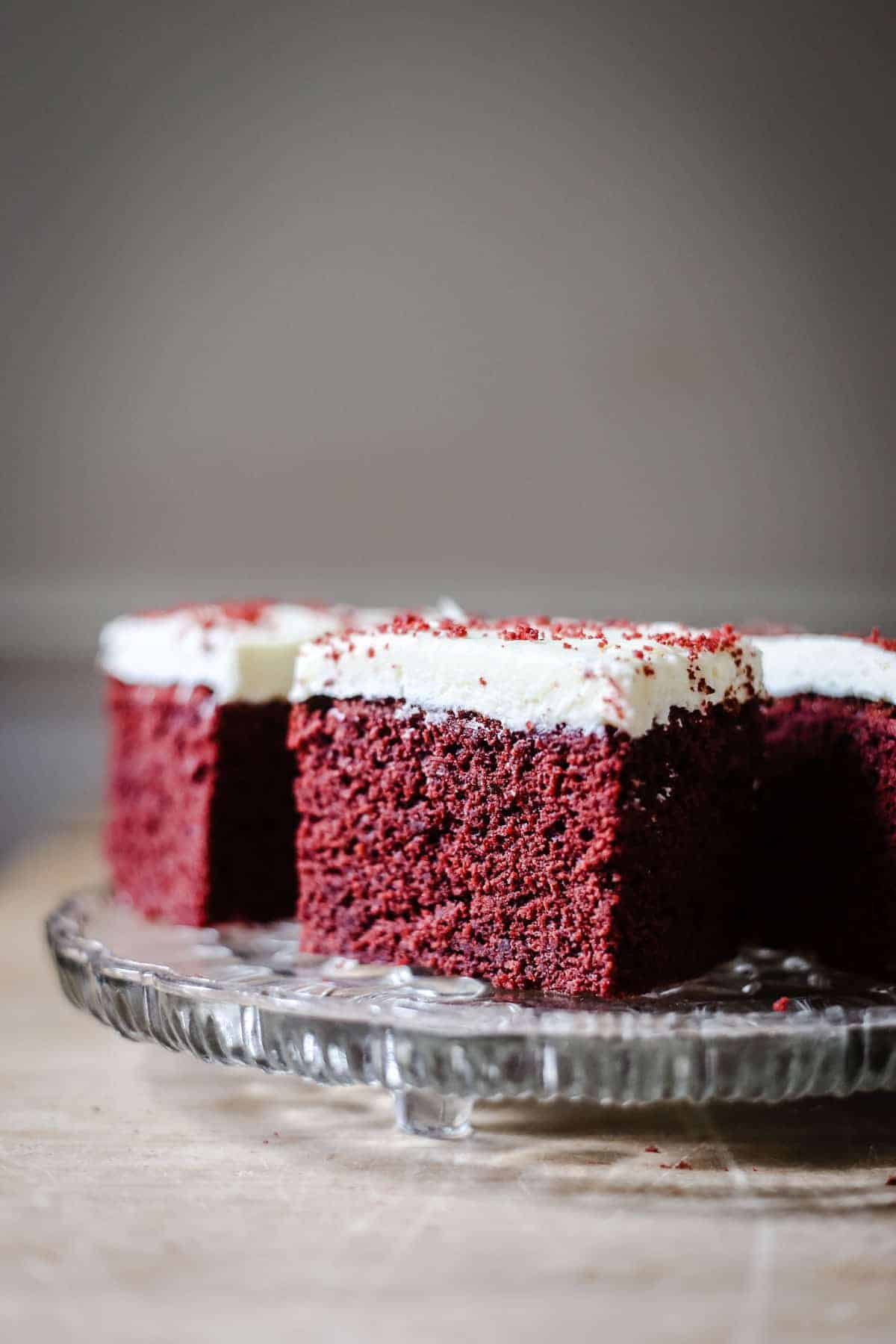 Gluten-Free Red Velvet Cake
This Gluten-Free Red Velvet Cake knocks socks off its peers. It is light, fluffy and flavourful but incredibly moist and topped with a richly whipped cream cheese buttercream.
Ingredients
200

g

unsalted butter

500

g

caster sugar

4

eggs

red food colouring

2

teaspoons

vanilla extract

50

g

cocoa powder

225

g

white rice flour

175

g

oat flour

100

g

tapioca flour

2

teaspoons

bicarbonate of soda

400

ml

buttermilk

1½

tablespoons

white vinegar
Cream Cheese Buttercream:
250

g

unsalted butter

300

g

icing sugar

⅛

teaspoon

salt

¾

teaspoon

vanilla extract

180

g

cream cheese
Instructions
Preheat the oven to 170°C and line and grease a 13"x 9" deep cake tin.

Beat the butter and caster sugar together for a few minutes until light and fluffy.

Add the eggs one at a time and beat well.

Sift together the cocoa powder, flour and bicarbonate of soda in a bowl and set aside for a moment.

Mix together the buttermilk and vinegar in a jug.

In alternate turns add the flour and the buttermilk mixtures to the rest of the batter. You should add the flour in 3 additions and the buttermilk in 2 additions, starting and ending with the flour.

Add the food colouring and vanilla extract and mix until the colour is as desired

Pour into the cake tin and bake for 60 minutes or until an inserted cocktail stick comes out clean.

Remove from the oven then rest the cake for 10 minutes before carefully removing to finish cooling onto a wire rack. Once completely cooled, cut a very thin slice of the sponge away and whizz up to cake crumbs in the food processor for sprinkling on the top.
Cream Cheese Buttercream:
Cream the butter until soft then add the icing sugar and mix for about 10 minutes until very light and fluffy.

Add the salt and vanilla and mix again to combine.

Finally beat in the cream cheese until the buttercream is smooth. Swirl onto the finished cake with a palette knife.
Notes
*how much red food colouring you use is completely dependent on the brand. Be careful using a very liquid food colouring (like Dr Oetker which is the default red food colouring you can get at most UK supermarkets) as it will affect the consistency of the batter. I love to use Squires Kitchen Professional Food Colour Pastes in my baking as they give excellent deep rich colours and don't affect the recipe at all.
*If you don't have any buttercream to hand then you can make your own if you whisk together 400ml whole milk with 2 tablespoon white vinegar and let stand for 10 minutes before using. To this you can then add the 1½ tablespoons of white vinegar that the recipe requires.
Nutrition
Calories:
591
kcal
Carbohydrates:
77
g
Protein:
6
g
Fat:
30
g
Saturated Fat:
17
g
Cholesterol:
116
mg
Sodium:
239
mg
Potassium:
170
mg
Fiber:
2
g
Sugar:
51
g
Vitamin A:
955
IU
Calcium:
64
mg
Iron:
1.2
mg
Have you tried this recipe?
Head to the comment section and let me know what you think!