This post contains affiliate links. Please read my disclosures.
Chocolate Peanut Butter Caramel Crunch Cups are vegan, gluten-free and refined sugar-free but most importantly, absolutely heavenly.
So I have got into a nice little habit which like all my habits start off as something well intentioned but ultimately turn into an unhealthy obsession until I have to stage a self-intervention and no longer allow myself to indulge in the habit further.
This current habit is… making my own chocolate. Oh by gum I am loving it. It all started a few months ago when I was asked to make a refined sugar-free, vegan, soy-free, gluten-free chocolate cake. The recipe for the cake itself wasn't a problem, but finding quality chocolate for the ganache that ticked all these requirements wasn't an easy task.
It also surprised me how many bars of chocolate that claimed to be vegan also said 'may contain dairy.' This left me baffled. And a dairy-free chocolate that didn't contain soy felt like the holy grail.
Also sugar. Turns out chocolate producers like to put actual sugar in their chocolate, who knew? I did eventually find an artisan 70% dark chocolate bar without dairy or soy and made with coconut sugar. Of course the cost was obscene. I really didn't have an option. I was going to have to make my own.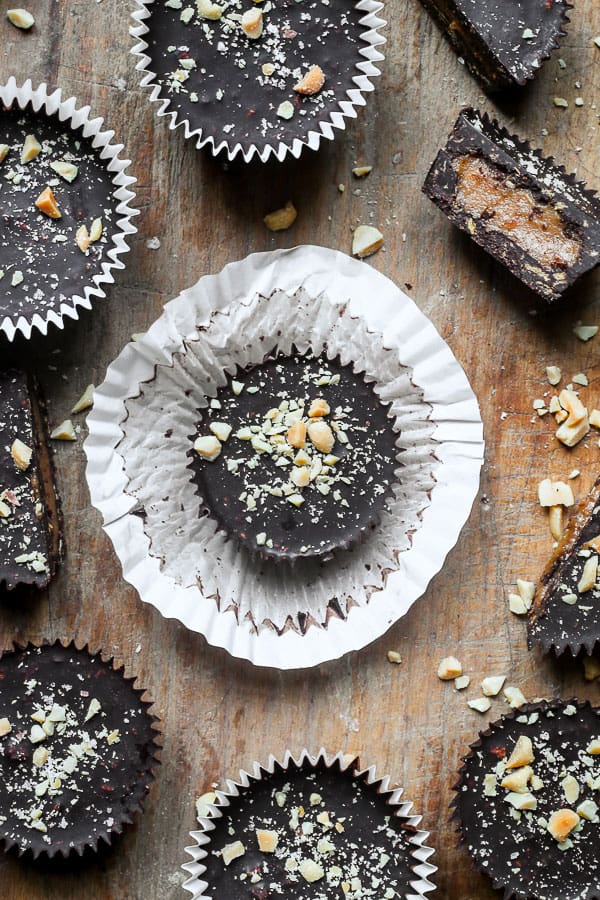 It turned out that making my own chocolate from just a few ingredients was ridiculously easy. The resulting cake was splendid and everyone involved was incredibly happy. Especially me, as now I knew how to make my own healthy and guilt-free chocolate. This could only be a good thing, yet more ammunition for me to enjoy a balanced and less processed diet. Without a doubt this would lead to weight loss, wellness and unqualified happiness.
Sure. If you are a remotely restrained human being. That is not me and I am on the homemade chocolate train and riding it all the way to Disneyland and back again. Happiness indeed.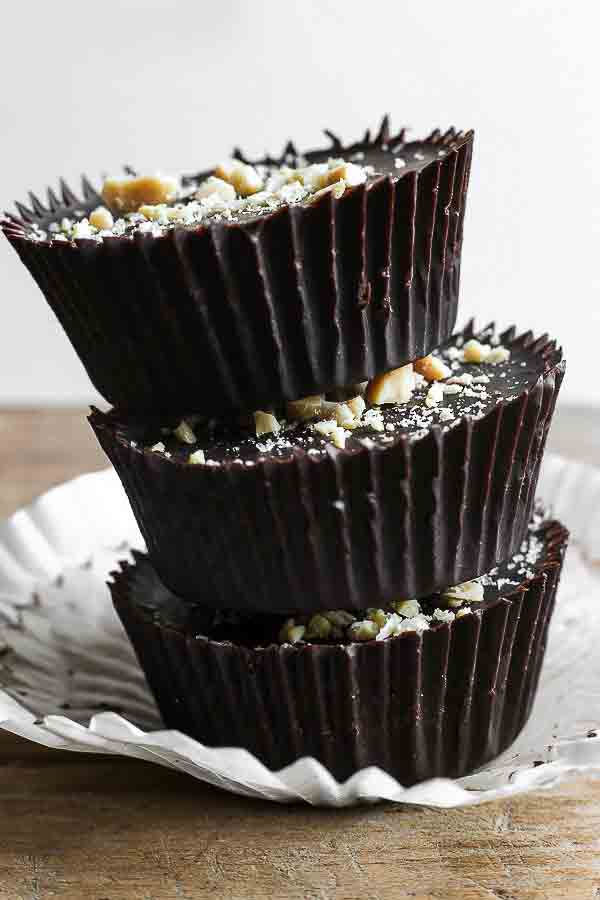 Now this homemade chocolate isn't made the same way actual chocolate producers make their posh bars but this homemade stuff is actually pretty brilliant. And incredibly addictive.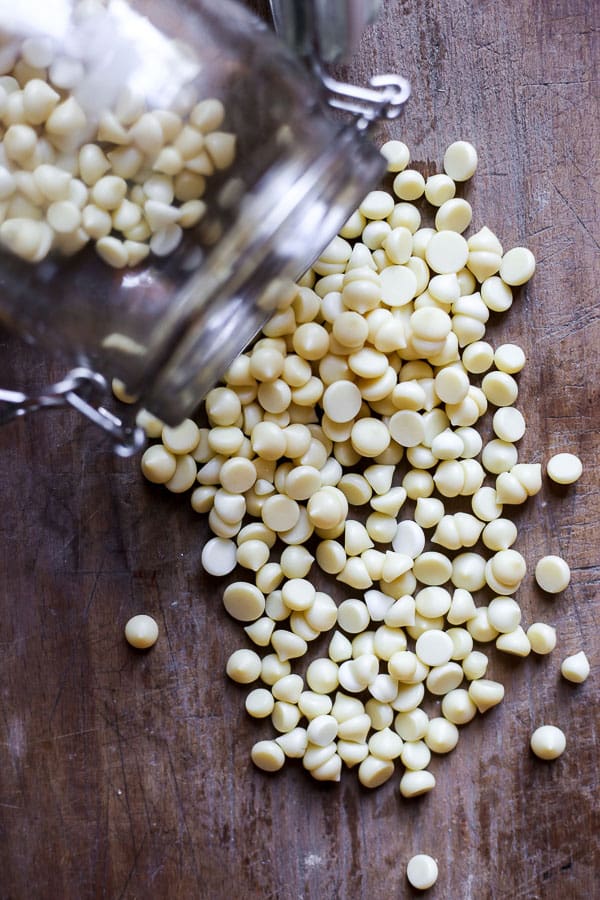 How to make chocolate
Cocoa Butter. The base of the homemade chocolate is cocoa butter which you can easily get hold of on Amazon or your local health food shop. You can buy it in blocks of raw cocoa butter but it's better for this purpose to buy in chips for even melting. The cocoa butter is melted with coconut oil which is used to help solidify the chocolate.
Cocoa powder is then whisked in for the chocolate taste.
Maple syrup, only a dash, for sweetness
Vanilla extract for depth
Salt for balance.
Add-ins. It's up to you to leave plain or go crazy with the add-ins.
Set. All that's left is to set the chocolate in the fridge or freezer. You can use chocolate moulds, a parchment lined Tupperware box, or muffin cases.
How to store homemade chocolate
This homemade chocolate isn't as stable as properly processed chocolate and it melts easily so you will need to keep it in the fridge once it has set but that's no issue at all as it's wonderful direct from the chiller.
I have been loving experimenting with homemade chocolate but in this recipe for Chocolate Peanut Caramel Crunch Cups things are getting really exciting.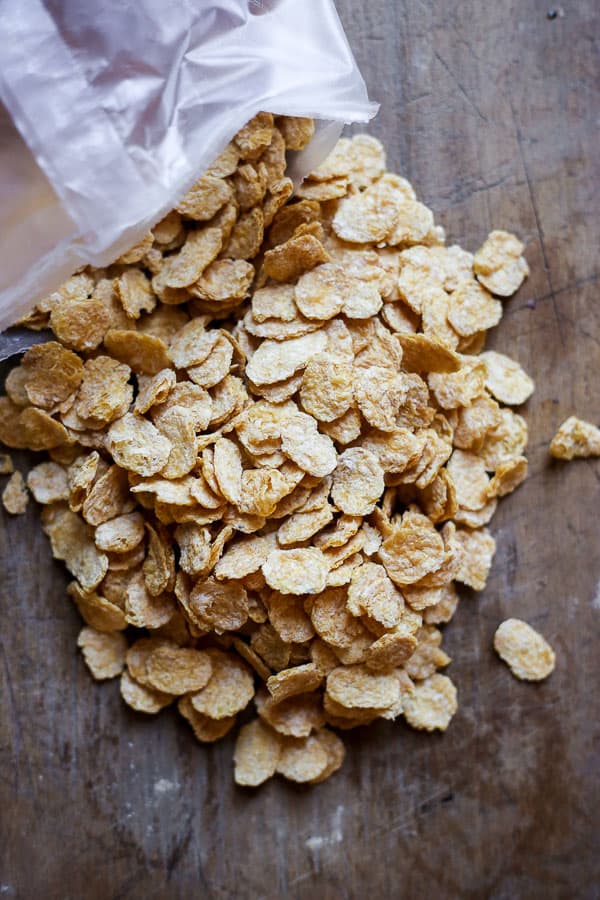 Gluten-Free Cornflakes
Now I spoke above about the option of add-ins for your homemade chocolate. I'm talking about chopped nuts, dried fruit or crushed cookie pieces. For this recipe though we want some crunch to our chocolate, to contrast with the thick smoothness of the caramel. The crunch element of choice here is gluten-free cornflakes. Now I'm not a big cereal-for-breakfast fan, but cereal-in-desserts is another matter entirely. I grew up on chocolate cornflake treats and this here is just a grown up version of that. Not only do these cornflakes give the chocolate crunch but also that unique, almost malty, cornflake flavour that is so reminiscent of childhood.
Check Your Labelling
Check your labelling if you are looking for refined sugar-free. There are various brands of gluten-free cornflakes that either have no sugar involved or are made with unrefined sugar and also some made with regular sugar. It's up to you which you choose. If you are going for completely unsweetened cornflakes though you may want to increase the amount of maple syrup used. For this recipe I used cornflakes slightly sweetened with rice malt syrup.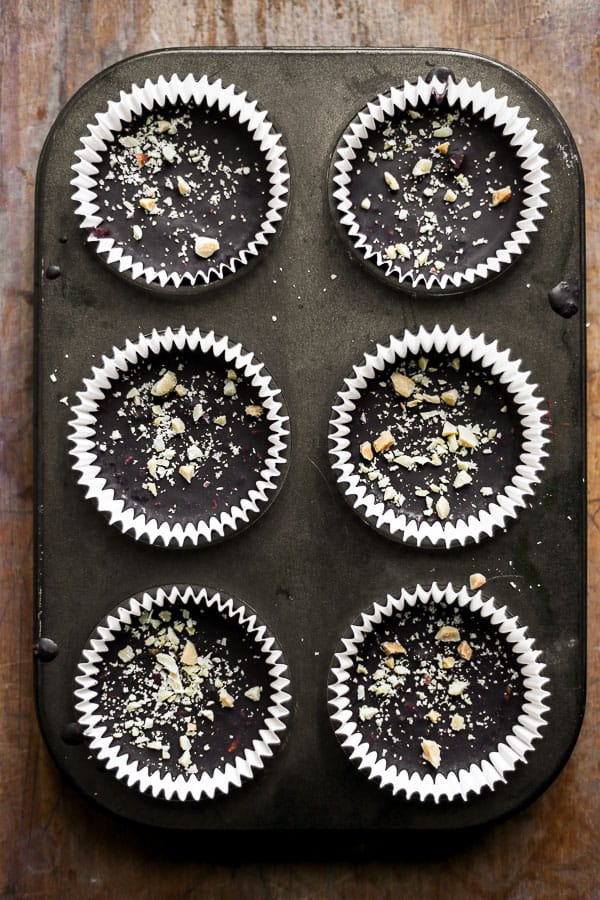 I have been making different versions of chocolate cups since Beau was born. They were my little treat during night feeds when I needed something to stay awake. They are so easy to make as you just need cupcake cases, melted chocolate and a filling of some sort. The idea is based on Reese's Peanut Butter Cups of which there have been countless versions of pervading food blogs for years. Here though, I wanted something a little less sinful but that still tastes just like you are sinning.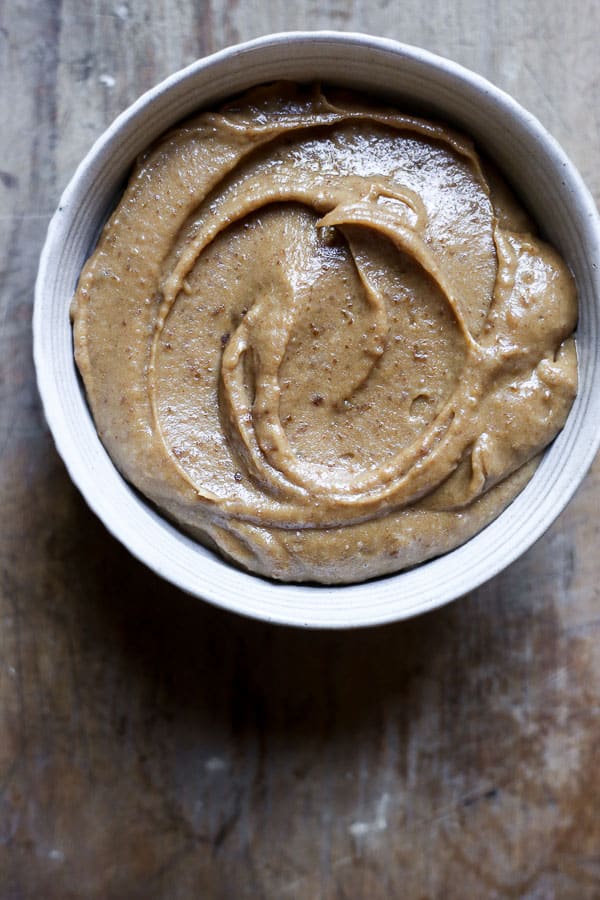 How To Make Vegan Peanut Butter Caramel
This filling takes peanut butter cups to the next level. First we make a vegan and sugar-free caramel by blending chewy sticky medjool dates with hot water, for a smooth drippy consistency, and coconut cream to really make it taste like actual creamy rich caramel. It's such good stuff. Add a bit of vanilla and salt and you have a refined sugar-free and vegan caramel which is out of this world. I'm not vegan so I eat proper caramel all the time and I am still thrilled with the date caramel option, it has such depth of flavour and a perfect consistency. When we blend in a natural peanut butter into this caramel the situation suddenly gets serious.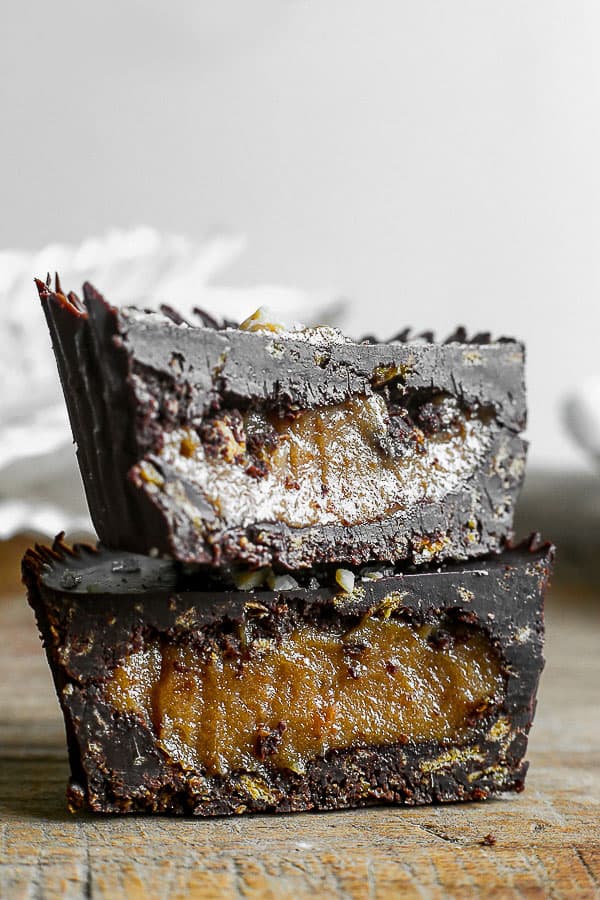 This peanut butter caramel is an utterly divine filling for our chocolate crunch cups. At first you might think this is a complicated recipe as it involves making your own chocolate and your own vegan caramel. The steps are easy though and pretty foolproof. There's no tempering of chocolate or burning of sugar to worry about and most of the recipe is an assembly job, broken down in the method below. I urge you to give these a try or at least make your own homemade chocolate, I bet after you make it the first time it will soon become a habit.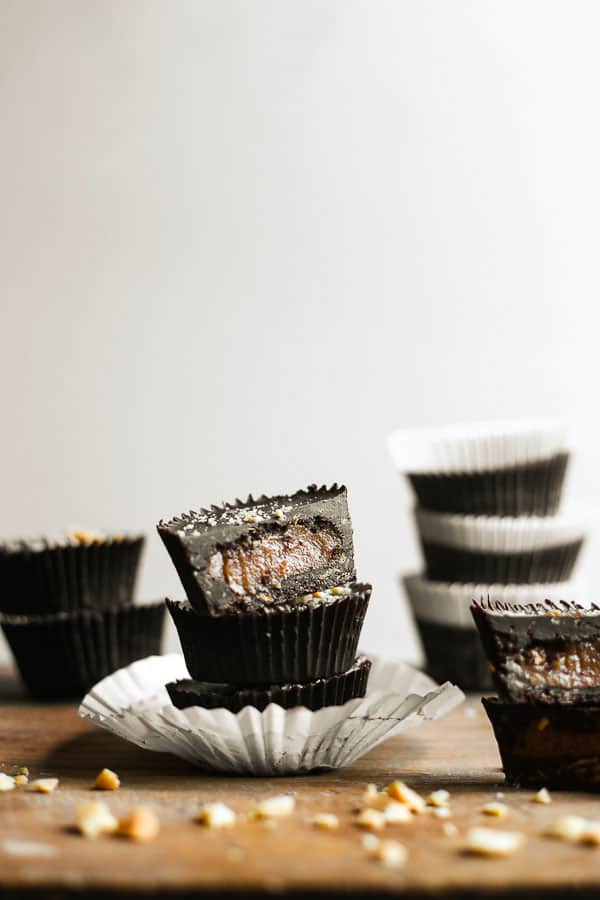 If you like this recipe then you may like...
Fleur de Sel Olive Oil Chocolate Truffles
Milk Chocolate Peanut Caramel Brownies
If you make these Chocolate Peanut Butter Caramel Crunch Cups then please leave a comment below and/or give the recipe a rating. If you then go on to use this recipe as a launch pad for your own baking creation then I'd also love it if you'd share it and tag me on Instagram. It is so lovely for me to see your versions and variations of my recipes.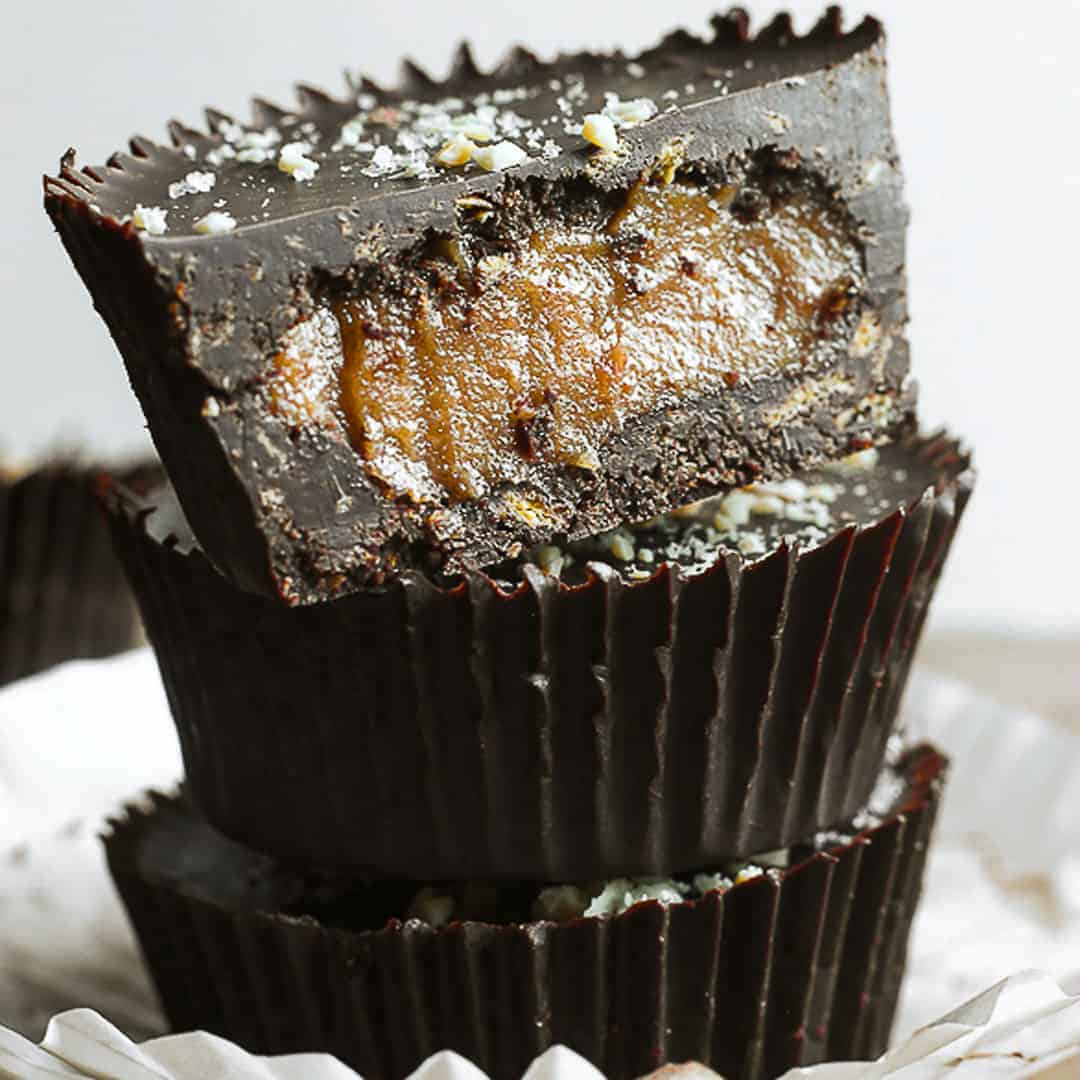 Chocolate Peanut Butter Caramel Crunch Cups
Chocolate Peanut Butter Caramel Crunch Cups are vegan, gluten-free and refined sugar-free but most importantly, absolutely heavenly.
Ingredients
Peanut Butter Date Caramel
120

g

medjool dates

-

pitted, about 8 dates

60

g

natural peanut butter

60

g

coconut cream

60

ml

boiling water

1

teaspoon

maple syrup

½

teaspoon

vanilla extract

½

teaspoon

salt
Chocolate
220

g

cocoa butter chips

30

ml

coconut oil

100

g

cocoa powder

30

ml

maple syrup

½

teaspoon

vanilla extract

½

teaspoon

salt

100

g

gluten-free

-

refined sugar-free cornflakes, finely crushed

20

g

natural unsalted peanuts

-

roughly chopped

1

teaspoon

flaked sea salt
Instructions
Peanut Butter Date Caramel
Place all the ingredients into a small food processor and mix together for 5-10 minutes so the caramel is ultra smooth. Every so often turn off the processor and scrape down the sides for an even blend.
Chocolate
Melt the cocoa butter chips and coconut oil in a bain marie or metal bowl set over a pan of simmering water. Remove from the heat.

Sift the cocoa powder into the cocoa butter then whisk in until smooth.

Stir in the maple syrup, vanilla extract, salt and crushed cornflakes.
Assembly
Pour 1 tablespoon of the molten chocolate into the bottom of each cupcake liner.

Place in freezer for 3 minutes so the chocolate is half set.

Remove from the freezer. Push the chocolate ¾ way up the sides of the cupcake liner then place back in the freezer for 10 minutes for chocolate to completely set.

Remove the chocolates from the freezer.

Spoon 2 teaspoons of peanut butter date caramel into each case and smooth down the top of the caramel.

Pour 1 tablespoon of the cornflake chocolate over the top of the caramel so it is completely covered.

Place the chocolate back into the freezer for 20 minutes to set.

Remove the chocolate from the freezer, sprinkle over some chopped peanuts and flaked sea salt.

Store the chocolates in the fridge. They will keep for at least a week.
Notes
*use a natural peanut butter which should only have 'peanuts' listed under the ingredients.
*The caramel cream I use is from a tin of coconut milk. If you are based in the UK then the best coconut milk brand to use is Biona as it contains no gums or stabilisers. Place your tin of coconut milk in the fridge upside down overnight. By the morning the coconut will have separated from the water, leaving you with beautifully solidified coconut cream at the top of your tin which you can scoop out with a spoon. I use the leftover coconut water for drinking, adding to smoothies, thinning out salad dressings or cooking with.
Homemade Chocolate recipe adapted from Minimalist Baker's Easy Vegan Chocolate
Nutrition
Calories:
315
kcal
Carbohydrates:
21
g
Protein:
4
g
Fat:
27
g
Saturated Fat:
20
g
Sodium:
413
mg
Potassium:
263
mg
Fiber:
4
g
Sugar:
9
g
Vitamin A:
15
IU
Vitamin C:
0.2
mg
Calcium:
29
mg
Iron:
1.8
mg
Have you tried this recipe?
Head to the comment section and let me know what you think!