This post contains affiliate links. Please read my disclosures.
This easy Raspberry Pudding is a gorgeous family friendly dessert. Chock full of sweet and tangy raspberries tucked into a soft light sponge. Heavenly drizzled with fresh cold cream.
I am always looking to make the most of summer's best raspberries with simple recipes which showcase the delights of this sweet tangy berry.
This Raspberry Pudding may be the best dessert to come out of your kitchen this summer and does the fruit all the justice it deserves.
Plump juicy raspberries are tossed into the bottom of a baking dish and blanketed by a light soft ground almond sponge. Crisp on the top and the edges and delightfully squidgy and luxurious underneath.
The best bit is that it can be made all year round. When your summer raspberries are done you'll be wanting to make this again and again with the berries stashed in your freezer.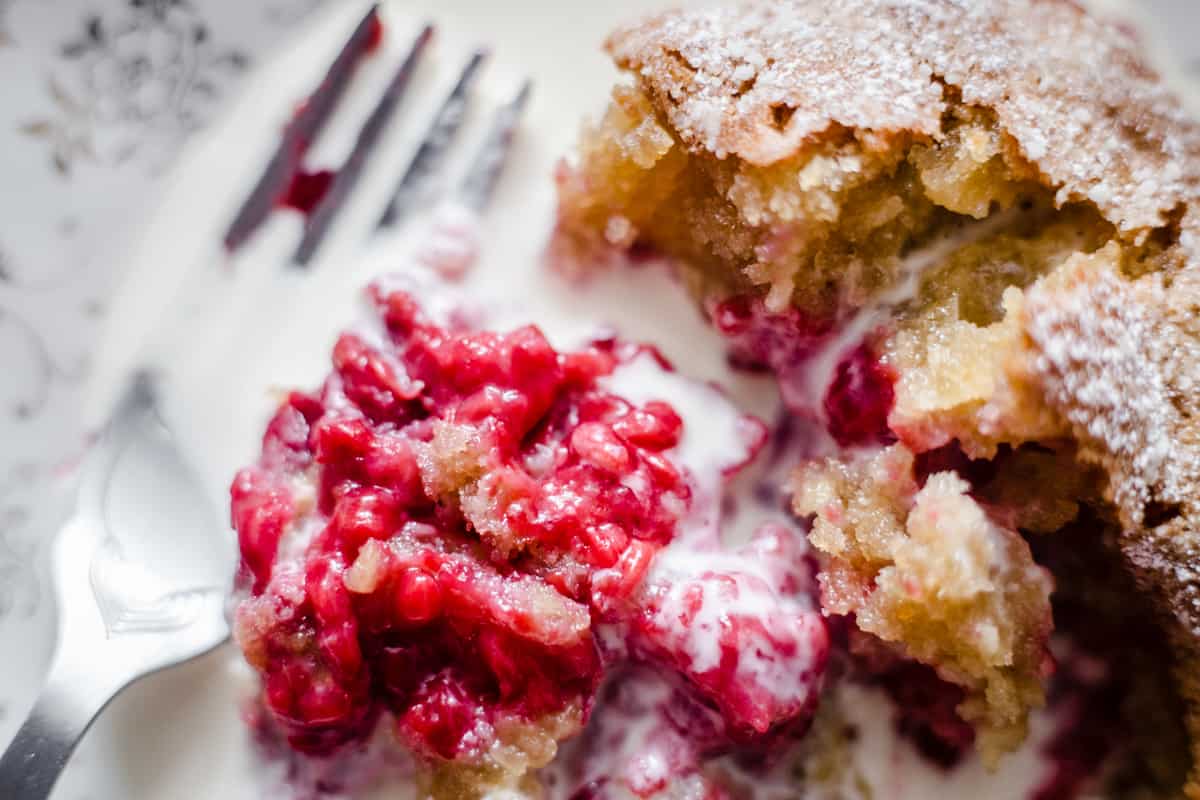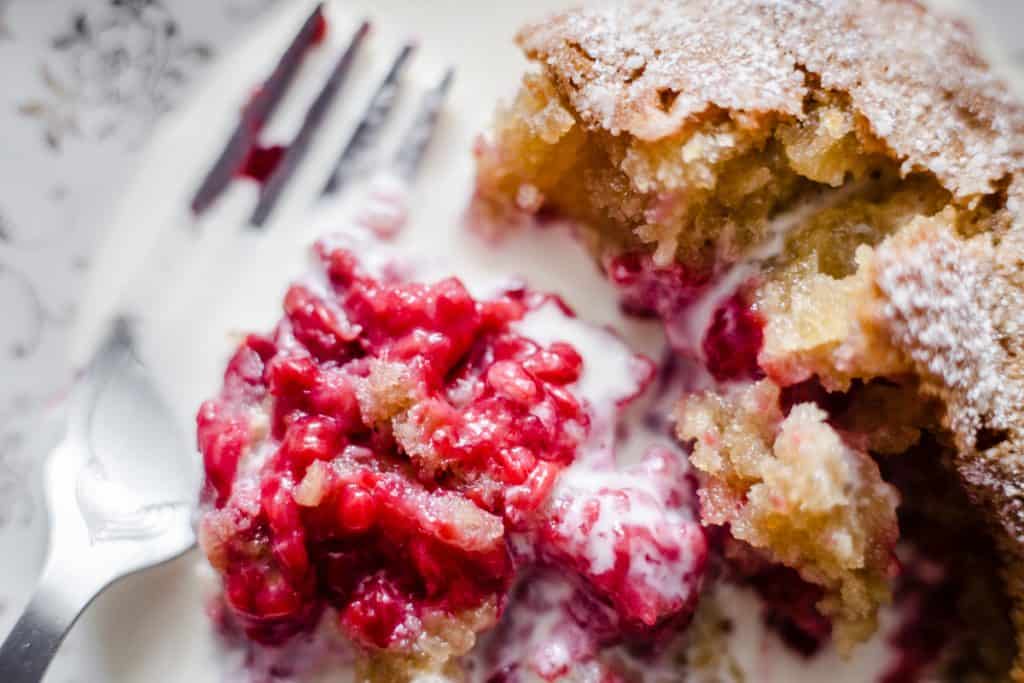 Why is this recipe so brilliant?
This dessert is full of sweet juicy and slightly tangy raspberries.
Simple to put together sponge.
Made with easy to get hold of gluten-free ingredients like ground almonds and tapioca flour.
It can be eaten warm straight out of the oven or later at room temperature.
Incredibly moreish, one bowl is never enough!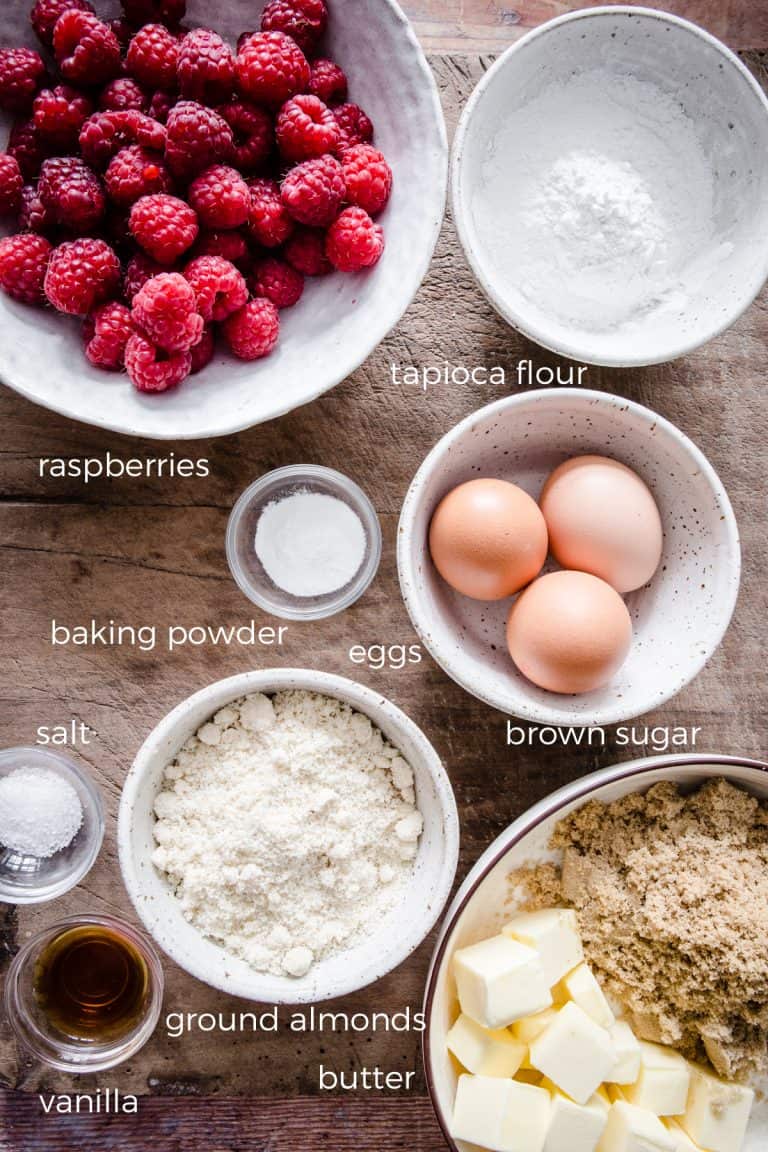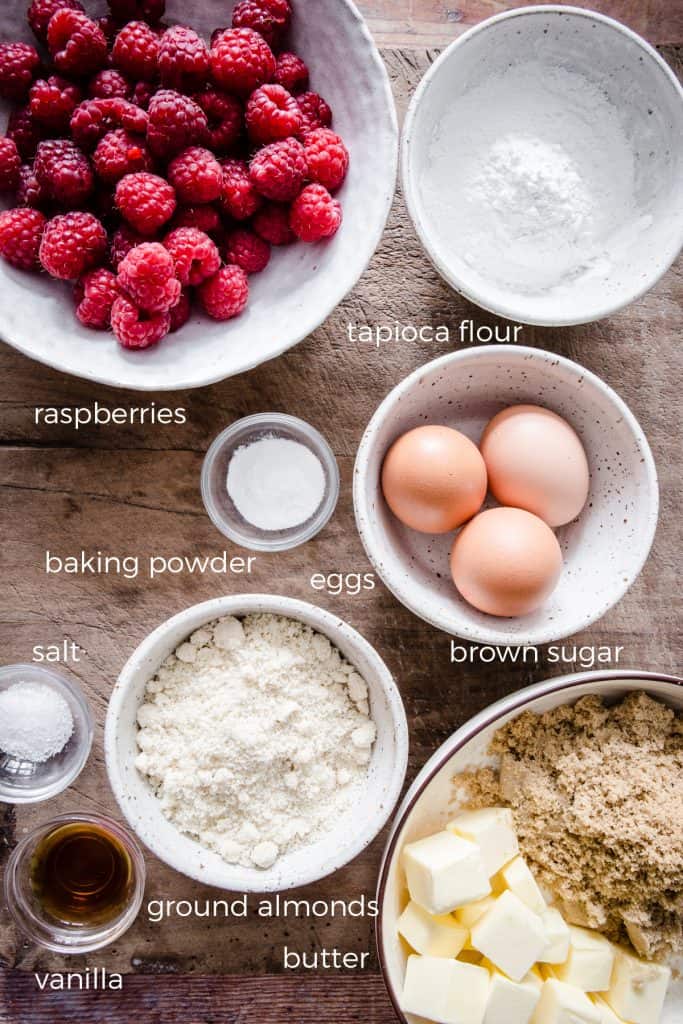 Gluten-Free Flours
Tapioca flour – we use tapioca flour twice here. Once to coat the raspberries in the bottom of the glass dish. This captures the excess moisture from the raspberries to avoid the pudding sinking. We also use tapioca flour mixed in with the ground almonds to give the sponge a better structure.
For a deep dive into how you can use tapioca flour in your kitchen then have a look at this post.
Ground almonds – used instead of flour for the most irresistible soft light texture and nutty taste.
Nut flours are brilliant for baking. For all the information you need to get you started using nut flours click here.
How do you make it?
Toss the raspberries in tapioca flour and tumble into the bottom of a baking dish.
Beat butter and brown sugar until light and fluffy.
Add the eggs and vanilla and mix well.
Beat in the ground almonds and more tapioca flour.
Cover the batter over the top of the raspberries.
Bake for 45 minutes.
Eat warm from the oven drizzled in cold cream.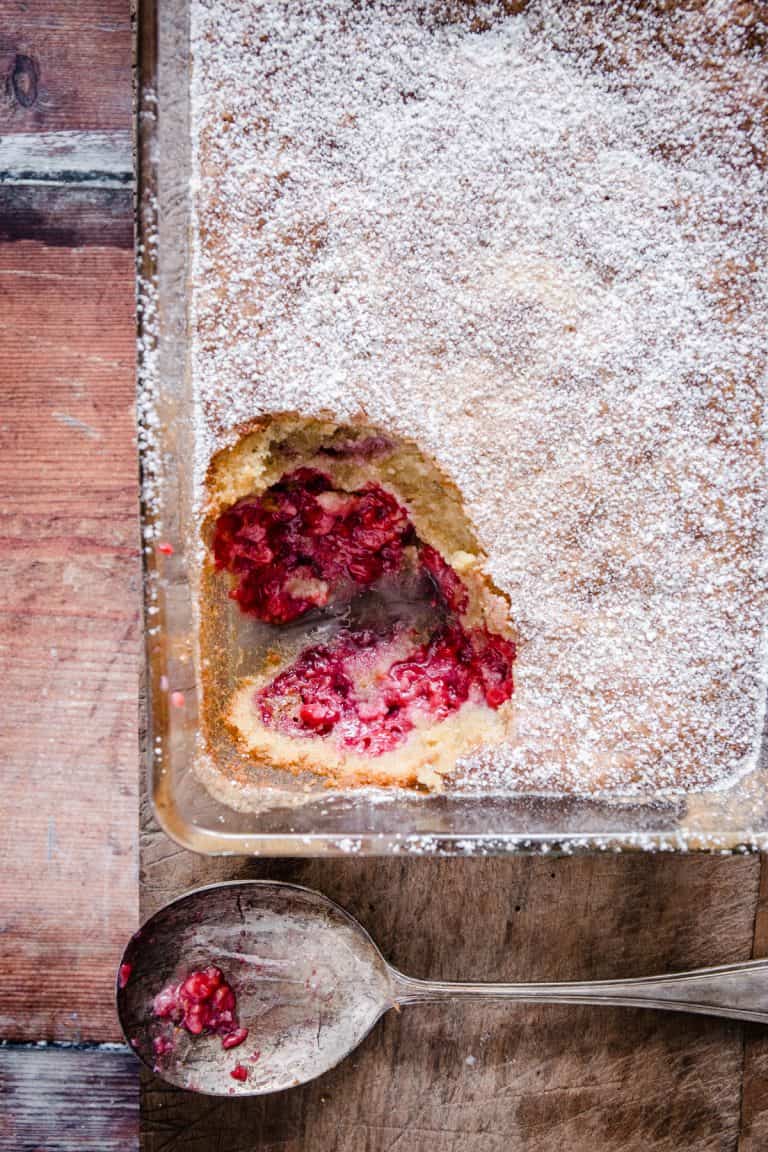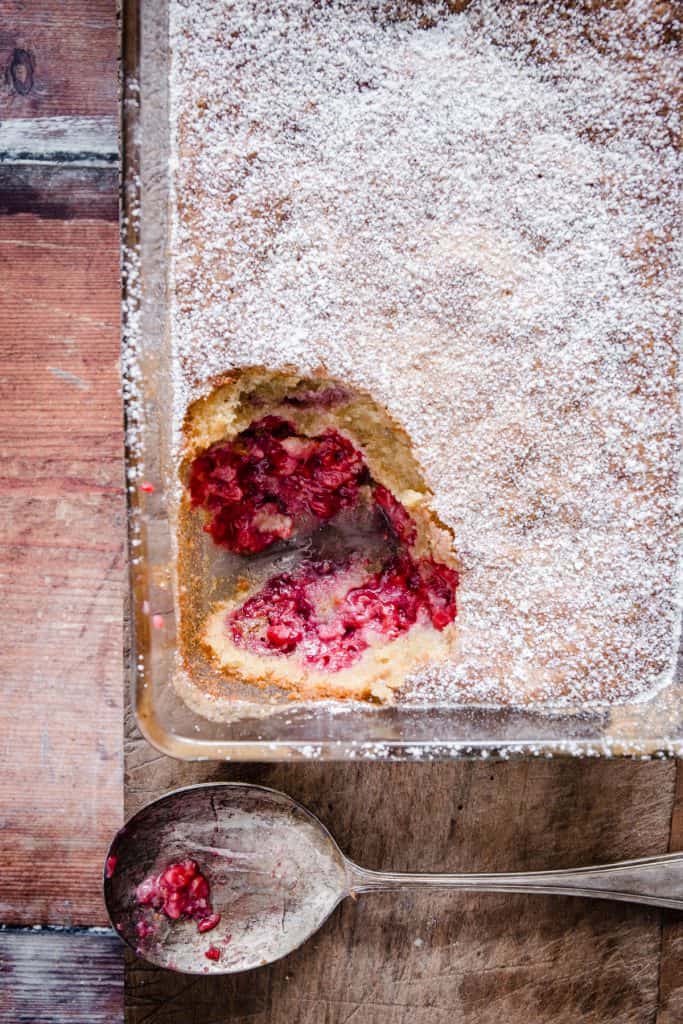 Bakers Tips
Coating the raspberries with the tapioca flour is a step you don't want to miss as it will help absorb the excess moisture from the raspberries and stop your pudding from becoming too dense.
You can use regular vanilla extract but if you really want to push the boat out use bourbon vanilla extract for an extra depth of flavour.
Allow the pudding to rest out of the oven for at least 15 minutes if you are serving warm.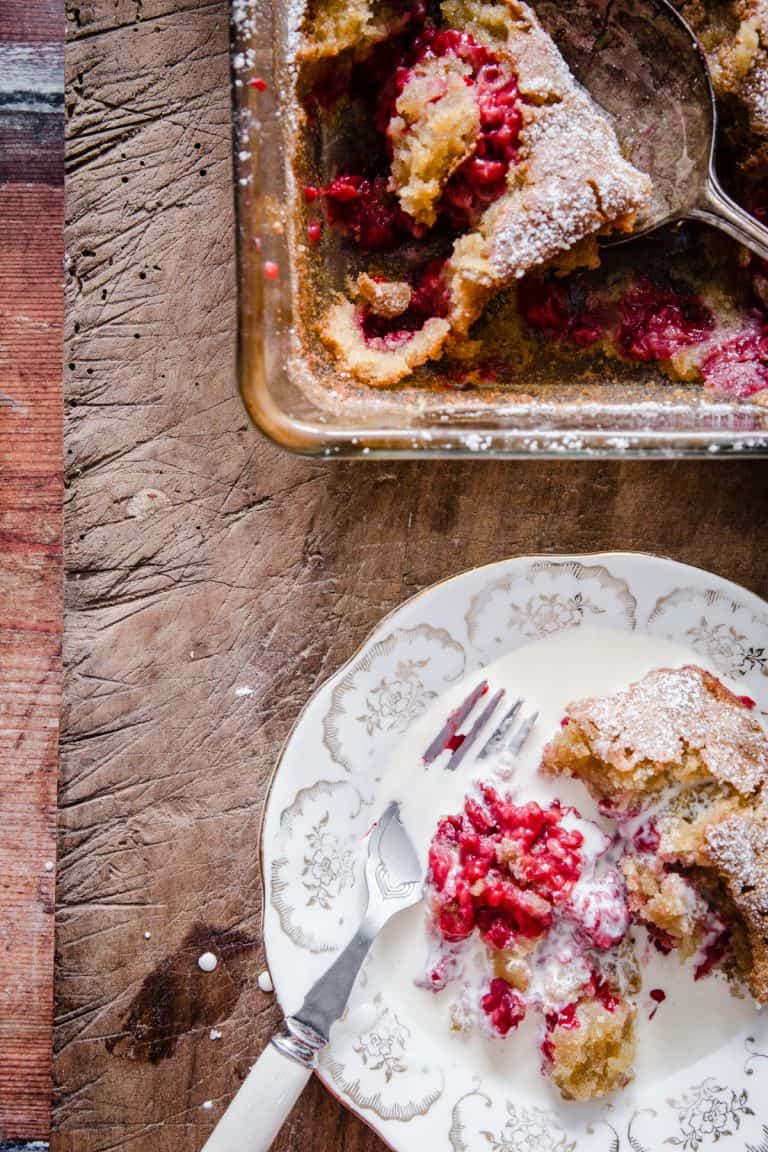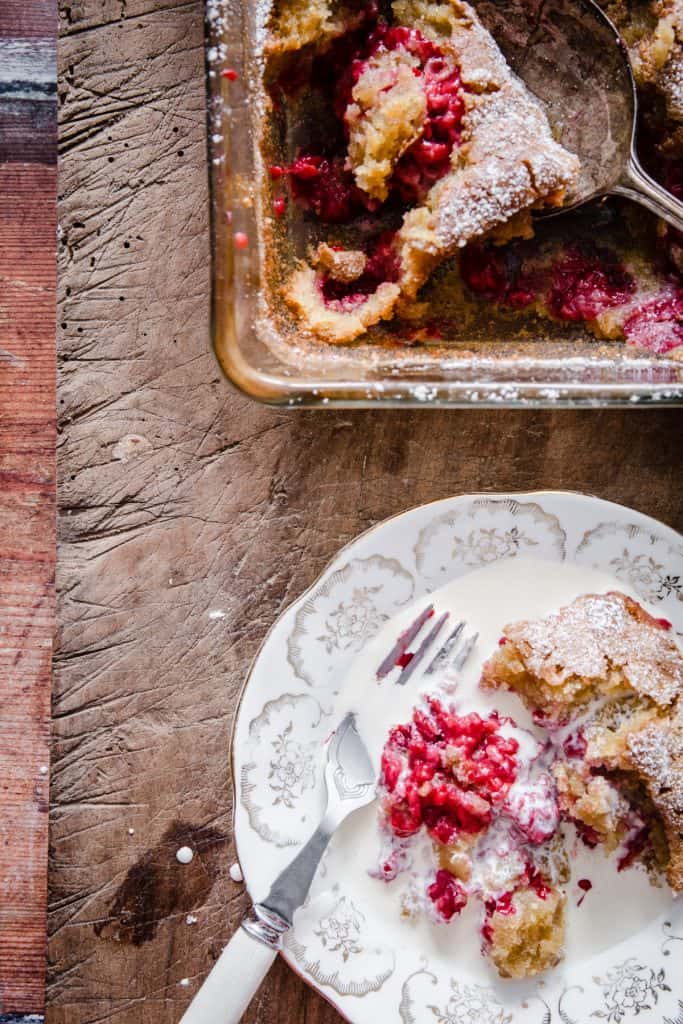 What do you serve with it?
This dessert is certainly delicious by itself but of course an accompaniment is always welcome.
In the summer months I prefer to drizzle over fresh double cream straight from the carton.
Whipped double cream is also good for a bit more body.
If you are really pushing the boat out then you just can't go wrong with really good ice cream.
In the cooler months then vanilla custard makes it into a really warming dessert.
FAQs
Recommended equipment - this glass baking dish is excellent for this pudding.
How long does it keep for? – If you don't eat the whole pudding straightaway then you can keep it in the fridge. It keeps well for up to 5 days. It is excellent cold as well but will firm up with a more solid texture.
Can you re-heat it? – Yes, tuck some foil over the top and re-heat at 180°C / 160°C fan / gas 4 for 20 minutes.
Can you freeze it? – Yes, wrap up well and freeze for up to 2 months. Defrost thoroughly before re-heating (instructions above).
Can you use frozen raspberries? – Yes. They give off a little more moisture though so the resulting pudding will be a little more squidgy. Still delicious!
Can you use other berries? – Yes, you can swap the raspberries out for blackberries, blueberries or a mix of summer berries.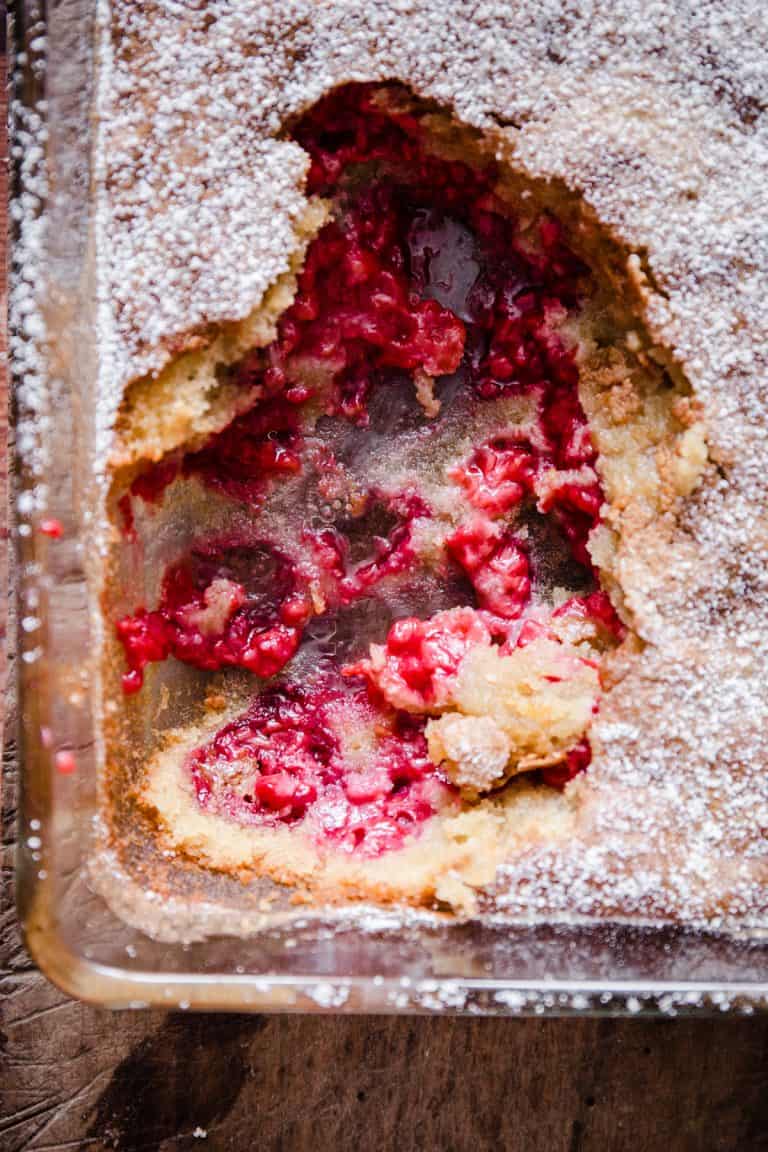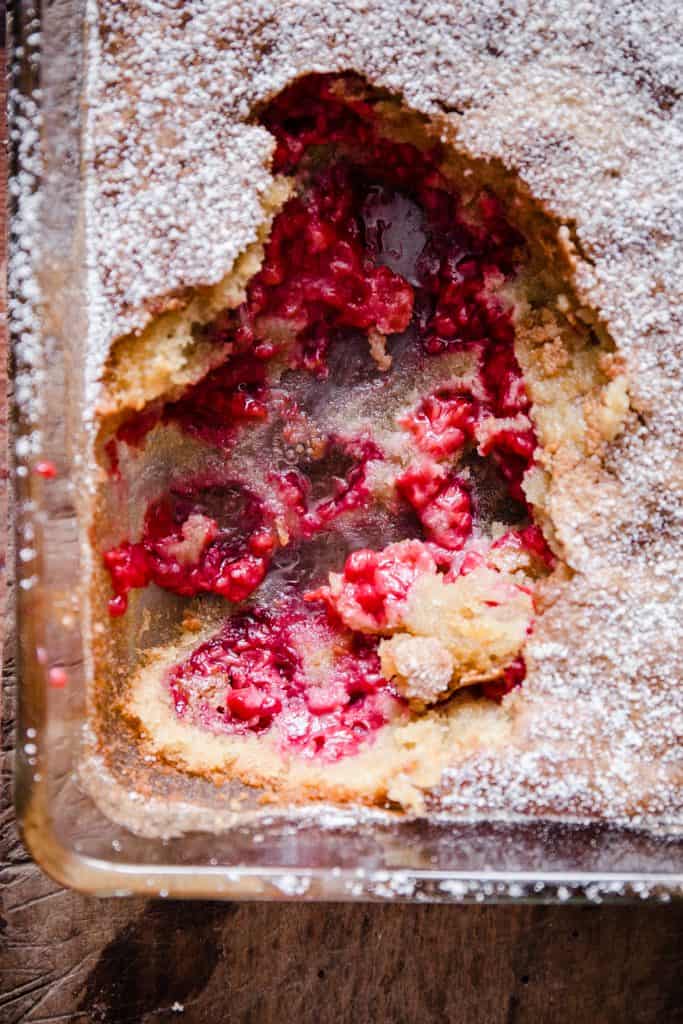 If you love this dessert then you may also like:
Blackberry Lemon Pudding
Lemon Ginger Cake with Lemon Custard
Bramley Apple Mincemeat Pudding
Spotted Dick
Steamed Chocolate Pudding
If you make this Raspberry Pudding then please leave a comment below and/or give the recipe a rating. If you then go on to use this recipe as a launch pad for your own baking creation then I'd also love it if you'd share it and tag me on Instagram. It is so lovely for me to see your versions and variations of my recipes.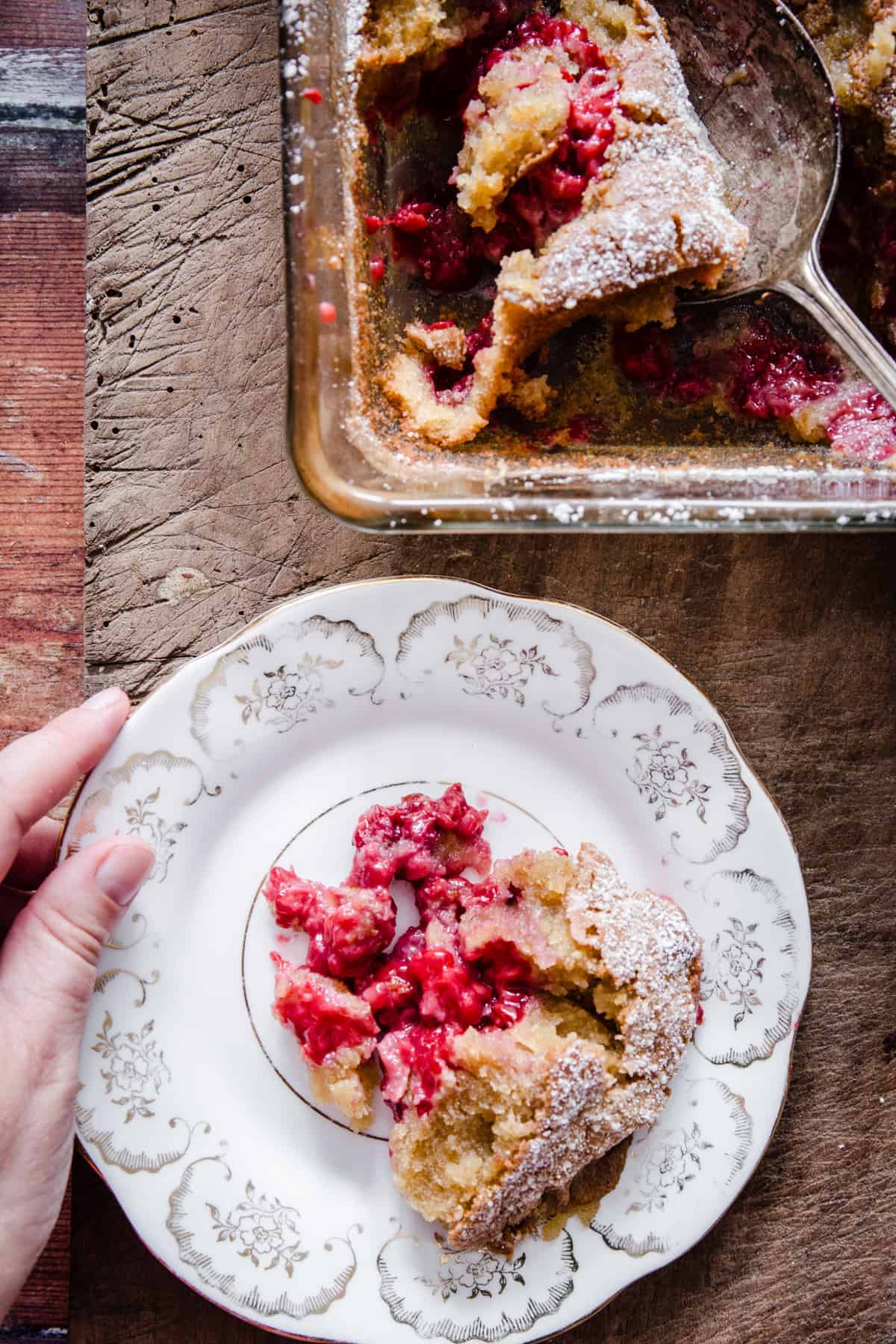 Raspberry Pudding
This easy Raspberry Pudding is a gorgeous family friendly gluten-free dessert. Chock full of sweet and tangy raspberries tucked into a soft light sponge. Heavenly drizzled with fresh cold cream.
Ingredients
350

g

raspberries

70

g

tapioca flour

150

g

unsalted butter

-

room temperature

150

g

light soft brown sugar

3

eggs

-

medium

1

teaspoon

bourbon vanilla extract

100

g

ground almonds

1½

teaspoons

baking powder

½

teaspoon

salt

1

tablespoon

icing sugar to finish
Instructions
Pre-heat oven to 180°C / 160°C fan / gas 4 and grease a baking dish 27 x 17cm.

Coat the raspberries in 20g tapioca flour, reserving the other 50g for later.

Drop the raspberries into the bottom of the dish

Beat the butter and sugar together until light and fluffy. About 6 minutes in a stand mixer, scraping the sides down occasionally.

Add the eggs one at a time, beating well after each addition and then add the vanilla extract.

Whisk together the ground almonds, the rest of the tapioca flour baking powder and salt.

Add the flour mixture to other ingredients and beat well.

Pour the batter over the raspberries.

Bake for 50 minutes until the surface is golden.

Remove from the oven.

Rest the pudding for at least 15 minutes and sieve the icing sugar over the top just before serving.
Notes
You can serve the pudding warm from the oven or later on at room temperature.
If you are making ahead then it is best to re-heat before serving.
Serve with cream or ice cream in the warmer months and vanilla custard in the cooler months.
You can also use frozen raspberries.
Nutrition
Calories:
358
kcal
Carbohydrates:
35
g
Protein:
5
g
Fat:
23
g
Saturated Fat:
11
g
Cholesterol:
102
mg
Sodium:
177
mg
Potassium:
194
mg
Fiber:
4
g
Sugar:
22
g
Vitamin A:
572
IU
Vitamin C:
11
mg
Calcium:
99
mg
Iron:
1
mg
Have you tried this recipe?
Head to the comment section and let me know what you think!