This post contains affiliate links. Please read my disclosures.
These Cheese Bread Rolls are incredibly addictive. Crisp on the outside and chewy and cheesy in the middle. They are made with tapioca flour so are naturally gluten-free.
This is the easiest and most addictive gluten-free cheese bread recipe you will find. These rolls take just 30 minutes from grabbing the ingredients to munching on one warm from the oven. And there is no way you will stop at just the one.
Here's what you need to know
These cheese bread rolls are based on a Brazilian recipe called Pão de Queijo.
The only flour used here is tapioca flour so the recipe is totally gluten and grain free.
They are made in the blender!
5 minutes to blend and 20 minutes to bake.
So little washing up required!!
Be warned – they are addictive.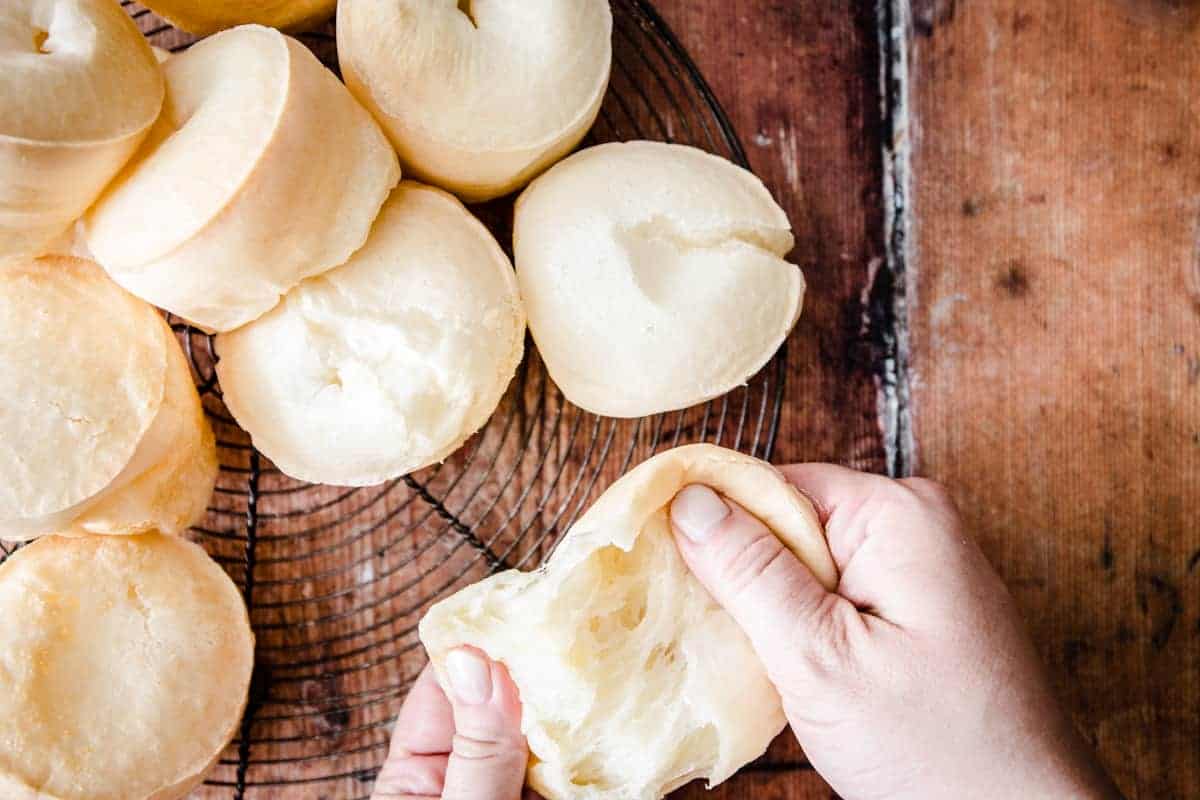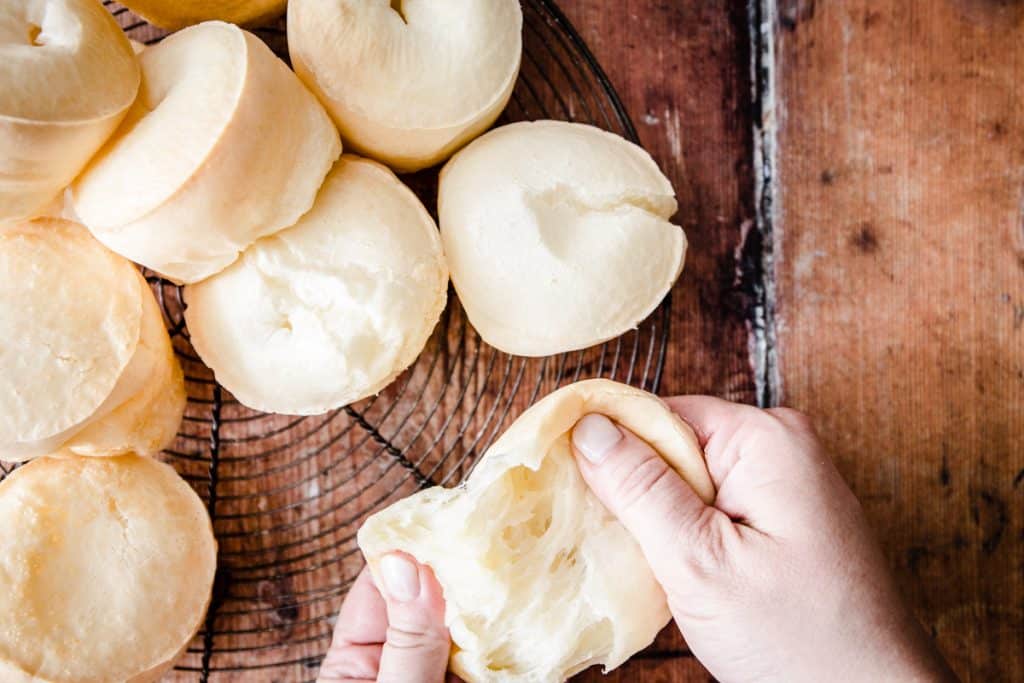 I've been baking up batches of these rolls for a few years ago, ever since my market stall days. My cake stall was next door to a Brazilian bakery stall and they sold mounds and mound of these gorgeous rolls. Mainly to me!! I used to buy a big bag for snacking on over the course of the day. Gluten-free offerings at the market were in short supply in those days (except for the amazing cake stall of course!)
When I changed markets and lost my cheese roll supplier I was devastated and resolved to learn how to make them myself. Well, over the past few years I have really perfected the recipe and made sure they take no more than 30 minutes to make from getting out the ingredients to enjoying one straight out of the oven.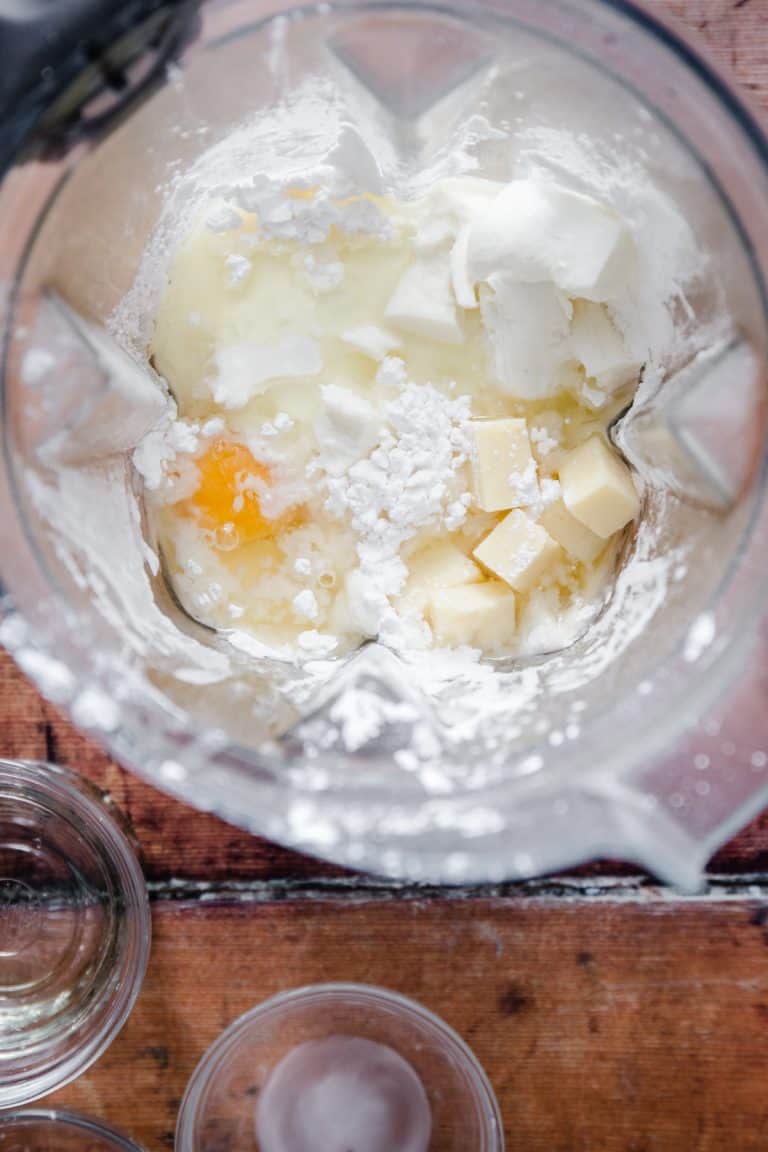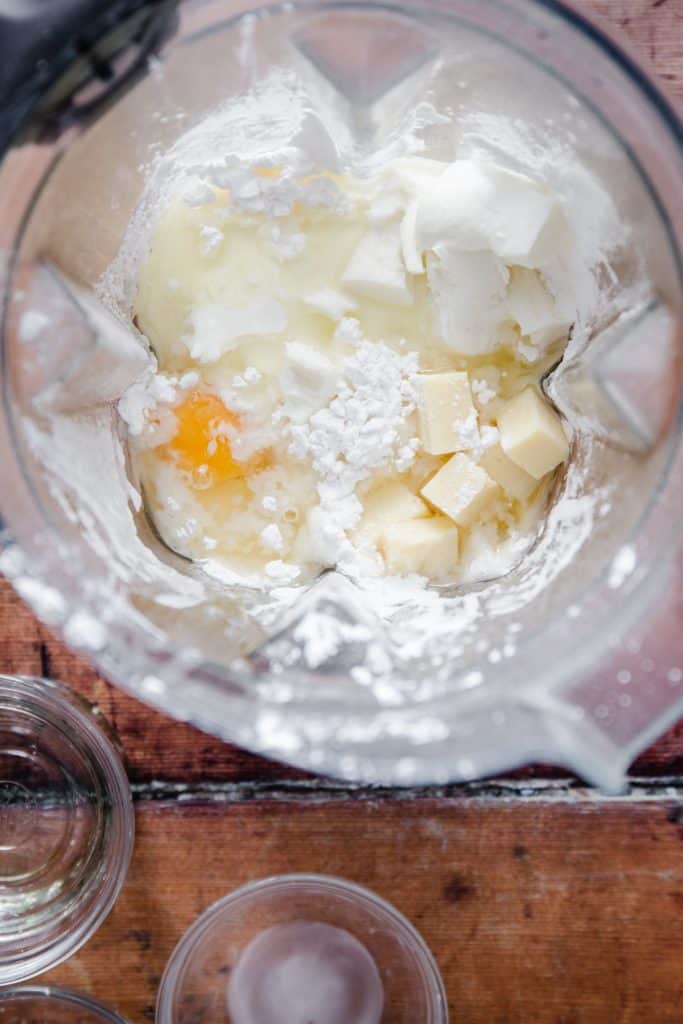 What ingredients do you need?
Tapioca Flour
Cheese
Milk
Egg
Olive oil
Salt
What cheese do you use?
You can use 120g of any cheese you've got to hand. Here we use mozzarella for extra chew and cheddar for a deep cheesy taste.
You can use anything though. All cheddar, or feta for a bit of tang, gruyere for melty nuttiness or even blue cheese.
How do you make them?
Weigh out all the ingredients straight into your blender and blend.
Pour into a lightly greased muffin tin.
Bake for 20 minutes.
Eat warm straight out of the oven.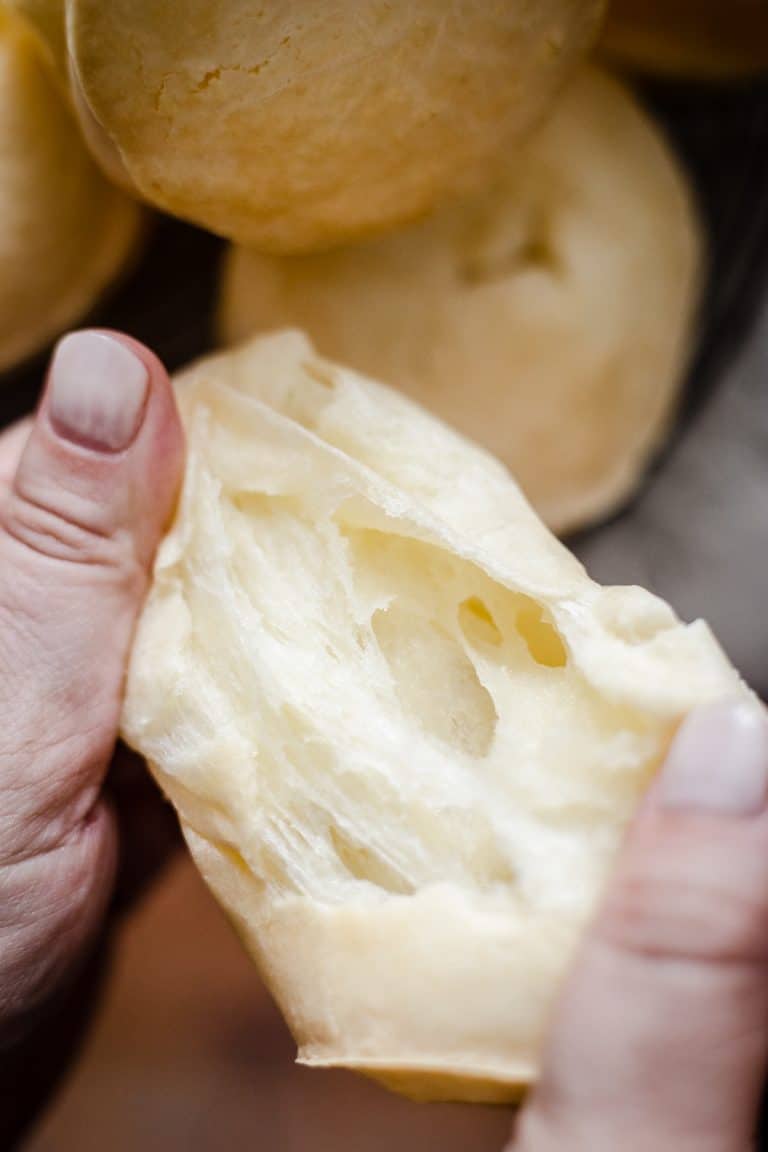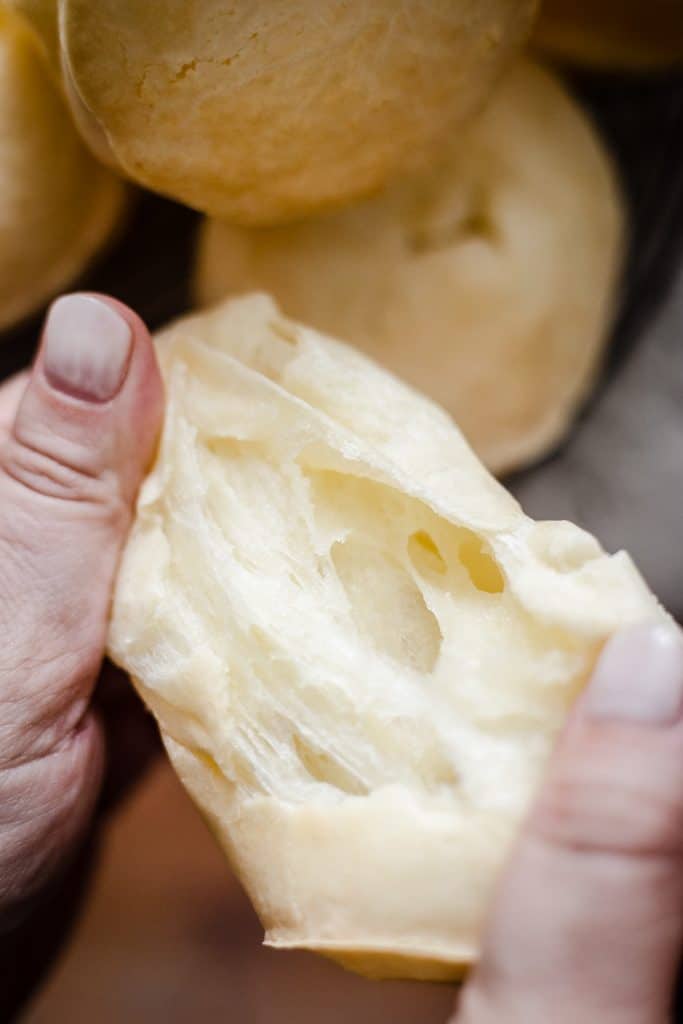 Oooh, that ooey gooey cheesiness. So good!!!
Baker's Tip!
Place your blender jug on the digital scales and measure your ingredients straight into the jug then there is just that and your muffin tin to wash up. So easy.
Don't have any digital scales? I seriously recommend you get some. They are an essential kitchen appliance which makes baking so much easier and so much more accurate. Plus – they are super cheap!!
See this post for why you should weigh your ingredients rather than measuring with cups.
How do you eat these cheese rolls?
These rolls are a perfect snack warm from the oven, on their own as they are. They are ridiculously addictive.
However… I learned this from a local chef. If you bake them up nice and big then you can make burger rolls out of them. Now this, my friends, is the greatest dinner invention in the world! You must try it!
This recipe makes 4 burger rolls if you divide the batter into 10cm tart tins to bake.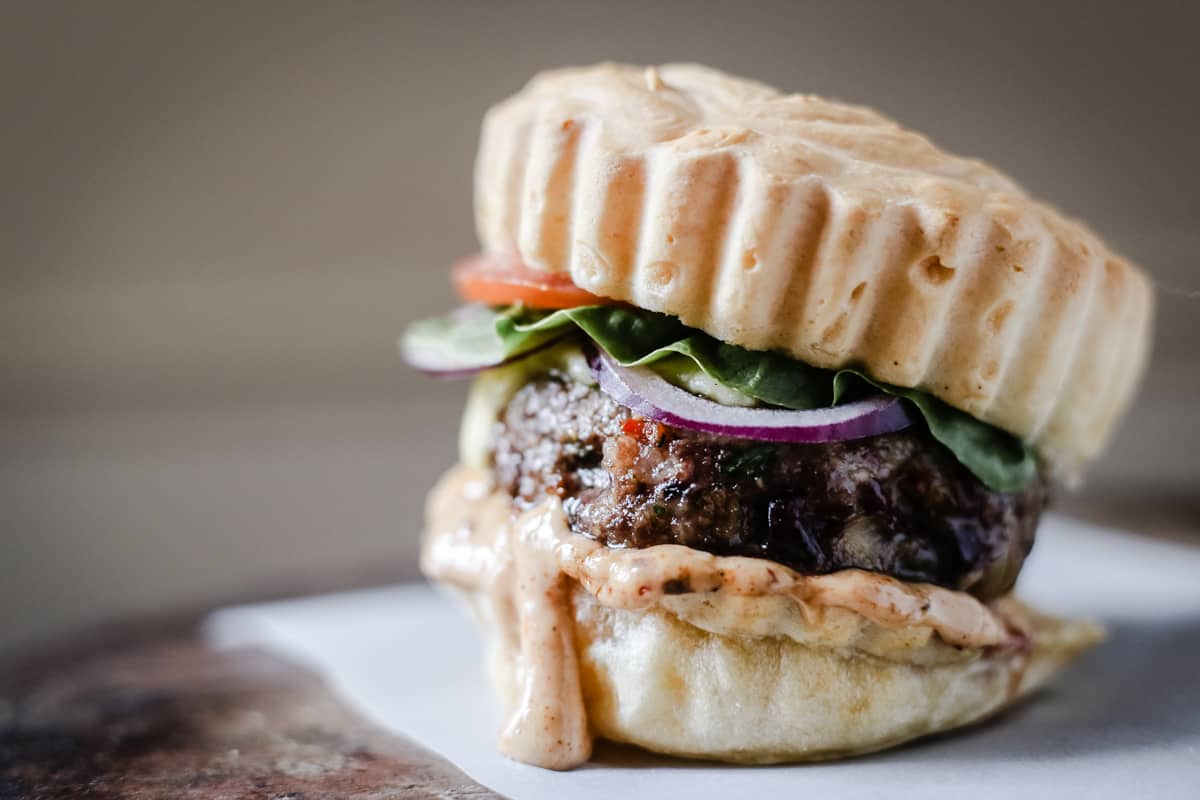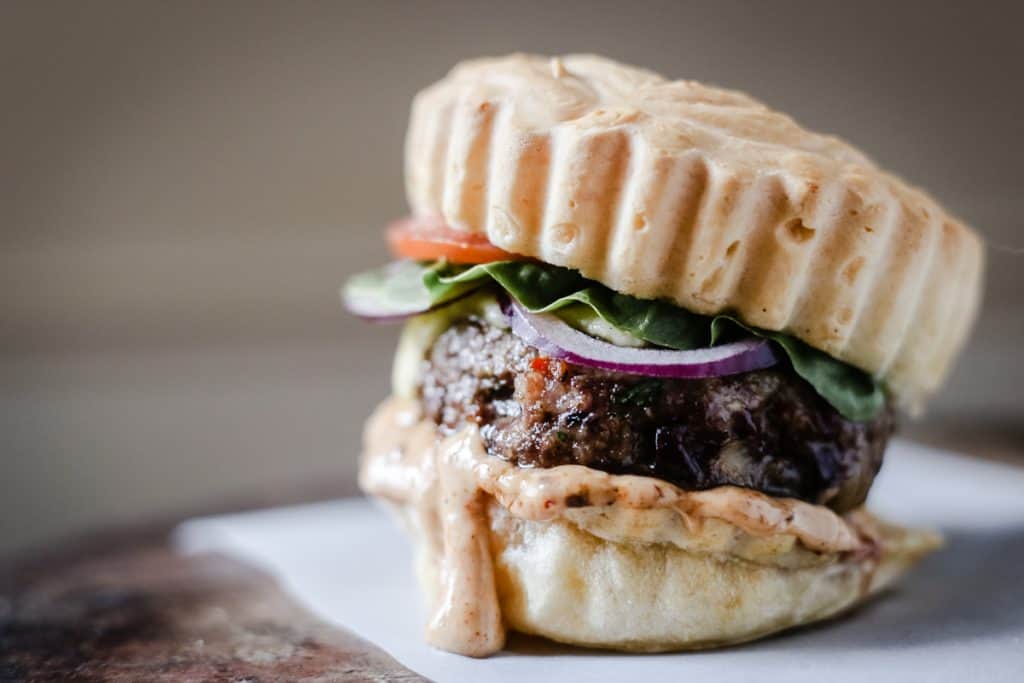 FAQs
How long do the cheese rolls keep? Eat the rolls straightaway out of the oven, or at least the same day. If you keep any longer you will need to refresh them in the oven (see below)
Can you reheat? Yes! Re-heat in an oven for 10 minutes at 190°C/ 170°C fan/ gas mark 5.
These Gluten-Free Cheese Bread Rolls are really quick and easy to make, unfortunately even quicker and easier to eat and I really encourage you to give them a go whether you're gluten-free or not. I cannot stress how good they are.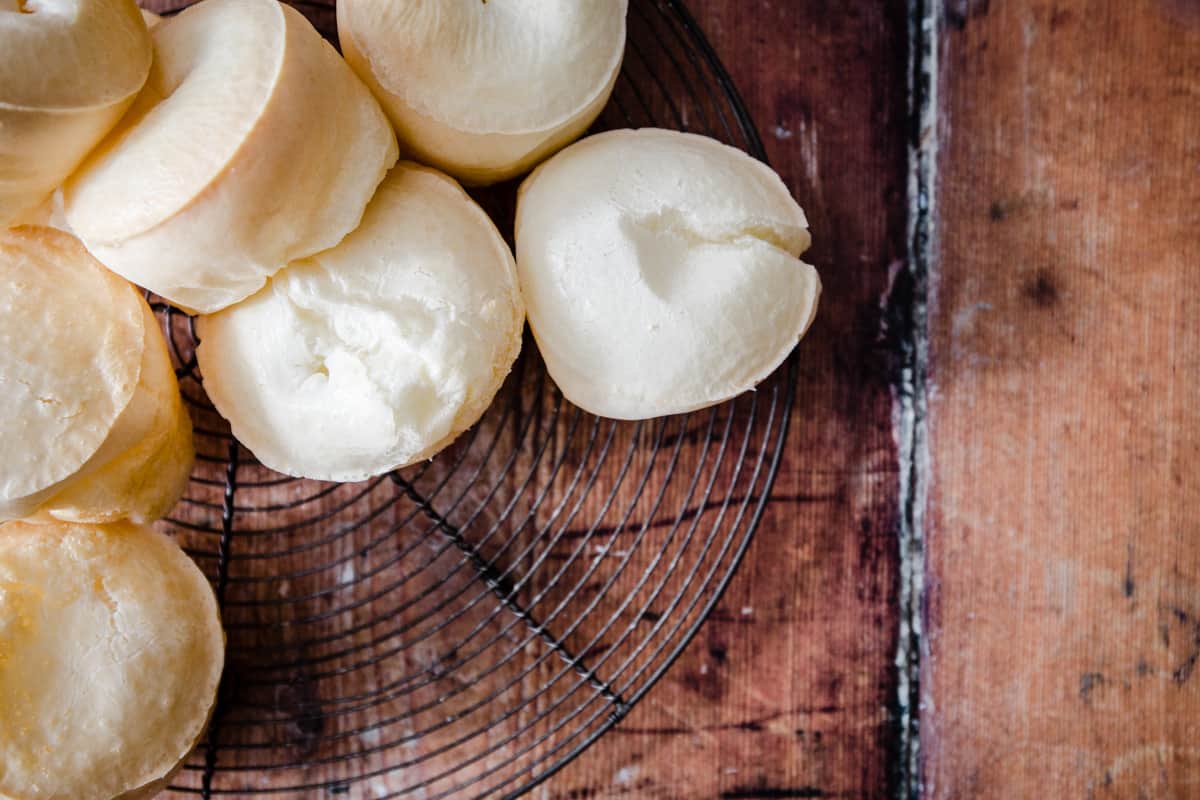 If you like this recipe then you may like...
The Ultimate Guide to Tapioca Flour
If you make these Easy Gluten-Free Cheese Bread Rolls then please leave a comment below and/or give the recipe a rating. If you then go on to use this recipe as a launch pad for your own baking creation then I'd also love it if you'd share it and tag me on Instagram. It is so lovely for me to see your versions and variations of my recipes.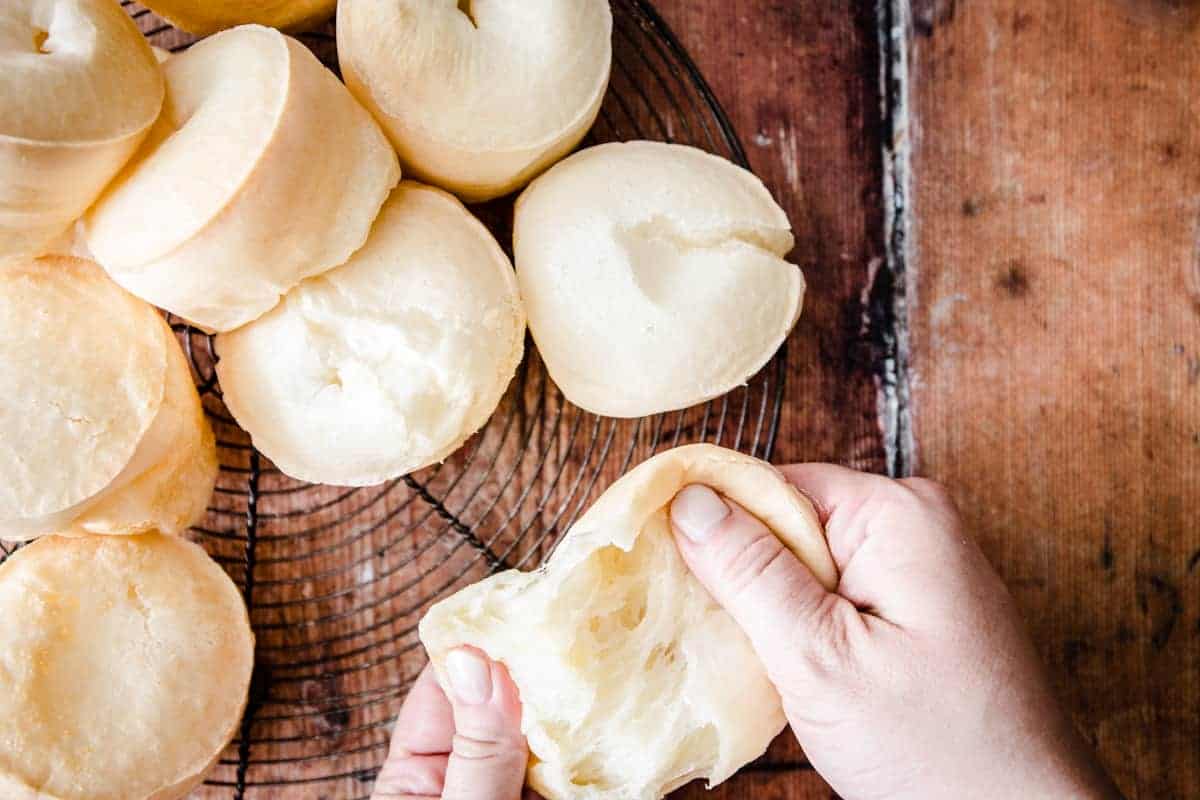 Easy Gluten-Free Cheese Bread Rolls
These Cheese Bread Rolls are crisp on the outside, chewy in the middle and utterly irresistible. They are made with tapioca flour so are naturally gluten-free.
Ingredients
240

g

tapioca flour

180

ml

whole milk

60

ml

olive oil

1

egg

-

medium

1

teaspoon

salt

80

g

mozzarella cheese

-

cubed

40

g

cheddar cheese

-

cubed
Instructions
Pre-heat oven to 190°C/ 170°C fan/ gas mark 5.

Grease 9 holes of a standard muffin tin.

Place all the ingredients into a blender and blend on high until smooth.

Pour the mixture into 9 muffin tin holes, filling almost to the top.

Bake for 20 minutes until golden.

Remove the rolls from the tins straightaway onto a cooling rack.

The rolls are delicious eaten directly from the oven.
Notes
You can place your blender jug on the scales and weigh all the ingredients directly into the blender. It makes for very low key washing up when you're done.
The rolls are best eaten straightaway but are good up to a day.
If you can't manage all the rolls within the day then keep in an airtight tin and re-heat in an oven for 10 minutes at 190°C/ 170°C fan/ gas mark 5.
Nutrition
Calories:
212
kcal
Carbohydrates:
24
g
Protein:
4
g
Fat:
11
g
Saturated Fat:
4
g
Cholesterol:
32
mg
Sodium:
357
mg
Potassium:
50
mg
Sugar:
1
g
Vitamin A:
163
IU
Calcium:
102
mg
Iron:
1
mg
Have you tried this recipe?
Head to the comment section and let me know what you think!