This post contains affiliate links. Please read my disclosures.
The Victorians knew what they were doing when they added real beef to their mincemeat. For the best mince pies this Christmas try this Victorian Mincemeat and accept no substitute.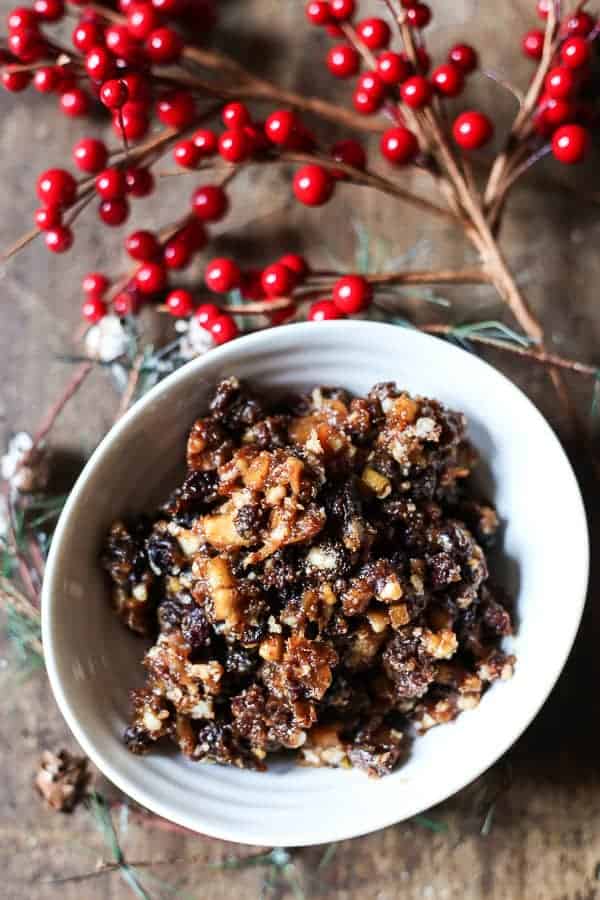 Mincemeat with Real Meat
Ever since investigating (otherwise known as making and eating a lot of mince pies) the best recipe for making mincemeat and discovering that the Victorians used real meat I have never looked back. For some reason we balk when we hear about mince pies with actual meat in it but I have no idea why. We eat sweet chutneys with ham all the time. In the words of Joey, what's not to like? Pastry good. Brandied fruits good. Beef gooood. And as it turns out, together, really good.
There are two very fine ladies I turned to in developing this recipe, Delia Smith and Mrs Beeton, two Great British institutions. It wouldn't be Christmas without either in this house. I took advice from both of them regarding mincemeat and ran with it, adding a few twists and turns along the way.
Which Meat to Use in Mince Pies
This mincemeat recipe uses fresh minced or ground beef. I recommend you choose the highest quality you can find either direct from the farmer or butcher so there is plenty of fat which will give the mincemeat a luxurious quality once cooked. Plus I always advocate buying the best meat you can source for any recipe.
What Does Real Meat Mincemeat Taste Like?
Victorian Mincemeat is so delicious as it eschews an abundance of sweetness. Instead the beef mince adds a wonderful soft texture which is molten in with the rest of the ingredients. Victorian Mincemeat is the ultimate choice for your traditional mince pie, rich, fruity, boozy and you would never know there was meat in it unless told. Which you must do as your vegetarian friends get annoyed. All you think is you are eating the best mince pie in town.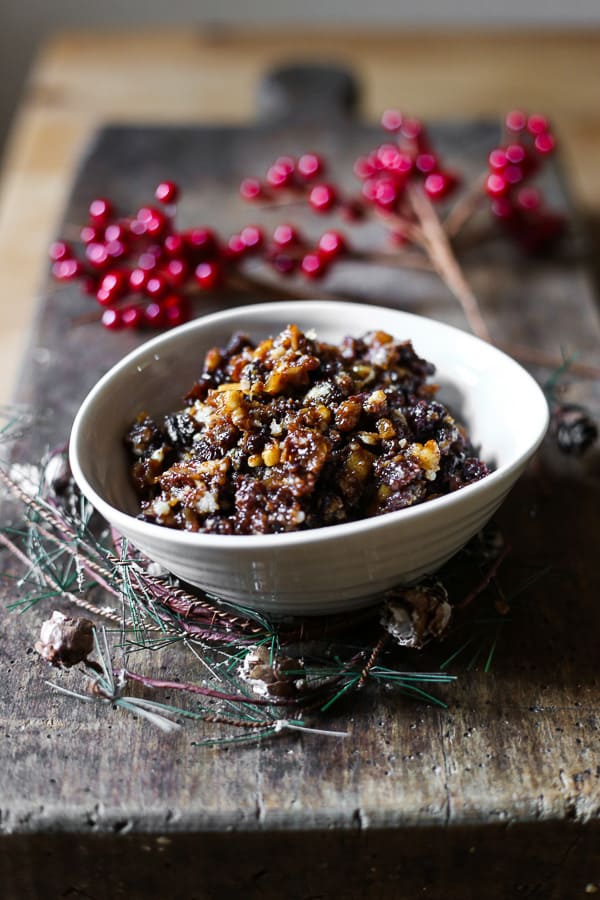 How Long Can You Store Victorian Mincemeat
The reality is that mincemeat keeps extremely well as long as you put the mincemeat straightaway into sterilised jars and store in a cool dark place. The sugars and alcohol preserve all the ingredients, including the beef, excellently. However, this recipe contains raw meat so you may want to be more careful and use within at least six weeks of preparation.
Please note as well that since this recipe contains raw meat you will need to cook the mincemeat, such as within a mince pie, before eating. For a recipe on how to make Gluten-Free Mince Pies using your Victorian Mincemeat see my recipe here.
More Mincemeat Recipes
If you are vegan or veggie and the idea of putting real beef in your mincemeat is a total non-starter then do try Cranberry Cointreau Mincemeat instead which is fresh fruity and delicious.
Or for a more modern mincemeat recipe which skips out the real meat but does contain beef suet try this Easy Mincemeat Recipe.
If you make this Victorian Mincemeat then please leave a comment below and/or give the recipe a rating. If you then go on to use this recipe as a launch pad for your own baking creation then I'd also love it if you'd share it and tag me on Instagram. It is so lovely for me to see your versions and variations of my recipes.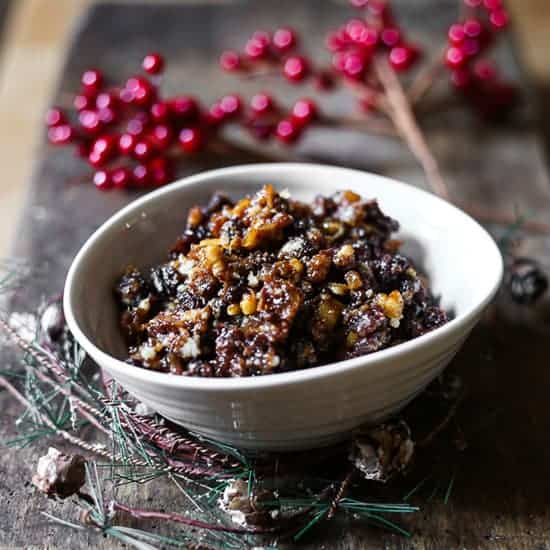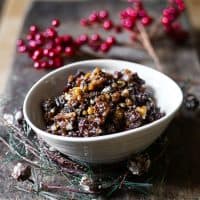 Victorian Mincemeat
For the best mince pies this Christmas try this Victorian Mincemeat and accept no substitute.
Print
Pin
Rate
Ingredients
1

bramley apple

peeled, cored and diced

1

cox apple

peeled, cored and diced

200

g

beef suet

get your suet from the butcher if you need it gluten-free*

200

g

raw beef mince

275

g

raisins

225

g

currants

100

g

natural glace cherries

diced

100

g

pitted prunes

diced

300

g

dark brown sugar

grated zest and juice of 1 orange

grated zest and juice of ½ red grapefruit

grated zest and juice of 2 lemons

50

g

whole almonds

slivered

4

teaspoons

mixed ground spice

½

teaspoon

ground cinnamon

¼

teaspoon

freshly grated nutmeg

100

ml

brandy
Instructions
Stir everything together in a large mixing bowl and decant into sterilised jars.

Wait about two weeks before using so the ingredients get a chance to settle with each other.
Notes
Do persevere with different butchers if you are finding fresh suet hard to get hold of. All of my butchers in the high street couldn't get hold of suet for me and in the end I had success with going direct to the farm. To prepare the suet I grated it in the food processor using the grater attachment with scant amounts of rice flour to allow the suet to separate nicely. Sinewy bits will get entangled in the blades, just stop the processor, throw these bits away and carry on going. I store my suet in 200g bags in the freezer for easy use.
Since the mincemeat contains raw beef mince the mincemeat should be cooked into a mince pie before eating.
This recipe contains raw meat which is preserved by the sugar and alcohol. As such I recommend that you use within 6 weeks of making. However, as a Brit who has been led by her grandmother's example I am happy to eat this mincemeat well into the next year as long as the jars have been sterilised correctly and the mincemeat has been stored in a cool dark place.
Nutrition
Calories:
1524
kcal
|
Carbohydrates:
220
g
|
Protein:
17
g
|
Fat:
64
g
|
Saturated Fat:
30
g
|
Cholesterol:
69
mg
|
Sodium:
84
mg
|
Potassium:
1685
mg
|
Fiber:
14
g
|
Sugar:
141
g
|
Vitamin A:
285
IU
|
Vitamin C:
11
mg
|
Calcium:
202
mg
|
Iron:
6.4
mg
If you like this recipe then you may like…