This post contains affiliate links. Please read my disclosures.
A beautifully simple gluten-free Coffee and Walnut Cake intense in coffee flavour with a lovely earthiness from the walnuts. Beautifully baked with teff flour and walnut flour and filled with a silky coffee buttercream.
At the beginning of summer I start thinking of crowd pleasing bakes to donate to the various cake stalls coming our way. I usually make a few cake promises to the school fairs, village fetes and neighbourhood festivals. These cake stalls make their money by selling good homely British baking and I'm always happy to contribute.
Not counting my own market stall I was a Women's Institute member (and President) for many years and know my way around a local cake stall. At these local festivals there is always an enthusiastic crowd circling the cake stall and there are a certain few cakes that the customers expect to see.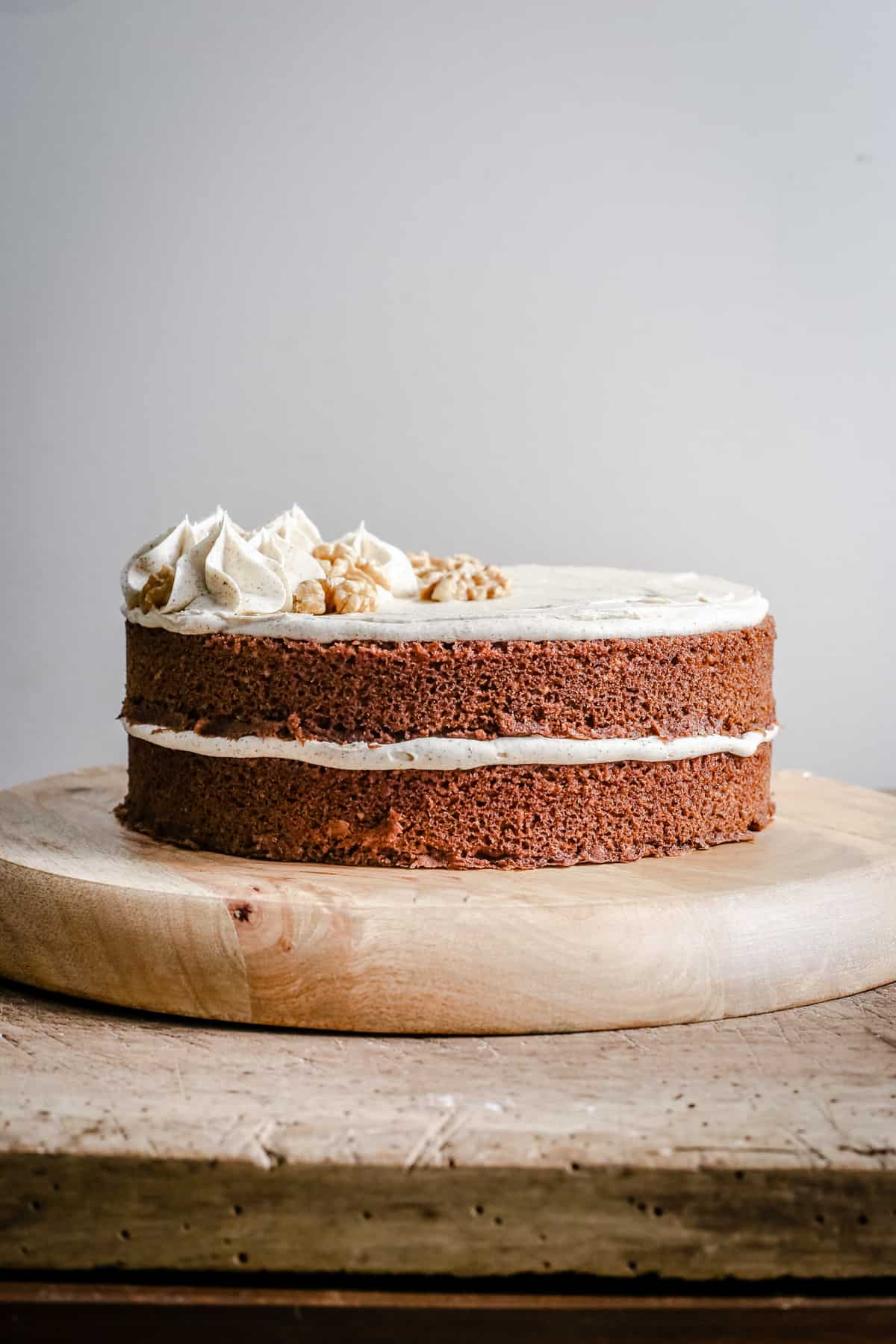 When I would help co-ordinate the volunteers and bakers for an upcoming cake stall we would accept any offering. However we also had a checklist of bakes that absolutely had to be included:
Victoria Sponge
Brownies
Lemon Drizzle Cake
Chocolate Cake
Flapjacks
Carrot Cake
And you betcha there had better be a Coffee and Walnut Cake. Riots are not usually on the agenda at the Crouch End Festival.
At the same time as the resolutely traditional bakes there has in recent years been a call for gluten-free, vegan and sugar-free cakes. These are usually the ones I donate as you can imagine. I love blending traditional recipes with modern alternative flours to serve both needs.
This Coffee and Walnut Cake is based around a classic recipe. However it has been modernised through using flavourful flours which gives so much more personality to this British stalwart. And makes it gluten-free to boot.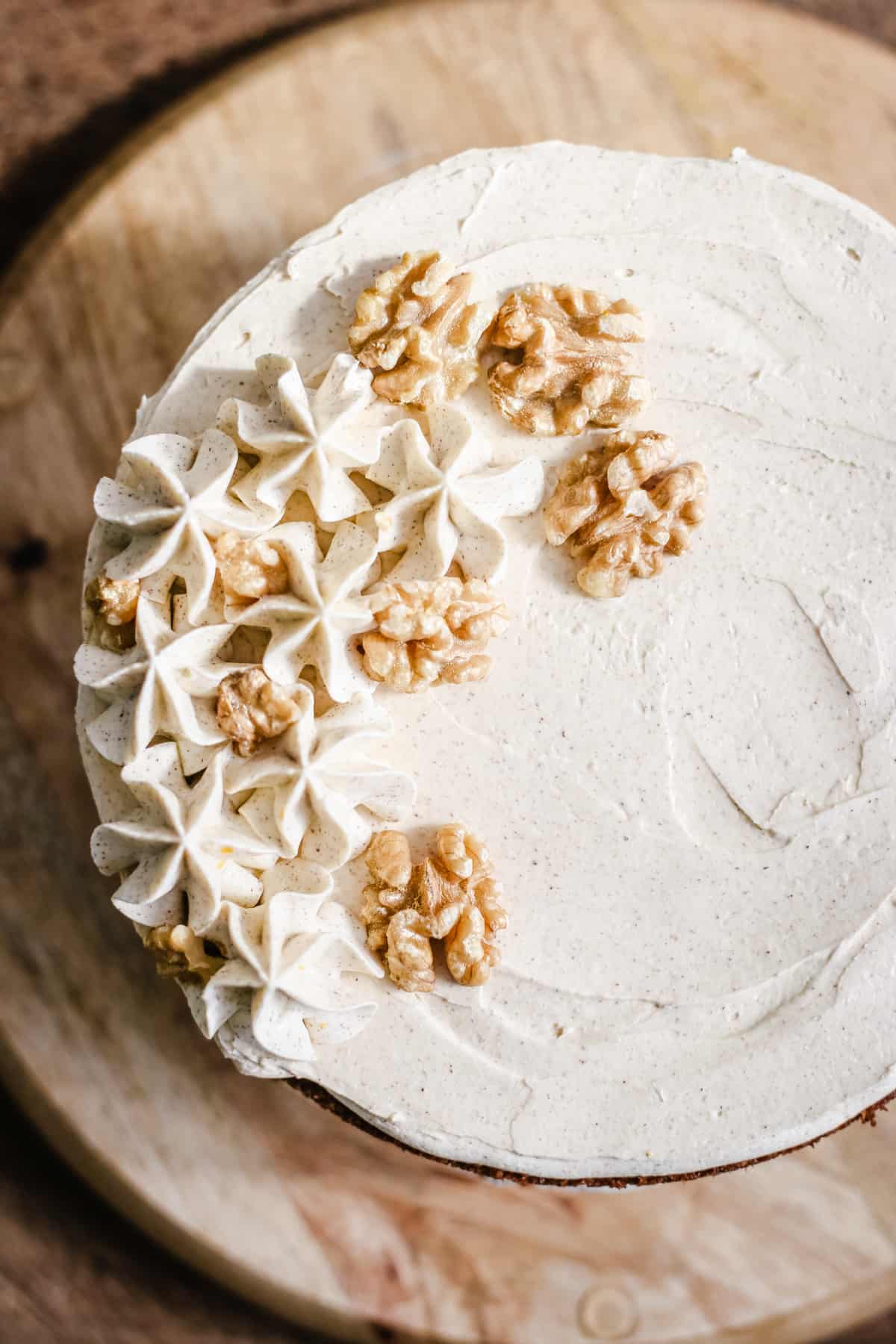 What flours do we use?
The key to a delicious gluten-free Coffee and Walnut Cake is:
Teff flour is an incredibly tasty flour with hints of molasses and spices. An absolute natural pairing to the coffee and nuts in this cake, adding a beautiful complexity of flavour.
SUBSTITUTION: You can swap the teff flour for Buckwheat flour which also works beautifully in this cake and gives it more of an earthy taste. Just swap the teff for equal amounts of buckwheat if you like that idea.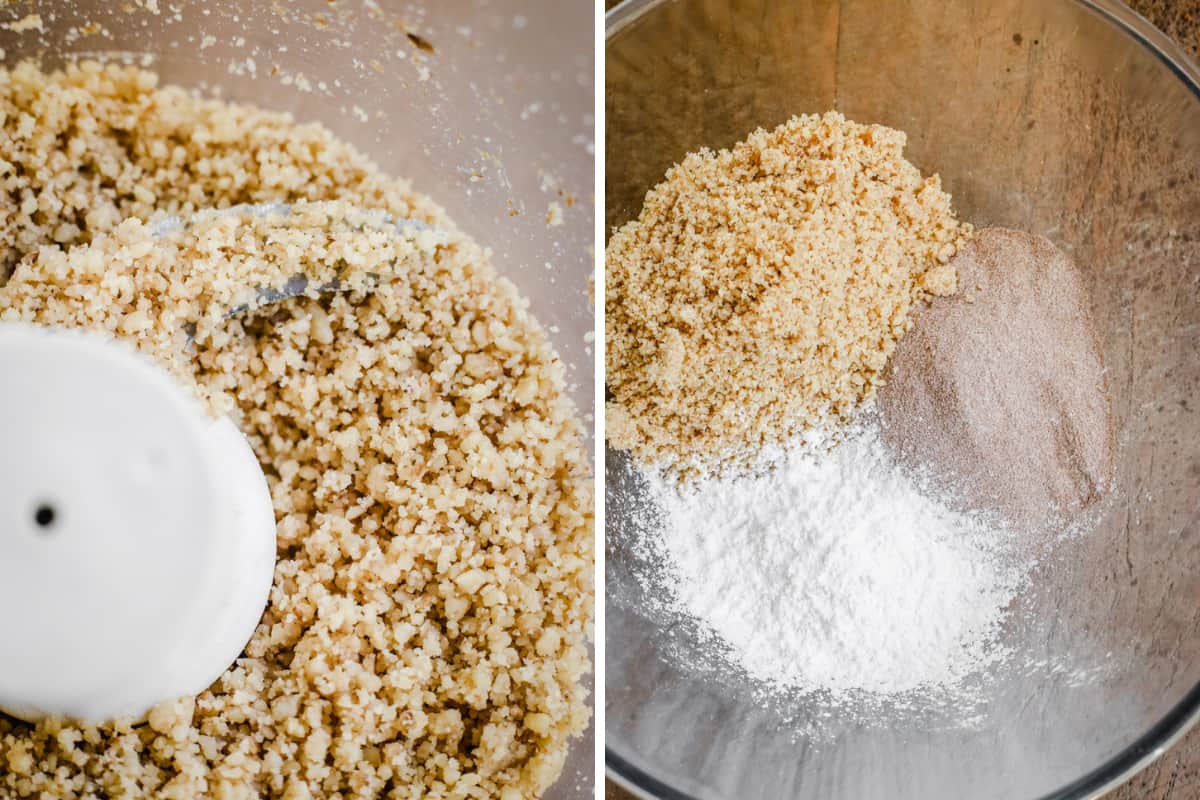 We blend the teff flour with:
Tapioca Flour – for helping the cake hold together so it's not dry and crumbly.
Walnut Flour – for the unmistakable taste of walnuts. We grind walnut halves into a 'flour' to give the cake a moist crumb. The flour allows the walnut flavour to permeate the whole cake. READ MORE >>> The Ultimate Guide to Nut Flours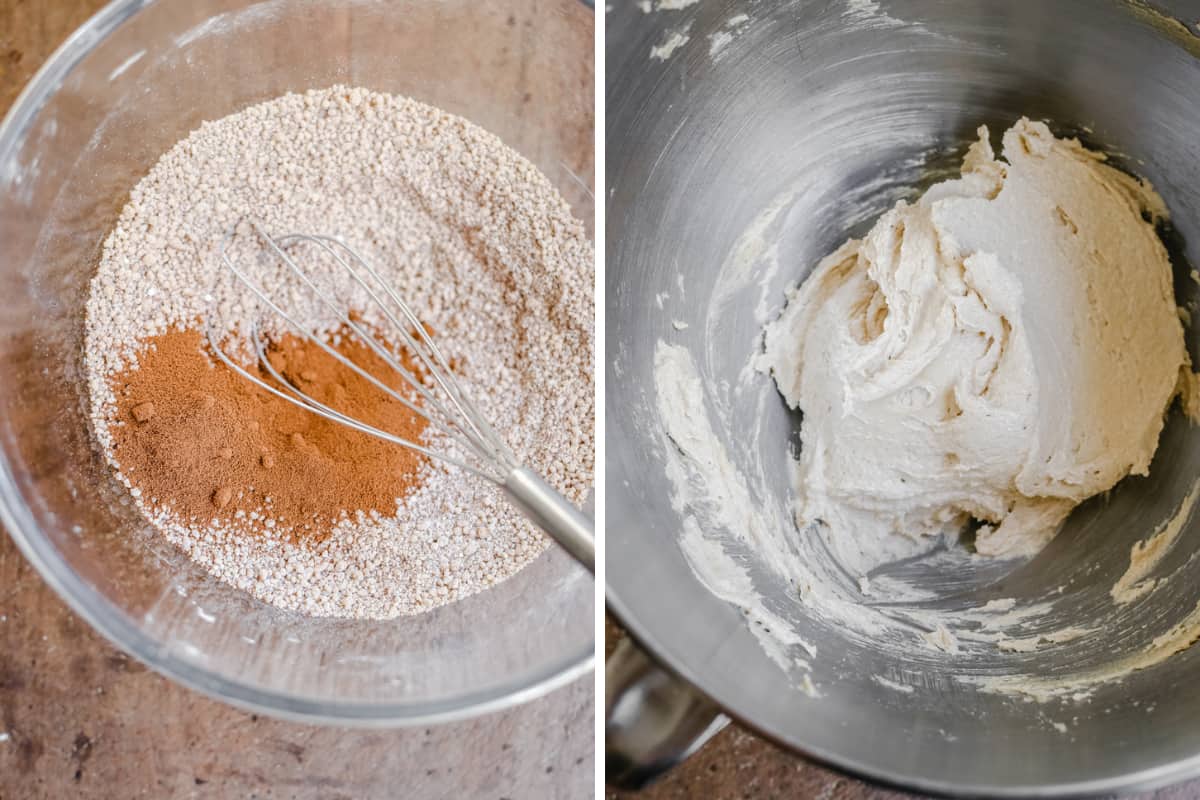 How do you make Gluten-Free Coffee and Walnut Cake?
This Gluten-Free Coffee and Walnut Cake is a straightforward cake to make and uses the creaming method for a beautifully light sponge. For the full recipe see the recipe card at the end of this post.
Cream the butter and sugar until light and fluffy.
Add the egg one at a time.
Grind the walnuts in a food processor.
Mix the walnuts with the rest of the dry ingredients.
Add the dry ingredients to the wet.
Divide between two 8 inch cake tins.
Bake for 20-25 minutes then cool.
For the icing beat the butter and icing sugar until light and creamy.
Add the coffee and salt to the icing then ice the cake.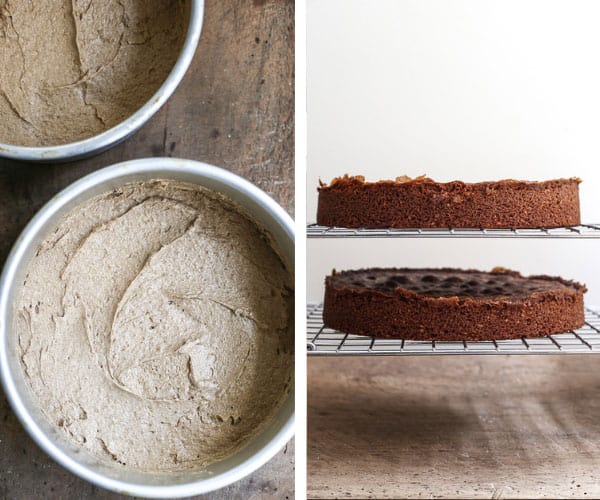 Top tips for perfecting your Coffee and Walnut Cake
When grinding your walnuts make sure you don't take them too far. If they start to turn into walnut butter then the walnuts will have released too much oil and will make the cake greasy. The walnuts should be like crumble.
When making your icing you want to beat the butter and icing sugar for about 6-8 minutes so the icing is ultra light and creamy.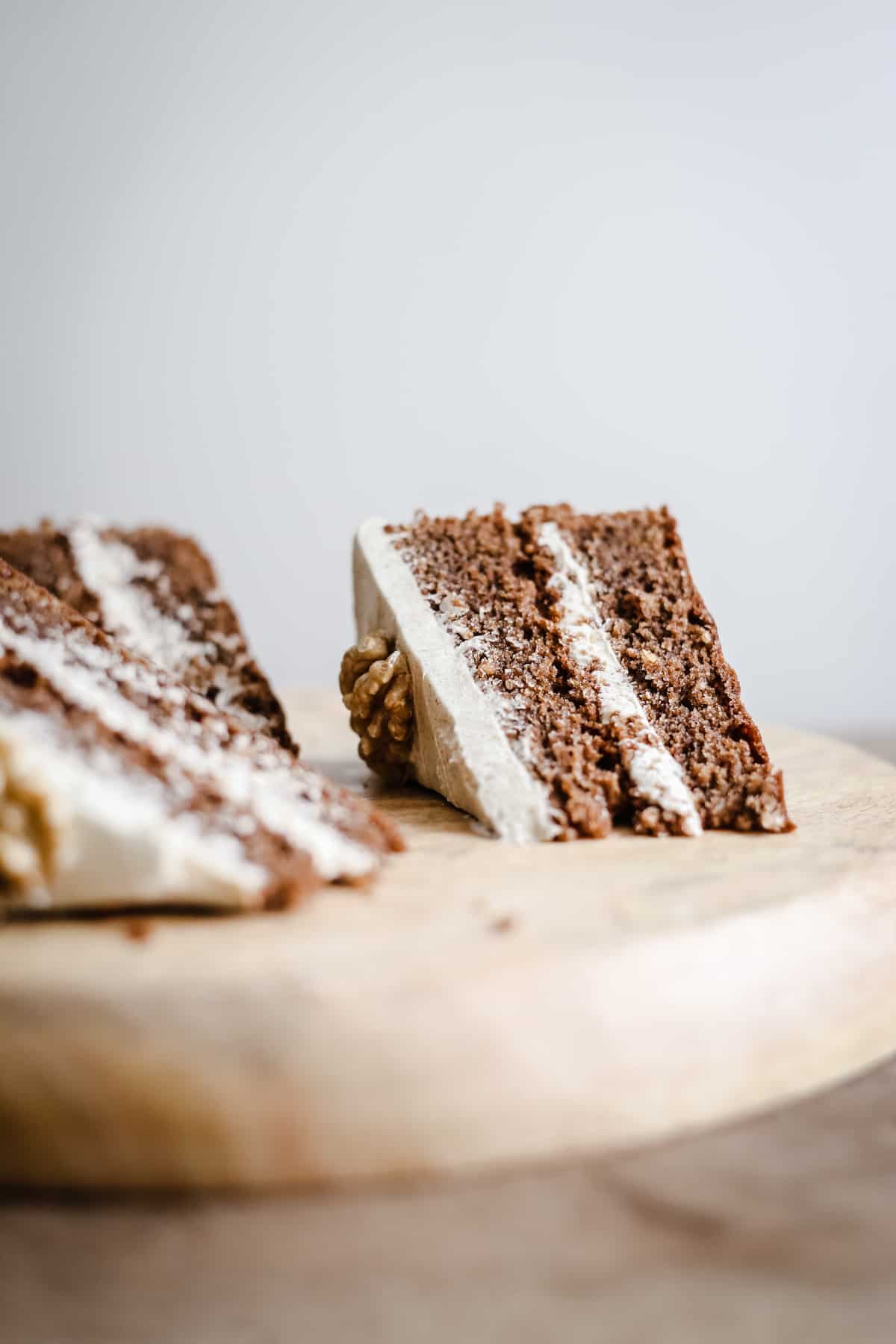 What kind of coffee do you use in Coffee and Walnut Cake?
For this cake we use barista style instant coffee powder as it's so easy. You can add it straight in without mixing with water. I like the Nescafe Azera brand and use this whenever I need a fresh coffee flavour.
There is no difference in the cake sponge at all, just a lovely clean coffee taste. It's beautiful in the icing too, flecking like tiny polka dots against the white icing.
How long will Gluten-Free Coffee and Walnut Cake keep for?
This Gluten-Free Coffee Cake will keep in an airtight tin for up to three days.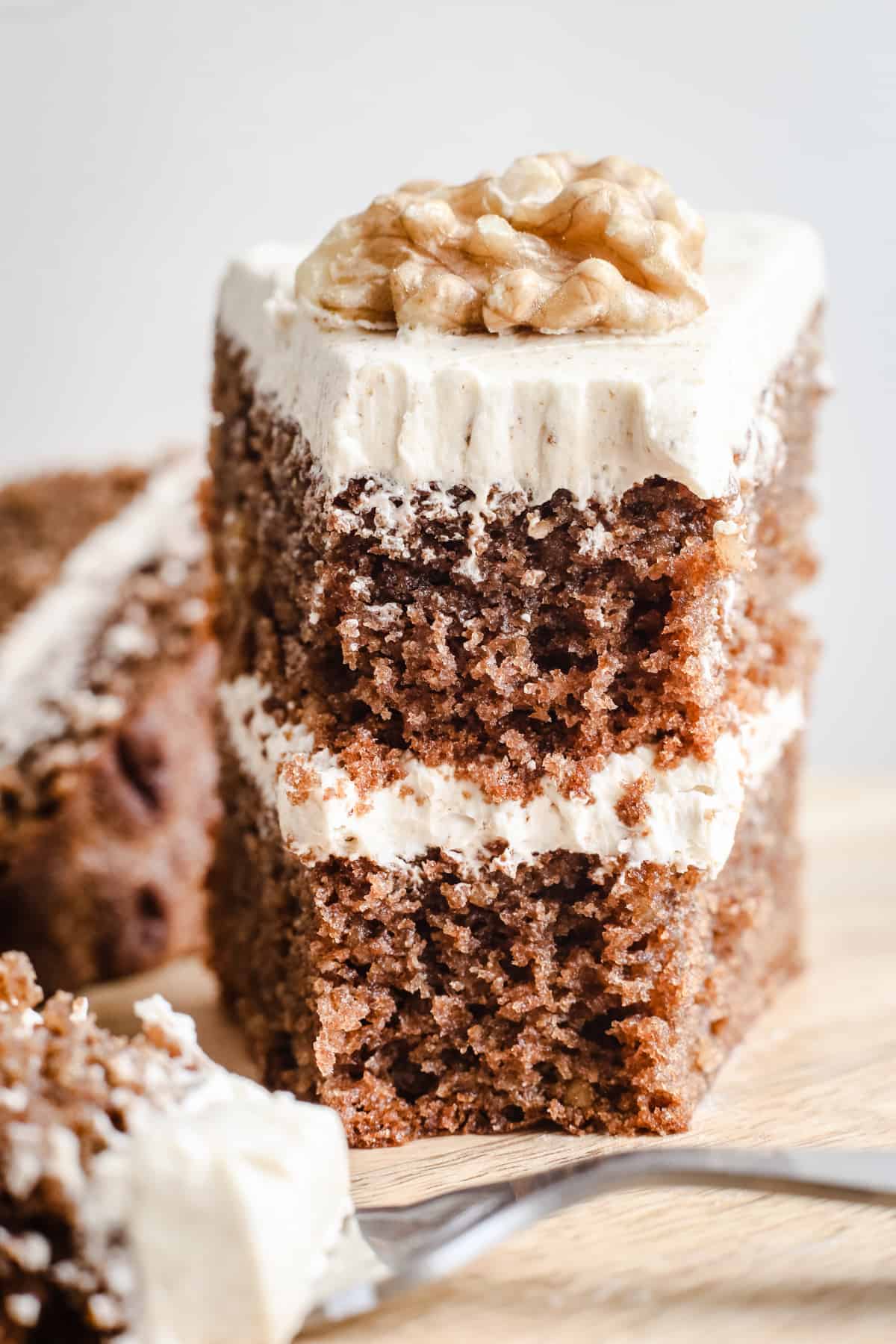 If you are looking for easy gluten-free bakes to take to a cake or bake sale then hop on over to the following recipes:
The Ultimate Popcorn Rocky Road
Red Velvet Cake
No-Bake Chocolate Peanut Butter Crispy Bars
If you make this Gluten-Free Coffee and Walnut Cake then please leave a comment below and/or give the recipe a rating. If you then go on to use this recipe as a launch pad for your own baking creation then I'd also love it if you'd share it and tag me on Instagram. It is so lovely for me to see your versions and variations of my recipes.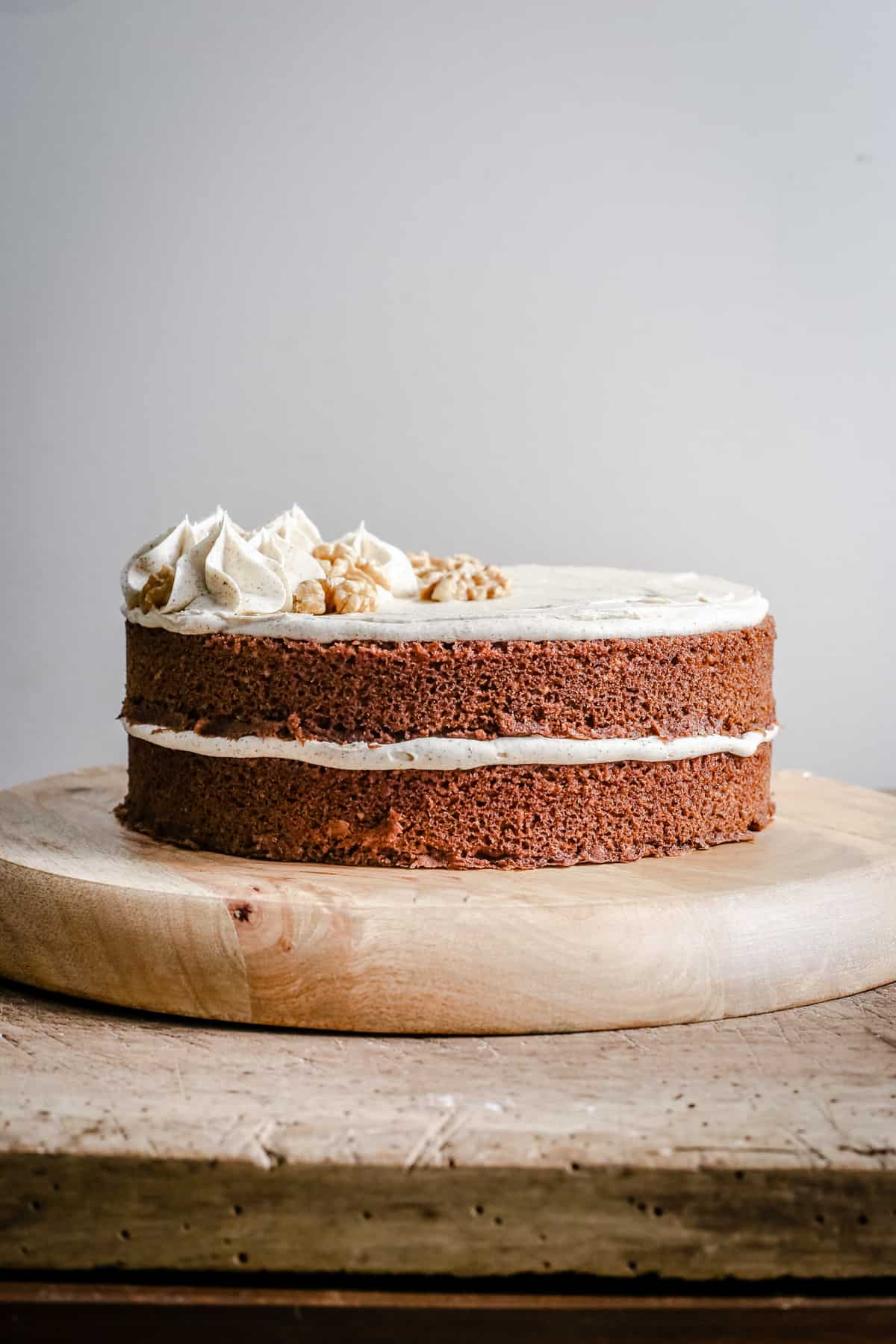 Gluten-Free Coffee and Walnut Cake
A beautifully simple gluten-free Coffee and Walnut Cake made with teff flour and walnut flour.
Ingredients
200

g

soft light brown sugar

200

g

unsalted butter

-

room temperature

4

eggs

-

medium

125

g

teff flour

100

g

walnuts

-

plus extra to decorate

50

g

tapioca flour

2½

teaspoons

baking powder

¼

teaspoon

salt

2

tablespoons

instant coffee powder
Icing
300

g

unsalted butter

-

room temperature

300

g

icing sugar

1

tablespoon

instant coffee powder

⅛

teaspoon

salt
Instructions
Pre-heat the oven to 180/ 160 fan and line and grease 2 x 20cm round cake tins.

Beat the sugar and butter together until light and fluffy.

Add the eggs one at a time until combined.

Place the walnuts in the food processor and grind them until they form fine crumbles.

Pour the ground walnuts into a large bowl then whisk to mix with the teff flour, tapioca flour, baking powder, salt and coffee powder.

Add the flour mix to the batter and mix until completely combined.

Divide the batter between the cake tins and bake for 20-25 minutes until an inserted toothpick comes out clean.

Remove from the oven and leave the cake layers to cool completely before icing.
Icing
Beat the butter together with the icing sugar and mix until incredibly light and fluffy.

Mix in the espresso powder and salt.

To assemble, divide the icing between the middle and the top of the cake and decorate with walnut halves.
Notes
WALNUTS: If your walnuts start to turn to butter in the corners of the food processor then you have taken them too far.
The instant coffee powder I use is Nescafe Azera.
This cake will keep for up to 3 days in an airtight container.
Nutrition
Calories:
710
kcal
Carbohydrates:
66
g
Protein:
6
g
Fat:
49
g
Saturated Fat:
27
g
Cholesterol:
173
mg
Sodium:
128
mg
Potassium:
261
mg
Fiber:
2
g
Sugar:
49
g
Vitamin A:
1345
IU
Vitamin C:
0.2
mg
Calcium:
113
mg
Iron:
1.9
mg
Have you tried this recipe?
Head to the comment section and let me know what you think!