This post contains affiliate links. Please read my disclosures.
This Honey Chipotle Nut Bowl is great for bringing out to a party. A smoky, spicy, sweet and salty snack which can be made with any combination of leftover nuts.
I am not one for celebrating New Year's Eve. Save for trying to make the best of it at various dodgy house parties in my early twenties I prefer to avoid the whole event and skip to my January detox. One particularly poor New Year memory is the Millennium which I spent traipsing round after an inattentive boyfriend, dropping in on his mates at various raucous pubs, struggling to communicate in the cacophony and due to the impossibility of getting anywhere near the tumultuous bar, not drinking nearly enough to make the whole venture worthwhile. Does this sound familiar to anyone else's experience? The evening ended on an even higher note though as I managed to lose everyone and cheered in the possible end of the world on a bench in a high street somewhere in Dorset.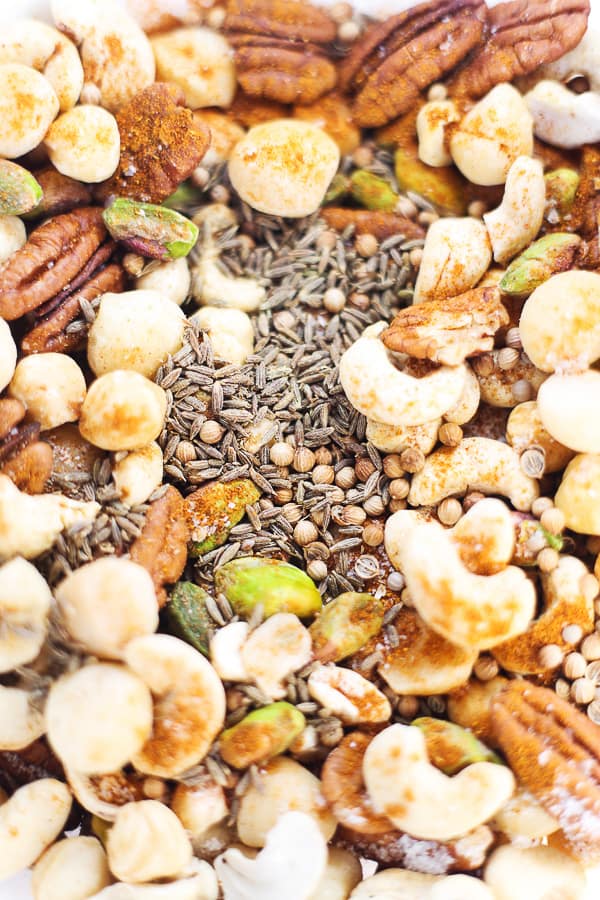 These days I tend to steer clear of the crowds and am more than happy after a festivity fuelled Christmas to watch the end of year fireworks exploding over the London Eye from my sofa with Luke. If I'm feeling particularly spirited I might even flick over to Jools Holland's Hootananny but by this point I will more than likely have fallen asleep.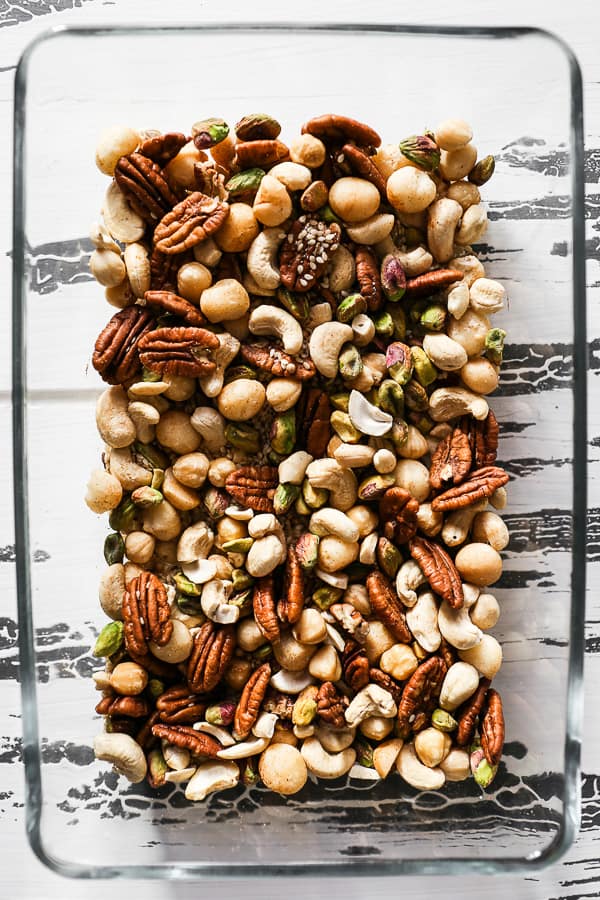 New Year's Day though is a favourite of mine and we're bound to be spending it walking Billy Buddy around a frosty Hampstead Heath, swapping resolutions and making plans for our year. I'm very excited about 2017, I have a new look for the blog happening in January which I can't wait to unveil, although you might have already seen my new logo on Instagram and Twitter. Luke has got a new job which he's starting soon and Cole is changing every day, the amount of words he has mastered over Christmas is astounding and he has even just started singing which is so much fun.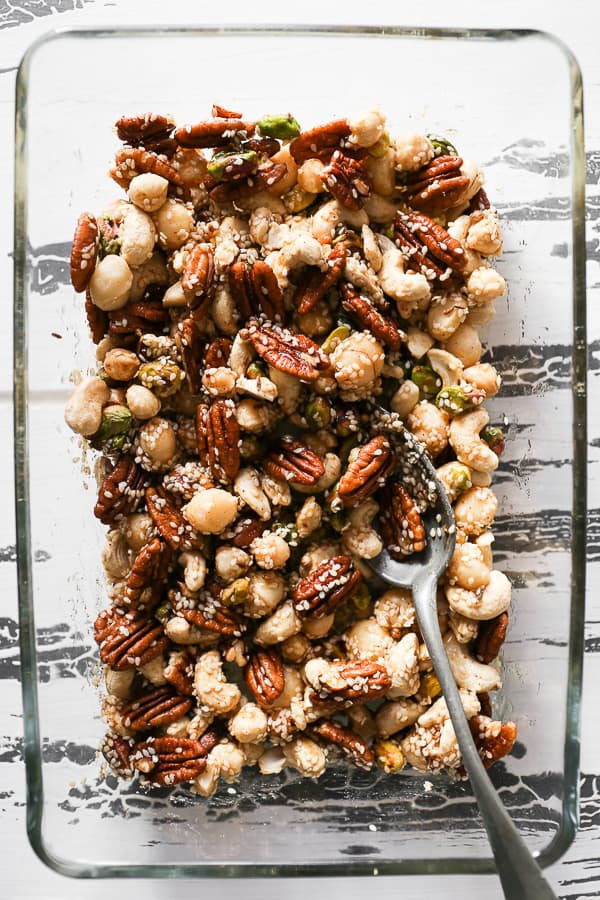 However, before all that we will be ringing in 2017 with a sea of Prosecco and the last vestiges of Christmas chocolate and crisps for company in our little family living room party. And of course no party is complete without the obligatory nut bowl, a snack to cross the sweet and salty divide.
I always have odds and ends of nuts clogging up my cupboards and this is a great way to clear them all out for the new year. I have used all kinds of nuts in the past but this time I had a mix of pecans, cashews, pistachios, macadamias and hazelnuts I was keen to see the back of and this combo worked pretty deliciously.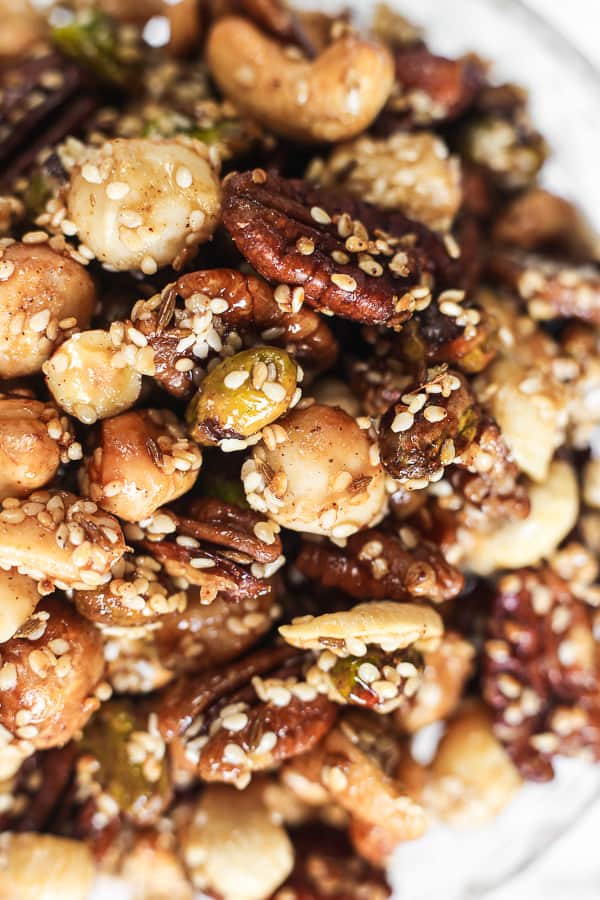 This is basically a much nicer version than those honey roasted nuts you can get in the supermarket which have way too much sugar and feel so incredibly bad for you. The Honey Chipotle Nut Bowl is hotly spiced and smoky with chipotle powder, cumin and coriander seeds, plus sticky with honey and crunchy from its blitz in the oven. The perfect accompaniment to New Year, however you choose to spend it.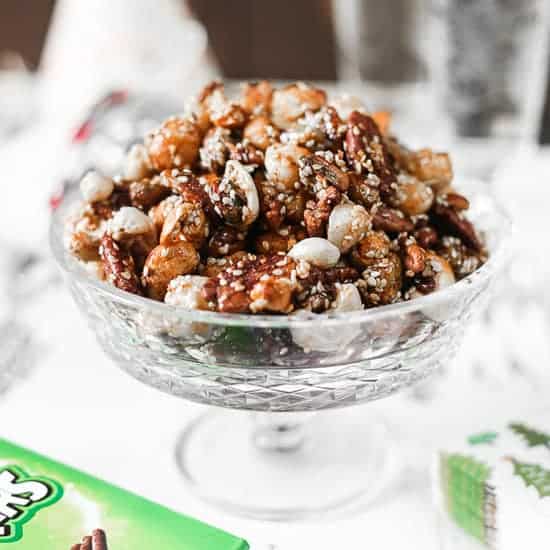 Honey Chipotle Nut Bowl
A smoky, spicy, sweet and salty snack which can be made with any combination of leftover nuts.
Ingredients
300

g

mixed nuts

-

(I used pecans, cashews, pistachios, macadamias, hazelnuts)

3

tablespoons

sesame seeds

1

teaspoon

salt

½

teaspoon

chipotle powder

1

teaspoon

cumin seeds

-

crushed

1

teaspoon

coriander seeds

-

crushed

15

g

unsalted butter

2

tablespoons

honey
Instructions
Preheat the oven to 180°C.

Mix the nuts, sesame seeds, salt, chipotle powder, cumin and coriander seeds together in a large bowl.

Melt the butter with the honey then pour over the rest of the ingredients, mixing well.

Spread it all out on a baking dish lined with greaseproof paper.

Cook for 10 mins, give the nuts a stir then cook for a further 5 mins.

Remove from the oven and leave to cool in the baking dish before transferring into a serving bowl.
Notes
Keeps well in a cool dark place for a couple of weeks.
Nutrition
Calories:
136
kcal
Carbohydrates:
7
g
Protein:
4
g
Fat:
11
g
Saturated Fat:
2
g
Cholesterol:
2
mg
Sodium:
149
mg
Potassium:
121
mg
Fiber:
2
g
Sugar:
2
g
Vitamin A:
40
IU
Vitamin C:
0.1
mg
Calcium:
30
mg
Iron:
1
mg
Have you tried this recipe?
Head to the comment section and let me know what you think!