This post contains affiliate links. Please read my disclosures.
Butter Mint Ice Cream is the summer incarnation of buttery Murray Mints. Sweet, creamy and caramelly and infused with fresh mint.
My husband is obsessed with car sweets, the kind that come in a metal tin drowned in icing sugar which you can buy from petrol stations. We always seem to have a smorgasbord of different flavours spilling out of the glove compartment every time you go to retrieve the sat nav. They are not so bad when they have just been bought, the sweets bounce around happily in the icing sugar, cheerily rattling against the metal. However, if the sweets have had the misfortune to have endured a sweltering summer stuck in their hot tin, which they inevitably always do, then the icing sugar melts into a glue, clamping the sweets into a concrete ball. If you are brave enough to tackle them at this stage you will have to prise one from the sickly grasp of its brethren, resulting in sticky fingers and sticky car.
These sweets are not worth the effort in my opinion and if you even succeed in wrestling one from the tin then they are usually so sweet anyway they make your mouth burn. But I am not one for sweets, it's sugar for sugar's sake and I can get much more enjoyment from a biscuit.
Or, mints and toffees, which can hardly be classed as sweets can they? Mints are refreshing and toffees are too delicious to pigeon hole. So for obvious reasons when my husband is thoughtfully choosing his travel sweets I help him out by bunging a packet of Murray Mints down on the counter, the best of both worlds. They are much more sensible, much more yummy and they are in a packet and not a tin so you don't get the painful clanging of the sweets bashing around each other as you fly over pot holes. The only issue is that they are individually wrapped, great for the melting issue but not so great in making the car not look like a dustbin, as wrappers are discarded willy nilly with empty promises that they will be gathered up and thrown away at a later date.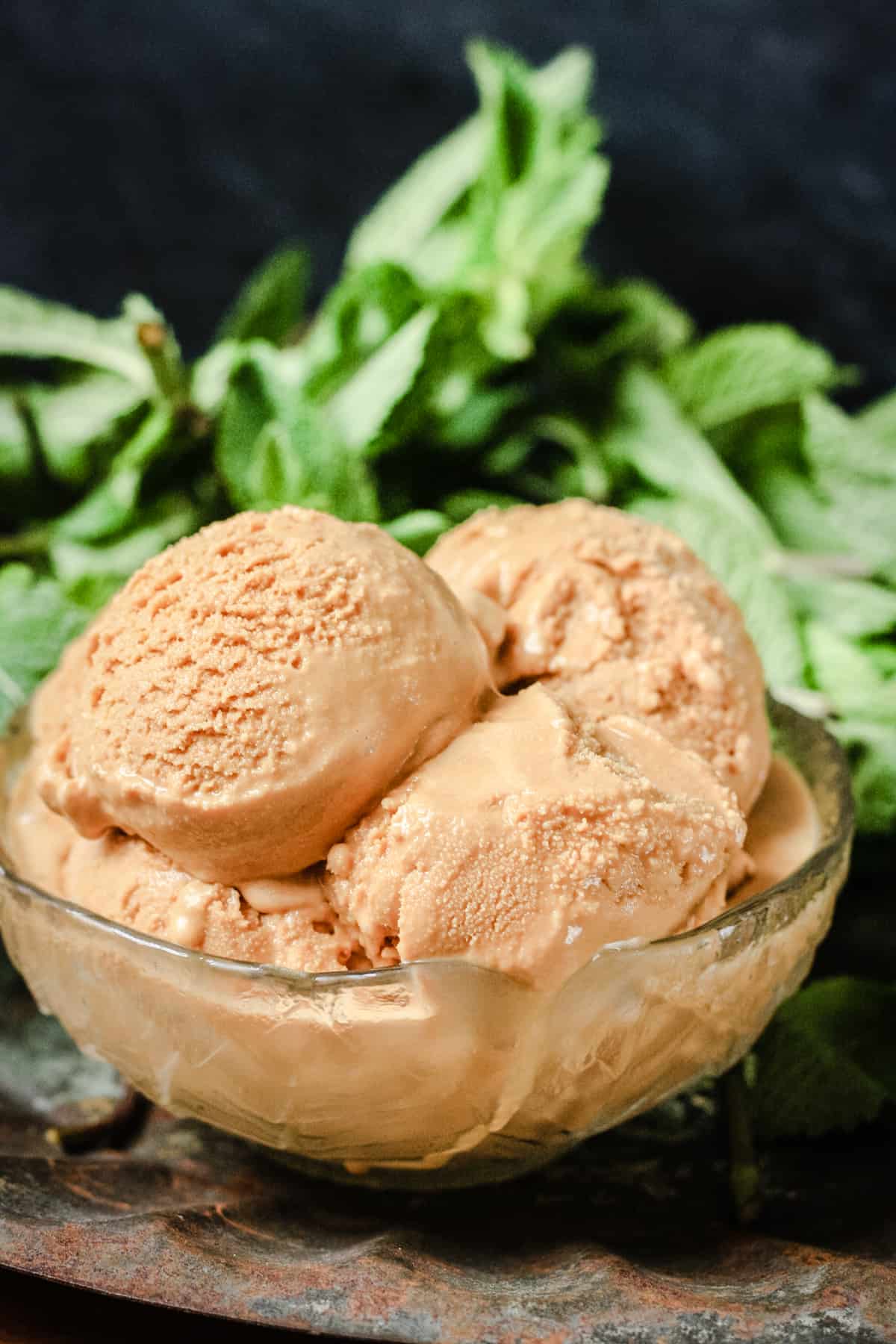 Fresh mint ice cream is a biggie in our house and I always take pleasure once a year of making it with the apple mint which we grow in our garden. For some reason I can usually only make the crop of mint grow once so as soon as I've picked it, the herb withers away, only to rally round the next summer in time for my ice cream again. Apple mint has a slightly furry leaf so you can tell it apart from regular garden mint but you can use either, or a mixture as I sometimes do if I don't have enough apple mint. This year I thought I would spruce up my mint ice cream and having had such success with David Lebovitz's Salted Butter Caramel Ice Cream in the past, I couldn't resist adapting the recipe conjure up the perfect butteriness of a Murray Mint.
The mint nestled into this recipe perfectly, it's at once refreshing but also comforting and incredibly moreish. The butter caramel enriches the mint and smoothes out the zingy edges. It's also a very reliable recipe, I have made it a few times and it hasn't once succumbed to icy crystals in the freezer. It is a softer set ice cream so you don't have to wait impatiently for the ice cream to come up to scooping temperature. If you are suffering in this heatwave, you can dive into the freezer and in seconds be sticking a teaspoon straight into the tub with indulgence for the ideal cool down. If only they could wrap this ice cream up for long summer journeys down the motorway and sell it at petrol stations, then I too would be obsessed with travel sweets.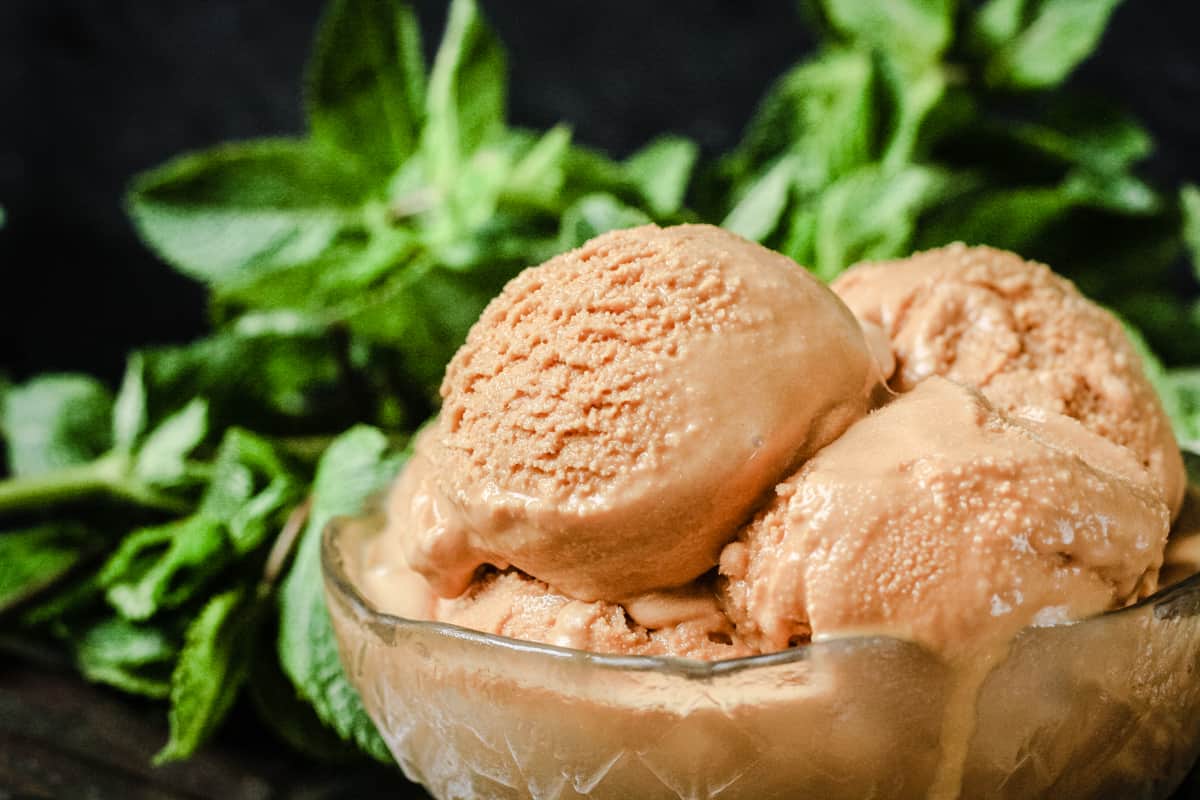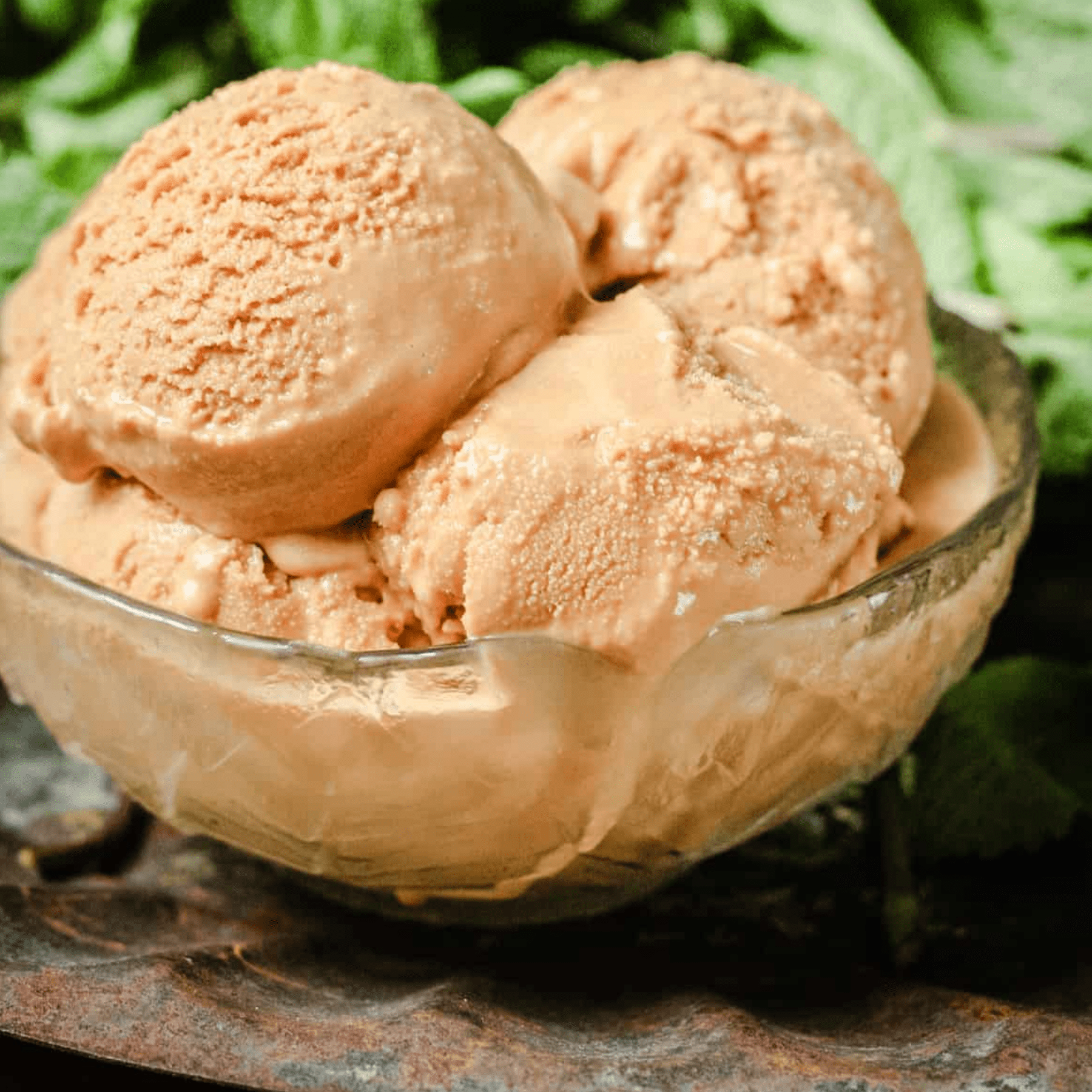 Butter Mint Ice Cream
Butter Mint Ice Cream is the summer incarnation of buttery Murray Mints. Sweet, creamy and caramelly and infused with fresh mint.
Ingredients
75

g

fresh mint leaves

-

including stalks

350

ml

double cream

600

ml

whole milk

300

g

sugar

60

g

salted butter

5

egg yolks

¾

teaspoon

vanilla extract
Instructions
Infuse the fresh mint by pouring the milk and cream into two separate saucepans. Split the mint between the two and heat both until just below boiling point. Leave to cool for a couple of hours, then strain and discard the mint leaves from both saucepans. Measure out 250ml of double cream and 500ml whole milk as those are the quantities you will be working with. If there is any leftover you can save for another use or discard.

Fill your kitchen sink halfway up with water and pour in a lot of ice until freezing. Place a large mixing bowl into the water, so it comes halfway up the sides then pour half of the minted milk into the mixing bowl. Set a sieve over the top.

Spread the sugar in a large saucepan in an even layer. Heat it up until the edges begin to melt, fold it into the centre of the sugar carefully, stirring until it's all dissolved. Carry on cooking until the caramel begins to smoke then remove from the heat immediately.

Add the butter and a pinch of salt until the butter has melted then stir in the cream. Don't worry if the caramel seizes as it can melt again at the next stage.

Place back on the heat and stir until all the caramel has melted. Then stir in the second half of the milk gradually.

Whisk the yolks in a bowl, then whisk in some of the warm caramel so the eggs warm up, pour the eggs back into the caramel custard and heat. Stirring all the time until it begins to thicken.

Pour into the sieve set above the rest of the minted milk in the ice bath, add the vanilla extract and then whisk constantly until the temperature has cooled.

Pour the custard into a large jug, cover with cling film and place in the fridge overnight to chill.

The next day churn in your ice cream machine until the consistency of a thick milkshake. Decant into tubs and place in the freezer overnight before serving.
Nutrition
Calories:
439
kcal
Carbohydrates:
44
g
Protein:
5
g
Fat:
28
g
Saturated Fat:
16
g
Cholesterol:
206
mg
Sodium:
111
mg
Potassium:
197
mg
Fiber:
1
g
Sugar:
41
g
Vitamin A:
1515
IU
Vitamin C:
3.2
mg
Calcium:
152
mg
Iron:
0.8
mg
Have you tried this recipe?
Head to the comment section and let me know what you think!
SHOP THE RECIPE
Many years ago Luke tried to persuade me than I didn't need yet another space hogging kitchen gadget that I didn't use so I bought my ice cream maker on the sly. I honestly haven't looked back and I am always thrilled to reach down for it and put it to use. I chose the Magimix Le Glacier 1.1 Ltr Ice Cream Maker (White)
on a whim but it's been absolutely brilliant and was very reasonable so I heartily recommend it.