This post contains affiliate links. Please read my disclosures.
Blackberry Ripple Ice Cream is amazingly light and creamy made from a base of Italian meringue and whipped double cream shot through with a burst of fruity blackberry.
This recipe is an update from the Blackberry Ripple Ice Cream I posted in 2014 which I now make every blackberry season without fail. Because of the base method I do find it an incredibly easy ice cream to manage without the risk of any ice crystals forming. The blackberry ripple is sweet and tart with immense fruity flavour contrasting with the smooth and creamy ice cream.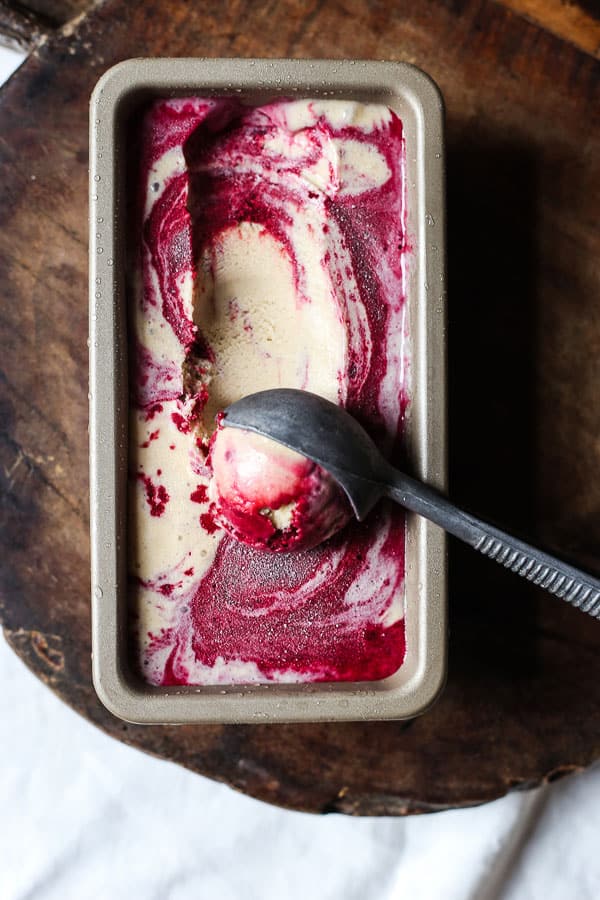 I originally adapted the recipe from one of my father's old Taste Magazines from the 1980s. I love looking through these magazines, it's amazing how much food photography and writing has changed. There are fewer pictures in the magazines and styling and lighting has changed a lot so much so that the food itself doesn't look terribly appealing from the photographs. If you look past the dusty images and focus on the recipes themselves though there are some true gems and this ice cream was one of my favourite discoveries.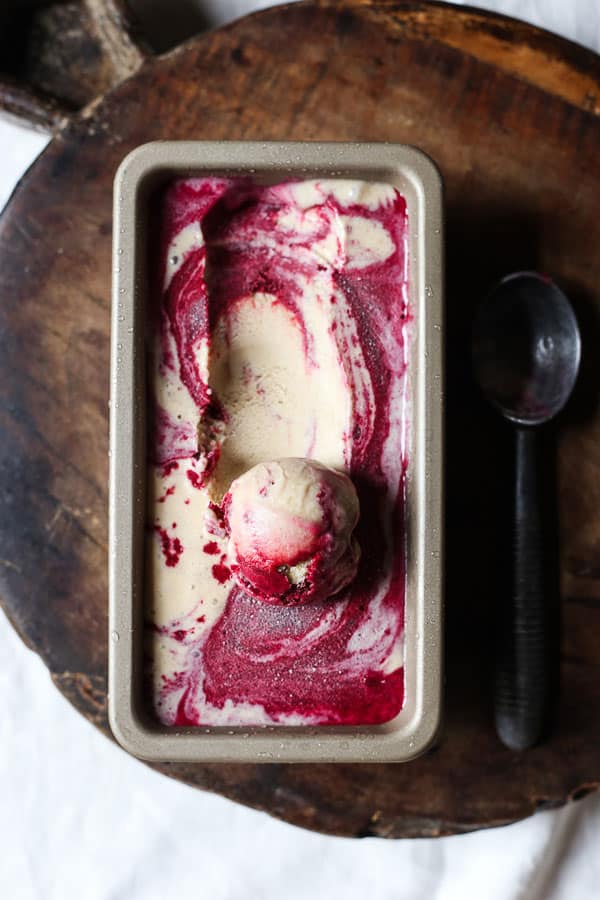 This Blackberry Ripple Ice Cream recipe was a bit of a revelation for me in terms of ice cream making. I love homemade ice cream but sometimes I can't be bothered with the hard-set stuff, the kind that you have to take it out from the freezer for 20 minutes so that you don't snap your spoon in half desperately trying to dig at it. These 20 minutes are always an endless time of frustration for me. Blackberry Ripple Ice Cream though is proudly soft scoop. If you fancy a teaspoon of ice cream whilst you are waiting for the toast to pop up then this is ideal. Luscious and creamy direct from the freezer. It achieves the soft set by adding liquid glucose to pureed blackberries which helps the crystallisation of the sugar and also protects the fruit, as without the sugar the blackberries would freeze solid. The ice cream base is made by whisking egg whites and drizzling in a sugar syrup to form a fluffy meringue which is what gives the ice cream its texture. Billows of double cream are then folded through, giving the ice cream richness.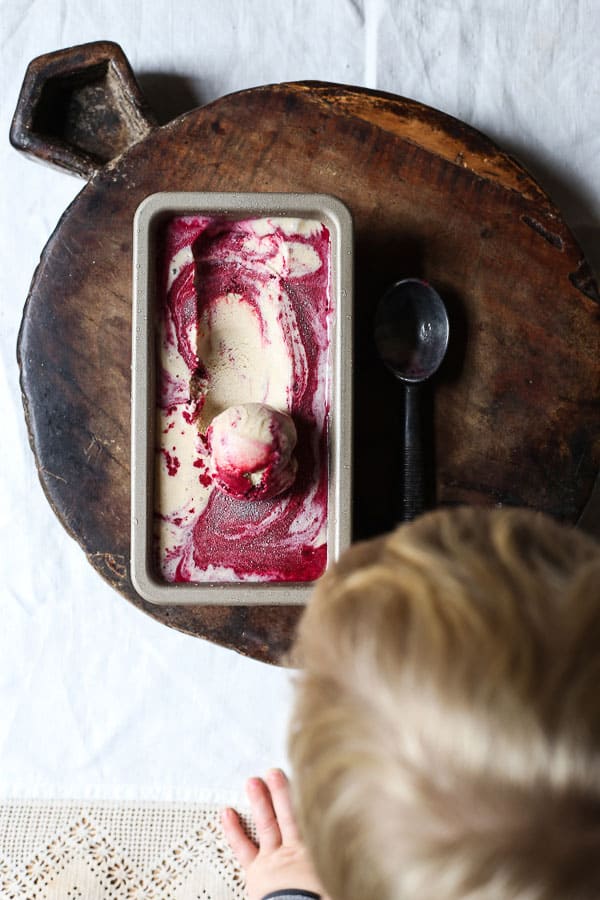 When it comes to the blackberries one of the things I am a bit of a stickler about is the preparation of the fruit. The seeds absolutely have to be removed. If not the smooth creamy ice cream is marred by the rock hard little pellets you have to keep removing from your teeth. I bought a homemade raspberry ice lolly from the market a couple of weeks ago and the seeds were so overwhelming that it completely ruined the treat for me. I was picking them out of my teeth for the rest of the afternoon and complaining about it to anyone unlucky enough to be in my company that day.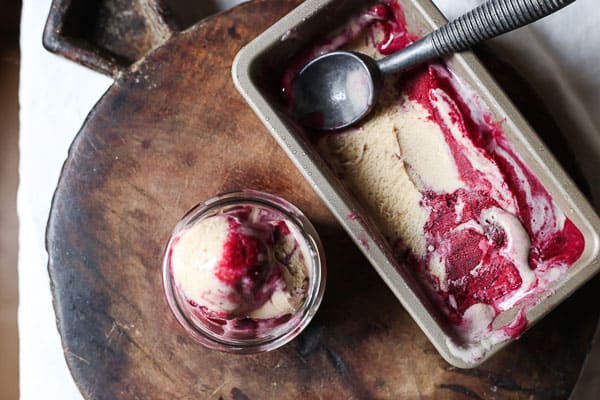 Since I am currently trying to restrict my dairy I have also tried making Blackberry Ripple Ice Cream by switching out the double cream for whipped coconut cream which makes the recipe dairy-free. It worked fine and if you want to make that swap for the same reasons then I do encourage it, it's still a completely delicious ice cream. However, it's funny, I haven't had too hard a time limiting my dairy intake at all and didn't miss it nearly as much as I thought I would. Ice cream though is proving my downfall. I can certainly be satiated with sorbets and ice creams made from frozen bananas or coconut milk but when you taste this ice cream as it is intended with the whipped double cream then it's nigh impossible to succumb.
SHOP THE RECIPE >>> Ice Cream Maker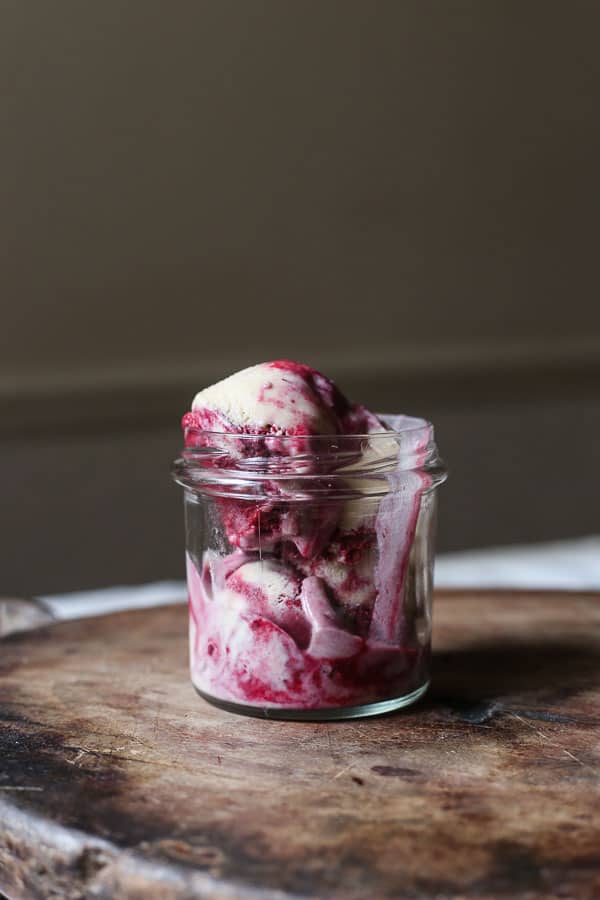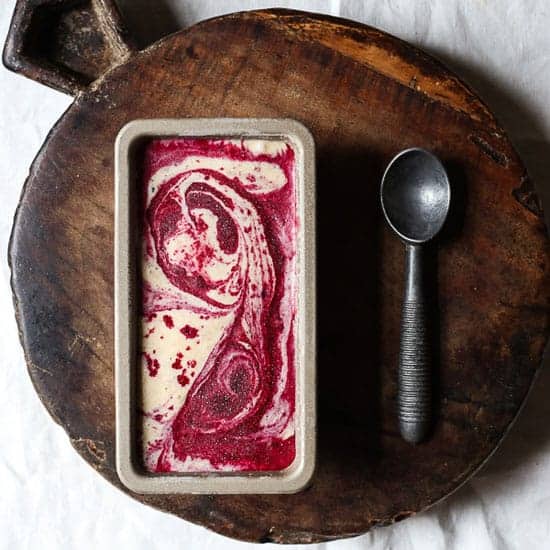 Blackberry Ripple Ice Cream
Amazingly light and creamy ice cream shot through with a burst of fruity blackberry.
Ingredients
500

g

blackberries

50

g

icing sugar

1

tablespoon

liquid glucose

250

g

light soft brown sugar

4

egg whites

300

ml

double cream
Instructions
Pour the blackberries into a medium sized pan and heat gently with a splash of water to aid the breaking down of the berries. Once the berries have completely softened then remove them from the heat and pour into a sieve. Push the berries through, the best aid for this I think is a silicone spatula, so that all the seeds are extracted from the fruit pulp. Discard the seeds (or save to make a fruit alcohol infusion as explained above) and return the pureed blackberries back into the pan.

Add the icing sugar and liquid glucose to the blackberry puree and bring to the boil. Remove from the heat then leave to cool before covering and refrigerating overnight.

Meanwhile pour the brown sugar into another medium sized saucepan and add 300ml of water. Heat gently so that the sugar completely dissolves into the water. Then bring to the boil and carrying on boiling until it reaches a very thick and syrupy consistency, it should reach 112°C on a sugar thermometer and can take about 20 minutes. You must keep your eye on the saucepan at all times so that it doesn't bubble over.

In a large mixing bowl whisk up the egg whites until stiff, then drizzle in the sugar syrup in a slow steady steam whilst continuing whisking. The egg whites will turn beautifully glossy.

In a separate bowl lightly whip the double cream then fold into the egg whites until they are fully incorporated. Cover the bowl with cling film and place in the fridge overnight.

The next day pour the egg white and cream mixture into your ice cream machine and churn for about 15 minutes or until the ice cream has reached a thick milkshake consistency.

Finally whilst the mixture is still churning drizzle in the blackberry puree until it has rippled evenly throughout the ice cream. Turn off the ice cream machine then decant the ice cream into tubs and freeze overnight to reach the correct set.
Notes
Adapted from Taste Magazine, August 1987
Yield 2 pints
Nutrition
Calories:
315
kcal
Carbohydrates:
46
g
Protein:
3
g
Fat:
14
g
Saturated Fat:
9
g
Cholesterol:
51
mg
Sodium:
51
mg
Potassium:
195
mg
Fiber:
3
g
Sugar:
40
g
Vitamin A:
685
IU
Vitamin C:
13.4
mg
Calcium:
68
mg
Iron:
0.6
mg
Have you tried this recipe?
Head to the comment section and let me know what you think!