This post contains affiliate links. Please read my disclosures.
This French Grated Carrot Salad is an extremely simple and classic salad of julienned carrots and finely chopped parsley dressed in a white wine vinaigrette. It is best made with the sweetest garden carrots.
Carottes Râpées is a staple in every French bistro and might not be something you would usually order as it just seems too simple. I was the same until I tried it at Brasserie Zédel in Piccadilly Circus where it is served as part of their set lunch menu.
This French Grated Carrot Salad which is served with efficiency, humbly domed on its small plate, doesn't look like much but on first bite this little salad will surprise you into silence. You know a good restaurant dish when the next day you have recreated it in your kitchen and then you do the same the next day and the next day. And there are few restaurant dishes which are this easy to replicate.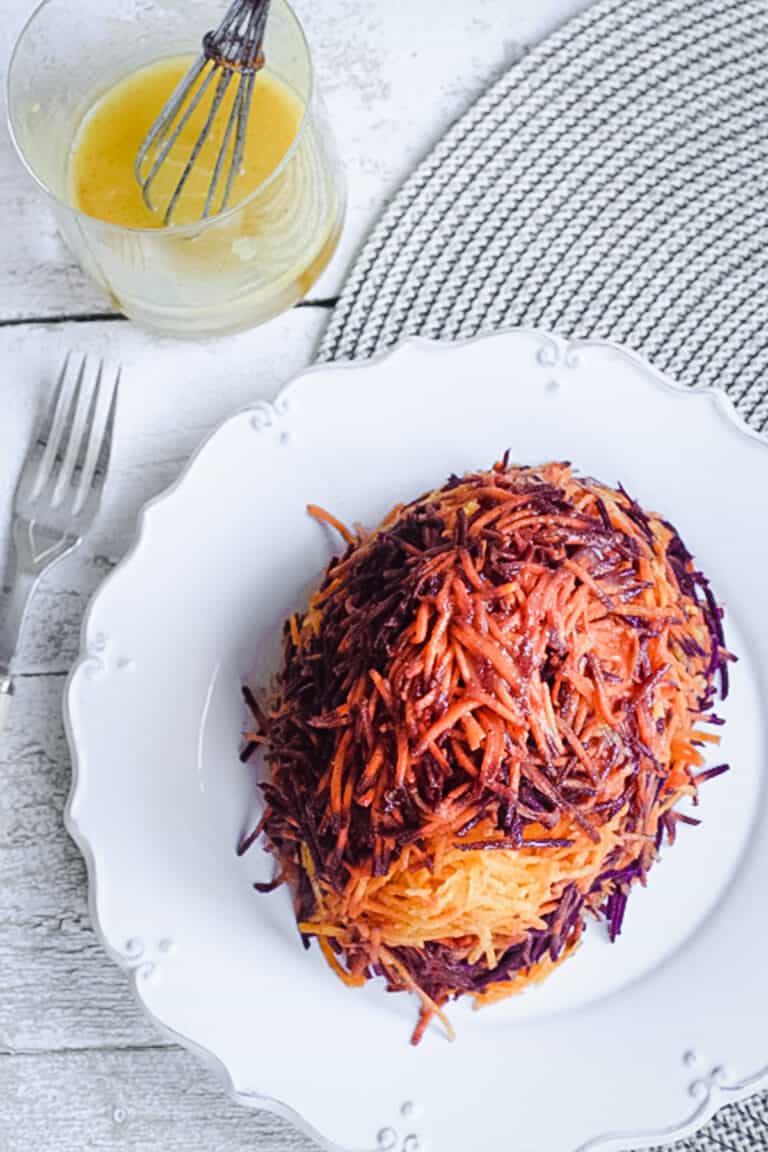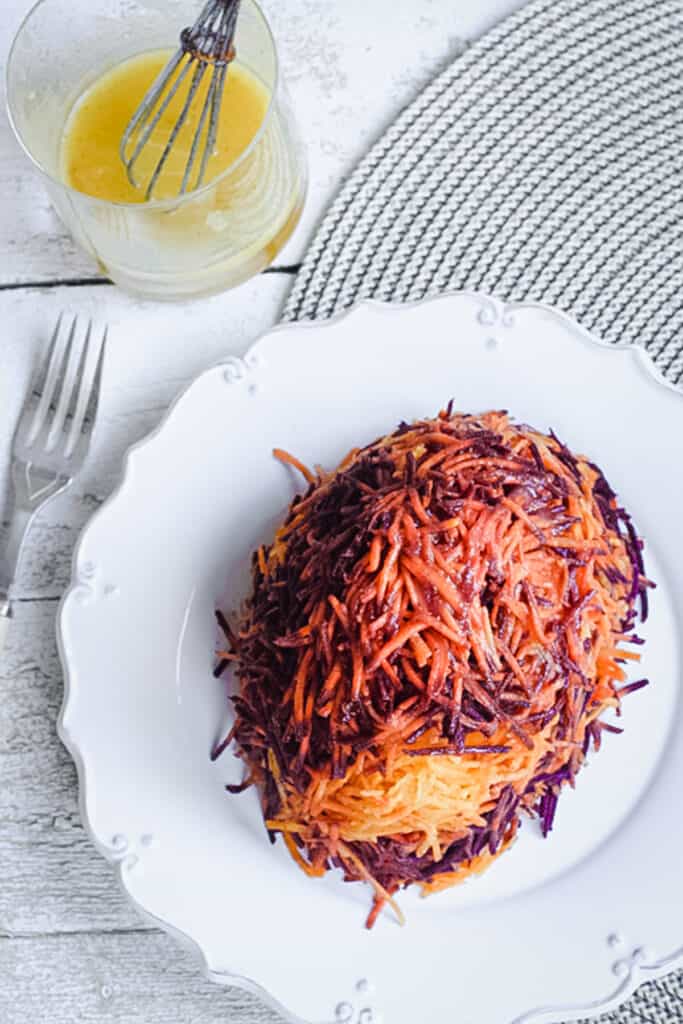 Why you'll love this recipe
It's so simple and can be made in under 10 minutes for a very impressive starter served with fresh bread or a lovely side dish.
A perfect recipe if you are unsure what to do with heritage carrots as it shows them off to their best advantage whilst retaining their lively colours and flavour.
How to grate your carrots
It may seem a simple task but if you've ever had a lot of grating to do on a manual grater then you will be longing for a different solution. Here are your choices.
A good manual grater. The Extra Course Microplane makes quick work of most grating jobs. It gives a good clean grate and is my go-to for a manual grater but we have a large job here.
Julienne peeler. Now this is starting to get the look we want for our carrot salad. However, we still have to do it by hand.
Spiraliser. This is such a great tool and you may be used to using one for making courgetti or zoodles or any other spiralised vegetable. It does an excellent job of these carrots for this salad too!
Food processor attachment. This is my preferred option. I use the grating attachment for my Magimix on an almost daily basis. It makes fast work of these carrots and is very easy to clean.
Ingredients needed
Carrots. Organic carrots are imperative here for the best flavour, crunch and sweetness.
White wine vinegar. Use the best quality you can find.
Dijon mustard. A grated carrot salad with mustard is the most lovely flavour combination. I heartily recommend using Maille mustard.
Garlic. Use fresh garlic rather than garlic powder here.
Extra virgin olive oil. You can use regular olive oil but extra virgin gives us much more flavour.
Seasoning. Freshly cracked black pepper and sea salt is what is needed here.
Fresh Parsley. Fresh is imperative here, not dried.
Use quality ingredients
Even though this salad may be an easy recipe that doesn't mean it should be tossed together willy nilly. The fine cast of ingredients is improved immeasurably by making sure you get the best you can afford or get hold of.
Carrots
If you have ever wondered what to do with heritage carrots and especially what to do with purple carrots then this is the perfect use. Purple carrots always seem like a great idea but once they are boiled or cooked then they don't looks as impressive on the plate. This beautiful carrot salad is the perfect way to use them.
I like to use a variety of heritage carrots, purple, yellow and orange as the colour contrast is stunning. The beauty of these different coloured carrots which are on offer at farmers' markets mean that the salad doesn't look or taste like a poor man's supper but a rich man's bounty.
Vinaigrette
Vinaigrette is one of those recipes which will accept no substitutions. Do invest in decent extra virgin olive oil, excellent Maille mustard and a delicate white wine vinegar. I recommend chardonnay wine vinegar as it's not so acetic and imparts its own fruity flavour instead of just having a one note sharpness that most commercial vinegars are saddled with.
I recommend unequivocally Forvm Chardonnay vinegar which is made in a family winery just outside Barcelona. I limit its usage to salad dressings so it lasts an age and makes every salad fantastically delicious.
Seasoning
Salt and pepper may seem like a humdrum ingredient but if you choose your ingredients wisely then it will transform your vinaigrette. Freshly cracked black pepper is imperative and a good quality flaked sea salt like Maldon will really elevate the recipe.
How to make it
For full recipe instructions go to the recipe card at the end of this post.
Grate or julienne the carrots and set aside.
Make the vinaigrette by whisking the salt into the vinegar. Add the mustard and whisk until smooth then the garlic pepper and finally drizzle in the olive oil. Whisk until thick and creamy.
Toss the vinaigrette with the carrots and serve with the chopped fresh parsley.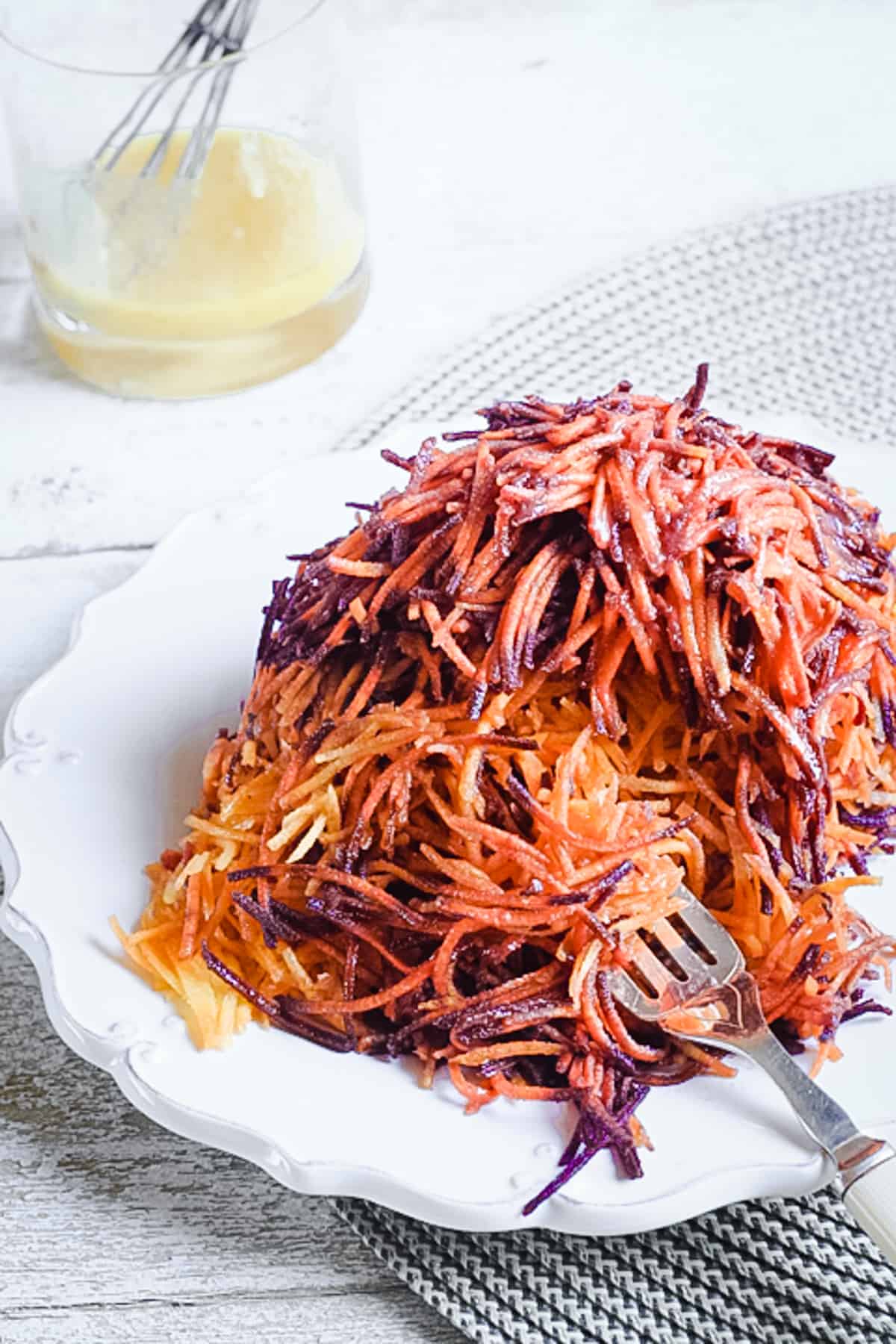 Pro tip
The key word in making a dressing is emulsify. Whisk the dressing in stages. Take time to ensure the salt has dissolved into the vinegar before adding the mustard. Whisk until the mustard and vinegar are completely smooth. Then drizzle the oil in carefully with one hand whilst the other is whisking it swiftly into the other ingredients, emulsifying it together.
This means your dressing will suspend all the different elements together without the threat of being oily. The dressing should be thick, smooth, fruity and tangy. Whilst the vinaigrette is fully emulsified pour the just whisked vinaigrette straightaway onto your carrots.
More tips
Equipment. To make the vinaigrette then use the right size mixing bowl. A small metal mixing bowl with smooth round interior is excellent for this task plus a small hand held whisk.
Place the metal bowl on a damp tea towel whilst whisking the vinaigrette to stop the bowl moving around.
Other salad recipes you'll love!
Garbage Salad
Simple Brown Rice Salad with Pesto Vinaigrette
Roast Cauliflower Salad with Turmeric Tahini Dressing
If you make this French Grated Carrot Salad then please leave a comment below and/or give the recipe a rating. If you then go on to use this recipe as a launch pad for your own baking creation then I'd also love it if you'd share it and tag me on Instagram. It is so lovely for me to see your versions and variations of my recipes.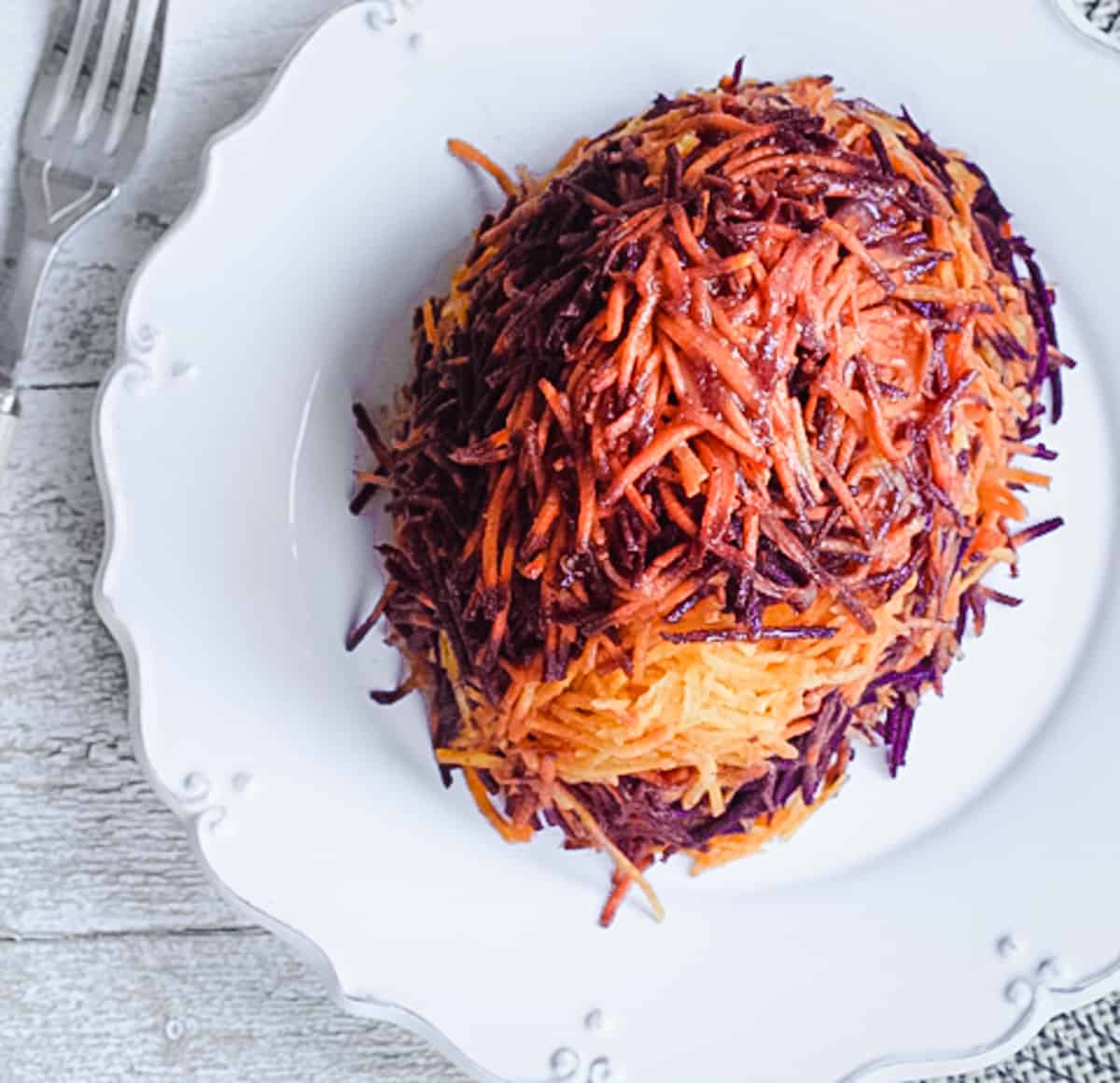 French Grated Carrot Salad (Carottes Râpées)
This French Grated Carrot Salad is an extremely simple and classic dish which is best made with the sweetest garden carrots.
Ingredients
3

large carrots

-

organic, heritage carrots if possible

1

teaspoon

Dijon mustard

2

teaspoons

white wine vinegar

¼

teaspoon

sea salt

¼

teaspoon

cracked black pepper

½

garlic clove

-

crushed

30

ml

extra virgin olive oil

1

tablespoon

roughly chopped parsley
Instructions
Peel then grate or julienne the carrots then set aside.

Whisk the vinegar and salt in a small mixing bowl until the salt has dissolved.

Add the Dijon, whisking with confidence until it has emulsified with the vinegar.

Stir in the garlic and black pepper.

With one hand continually whisking, use your other hand to slowly drizzle in the oil. In a similar method to making mayonnaise you want the oil to be captured by the other ingredients coming together to create a creamy dressing.

Pour the dressing onto the carrots, tossing together with the parsley.

Serve immediately to avoid any wilting.
Notes
Julienne is a French vegetable preparation technique. It is very easy for the home cook to replicate using either a julienne peeler or the grater attachment of a food processor. Alternatively you can grate the carrots.
Carrots. Use the best quality carrots you can access, organic heritage carrots are wonderful here.
White wine vinegar. The best quality vinegar will give the best quality vinaigrette. A chardonnay vinegar works very well.
Pro tips
Tip #1. Equipment. To make the vinaigrette then use the right size mixing bowl. A small metal mixing bowl is excellent for this task and a small hand held whisk.
Tip #2. Place the metal bowl on a damp tea towel whilst whisking the vinaigrette to stop the bowl moving around.
Make ahead / freezing
I don't recommend either making this salad ahead of time or freezing it. The carrots taste their freshest and crunchiest if the salad is made directly before serving.
Nutrition
Calories:
88
kcal
Carbohydrates:
5
g
Protein:
1
g
Fat:
8
g
Saturated Fat:
1
g
Polyunsaturated Fat:
1
g
Monounsaturated Fat:
6
g
Sodium:
192
mg
Potassium:
158
mg
Fiber:
1
g
Sugar:
2
g
Vitamin A:
7729
IU
Vitamin C:
4
mg
Calcium:
19
mg
Iron:
1
mg
Have you tried this recipe?
Head to the comment section and let me know what you think!