This post contains affiliate links. Please read my disclosures.
Try Homemade Bacon Salt on anything and everything. From sprinkling on chips to whisking into salad dressings and even adding to your margarita salt rim. It just makes everything taste better.
Bacon is brilliant and salt is marvellous so this recipe was always going to be a winning combination. I first experienced bacon salt a few years ago dredged onto my fries at a local restaurant. It just made complete sense, adding a delightfully savoury saltiness and immediately set about creating my own recipe so I would always have this incredible condiment to hand. And now I put it on everything, sweet or savoury.
Once you've tried it you won't want to go back to ordinary salt.
Why should you make bacon salt?
This special umami dust will pep up any humdrum meal.
Easy to make - with just 3 ingredients!
Keeps well in the fridge so you can always have it to hand.
How do you use bacon salt?
It will be the magic ingredient sprinkled over your buttered popcorn as you settle in for an afternoon of Netflix.
Potato or sweet potato wedges will be heartily pepped up as a dredging of bacon salt will make them the key feature of the meal instead of a lowly accompaniment.
A humble lunchtime salad will be taken to another dimension with a liberal dusting of bacon salt.
Adding a good shake to your marinara sauce will completely transform a plain jane dinner into blissful reflection.
How do you make it?
Place smoked streaky bacon on a small oven tray and bake for about 20-25 minutes until the bacon seems crisp and dry but is not in any way burnt.
Remove from the oven to dry on kitchen towel.
Place the bacon in a food processor with the sea salt and grind until the bacon is in minute pieces flecked through the salt.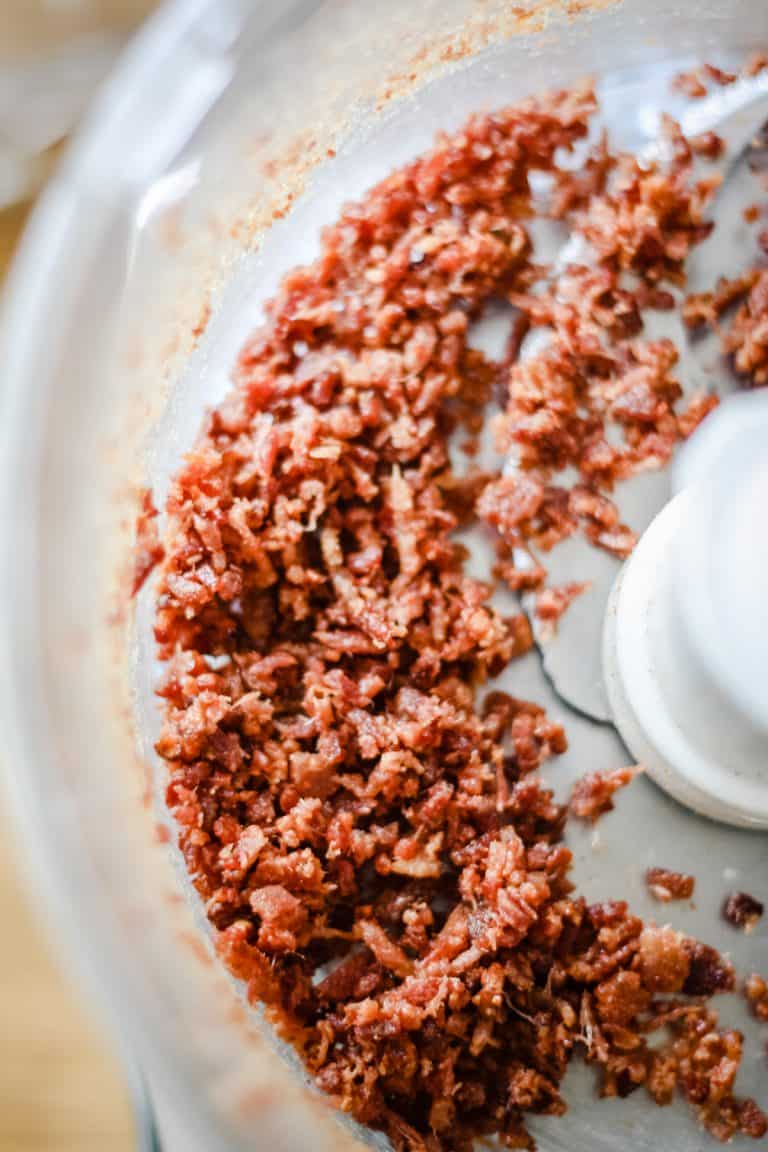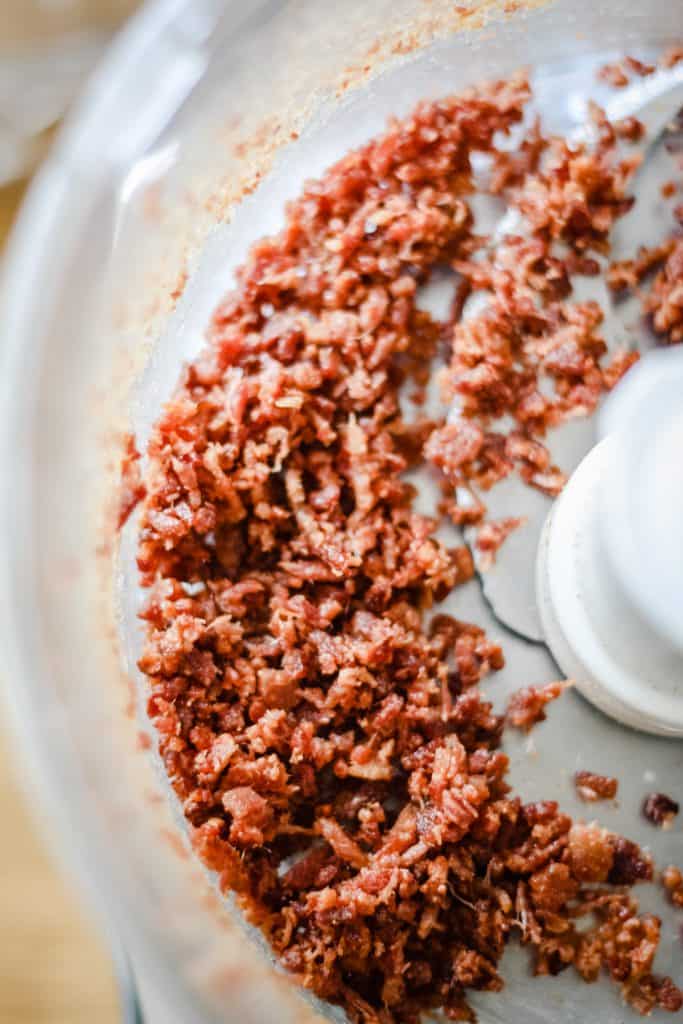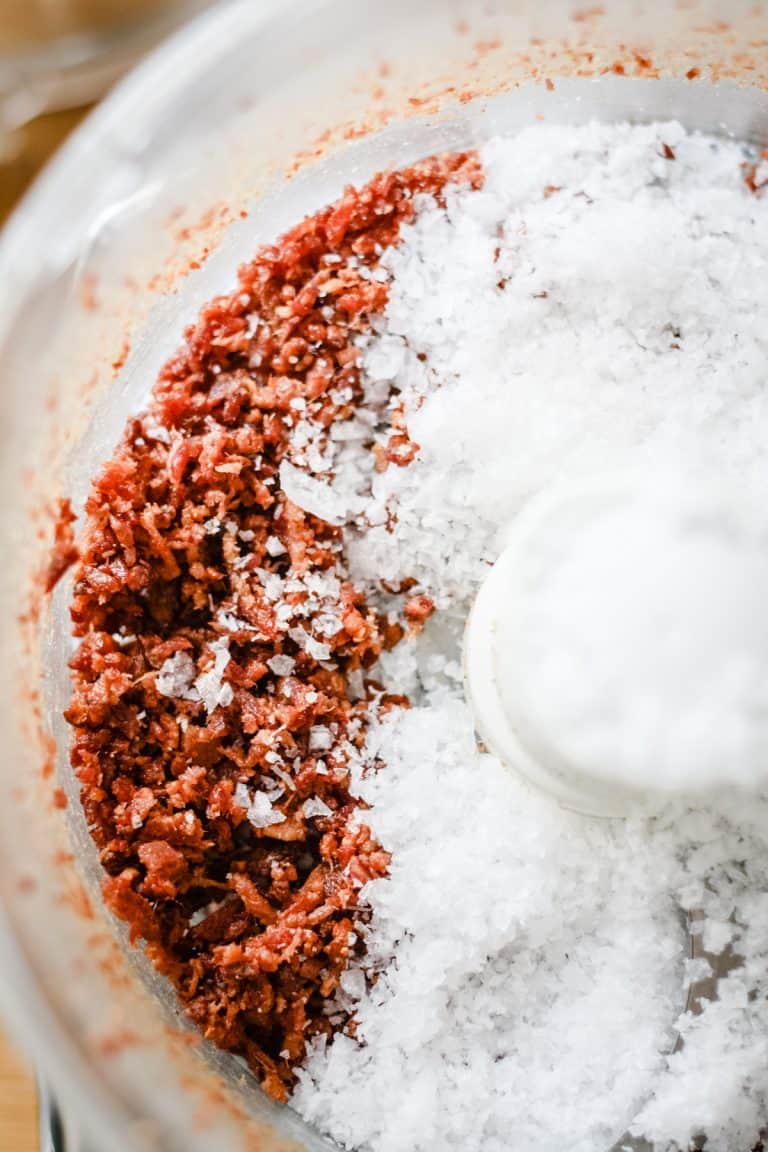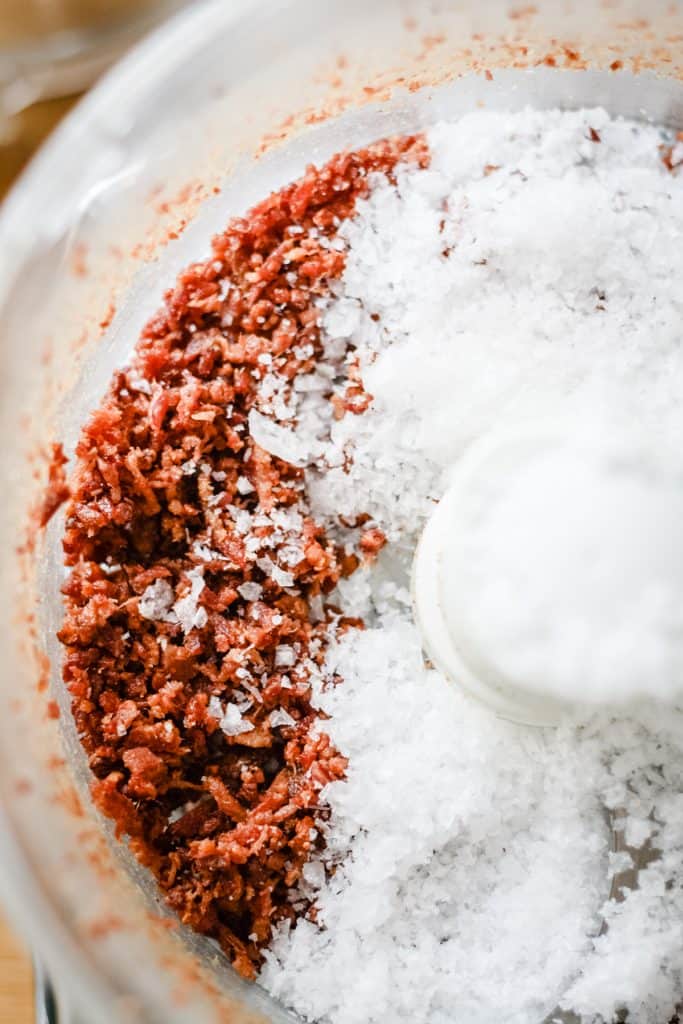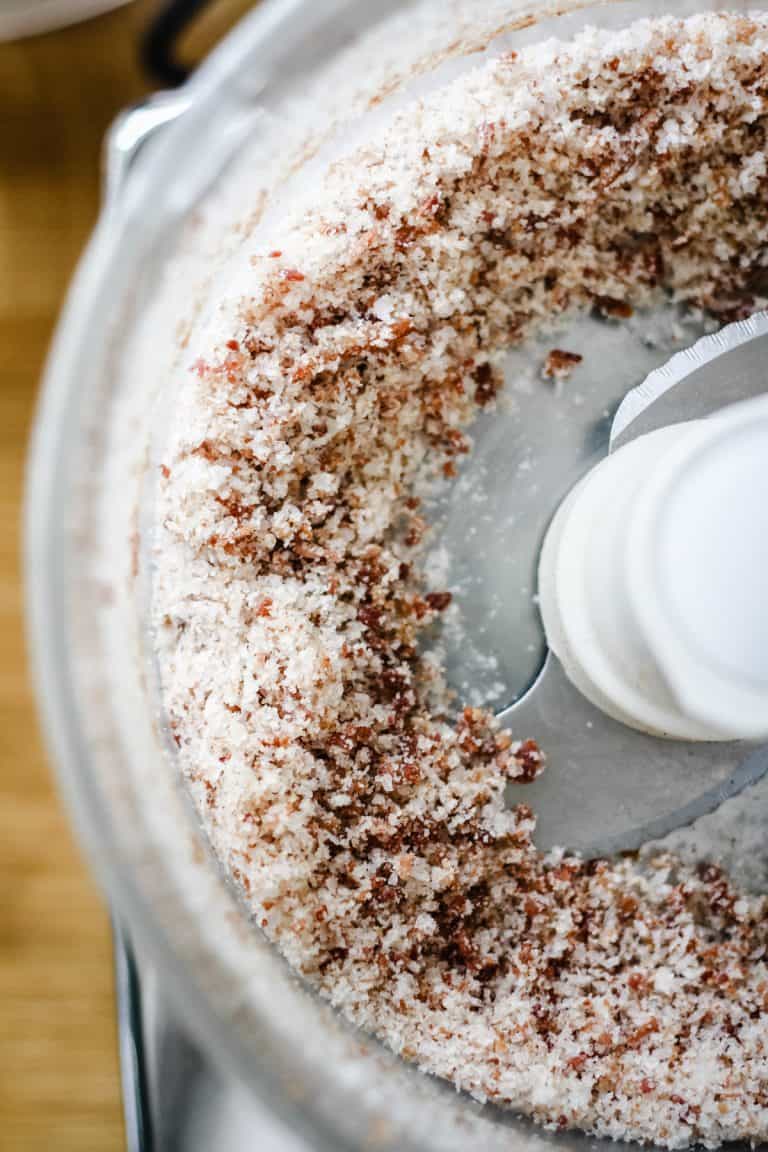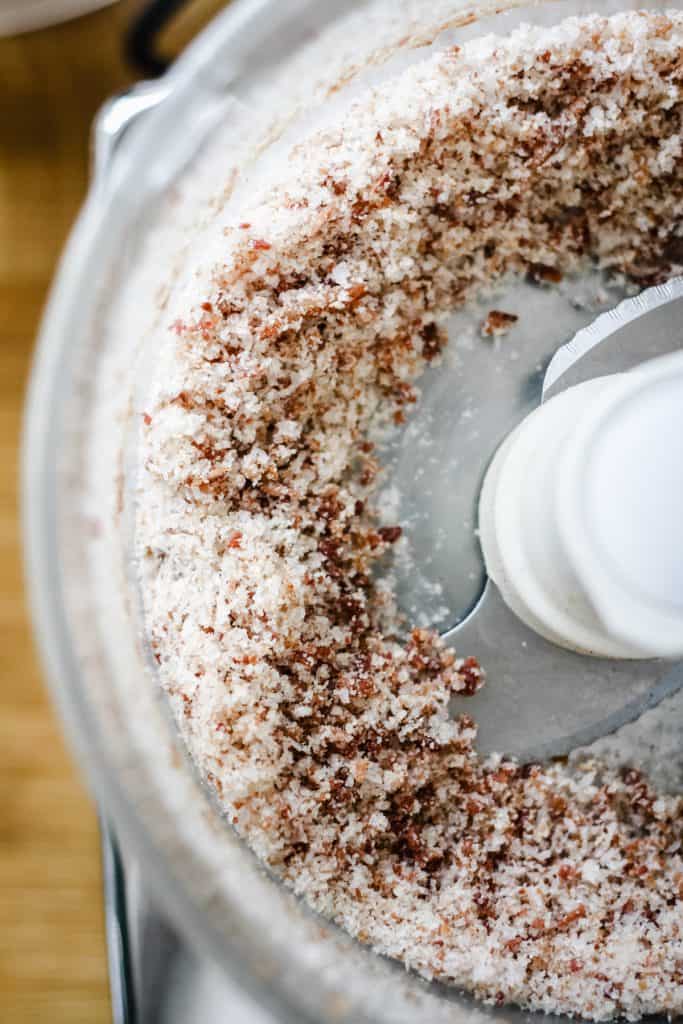 4. Store in an airtight container in the fridge.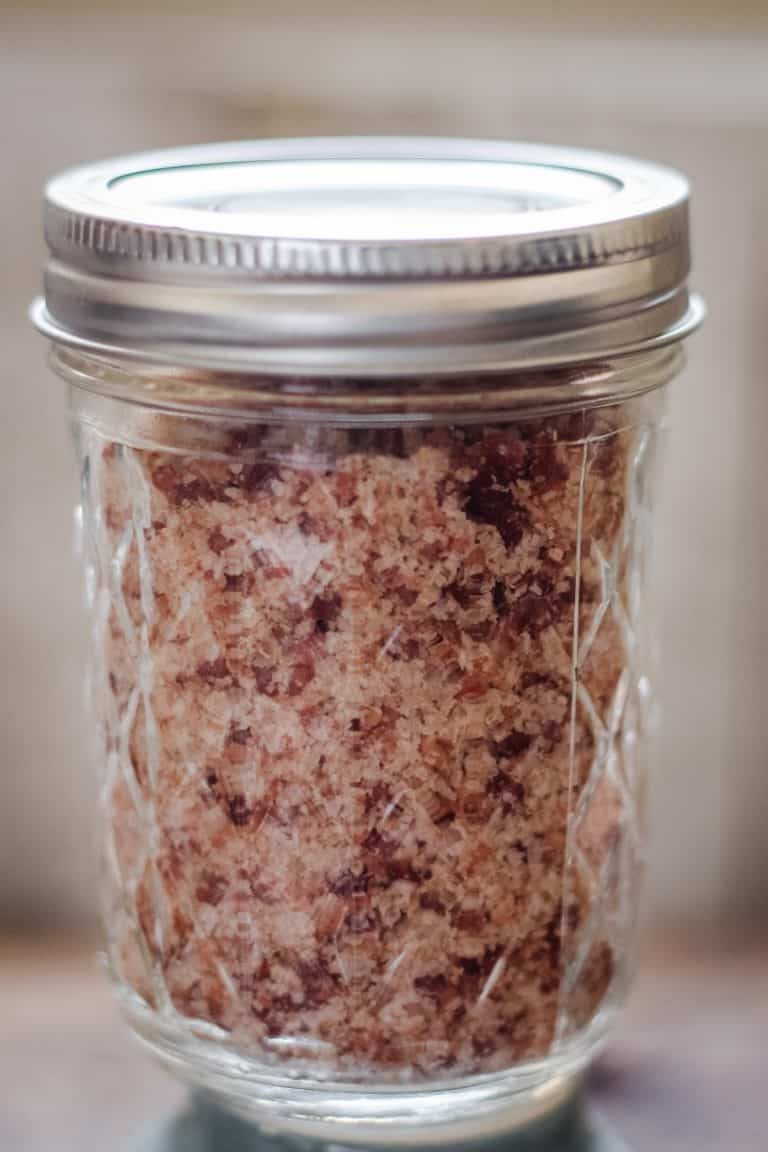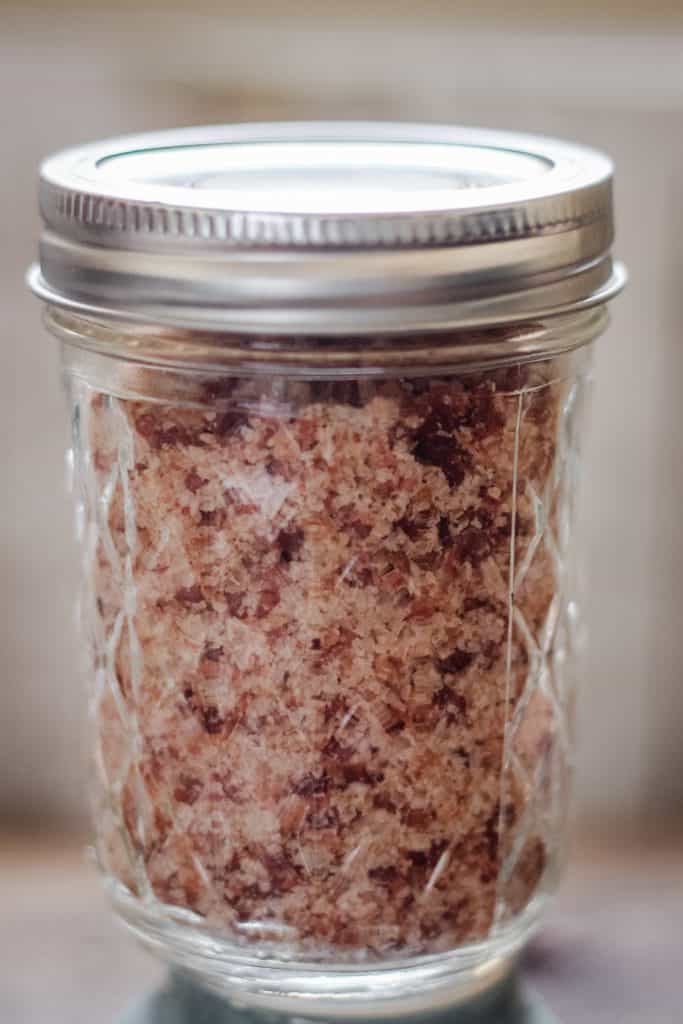 What salt should you use?
A good flaky sea salt works best here that can be ground well. I love to use Maldon Sea Salt for this recipe. The flakes are beautifully delicate and give a wonderful subtle taste.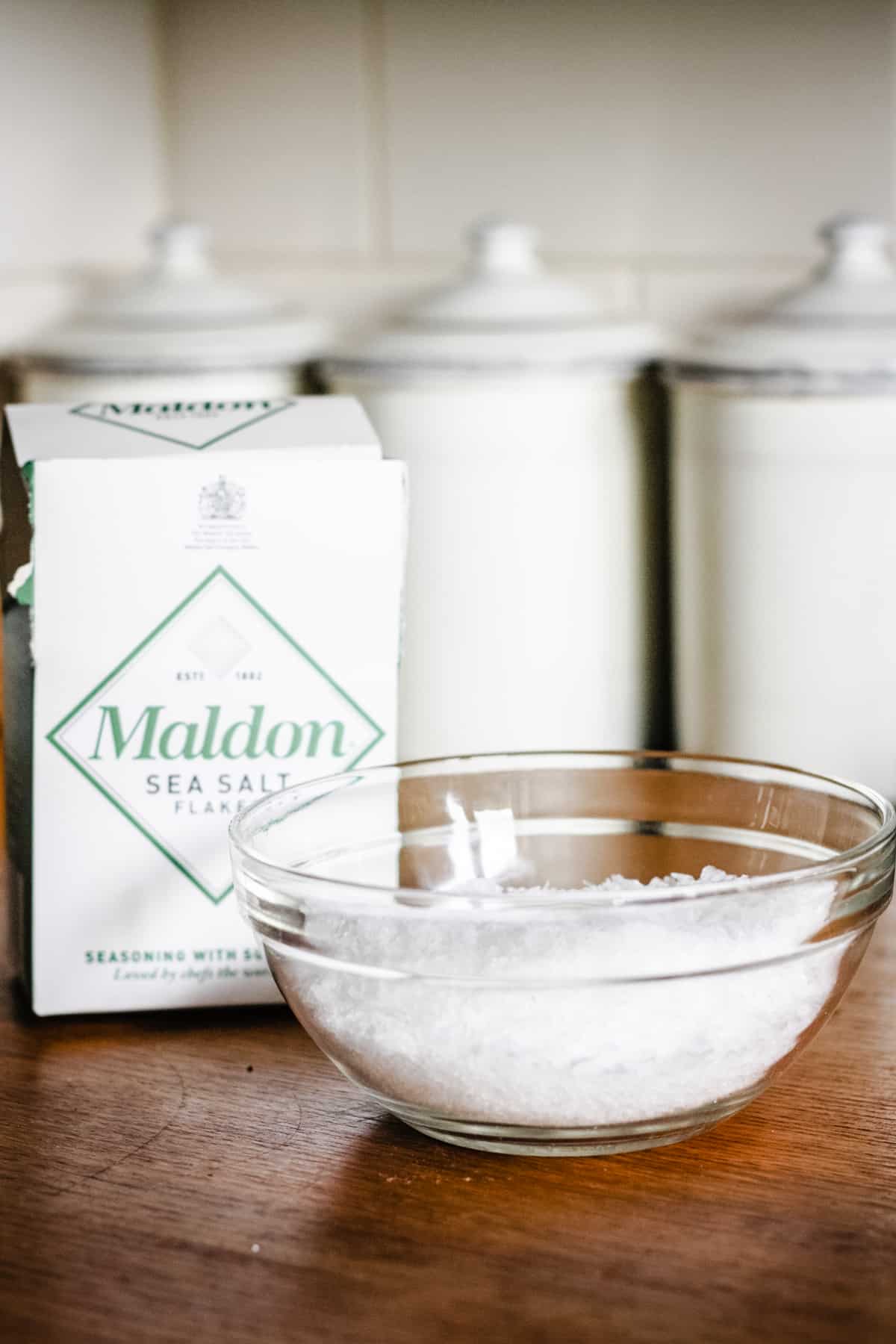 Recommended Equipment
A good food processor. I really recommend the Magimix food processor. I have easily had mine about fifteen years. It was the first kitchen appliance I ever bought and has been proud on my work surface in every kitchen I've had since then.
How long does bacon salt keep for?
You can keep your bacon salt in the fridge for as long as you see fit. The proper advice is to eat within a week but since salt is a preservative then I find the bacon salt lasts a lot longer. I tend to use a whole batch within 2-3 weeks so it never gets to the point where I think to throw it away.
Can you grill the bacon instead?
You can grill your bacon for this recipe which takes half as long as the roasting time given below and if I'm pressed for time then this is a fine option. However, it is nice to roast the bacon as the roasting dish hangs onto the bacon fat which renders off the meat.
Bacon Fat
This bacon fat is a real added bonus to the recipe. I scrape the fat into a jar to keep in the fridge and if you do this every time you bake or fry bacon then you will build up a little store.
Now that we all know that fat isn't the big scary health risk that we all once thought we can embrace the flavour that bacon fat gives to our cooking without repercussions. Have you tried bacon fat instead of butter when frying steaks or pancakes or as a base to your roux? It's how I do it in my weird little bacon obsessed world. And then I cement matters by sprinkling bacon salt over the top.
If you like this recipe then why not try:
Homemade Lemon Powder
Walnut Dukkah
Homemade Smoky Fajita Seasoning Paste
If you make Bacon Salt then please leave a comment below and/or give the recipe a rating. If you then go on to use this recipe as a launch pad for your own baking creation then I'd also love it if you'd share it and tag me on Instagram. It is so lovely for me to see your versions and variations of my recipes.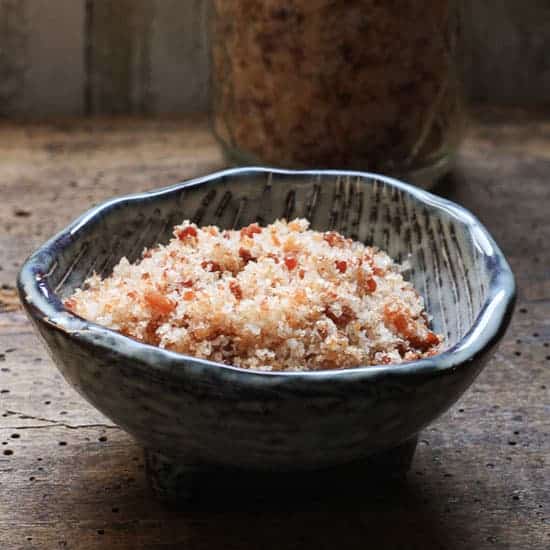 Bacon Salt
From sprinkling on your chips to adding to your salad dressings and even adding to your margarita salt rim, Homemade Bacon Salt just makes everything taste better.
Ingredients
6

rashers smoked streaky bacon

135

g

maldon sea salt

¾

teaspoon

ground white pepper
Instructions
Place the bacon rashers on a baking tray and then into an oven, pre-heated to 180°C.

Bake for 20-25 minutes until just starting to turn crisp.

Remove from the oven and place the bacon rashers on some kitchen paper to dry.

Once cooled, place the bacon in a food processor. Whizz up until the rashers have crumbled into tiny shards.

Pour in the salt and the pepper and continue processing together until the bacon pieces are tasty meaty dots running through the salt.
Notes
Bacon salt keeps well for at least 2 weeks in the fridge.
Adapted from thewannabechef.net
Nutrition
Calories:
11
kcal
Carbohydrates:
1
g
Protein:
1
g
Fat:
1
g
Saturated Fat:
1
g
Cholesterol:
2
mg
Sodium:
1064
mg
Potassium:
5
mg
Fiber:
1
g
Calcium:
1
mg
Have you tried this recipe?
Head to the comment section and let me know what you think!