This post contains affiliate links. Please read my disclosures.
This recipe is not yet gluten-free
In the run-up to re-launching my cake stall again next month I am currently embarking on the phase of what I like to call 'recipe testing' and what others might like to say is just baking and eating a ridiculous amount of cake.
I feel I owe it to my new pitch at Tottenham Green Market to burst forth from my maternity leave with a pantheon of new creations. I only really like to sell cakes whose recipes I have carefully honed to my idea of perfection; not too sweet, interesting flavour combinations and generally that are worth breaking your diet for. There is nothing worse than being seduced by a particularly ravishing looking lemon drizzle when you are supposedly disavowing sugar, carbs and joy, only to be disappointed by a bland, dry and tooth curlingly sugary affair. I aim for my cakes to not be like that. Cake should always be a celebration, whether it's your birthday, Wednesday morning coffee with your fellow new mums or because you deserve it after a particularly trying day with an eight-month old gentleman, frustrated, as he can't quite master crawling.
This weekend's recipe testing for my new Cinnamon Apple Cake with Salted Caramel Cream Cheese Buttercream coincided with our February Women's Institute meeting which was perfect as I love it when my cakes have a purpose rather than just for baking's sake. Plus my fellow WI members quite rightly know their cake and are not afraid to hold back with honest feedback. I was rather chuffed then when the whole cake was devoured in record time and the appropriate yummy noises were made. This time I promise it wasn't just me doing that.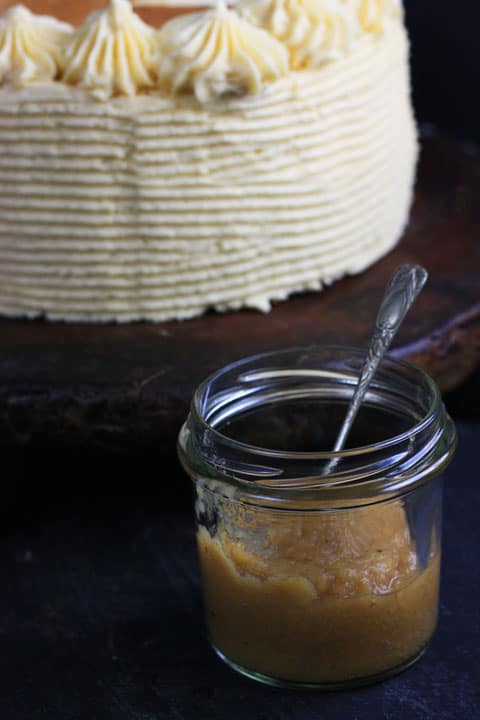 Apples and salted caramel are absolutely BFFs, as evidenced by yesteryear's Salted Caramel Apple Pie. Throw cream cheese into the mix and you have a particularly splendid party right there. Also there is a lot of apple puree involved here which delights me no end – I am an apple puree fanatic. Is puree the right word – or does that just refer to baby food? Hmmm, you decide, I have complete baby-weaning brain. Oh, did I mention I have a baby? Sorry, checking that now at the door.
This is not just any run of the mill apple cake though, in case you were wondering. I have been experimenting with different flours recently and I added a few tablespoons of buckwheat flour to lend an earthy nutty chew to the sponge. This apple cake is wonderfully flavourful and the depth of the buckwheat rounds out the warmth of the cinnamon, allspice, cloves and nutmeg. I wonder even if next time I might like to be a little more daring with the buckwheat – if that happens I will be sure to add an update here. For now though, the amount here worked like gangbusters.
I got the idea of the Salted Caramel Cream Cheese Buttercream from Ovenly, my new favourite baking book. Before Cole was born I was banned from buying any more recipe books; apparently we didn't have the space and I couldn't possibly have cooked all the recipes in the ones I already had. However, since ruining my body to give birth then henceforth devoting every waking and non-waking second to my precious firstborn, I now think that I deserve at least one new cookbook a week, nay, a day! Anyway, I have been buying them on the sly.
I digress, the recipe in Ovenly pairs the buttercream with a Chocolate Stout sponge which sounds an absolutely sublime combination and something I must try. I can't help but do something different though as I have always been contrary (actually that's not true I'm very conformist, I just like pretend I invented the whole thing – look at me, aren't I clever) and I have been craving apple cake for a few weeks now. Never being one to abstain from cravings the idea of combining the apple cake with the inspiration for the buttercream seemed like kismet. Plus the good thing with the salted caramel recipe I have included below is that it makes slightly more than you need for the buttercream which means finger dipping fun for all the family. Weeelllll… just me as I don't think Luke's yet clocked it's there, probably because I have it hidden behind the broccoli and Cole has yet to be introduced to the wonder of sugar – so young, so innocent.
So after a tweak and a poke here and there this recipe has now been deemed fit for public consumption and lo I share it with you and in a few weeks I will also share it with Tottenham Green Market. Boom, here I come!
(next post I promise there won't be so much baby chat. Or maybe there will. See? Contrary.)
Cinnamon Apple Cake with Salted Caramel Cream Cheese Buttercream
225g plain flour
50g buckwheat flour
1 teaspoon bicarbonate of soda
¾ teaspoon baking powder
½ teaspoon salt
1 teaspoon cinnamon
½ teaspoon ground allspice
¼ teaspoon ground cloves
pinch of nutmeg
170g unsalted butter
280g soft light brown sugar
2 eggs
1 teaspoon vanilla extract
300g apple puree (about 4-5 apples – I used cox's)
Pre-heat the oven to 170°C and line and grease 2 x 20cm round baking tins.
Sift together the flours, bicarbonate of soda, baking powder, salt and spices in a large bowl and set aside.
Cream the butter and sugar for 5-10 minutes until light and fluffy.
Drop the eggs, one at a time, into the creamed butter and sugar and mix in well. Then add the vanilla extract.
Add the flour mixture alternately with the apple puree, adding the flour in three additions and the apple puree in two (begin and end with the flour), scrape down the sides of the bowls as needed and mix until just combined.
Divide between the two cake tins.
Bake for 20-25 minutes, then remove from the oven and cool on a wire rack completely before covering with the buttercream.
Salted Caramel Cream Cheese Buttercream
To make the salted caramel:
125g caster sugar
150ml double cream
20g unsalted butter
¼ teaspoon sea salt
1 teaspoon bourbon vanilla extract
Tip the sugar into a small saucepan and heat on a medium temperature until the sugar melts. Do not touch with a spoon but you can encourage the melting by swirling the actual saucepan around occasionally if you like.
Once melted, carefully stir in the double cream and butter which will bubble up furiously, the caramel may harden slightly but just keep on stirring the bubbly mixture until the cream, butter and sugar are smooth.
Add the vanilla extract and salt, stir in quickly and remove from the heat.
Pour directly into a glass jar, seal and place in the fridge to chill thoroughly.
To make the buttercream:
500g unsalted butter
600g icing sugar
120ml salted caramel
380g cream cheese
Cream the butter until soft then add the icing sugar and mix for about 10 minutes until very light and fluffy.
Scoop in the cream cheese and chilled salted caramel mixing in thoroughly.
Generously sandwich the buttercream between the two apple sponges and cover the sides and top, piping decoration if you wish.