The Best Gluten-Free Vanilla Cake is made without xanthan gum and is deliciously fluffy, light and moist. It is filled and covered with a dreamy vanilla swiss meringue buttercream and is the cake you will turn to time and time again when you need a simple yet stunning gluten-free cake.
To say that I am excited about this recipe is an understatement. This is one of the cakes that I am most proud of ever since I began baking gluten-free several years ago.
The vanilla cake is an especially important cake for any baker as not only should the cake shine in its own right but it is also the building block through which many other cakes can be made. Just change the buttercream to chocolate and you have a perfect chocolate vanilla birthday cake, add some lemon or orange zest to the sponge and buttercream and you have a citrus cake. Add chopped nuts to the batter, chocolate chips or even sprinkles for a funfetti cake. Your basic vanilla cake is where it all starts.
There is nowhere for the ingredients to hide in a simple vanilla cake. No fancy flavours that may detract from an inferior texture and no cheeky add-ins that make ploughing through a dry cake a satisfying treat. A gluten-free vanilla cake is a strong ask. The sponge has to be light and fluffy but not dry, moist but not claggy and the taste has to sing with the simplicity of vanilla. All of the stumbling blocks of gluten-free baking are put to the test in the vanilla cake and I wanted to prove to the gluten-free cake detractors that cakes baked without wheat can have a beautiful texture, tremendous taste and pleasurable mouthfeel.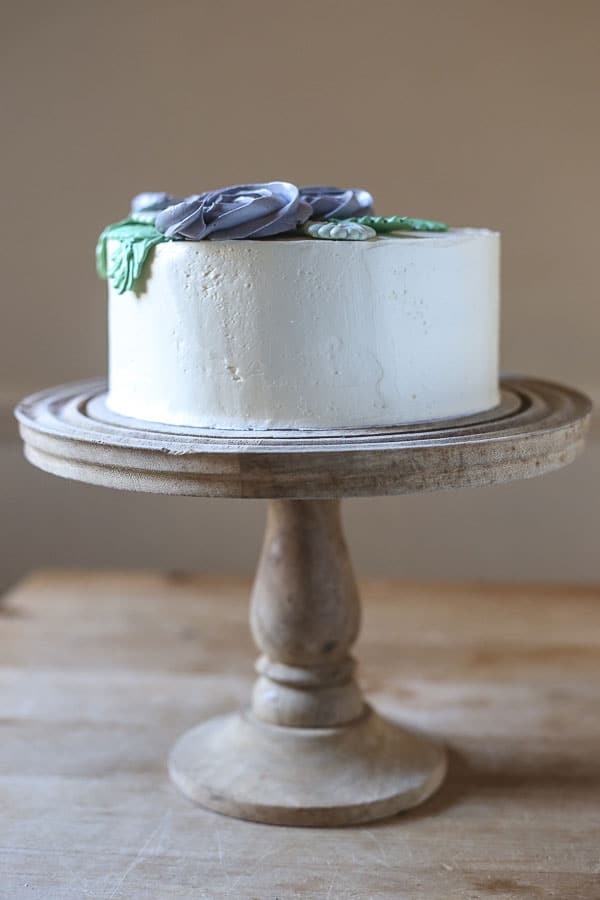 Before I discuss my flour choices for the Best Gluten-Free Vanilla Cake, it's important to mention a missing key ingredient that you might be familiar with if you have baked a gluten-free cake before. This gluten-free cake is without xanthan gum which is often used in gluten-free baking to mimic the effects of gluten. I have never found a need to use this omnipresent ingredient, instead relying on careful flour selection to give the desired texture instead. I will be discussing my choice to not bake with xanthan gum in my next post but for now you can breathe a sigh of relief that if you are intolerant to xanthan gum or can't be bothered to buy yet another ingredient to clog up your shelves you can still enjoy the Best Gluten-Free Vanilla Cake.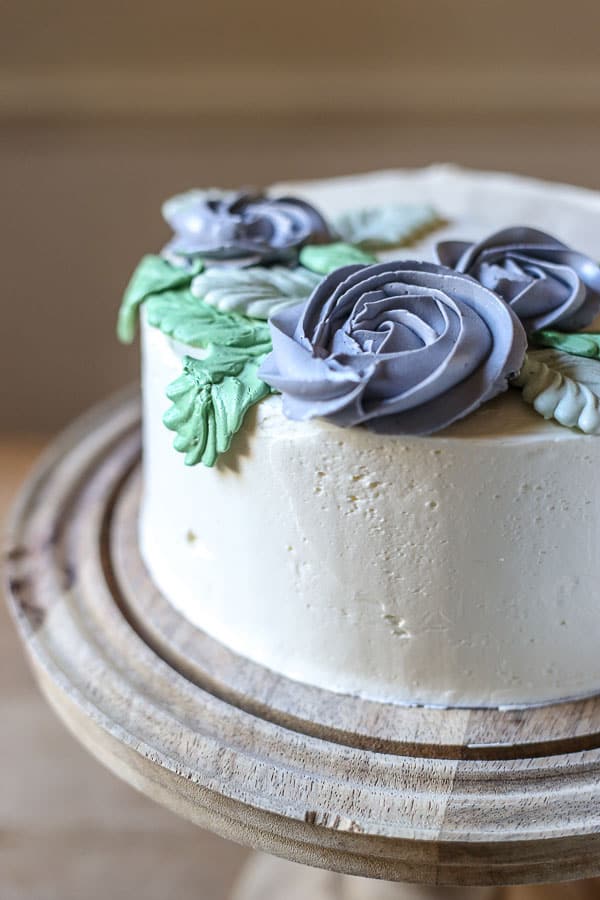 So without xanthan gum to rely on I have to choose which alternative flours to include wisely. Firstly I was very particular that I didn't want to make my go-to gluten-free vanilla cake with almond flour so as to avoid any nut allergy issues. I also wanted to produce a cake that used as few flours as possible. This latter point has been the main difference between this gluten-free vanilla cake and my previous go-to gluten-free vanilla cake. It has not been uncommon for me to blend up to five different gluten-free flours to get a taste and texture that I love. For this recipe though I limited myself to just three gluten-free flours for the blend, to make it as accessible as possible, keep costs down and our larder slim.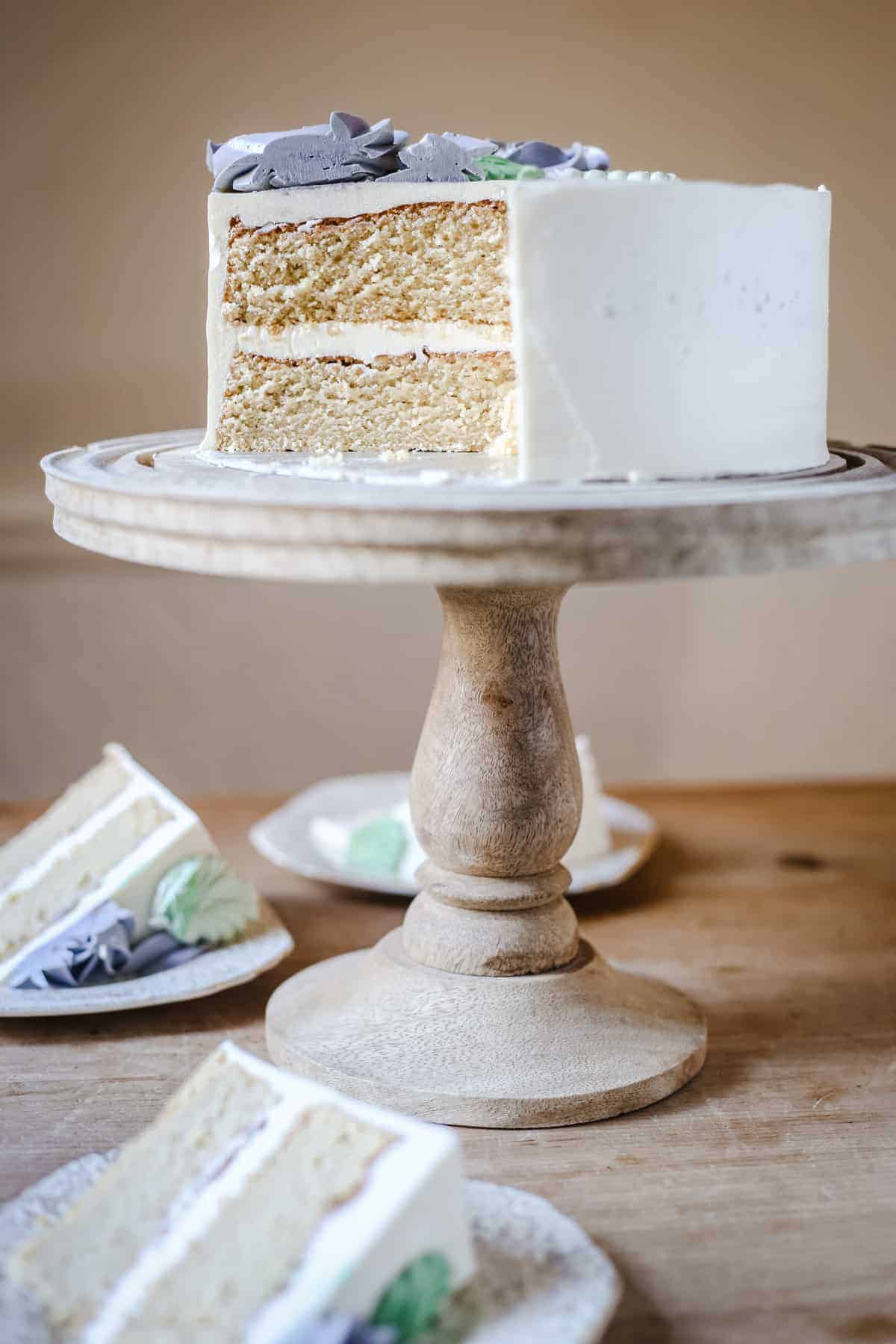 So I used my favourite gluten-free flours, the ones I rely on the most and the three gluten-free flours I would recommend as essential ingredients for the impassioned gluten-free baker.
Sweet Rice Flour
Gluten-Free Oat Flour
Tapioca Flour
Now as a disclaimer, these three flours are not going to be suitable for everyone. Oat flour, even gluten-free oat flour, can be a contentious issue for some coeliacs or people with a hardcore gluten intolerance. Tapioca flour also can cause irritability for some and although none of my clients yet has mentioned an issue with sweet rice flour, my goodness I bet some of you readers are shaking your head sadly at its inclusion here. However, these are the flours that work well for me and my intolerance issues and the majority of the gluten-free clients I serve.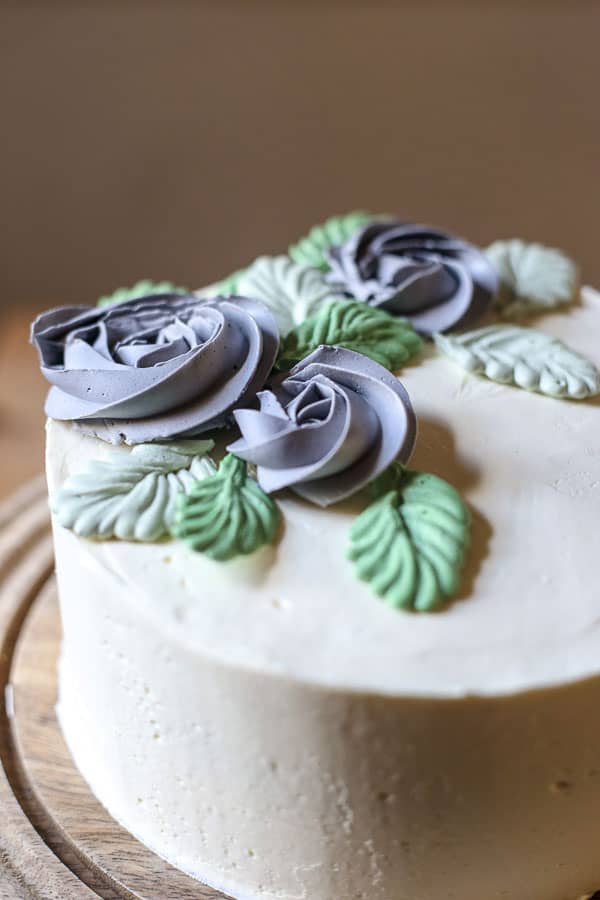 If you would like to learn more about these individual flours and why they work so well in a gluten-free cake and allow the avoidance of xanthan gum then I have written individual posts about sweet rice flour, oat flour and tapioca flour which should hopefully shed some light on their brilliance and usefulness.
In any vanilla cake, gluten-free or not, the quality of your ingredients is absolutely key. Do use the best unsalted butter and whole milk from a local dairy if you can, the freshest eggs from the happiest chickens and the best vanilla extract (not essence) that you can afford. You can taste every ingredient in a vanilla cake. This particular Gluten-Free Vanilla Cake is even more tasty than a wheat version due to the flavourful flours but they enhance the vanilla taste and do not overpower it.
Finally I have chosen to fill and cover the cake with my absolute favourite Vanilla Swiss Meringue Buttercream. It is light as air, dreamy as a cloud and buttery as hell. If you have never made or tasted swiss meringue buttercream then you will be transported. As soon as I started using swiss meringue buttercream in my early days as a baker my layer cakes suddenly became a superior offering. Despite the need to heat the egg whites with the sugar, using a thermometer as a guide, then whipping them into a meringue before adding your butter one cube at a time, the method sounds more intimidating than the practice. Once you have dabbled in the delights of swiss meringue buttercream then you will never look back.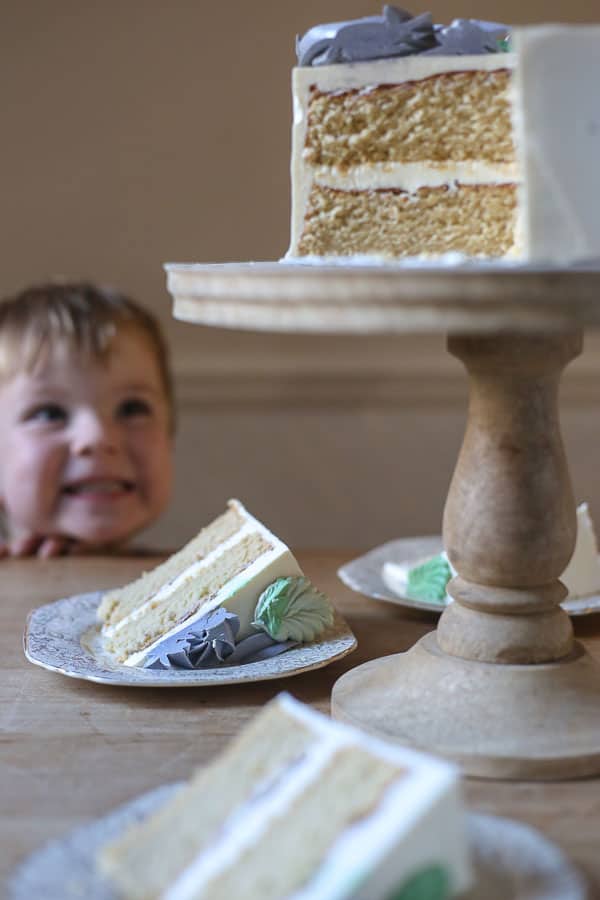 This recipe for the Best Gluten-Free Vanilla Cake has taken me some time to perfect, it has been simmering away in the background of my kitchen for a while but now I am so happy to share it with you. This cake is perfectly fluffy, moist and holds together beautifully, giving lovely even slices that do not crumble when it sees a knife.
If you make the Best Gluten-Free Vanilla Cake please leave a comment below and/or give the recipe a rating. If you make the recipe or use it as a building block for another delicious gluten-free cake creation I'd also love it if you tag me on instagram. It is so lovely for me to see your creations and variations of my recipes.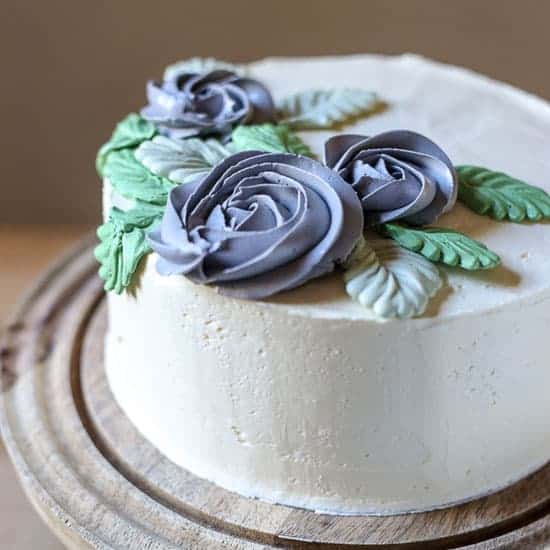 225

g

unsalted butter

400

g

caster sugar

4

eggs

150

ml

whole milk

3

teaspoons

vanilla extract

160

g

sweet rice flour

140

g

oat flour

40

g

tapioca flour

1½

teaspoons

baking powder

½

teaspoon

salt
Vanilla Swiss Meringue Buttercream
9

egg whites

270g

450

g

caster sugar

540

g

unsalted butter

at room temperature, cubed

a pinch

of salt

1

teaspoon

vanilla extract
225

g

unsalted butter

400

g

caster sugar

4

eggs

150

ml

whole milk

3

teaspoons

vanilla extract

160

g

sweet rice flour

140

g

oat flour

40

g

tapioca flour

1½

teaspoons

baking powder

½

teaspoon

salt

Vanilla Swiss Meringue Buttercream

9

egg whites

270g

450

g

caster sugar

540

g

unsalted butter

at room temperature, cubed

a pinch

of salt

1

teaspoon

vanilla extract
Pre-heat the oven to 160°C/140°C fan assisted oven/gas mark 3/320°F and line and grease 2 x round 8 inch cake tins.

Beat together the sugar and butter until pale, light and fluffy.

Add the eggs one at a time, beating on a low speed.

In a measuring jug whisk together the whole milk and vanilla extract and set aside for a moment.

Whisk together the flours, baking powder and sea salt in a large mixing bowl until completely combined.

Add the flour mix alternately with the milk, adding the flour in three additions and the milk in two (begin and end with the flour), scrape down the sides of the bowls as needed and mix until just combined.

Divide between the cake tins and bake for 45 minutes or until an inserted cocktail stick comes out clean.
Swiss Meringue Buttercream
Heat egg whites and caster sugar in a bain marie, stirring constantly until the sugar has dissolved and the temperature has reached 71°C.

Remove the egg whites and sugar from the heat and pour into a stand mixer with whisk attachment. Whisk until the mixture forms stiff peaks.

Change the attachment to a paddle attachment. On a low speed add the butter slowly cube by cube. When you have almost added all the butter the mixture will look curdled. Do not fret – this is supposed to happen and just means you are nearly done. Just continue to add all the butter. Once the butter is totally incorporated the frosting will miraculously become a smooth velvety consistency.

Add the salt and vanilla extract. Mix until thoroughly combined.
SHOP THE RECIPE
The cake tins I always use are these PME Anodised Aluminium Round Cake Pan 8 x 4-Inch Deep
which are wonderful as they have completely straight sides so your cakes will be beautifully neat, the anodised aluminium means the heat disperses evenly throughout the cake without cooking the sides too quickly, which some darker cake tins do. The cakes slip out of the tins easily and they come in all the sizes you would need, although typically I use the 8 inch tins.
I love these Kitchen Craft Paul Hollywood 2-Tier Stackable Wire Cooling Rack, 40 x 26 x 35 cm (16″ x 10″ x 14″)
, don't be put off that they are part of the Paul Hollywood range as they are actually really useful as they are nice and high which allow more air to get to your cakes to cool quickly. Some cooling racks are too close to the kitchen counter which traps in more moisture as the cakes are cooling down which could lead to a wetter sponge. These are great.
You need to use a double boiler or bain marie to make the swiss meringue buttercream and this KitchenCraft Induction-Safe Stainless Steel Double Boiler Porringer/Bain-Marie Pan, 16 cm (6.5″)
is perfect. Double boilers are way more useful than you think they are going to be. I use one every time I melt chocolate, make a curd, butter sauce or indeed swiss meringue.
For checking the temperature of your egg white sugar syrup when making your swiss meringue buttercream don't be without a Classic SuperFast Thermapen 3 professional food thermometer in grey colour
It gives quick and accurate temperature readings meaning you can don't have to guess at any temperatures when making candy, caramel or fancy buttercreams. I use mine all the time.
If you want to replicate the flower and leaf design on this cake then I used the Wilton 489785 Decorating Tip-No. 125cr Large Flower Petal
 for the leaves.
And the 
Ateco Extra Large Stainless Steel closed Star 848 Pastry Piping Cream Icing Tube Nozzle
 for the flowers.
I find these huge disposable piping bags are the most robust ones you can buy, I do get a huge pack of them as the worst thing is to get ready to ice your cake and discover you don't have any piping bags left. I use disposable as I bake a lot of cakes and find washing up the re-usable piping bags takes a lot of time and I can never get them totally clean. I use these piping bags for everything from cupcakes to drizzling melted chocolate to piping a straight level of buttercream evenly over a whole layer cake. This 1 Roll of Savoy Disposable Piping Bags – 100 21 Bags by Cn-Ice
is an absolutely invaluable piece of kit in my baking.
It's not easy to buy certified gluten-free sweet rice flour in the UK, for some reason Bob's Red Mill is astronomically expensive. However I have finally found a brand which is 100% certified gluten-free and it's fantastic. The brand is yourhealthstore Premium Gluten Free Sweet Rice Flour (glutinous) 1kg
Oat flour can be picked up at most health food shops and if I run out that's where I head to. However, like all alternative flours it can be expensive so I find the most economical way is to buy it online. I go through bags of the stuff as it's the flour I use most regularly so I like to buy in bulk. My favourite brand is Bob's Red Mill Gluten Free Whole Grain Oat Flour 400 g (Pack of 4)
at a reasonable price. Even better if you go the subscribe and save option.
It's not difficult to get hold of tapioca flour in the UK. You can often find 100g pots of Doves Farm Tapioca Flour in the supermarket but it's quite costly and doesn't give you very much. You can find more varied brands in health food shops in bags of about 500g. The cost depends entirely on the brand you purchase. My preferred brand is Bob's Red Mill GF Tapioca Flour 500 g (Pack of 2)
as it's certifiably gluten-free and I order it through Amazon.
Some of the links above are affiliate links so if you decide to buy anything using the links then I will get a small commission from Amazon at no cost to you. To learn more about how the data processing works when using these Amazon affiliate links then please visit my privacy policy page.
If you like this recipe then you may like…