This post contains affiliate links. Please read my disclosures.
Of course I would certify that this is the best gluten-free birthday cake. It's now the second (!!) time I have made this cake for Cole on his birthday and is definitely the most important cake I bake all year.
A couple of weeks ago Cole turned two years old. It's unbelievable how quickly a person can be formed from the tiny blinking newborn bundle you first hold in the hospital to a mini-man on a mission with his own mind and interests. He is still my baby but my most favourite companion.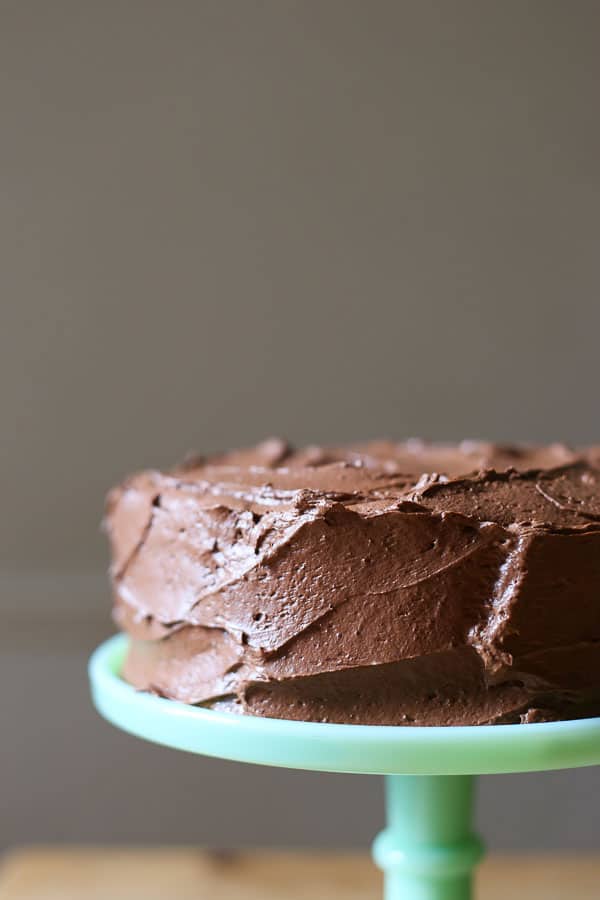 My toddler does not let me get bored. Cole has always been the biggest chatterbox, he picked up language quickly which he is now using to his full advantage, narrating our lives together in minute detail. He is especially keen on ordering me around whether it be to stand up mummy, sit down mummy, sitting room mummy, sofa mummy or read story mummy. He is certainly not afraid to test the limits of his voice either. He is very keen on shouting but also singing which is much nicer. If you are familiar with my 'About Me' page that will come as no surprise to you that he, like his mother, basically never shuts up. Now there's two of us belting out show tunes hell for leather. When he was little I could easily soothe him by singing Starlight Express or Those Magic Changes from Grease but these days it's Hamilton, which we play ad nauseum in the house and the car. Possibly not the most child friendly musical but his rendition of 'My Shot' is one of the cutest things I've ever heard. It was the soundtrack to his second birthday and we're not getting tired of it. The neighbours on the other hand…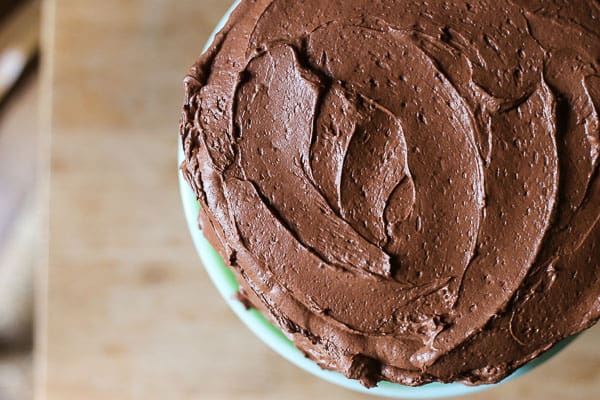 It's fascinating how something like Hamilton can just hook his interest, he definitely knows what he likes and it's not always in league with what I like. I have always loved Disney and Pixar films but Finding Nemo was my least favourite due to my horrific phobia of sharks. However, it came into rotation one day and Cole has been obsessed by Nemo ever since. Are you sure you don't want to watch Frozen darling? No mummy, Nemo! I have to hide behind him every time Bruce comes onto the screen but Cole is unfazed and demands watching it pretty much every day. Thus his love of all sea creatures was born and regular trips to aquariums to visit the sea turtles are now the norm.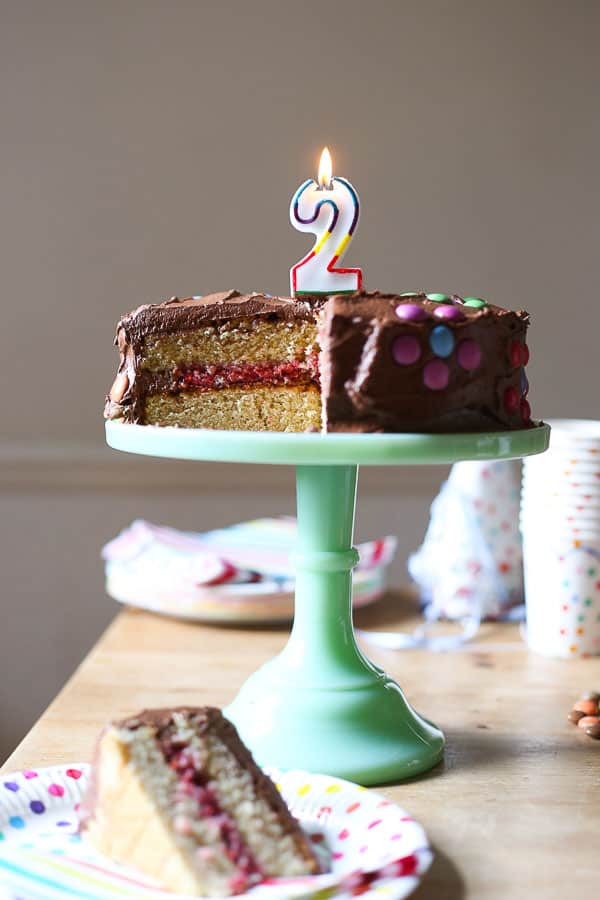 As are our visits to the London Transport Museum. It's heaven on earth for our little toddler. We should have known we were in the for the long haul when one of the first songs he began to sing by himself was 'Big red bus, big red bus, mini mini mini and a big red bus.' It must have been at least two months of this ditty non-stop. His love of big buses, trains and cars has not abated. Excursions round Crouch End on the W7 bus route are a very easy afternoon's entertainment so I should be thankful for that. Although a word of warning if you are to enter a toyshop with our little precious then you will not be leaving without some sort of handheld vehicle, no matter how much you try and persuade him he has about 50 cars at home already. That's just asking for a mega tantrum. When we visited a train museum in Cornwall a few weeks ago, Cole took it upon himself to choose a wooden Thomas the Tank Engine and take it over to the till, reach up over his head and carefully place it on the counter. We were so impressed that we duly handed the money over.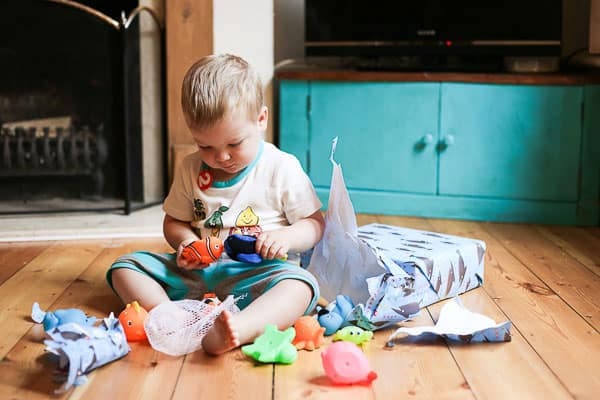 His love of things on wheels has made it a bit easier to buy him presents that we know he'll enjoy. I remember for his first birthday we had no idea what to get him, we ended up buying him a trike which he had no idea what to do with at the time. Luckily now it has really come into its own as he zips around the house terrorising Billy Buddy and the cats. But this year we also got him some transport duplo which went down well, although I'm not sure I thought through the clear-up aftermath of duplo. He also received a few transport books from friends which could not have been more ideal as it ties into his ultimate pastime. Reading.
The only time Cole is ever quiet is when he's hauled himself up onto the sofa with a good Julia Donaldson and is going through every page utterly absorbed. When I check on Cole after he has gone to sleep it is quite usual to find his cot strewn with books which he has gathered up from his bookshelf and fallen asleep clutching.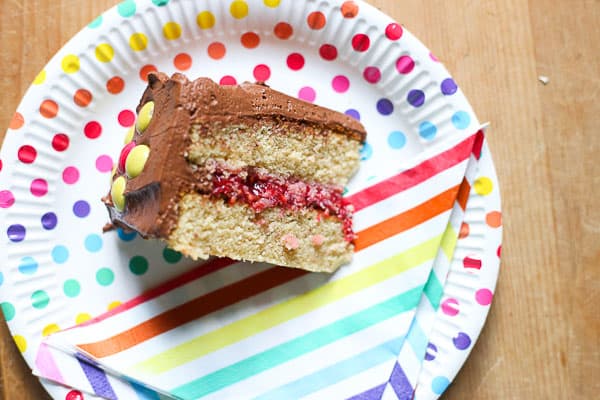 So, for his birthday we invited all his friends over for Saturday brunch and storytime where local superstar Amelia Boo performed an interactive version of Room on the Broom, a particular favourite of Cole's. He goes to her class every week in the park but to have her in his house was like a celebrity was actually in his living room. He strutted around at the front of the entertainment blocking everyone's view, exceedingly pleased with himself.
His birthday party was amazing. I think I enjoyed his party more than any I've ever had for myself. Although, just like his first birthday I completely forgot to take photos of Cole blowing out the candle on his cake.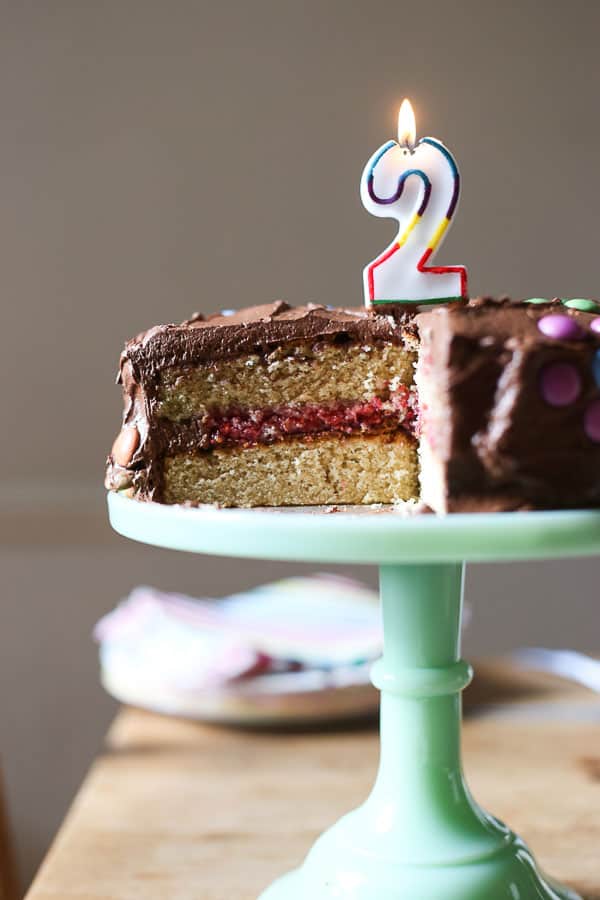 Although I didn't forget to take photos of the actual cake so at least that's something. It was so good too and disappeared in moments. I've definitely now perfected the Best Gluten-Free Birthday Cake. It's got everything you need in a cake – vanilla, chocolate and raspberries. It's so simple and easy too. Although I won't trick you, like a lot of my most recent cakes it does have a few different flours that need to be whisked together to create the ultimate gluten-free blend. A bit of a pain if you don't have them all in your cupboards I understand but in my mind these are the very five most basic gluten-free flours that you'll need if that's any consolation. However, to make up for the complex flour blend it has very few other ingredients and the simplest of methods to pull it together. The raspberry filling is just a bit of raspberry jam and some fresh raspberries crushed together, making the perfect amount of sweetness versus fruit. The whipped chocolate cream cheese ganache is also barely any effort and only sweetened with a drop of maple syrup.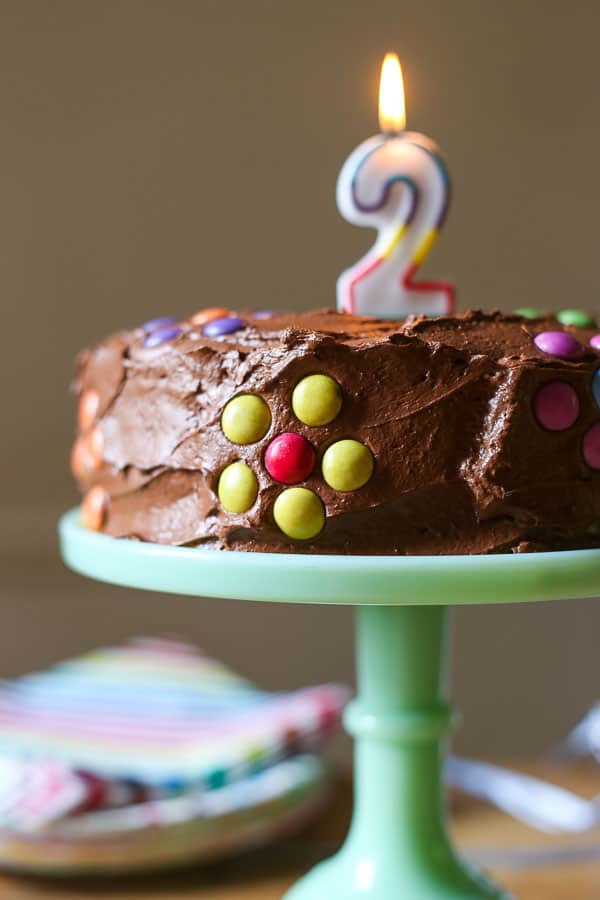 I have decided children's birthdays are far superior to adult birthdays. There is entertainment, balloons and cake and the whole thing is over in a couple of hours. Cole's birthday definitely made an impression on him too. His version of Happy Birthday, sung to himself, is one of the first things we hear in the morning, drifting down the hallway from his bedroom which he'll probably be doing as he's clutching his silver car and reading his Finding Nemo book.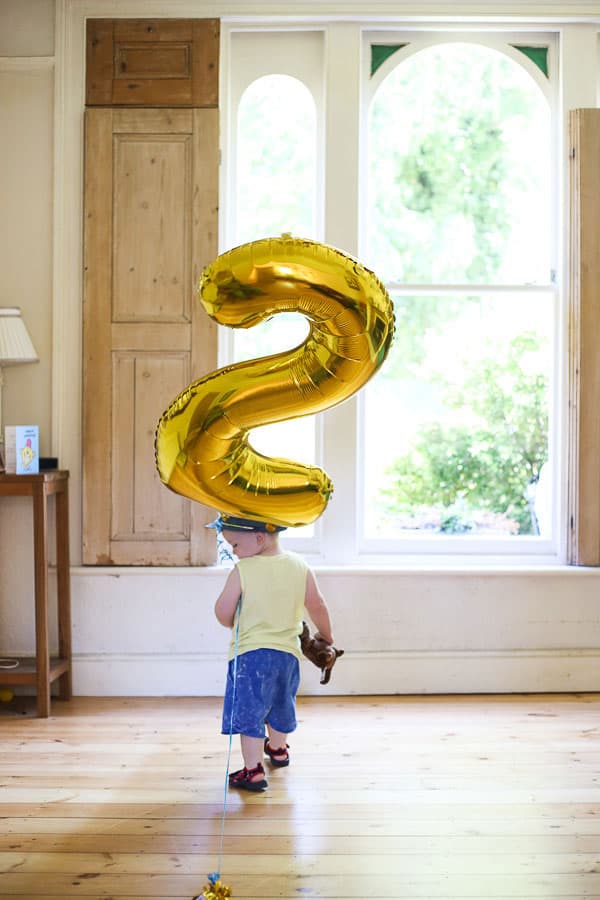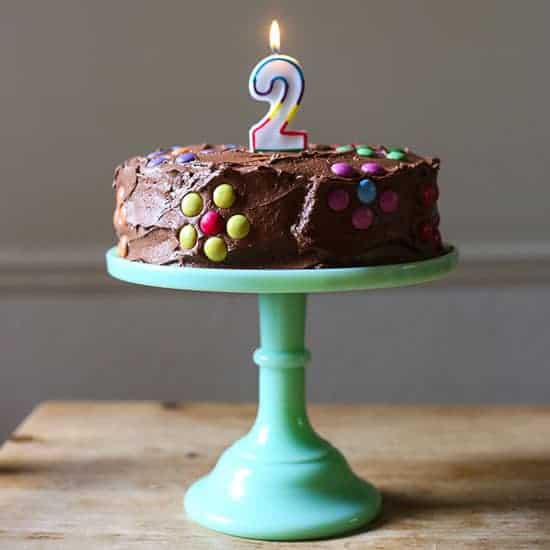 Best Gluten-Free Birthday Cake
A light and fluffy vanilla gluten-free sponge cake, sandwiched with a raspberry crush filling and covered in a whipped chocolate cream cheese ganache
Ingredients
85

g

sweet rice flour

60

g

oat flour

50

g

millet flour

25

g

potato starch

25

g

tapioca starch

1½

teaspoons

baking powder

240

g

butter

240

g

caster sugar

4

eggs

1½

teaspoons

vanilla extract

2

tablespoons

milk
Raspberry Crush filling
150

g

raspberries

50

g

very good raspberry jam
Whipped Chocolate Cream Cheese Ganache
150

g

chocolate

-

melted

50

g

cocoa powder

400

g

cream cheese

100

g

maple syrup

1

teaspoon

vanilla extract

pinch

of salt

1

tablespoon

whole milk

-

if necessary

120

g

smarties

-

optional as not gluten-free*
Instructions
Pre-heat the oven to 160°C and line and grease 2 x round 20cm sandwich tins.

Cream the butter and sugar on a high speed in a food mixer for about 5 minutes until very light and fluffy.

Add the eggs one at a time and mix until completely incorporated, then add the vanilla extract.

Sieve the flours, baking powder and salt together in separate mixing bowl, then add into the food mixer. Beat until just combined.

Stir in the milk to lighten the batter then divide the batter equally between the two sandwich tins. Bake for 30 minutes.

Remove the cakes from the oven and leave to settle for 5 minutes in their tins, then turn out onto cooling racks and leave to cool completely before icing.
Raspberry Crush filling
Crush the raspberries into the jam and set aside until ready to use.
Whipped Chocolate Cream Cheese Ganache
Melt the chocolate in a bain marie then set aside for a moment.

Beat cocoa powder with cream cheese maple syrup, vanilla extract and salt until smooth.

Pour in the melted chocolate and beat together. If the ganache is too thick to spread then add a tablespoon of whole milk to lighten slightly.
Cake Assembly
Place one of the sponge layers on a cake board and pipe a circle of ganache on top of the very edge of the cake to act like a dam for the raspberry crush filling.

Spread the raspberry filling on top of the cake, right to the edges of the chocolate dam.

Place the second sponge layer on top and swirl the chocolate ganache all over the top and sides of the cake.

Decorate with smarties if you like. Although if you do use smarties then decorate immediately before serving as the colours of the smarties will start to leach out.
Notes
*For gluten-free decoration substitute regular M&Ms which are gluten-free in the UK (not all the varieties are so do check).
Nutrition
Calories:
601
kcal
Carbohydrates:
64
g
Protein:
8
g
Fat:
37
g
Saturated Fat:
22
g
Cholesterol:
136
mg
Sodium:
287
mg
Potassium:
320
mg
Fiber:
4
g
Sugar:
42
g
Vitamin A:
1050
IU
Vitamin C:
3.7
mg
Calcium:
108
mg
Iron:
2
mg
Have you tried this recipe?
Head to the comment section and let me know what you think!