This post contains affiliate links. Please read my disclosures.
Happiness Bread is a soft savoury gluten-free and grain-free bread, packed with sweet potato, nuts and seeds with the golden scent of turmeric which is perfect for kick-starting your day.
Having a loaf of Happiness Bread on stand by during the week means that breakfast time is a doddle. I think sorting out breakfast for the week is one of the most important meal-prepping tasks you can do. For the mornings when the alarm doesn't go off and you are running late for the school run you definitely need a grab-and-go breakfast which is protein packed, satisfying and full of delicious healthy ingredients. And who doesn't need a dose of happy in the mornings?
Why is this recipe so brilliant?
Made from sweet potato, coconut flour and a smattering of tapioca flour which makes it a grain-free, paleo bread.
It has a lovely soft moist texture so it's easy to eat and gentle on your digestion.
This is a savoury sweet potato bread so you can pair it really well with bacon and eggs in the morning or to accompany soup or salad for lunch.
Turmeric is the golden ingredient. It's incredibly good for you and also creates a beautiful sunny colour to your loaf.
Please note Happiness Bread is a lot softer and more cakey than your regular sandwich loaf so if you want a bread which is a bit more traditional then have a look at this Gluten-Free Irish Soda Bread recipe which is so easy and also vegan (but not grain-free!).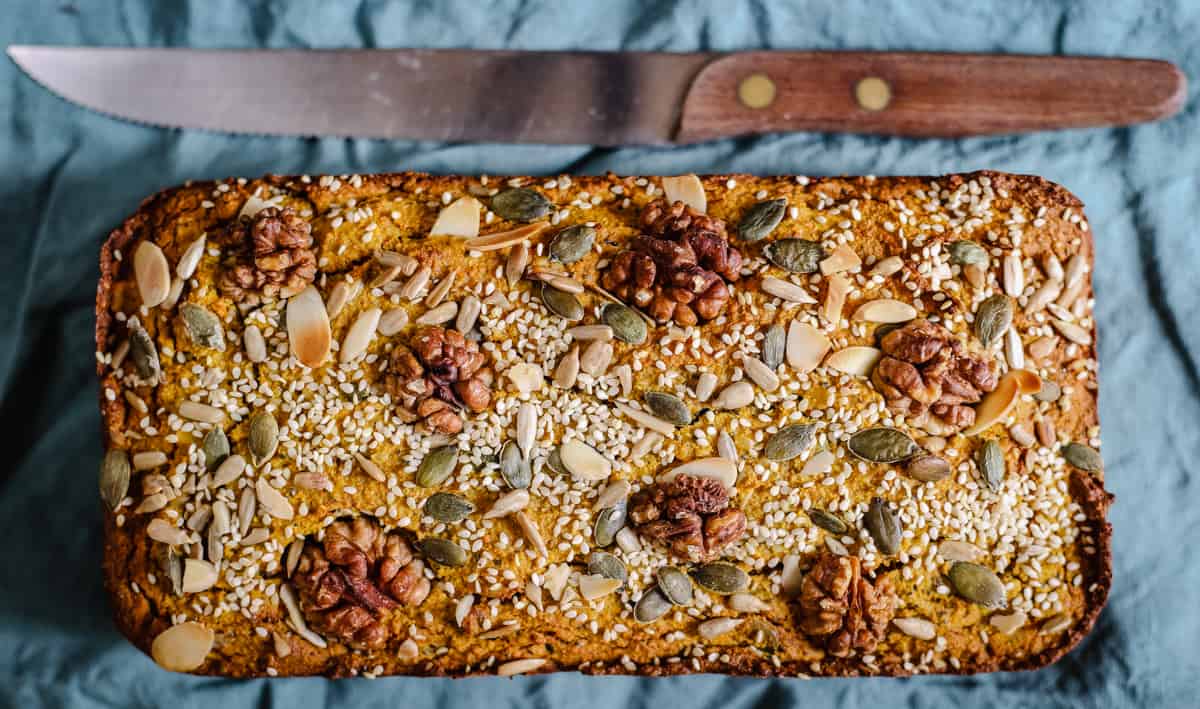 Ingredients
Mashed sweet potato – loads of tips for preparing below.
Eggs – medium
Cashew butter – ever making your own Cashew Butter?
Coconut oil – you can use unrefined which is more economical.
Coconut flour – gives a delicious coconutty taste.
Tapioca flour – used to give the loaf a lovely crust.
Nuts – walnuts and flaked almonds are used here. Used whole for lovely texture. You can sub for any nuts. Pecans are delicious here too.
Seeds – we're going crazy with chia, pumpkin, sunflower, sesame and flax for loads of protein power, taste and texture.
Ground Turmeric – 1 whole tablespoon. Treating ourselves – it's an antioxidant and has strong anti-inflammatory effects. It's a great ingredient as you don't need a lot of it for it to be beneficial.
Baking powder - for rise and tenderness.
Salt – I prefer to use kosher salt as it is a more gentle salt which supports the flavour of all the ingredients.
If you love using sweet potato in baking then have a look at these gluten-free recipes: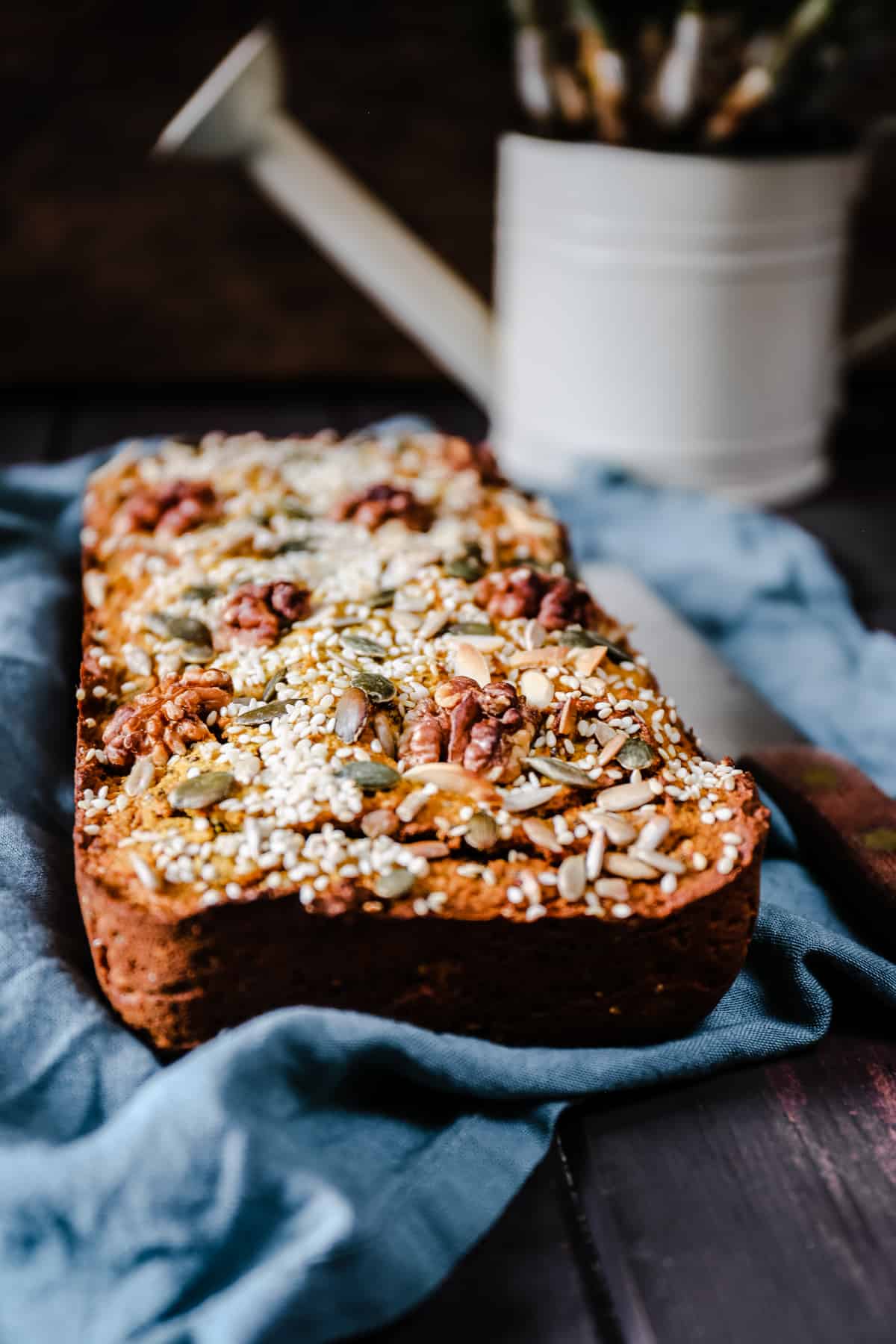 How do you make Happiness Bread?
Detailed method in the recipe card below
Beat the mashed sweet potatoes, eggs, cashew butter and cooled coconut oil together in a large bowl or food mixer.
Combine all the other ingredients in a separate bowl (saving some of the nuts and seeds for scattering over the top) and then mix into the wet ingredients.
Pour into a lined and greased 2lb loaf tin. Scatter over some nuts and seeds then bake at 180°C / 160°C fan / gas mark 4 for 50 minutes.
Sweet Potato Tip
I do not recommend peeling, cubing and boiling the sweet potato to prepare it for this recipe. You lose a lot of the sweet flavour and nutrients which leaches out into the water. Instead I urge you to go the extra step of cooking your sweet potato in their skins as follows:
Two ways to prepare the Sweet Potato:
1. Oven Baked
Wrap the sweet potatoes individually in aluminium foil and place in a large roasting tin.
Bake at 180°C / 160°C fan / gas mark 4 for between 1-1½ hours, depending on how big the potato is.
Test for doneness by pressing lightly into the potato through the foil. It should feel very soft beneath your finger.
Leave the potatoes to cool a little then unwrap the foil and peel away the skin of the potatoes which will come away very easily.
Mash the flesh with a fork and refrigerate until needed.
2. Instant Pot
Pour 250ml water into your Instant Pot insert.
Place a silicone sling or trivet into the bottom of the insert.
Arrange unpeeled whole sweet potatoes onto the silicone sling in a single layer.
Click the lid into place, set the valve to sealed, press Pressure Cook and set the timer for 15 minutes. (Bear in mind it takes about 5-8 minutes for the pot to come to pressure).
Once the timer goes off you can quick release the pressure from your pot. Once the steam has gone, open the Instant Pot and turn off.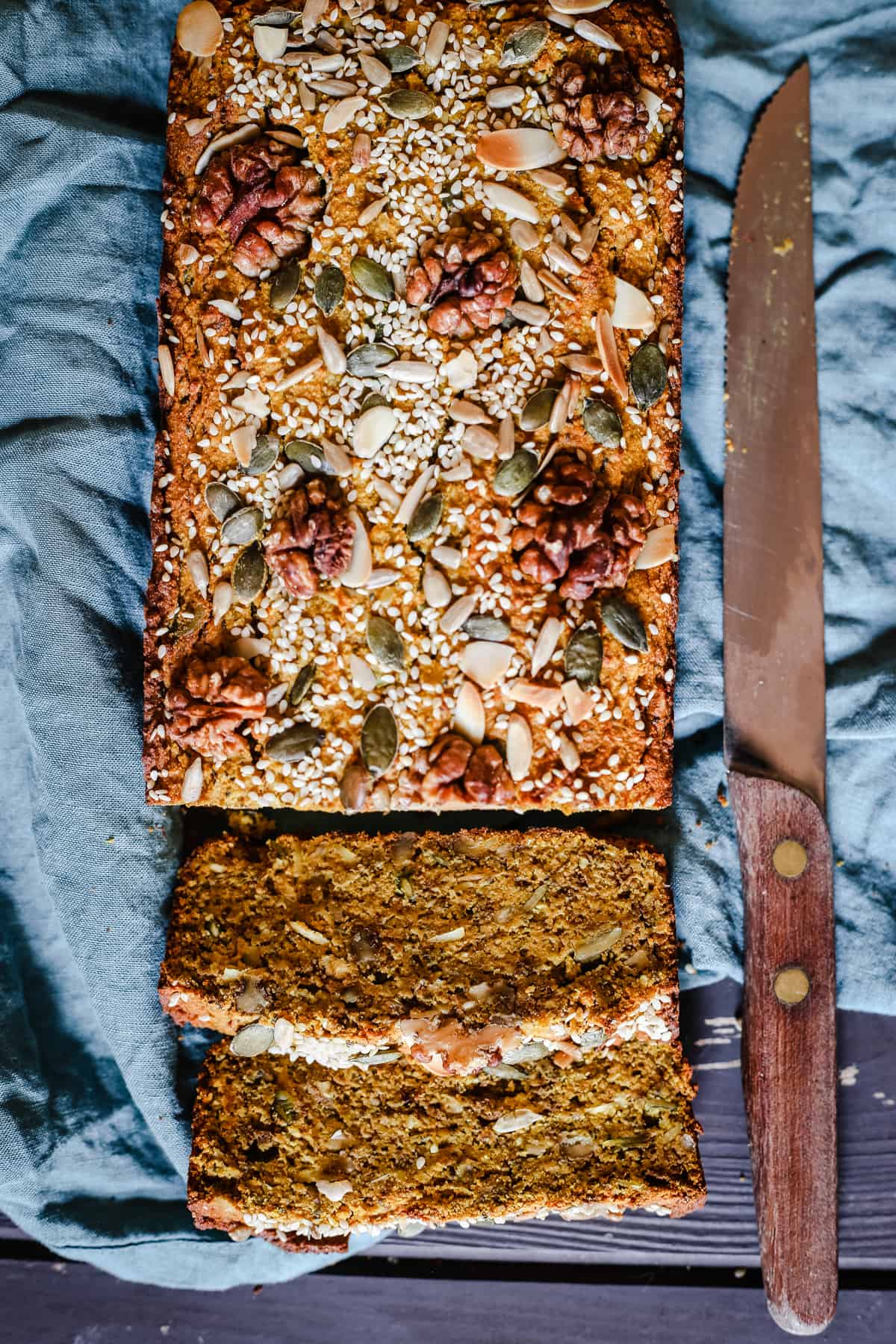 Happiness Bread FAQs
How can you store it? This is a very moist bread. It is best kept in an airtight tin or in the fridge.
How long does it keep for? It keeps for up to 3 days out of the fridge and up to 5 days in the fridge.
Can you freeze it? Yes, wrap well and it keeps for up to 2 months in the freezer. I recommend freezing in slices so you can pull them out the night before ready for the next day.
What can you eat Happiness Bread with?
Delicious just slathered with butter.
Even better with extra nut butter on top.
Piled high with bacon or turkey and avocado for a substantial meal.
Served with eggs, anyway you fancy.
To accompany your favourite soup (which I always think needs a bit of bread on hand)
Variations on the recipe
Happy Pumpkin Bread - To avoid the effort of preparing the sweet potato you can make this bread with tinned pumpkin.
Happy Banana Bread – Swap out the sweet potato for banana! This bread will be a lot sweeter and takes it more into the realm of cake rather than bread, but hey, who ever said that was a problem!!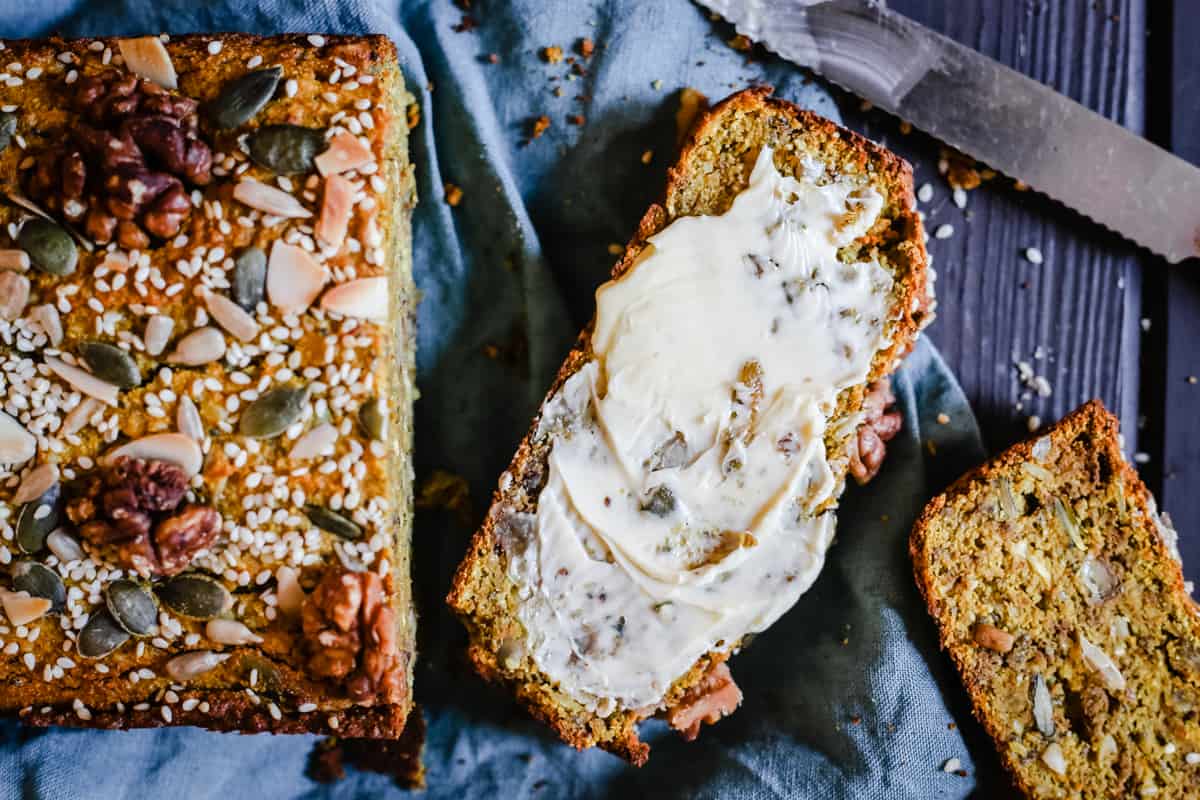 Since introducing this bread to your morning routine I guarantee it will make you very happy. Having an easy and filling breakfast is worth its weight in gold.
Another lovely way of eating Sweet Potato in the mornings is with these Sweet Potato & Bacon Rosti. A firm favourite and incredibly popular recipe. Great for meal prepping too!
I urge you to give this Happiness Bread a try. If you do then please leave a comment below and give the recipe a rating which will help others find the recipe on Google. If you use this recipe as a building block for your own culinary creation I'd also love it if you tag me on Instagram. It is so lovely for me to see your versions and variations of my recipes.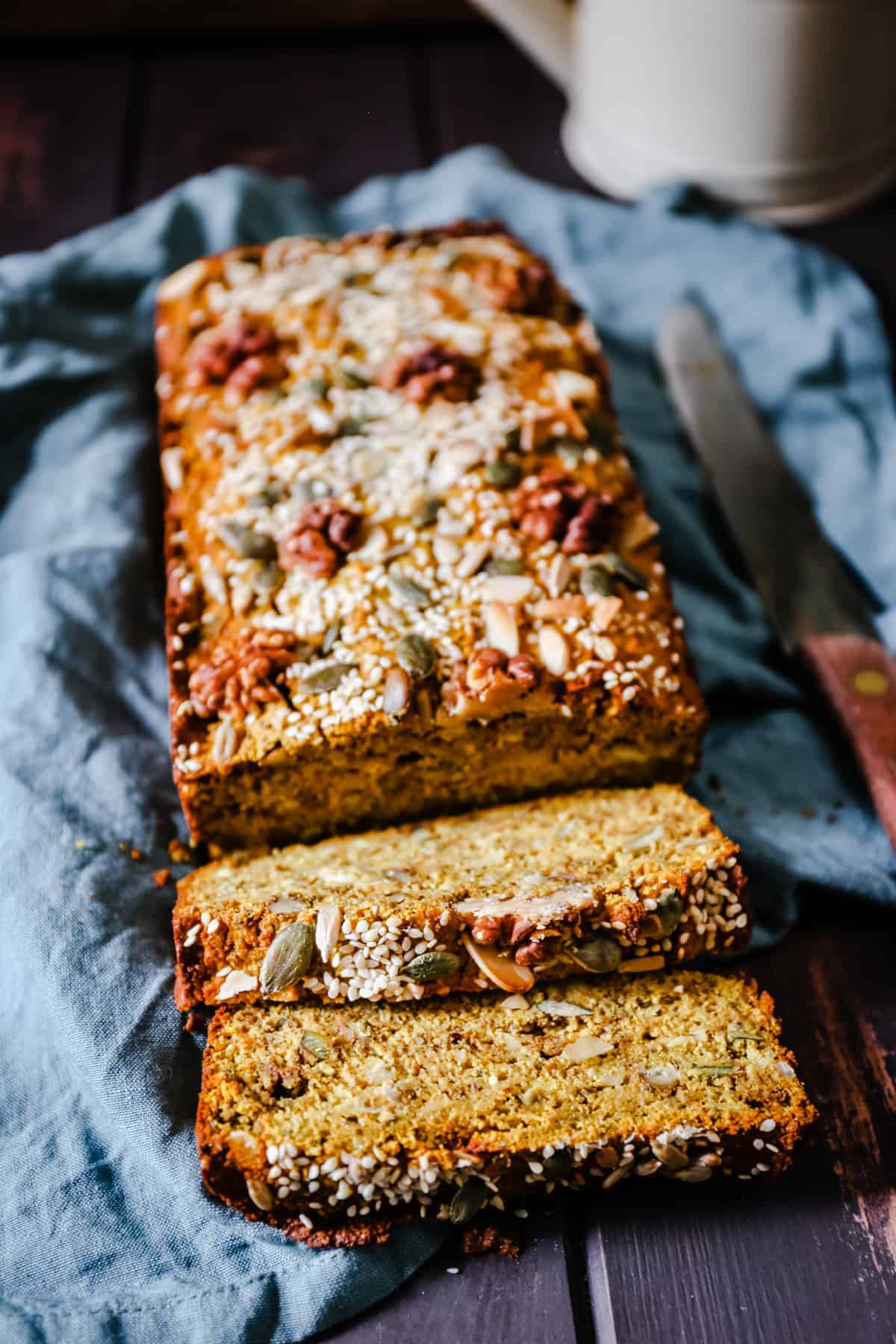 Happiness Bread
Happiness Bread is a soft savoury gluten-free and grain-free bread, packed with sweet potato, nuts and seeds with the golden scent of turmeric which is perfect for kick-starting your day.
Ingredients
400

g

cooked sweet potato*

-

about 3

4

eggs

-

medium

140

g

cashew butter

60

g

coconut oil

-

melted to liquid state

75

g

coconut flour

30

g

tapioca flour

75

g

walnut halves

30

g

chia seeds

25

g

flaked almonds

25

g

pumpkin seeds

20

g

sunflower seeds

20

g

sesame seeds

15

g

ground flaxseed

1

tablespoon

ground turmeric

2

teaspoons

baking powder

¾

teaspoon

sea salt
Instructions
Pre-heat oven to 180°C / 160°C  fan / gas mark 4 and line and grease a 2lb loaf tin.

Beat the sweet potato, eggs, cashew butter and coconut oil in a large mixing bowl or food mixer.

Reserve a few of the nuts and seeds for sprinkling on the top of the loaf.

Combine the coconut flour, tapioca flour, the rest of the nuts and seeds, turmeric, baking powder and salt in a separate bowl.

Tip the dry ingredients into the sweet potato mixture and beat until well combined.

Pour into the loaf tin, smooth down the top and scatter over the reserved nuts and seeds.

Bake for 50-55 minutes or until an inserted cocktail stick comes out clean.
Notes
You can prepare the sweet potato in the oven or the Instant Pot:
To cook in the oven wrap each potato in aluminium foil and bake for 1-1 ½ hours (depending on the size of the potato). Leave to cool then unwrap from the foil, peel away the skins and mash the flesh with a fork.
To cook in the Instant Pot, pour in 250ml of water into the Instant Pot insert. Set over a trivet and place the whole sweet potatoes in a single layer. Pressure cook for 15 minutes and then quick release after 5 minutes. Peel the sweet potatoes away from their skins and mash with a fork.
Happiness Bread is very moist and as such keeps well in the fridge for up to 5 days. (or 3 days out of the fridge)
It can be frozen for up to 2 months. It's a good idea to freeze in slices so you can remove them from the freezer the night before you want to eat some.
Nutrition
Calories:
362
kcal
Carbohydrates:
24
g
Protein:
10
g
Fat:
27
g
Saturated Fat:
9
g
Cholesterol:
65
mg
Sodium:
242
mg
Potassium:
452
mg
Fiber:
7
g
Sugar:
3
g
Vitamin A:
5770
IU
Vitamin C:
1.2
mg
Calcium:
123
mg
Iron:
3.1
mg
Have you tried this recipe?
Head to the comment section and let me know what you think!