This post contains affiliate links. Please read my disclosures.
Crisp fronds of sweet potato giving way to a soft interior studded with smoky bacon bits make these Sweet Potato and Bacon Rosti the best brunch dish you'll have this weekend.
It's not all about the cakes round here. It mostly is, I'm not going to lie. However, this October I have been doing things a little bit differently. Even before I started making cakes for a living I struggled with my weight, I was always on this diet or that but I love food and I am greedy which is why I find it so hard to lose weight. In my twenties I had so much more restraint but it has always been a constant struggle. When I became gluten-free and started exercising properly with my personal trainer I lost a bunch of weight as I was eating the right food for my body and my little excesses here and there were cancelled out by lots of running or crossfit, whatever I was into at the time.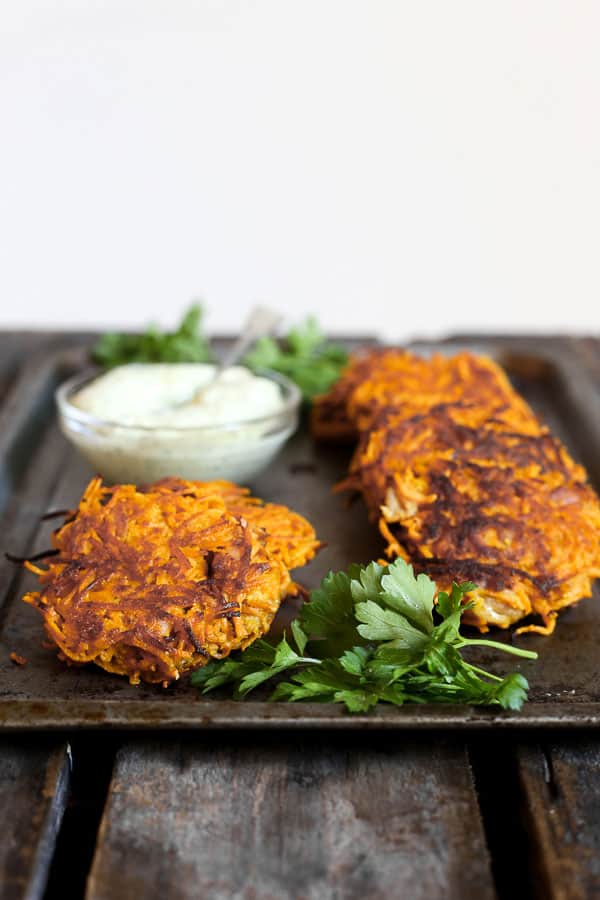 However, for the past three years I have been finding the weight issue even more of a battle. I have had two children and have been snacking and carb loading to excess to counteract major sleep deprivation and utter exhaustion. Then of course I make and recipe develop gluten-free cakes for a living so there's that.
Since having Beau I have been more mindful of taking more time for my fitness. I am lucky enough to attend a local Mum's Rehab Fitness class which allows you to bring your children which has been a game changer and I can slowly feel myself getting stronger and my body is feeling less battered. Then this past month I have finally found the motivation to revisit my food choices and I have been going back to basics with a clean living Whole30 diet. I have done a few Whole30s before, my very first I documented on the blog four years ago, but this time round I am really enjoying it instead of finding it a chore. It feels good to exert some self control back into my everyday food intake and hopefully once my 30 days are up my sugar levels will be balanced enough that I won't freefall back into bad habits.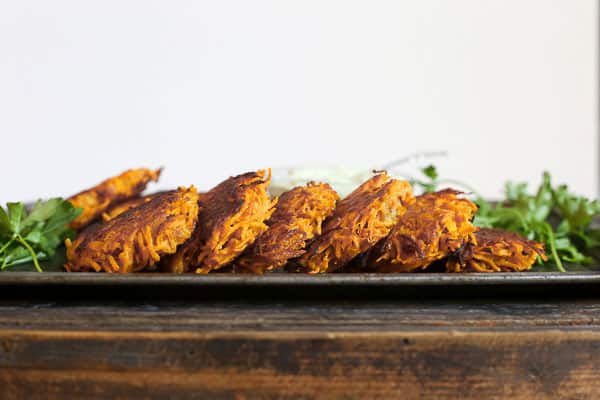 One of the meals I find the hardest to navigate though is breakfast. I basically have no time for it and eggs, which seem to be the staple of a lot of Whole30 breakfasts, are just not for me at all. So when I was calling on my insta crowd for some inspiration, one lovely member suggested I look to an old recipe of mine. I wrote about these Sweet Potato and Bacon Rosti in my first Whole30 back in 2014. I made them constantly for a time, they were really popular with readers and then I…just…forgot about them. The recipe has been languishing in my archives waiting for its time to shine once more.
I have re-discovered these Sweet Potato and Bacon Rosti with a vengeance this past week and made a huge batch which I, and both children, have been devouring with abandon. Carefully restrained abandon on my part since I am trying not to overeat.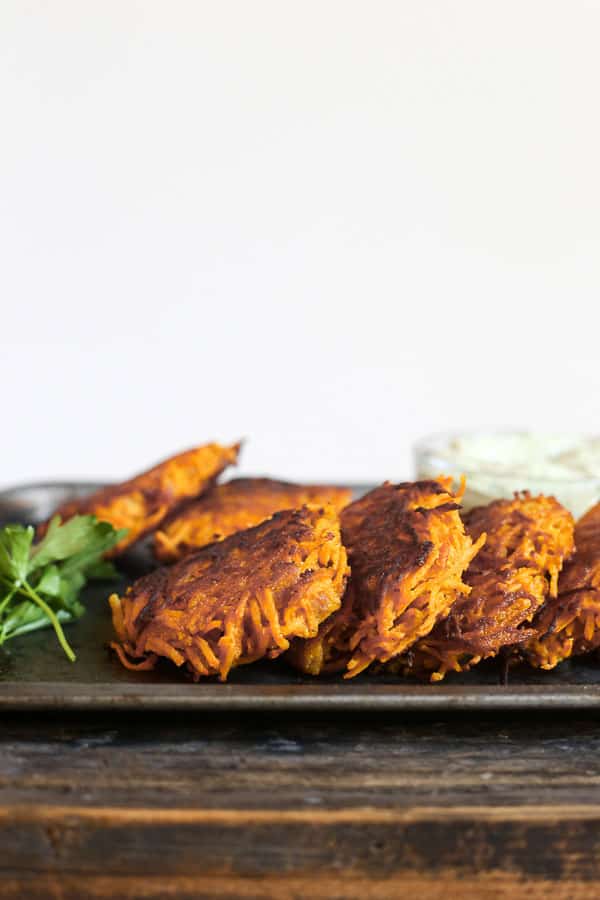 You obviously don't need to be on a Whole30 to enjoy these as they are so delicious!!! Grated sweet potato and onion brought together with eggs and coconut flour with crispy bacon bits within. The crisp little edges are really where it's at, shallow fried to perfection in ghee. If you aren't doing the Whole30 you might choose to not bother with ghee, but I've come to really enjoy the taste of it these past few weeks and it's an excellent cooking fat due to its higher burning point. I'd heartily recommend you give ghee a go.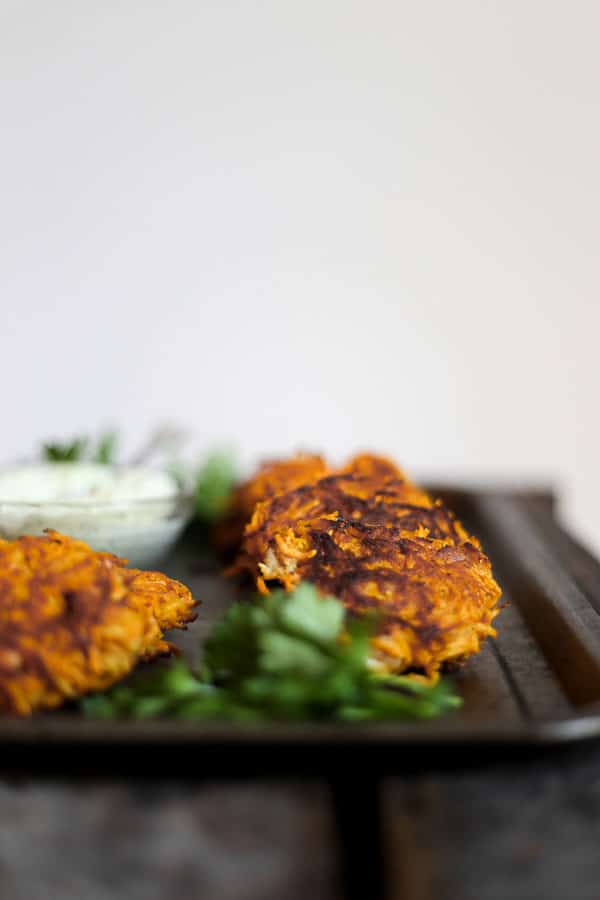 I have been eating my Sweet Potato and Bacon Rosti with a bit of blanched kale and dipped into a quick green tahini sauce. Yup, I do breakfast time a bit weird around here, but it really works for me. My breakfast and brunch game has been completely revitalised with these crisp little nuggets and I'll absolutely make sure that when my Whole30 is up this time they will continue to be on my breakfast time rotation. Although to restrict these rosti to breakfast or brunch would be a grave error. I can tell you right now you'll be wanting to make them for lunch and dinner as well. I'm here to tell you that you can! Have at it! Go wild!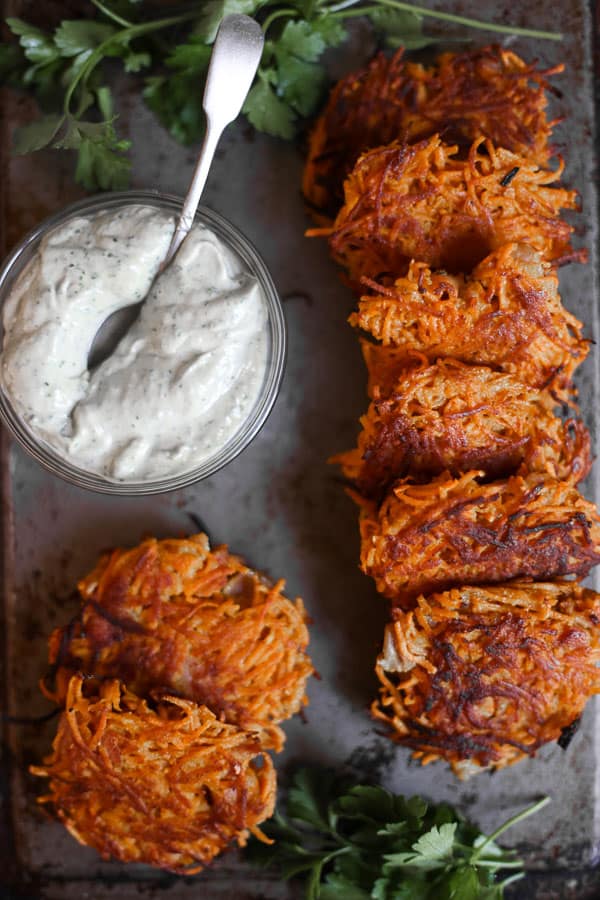 Since I can't leave well enough alone I have also tweaked the recipe a little bit from its original incarnation to make it a little bit easier and steamlined the ingredients and method a little more.
SHOP THE RECIPE
I urge you to give these Sweet Potato and Bacon Rostis a try, they are so easy and delicious. If you do make these Sweet Potato and Bacon Rostis then please leave a comment below and give the recipe a rating which helps others find the recipe on Google. If you make the recipe or use it as a building block for another delicious creation, I'd also love it if you tag me on instagram. It is so lovely for me to see your creations and variations of my recipes.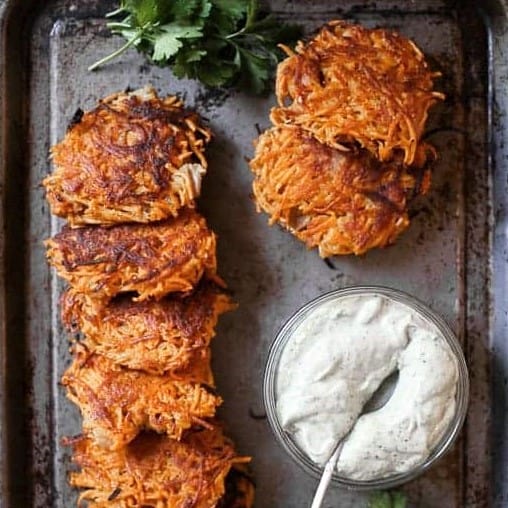 Sweet Potato and Bacon Rosti
These crisp and easy Sweet Potato and Bacon Rosti are perfect for your weekend brunch.
Ingredients
6

rashers smoked streaky bacon

2

sweet potatoes

-

about 500g total

1

onion

30

g

coconut flour

2

eggs

-

lightly beaten

salt and pepper

2-3

tablespoons

ghee

-

or coconut oil
Instructions
First place the bacon rashers under the grill.

Whilst the bacon is grilling you can peel and grate the sweet potatoes and the onion.

Add the coconut flour and eggs to the sweet potato and onion shreds.

When the bacon is ready cut it into small pieces and add that to the sweet potato mixture, mixing in it is dispersed evenly.

Mix in very well with your hands squeezing so it all binds together.

Heat a tablespoon of ghee on a low-medium heat in a large frying pan.

Scoop up half a handful of the rosti mixture and squeeze into a ball with your hands. Drop into the frying pan and flatten slightly into a circle. Repeat so you cook a few rostis at a time. You will probably need to cook the rostis in batches of 4 depending on how big your saucepan is.

Fry on a gentle heat for about 4 minutes until the bottom of the rostis are lightly golden. Then flip over with a spatula and fry on the other side for another 3 minutes until also lightly golden. Remove and place onto kitchen paper to remove the excess grease then serve or keep warm in the oven until they are all ready.
Notes
*for speed I have also used 1 teaspoon onion granules in the past and they have worked brilliantly.
*I have also used almond flour in place of coconut flour and it's worked well too.
Nutrition
Calories:
166
kcal
Carbohydrates:
10
g
Protein:
4
g
Fat:
11
g
Saturated Fat:
5
g
Cholesterol:
61
mg
Sodium:
151
mg
Potassium:
177
mg
Fiber:
2
g
Sugar:
2
g
Vitamin A:
4670
IU
Vitamin C:
1.8
mg
Calcium:
19
mg
Iron:
0.6
mg
Have you tried this recipe?
Head to the comment section and let me know what you think!