This post contains affiliate links. Please read my disclosures.
Gooseberry Thyme Jam is wonderfully tart with earthy floral notes from the thyme. Of course it's delicious on toast, crumpets and scones but don't dismiss its excellence nestling happily on a cheese board.
The summer that I decided to make a go of it with my cake stall at the local farmers' markets I was also fully invested with homemade preserves. I was churning jams, chutneys, butters, ketchups and pickles out of my kitchen at an alarming speed. I was spending early mornings and weekends foraging and then experimenting with my preserves during the day. We still have bountiful jars of rosehip jelly from that very productive time. So when I got a place at a farmers' market I presumed I would also be selling my preserves right alongside the cakes. This was the dream.
For almost three years that dream has been a bit wobbly. The cakes are a no brainer, they are my deep love and they will make it to a market come rain, shine, wind or hail. I have never though been able to achieve real consistency with the preserves. I still make them, not in huge quantities though. But often I don't have time to label them or forget to bring the box with me to market.
It's about this time of year when I start looking ahead to the winter markets. I know, it's crazy! I usually do a few winter fairs selling just preserves and now is the best time for me to start stocking up. My preserves only stall is the best fun. It doesn't have the same concern that a cake stall may have over leftover stock and it's easier to hand a customer over a jar than to carefully cut a slice of cake, box it, clean the knives, brush the cake crumbs off the table. Plus the preserves sell like gangbusters in the winter months as people think about their Christmas cold cuts and gifting.
Having just reminded myself how much I love the preserves stall though I'm not sure whether though this is the year to let it fall by the wayside.
I have less time than ever. I'm so thrilled that my cake business is doing really well with the markets, bespoke commissions and other opportunities that are on the horizon which I'll tell you about soon. There is always more I can be doing though to get my cakes out there, admin for the website, social media and do I really want to cut into that time for the preserves?
It probably seems like the sensible decision to concentrate on the cakes when I only have a couple of days a week to do business related things but I have worked hard at developing my recipes, I have a loyal winter customer base and last year I even managed to get the preserves into the local delis. Do I really want to give that up? I am in such a quandary.
So, whilst I'm still deciding what to do about the preserves I will continue developing recipes, maybe to sell, maybe just for home use. And meanwhile the latest addition to my collection is a Gooseberry Thyme Jam. One of the easiest jams I have ever made. It only requires three ingredients and was an hour of pleasurable work from start to finish.
I do love a good jam, especially those made with the tarter fruits so they are not overly sweet. When I was a child I was brought up on jammy toast which seems like the ultimate indulgence to our current anti-sugar fever. Now though, I enjoy my jams as part of a cheese board at the end of a meal. Jams are the most excellent accompaniment to salty cheese and if you haven't tried it then this Gooseberry Thyme Jam is the best place to start. A match made in heaven.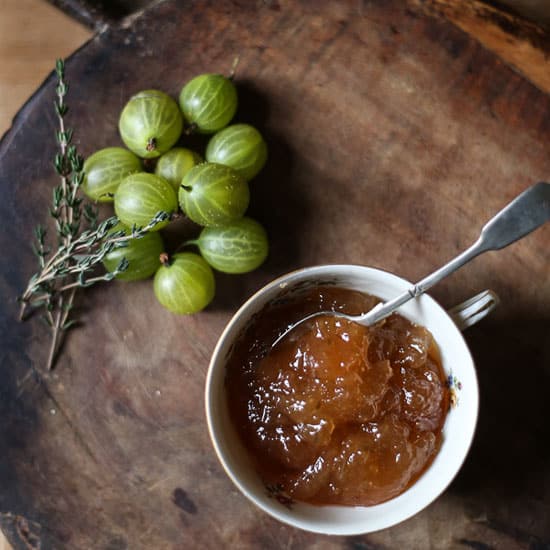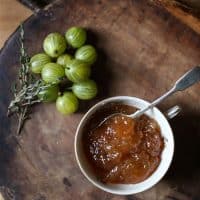 Gooseberry Thyme Jam
Gooseberry Thyme Jam is wonderfully tart with earthy floral notes from the thyme
Print
Pin
Rate
Ingredients
800

g

gooseberries

650

g

granulated sugar

2

teaspoons

fresh thyme leaves
Instructions
Pour the gooseberries into a large preserving pan with 200ml water. Turn onto a gentle heat and cook the gooseberries until they start to go a bit pulpy.

Sieve the gooseberry pulp and discard the skin and stem bits.

Clean out the preserving pan and place the gooseberry pulp back in with the granulated sugar and the thyme leaves.

Bring to a rolling boil, making sure to stir the bottom of the pan frequently so the fruit doesn't stick. It should take 5-10 minutes from then to reach setting point.

Once the jam reaches 104°C or passes the saucer wrinkle test* then decant into sterilised jars*.
Notes
*The saucer wrinkle test basically requires you to put about 5 saucers in your freezer when you begin making your jam. Once you think the jam might be ready then you can double check by removing a saucer from the freezer, dropping a teaspoon of jam on it then placing the saucer in the fridge. After about 30 seconds remove the saucer and push the jam with your finger. If it wrinkles up it's ready, if it just pools back into the space your finger has left then it needs more bubbling time. Boil it a bit longer, then test again with another saucer.
*To sterilise the jars place the very clean jars you would like to use in an oven pre-heated to 140°C for 20 minutes. Sterilise the lids by dropping them into a saucepan of boiling water for 10 minutes with a splash of vinegar. I don't sterilise my lids in the oven as they tend to ruin.
Yield 5 200g jars
Nutrition
Calories:
72
kcal
|
Carbohydrates:
18
g
|
Protein:
1
g
|
Fat:
1
g
|
Saturated Fat:
1
g
|
Sodium:
1
mg
|
Potassium:
40
mg
|
Fiber:
1
g
|
Sugar:
16
g
|
Vitamin A:
65
IU
|
Vitamin C:
5.7
mg
|
Calcium:
5
mg
|
Iron:
0.1
mg