This post contains affiliate links. Please read my disclosures.
This Seedless Wild Blackberry and Lime Jam is a firm early autumn favourite recipe. It's tangy and not too sweet and best of all contains no added pectin. There are just four ingredients: wild blackberries, granulated sugar, limes and a couple of bramley apples to help it set. The flavour is superb and just an hour or so of work from start to finish will result in the most deliciously versatile jam you can eat all year round.
Blackberries must be one of my favourite fruits as it was only when I was skimming through my archives that I realised how abundant my blackberry recipes are compared to other fruits.
That is mainly because of our household obsession with foraging. I am not the worst culprit believe it or not, Luke, who has to be pried out of bed most mornings with a chisel, casts aside the duvet with giddy abandon when those first blackberries start bursting through the hedgerows.
All our foraging is done at dawn whilst walking Billy Buddy, much to his chagrin. As Luke delves deep into the blackberry bushes, poor Billy hops from paw to paw, barely bearing the wait until Luke is back on more solid ground again.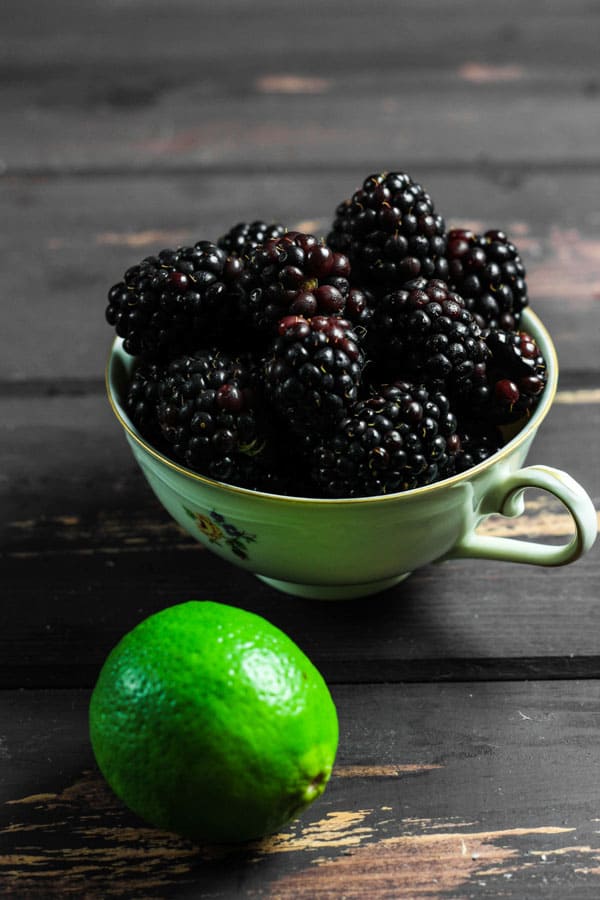 We only have a small freezer but dollars for doughnuts you will always find this time of year the blackberries have stolen all the space. This Seedless Wild Blackberry and Lime Jam though has to be the recipe which you brandish victoriously when you've over indulged with the foraging.
It was the first jam I truly loved as the juicy tartness of the blackberries and the zesty zing of the lime cut through all the sugar to create a really complex taste which is perfect for toast, for sandwich cakes, jam tarts and as a replacement filler in these oat bars.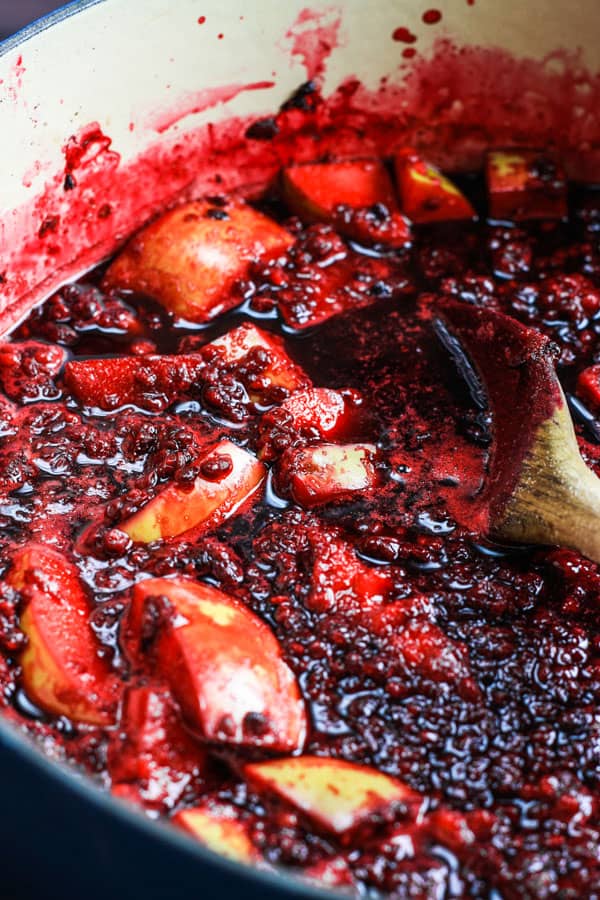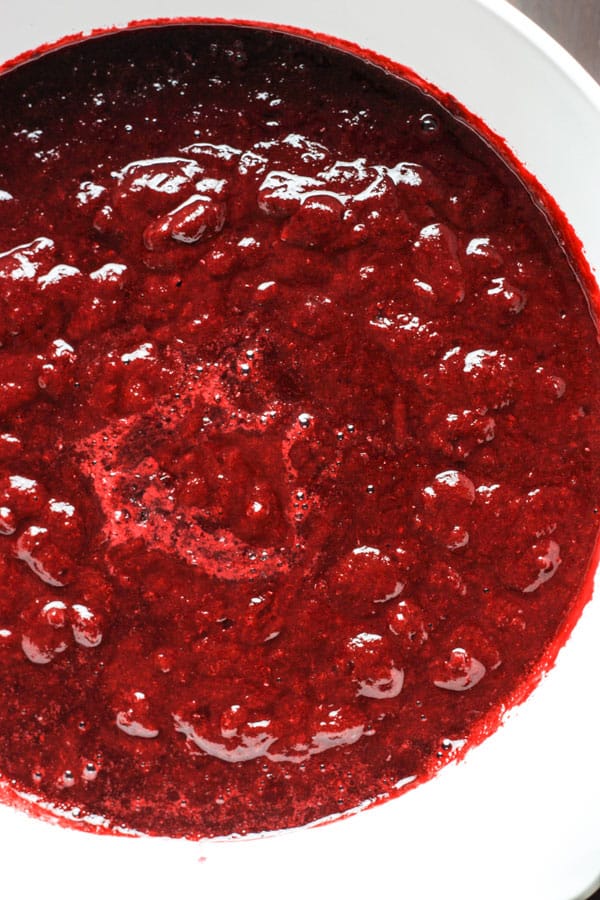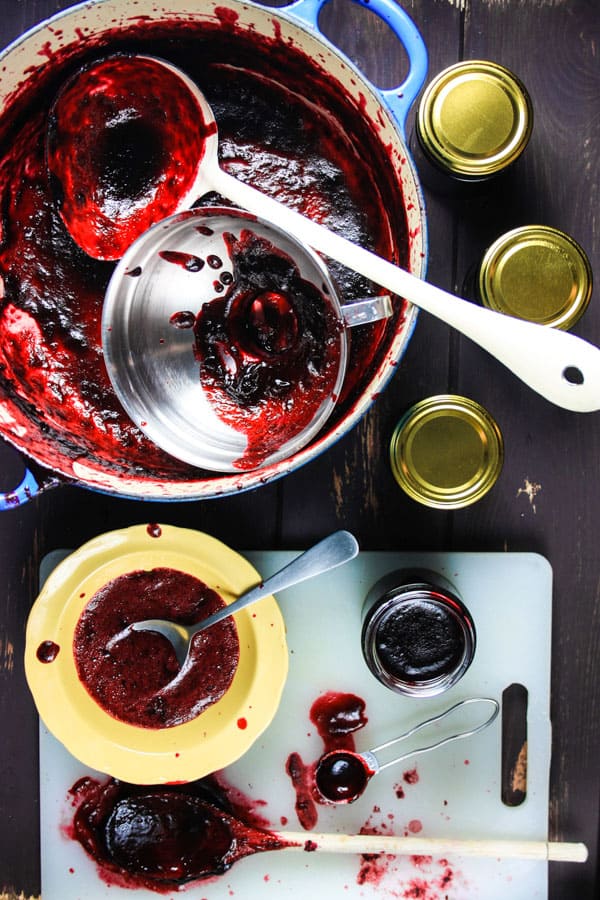 I have always made this jam seedless and it's a little bit of a faff but there are pros and cons to it.
The pro is that you don't need to prepare the bramley apples, bar a bit of rough chopping, which get thrown in a preserving pan with the blackberries straight off the bat. Once the fruit has softened then they get passed through a sieve which is the faffy con bit.
However, if you do a lot of preserving then I seriously recommend a food mill which make very light work of removing the skin and seeds from the fruit without losing any fruit pulp.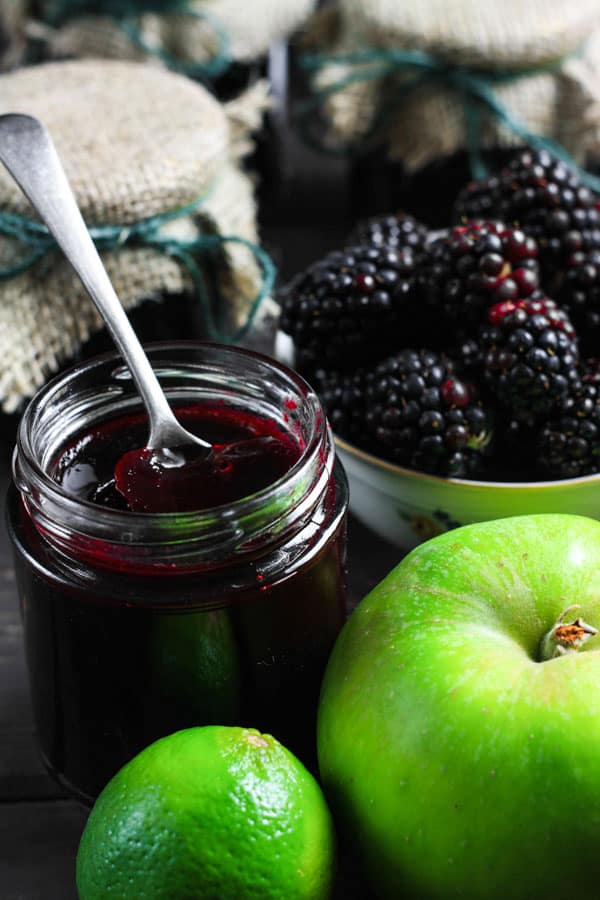 If you don't have a food mill and are de-seeding by hand and sieve then you might have a bit more substantial seedy pulp left behind in the sieve. Don't you dare throw this away you lucky ducks as it's marvellous for making blackberry vinegar or blackberry gin.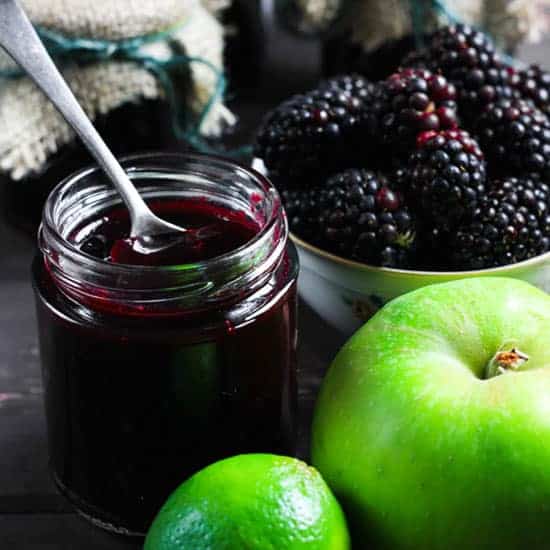 Seedless Wild Blackberry and Lime Jam
This easy Seedless Wild Blackberry and Lime Jam is a deliciously versatile four ingredient jam with no added pectin and a tangy zesty flavour.
Ingredients
1.5

kg

blackberries

500

g

bramley apples

3

limes

-

zest of 2 and juice of 3

1

kg

granulated sugar
Instructions
Firstly place 5 saucers into the freezer and then sterilize the jars and lids by placing them in an oven heated to 100°C for 20 minutes.

Roughly chop the apples without peeling or coring, then place in a large preserving pan with the blackberries. Heat gently until all the fruit has softened.

Remove from the heat, then pass everything through a sieve or food mill.

Replace the seedless fruit pulp back into the saucepan and keep the seedy fruit pulp for another purpose (like blackberry gin or vinegar).

Add the lime juice and sugar to the saucepan and heat gently so all the sugar has dissolved. Once dissolved, bring to a rolling boil. Boil for 5 minutes then turn off the heat and place on one of the cold saucers from the freezer. Leave for 1 minute then push the jam with your finger. If the jam wrinkles on the surface it's ready. If not, then turn the jam back on a boil for a further 3 minutes. Turn off the heat and try the saucer test again.

Once the jam is ready remove the scum from the surface of the jam and then stir in the lime zest.

Decant the jam into the sterilised jars, screw the lids on tightly and store until ready to use.
Notes
The jam can be kept for up to 12 months if kept in a cool dark place
Yield 10 180g jars
Nutrition
Calories:
60
kcal
Carbohydrates:
15
g
Protein:
1
g
Fat:
1
g
Saturated Fat:
1
g
Sodium:
1
mg
Potassium:
40
mg
Fiber:
1
g
Sugar:
14
g
Vitamin A:
45
IU
Vitamin C:
5
mg
Calcium:
7
mg
Iron:
0.1
mg
Have you tried this recipe?
Head to the comment section and let me know what you think!
If you like this recipe then you may like...