This post contains affiliate links. Please read my disclosures.
Baked Apple Butter is the perfect hybrid between a jam and a chutney. The apples are stewed in cider, brandy, honey and spices then smoothed and baked slowly in a low oven for the most intensely thick and rich apple sauce that is the ultimate Autumn preserve.
I have mentioned before but Billy Buddy isn't always impressed when we hijack his morning walk for a spot of foraging, but this time Cole was also not so impressed. Our method of plucking the apples from the top of the tree is to vigorously shake the branches leading to golf ball sized apples showering on our heads. It was my job to pull Billy and Cole out of the way as these mini meteors rained down from the sky. Very frustrating for a 15 month old who does not like being told no he can't have that, no he can't go there and yes by doing it his own way he will put his little life in danger again, for the tenth time that morning.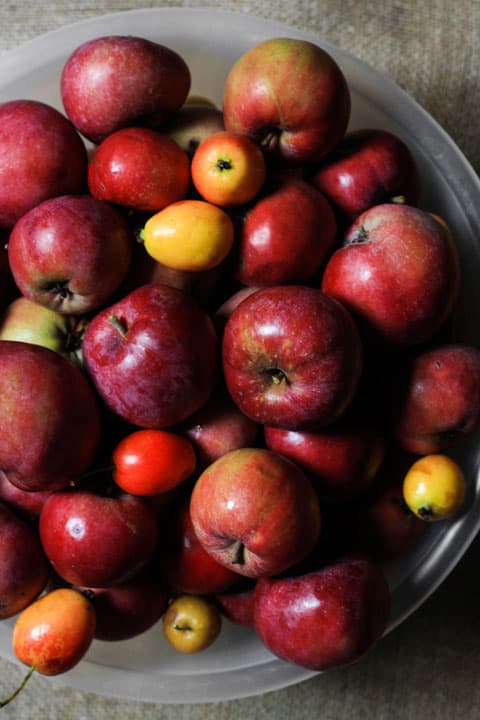 However, for twenty minutes work at 6.30am with the ground crunchy from the first frost we were inundated with 2.5kg of the most delicious red eating apples, and thanks to the crab apple tree next door, a few of those little princes were added to imbue a little bit of tartness to the recipe I had planned.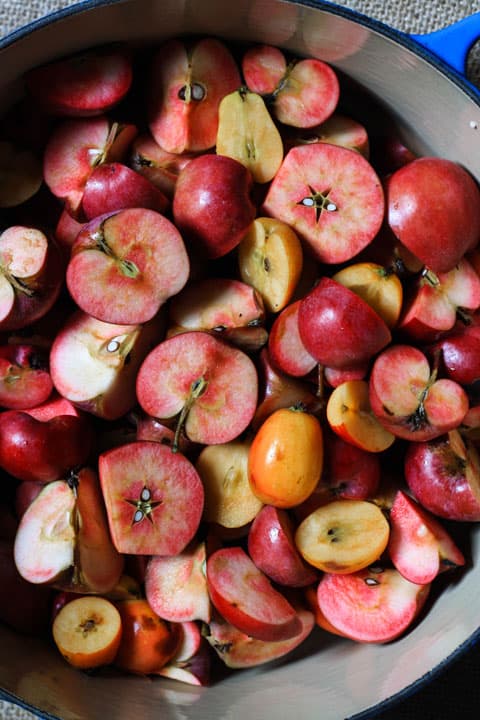 Baked Apple Butter is the perfect choice for a glut of apples. It is best working with a large amount of the fruit as thanks to the slow baking the sauce is reduced quite a bit so you want to make sure all your efforts yield a good amount.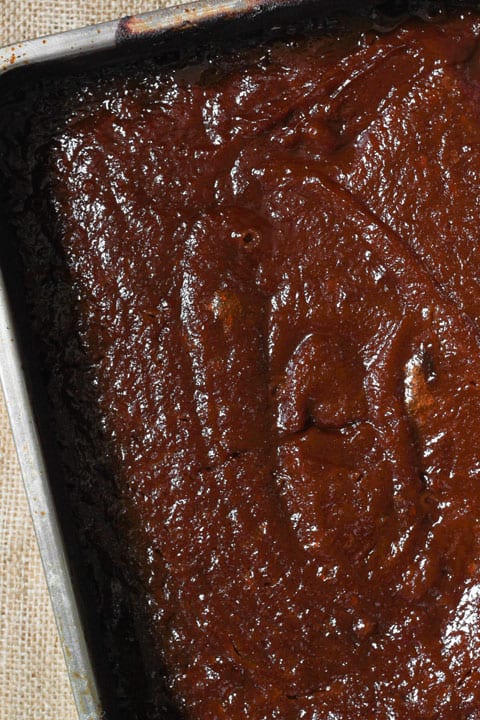 I sell my Baked Apple Butter at my market stall and it's not a very ubiquitous preserve in the UK so I am always asked lots of questions about it. It is an ideal preserve if you are not sure whether to get a jam or a chutney as it does a little of both jobs and can be eaten with both sweet and savoury.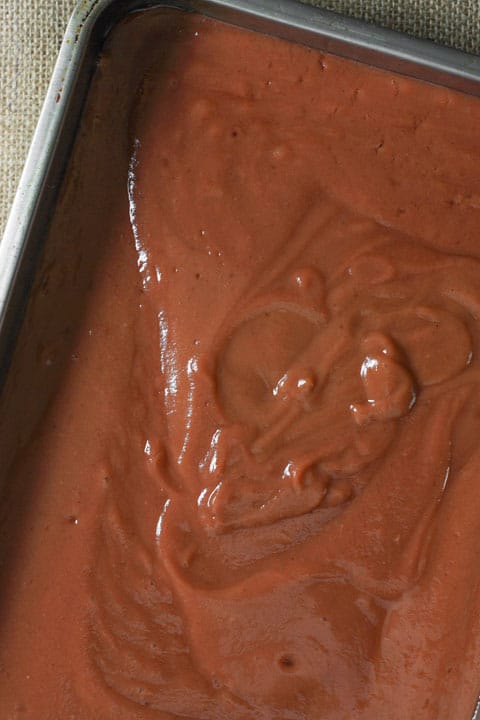 Different ways to use Apple Butter:
On hot buttered crumpets
As the filling in a Victoria Sandwich
Swirled into yoghurt, porridge, rice pudding
Served with roast pork and crackling
Spread generously within a cheese toastie
Eaten directly from the jar on your fingertip
But Baked Apple Butter is also a wonderful baking ingredient. It's what I use in these Toffee Apple Cupcakes but you can also use it instead of the pear butter in this Spiced Pear Butter and Hazelnut Praline Cake for an apple version.
And gosh if you were to beat 250g unsalted butter with 250g icing sugar for 5 minutes then add 150g Baked Apple Butter then you have the world's most divine buttercream for your vanilla cupcakes.
It's definitely an ingredient worth experimenting with but if you really can't be bothered then as I said, a fingertip and the jar is really all you need.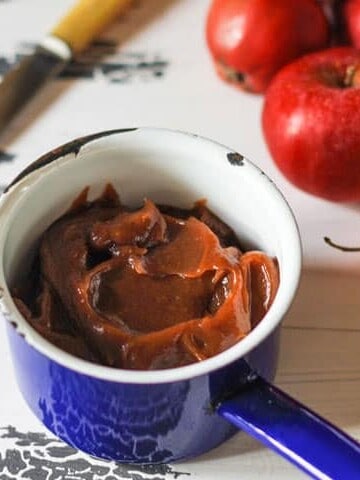 Baked Apple Butter
Baked Apple Butter is an intensely thick and richly spiced apple sauce that is the ultimate Autumn preserve.
Ingredients
2.5

kg

apples

500

ml

apple cider

175

g

dark brown soft sugar

125

g

honey

75

ml

brandy

1½

teaspoons

ground cinnamon

½

teaspoon

ground allspice

½

teaspoon

ground nutmeg

⅛

teaspoon

ground cloves

⅛

teaspoon

ground black pepper

¼

teaspoon

salt
Instructions
Peel, core and dice the apples* then place the diced apples in a saucepan with the rest of the ingredients and bring to a low boil. Reduce the heat to a simmer and cook until the apples have softened.

Leave to cool slightly before you blend. At this point I usually leave it overnight before I blend.

Place the blended apple puree into roasting dishes, so the puree is about 2 inches thick and bake in a 150°C oven for two hours until extremely thick. Stir every 30 minutes.

Blend the thickened apple butter again to smooth out the final result then decant into sterilised jars.

You can either keep the apple butter in the fridge for a couple of weeks or you might like to increase the life of the Baked Apple Butter by processing the jars in a water bath which means they can be kept for at least 6 months somewhere dark and cool.
Notes
For more information on canning and water baths see here.
*If you have a food mill then follow the following method in place of Step 1: Halve the apples, core and peel intact an place them in a saucepan with a splash of water and simmer until the apples have softened. Remove the apples and pass through a food mill. Place the apple puree back into the saucepan with the rest of the ingredients and bring to a boil. Turn off the heat.
Yield 8 200g jars
Nutrition
Calories:
43
kcal
Carbohydrates:
11
g
Protein:
1
g
Fat:
1
g
Saturated Fat:
1
g
Sodium:
11
mg
Potassium:
54
mg
Fiber:
1
g
Sugar:
9
g
Vitamin A:
20
IU
Vitamin C:
1.9
mg
Calcium:
6
mg
Iron:
0.1
mg
Have you tried this recipe?
Head to the comment section and let me know what you think!
SHOP THE RECIPE
A food mill makes really light work of pureeing a lot of apples. This OXO Good Grips Food Mill
 is the one I use and I absolutely love it.
This post is not sponsored but the links above is an affiliate link which means if you decide you want to click through to buy then Amazon gives me a small commission at no cost to you whatsoever. To learn more about how the data processing works when using these Amazon affiliate links then please visit my privacy policy page.
If you like this recipe then you may like...