This post contains affiliate links. Please read my disclosures.
Last year when I first started making blackberry jelly, making use of the plethora of berries in the hedges opposite my house, I discovered a delicious by product of jelly-making. Blackberry liqueurs. This is the second year in a row where we have had blackberry gin or vodka in our larder and I have found it to be absolutely invaluable when getting used to the darker evenings and cooler temperatures.
When you are making jellies, as we are wont to do in this house, we will literally make a jelly from anything, you are always left with a great slodge of fruity pulp that may at first seem fit for nothing. If you are making raspberry jelly then all you need is a spoon to scoop it all up into your awaiting mouth, but for blackberries the seeds are too hard to enjoy. There is still plenty of good stuff left in this pulp though and there are several ways of really eeking out the flavours, after all we've spent all this sweet time picking the berries, it makes sense to get as much out of them as possible.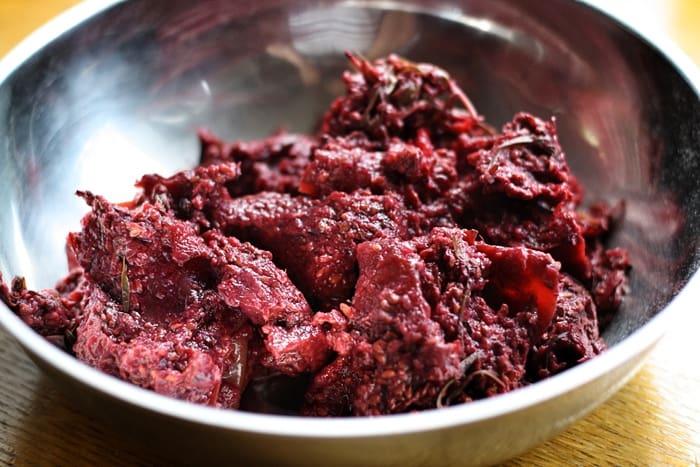 Occasionally I make a lovely fruity vinegar from the pulp which I can benefit from all year round, but more often than not I slug the pulp into a bottle of clear spirit, usually gin or vodka, along with some sugar and then leave it for two weeks whereupon the blackberries will happily saturate the alcohol with plenty of hedgerow flavour. All that's left to do is to strain the liqueur and decant into a clean sterilised bottle and then drink throughout the autumnal months. For some reason having the odd tipple of this of an evening seems so honest-to-goodness, and a lovely present from the hedgerows.
This year, since I have been a jelly making fiend, I have been experimenting with all different kinds of flavours with my blackberries. For my gin I muddled the blackberry pulp through with zesty lime and warming cardamom, since this year gin and cardamom seem to be my favourite combination.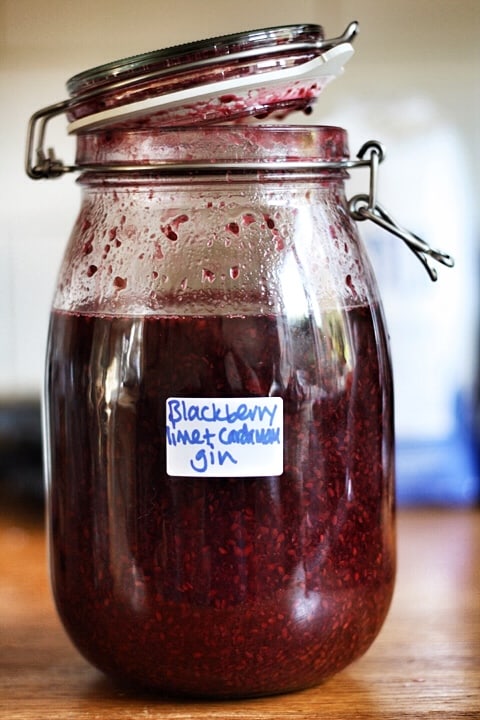 I also made some blackberry and crab apple jelly and then used the opportunity afterwards to imbue the crab apple and blackberry pulp with cinnamon, nutmeg, ginger, vanilla, brandy and angostura bitters for the ultimate apple and blackberry pie vodka.
The sweet syrupy gin is absolutely delicious on its own straight up from the larder, or splashed into tonic in a glass bursting with ice. The blackberry and apple pie vodka I have found to be completely refreshing jazzed up with ice and soda water. I am not a fan of drinks which are two sweet but I find these two remarkably well balanced.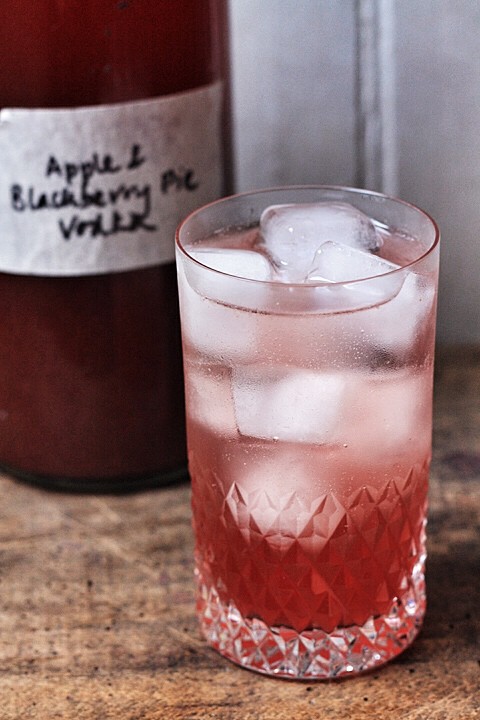 There is no reason to only make use of this recipe after jelly making. If you want to use your blackberries solely for gin making then there is absolutely no shame in that. Just smash your blackberries up with a fork before adding into the gin and you're away. The only other note I would give is to use the cheapest brand of vodka or gin possible, and this is the only occasion I would ever advocate you to do so.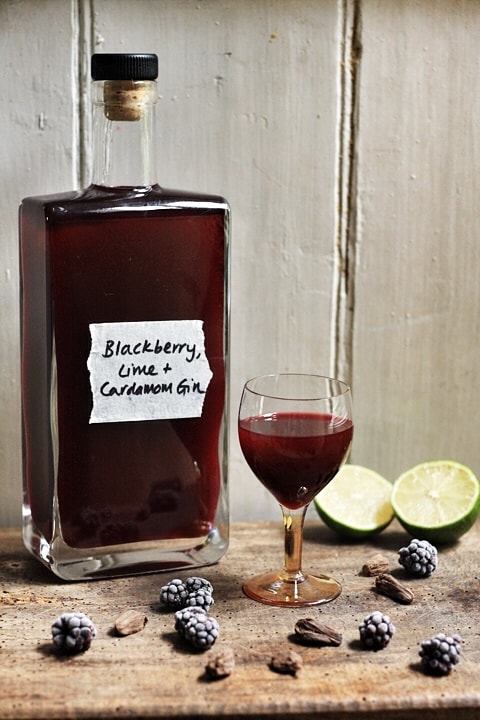 Blackberry, Lime and Cardamom Gin
500g blackberry pulp
225g caster sugar
70cl gin
zest of 1 lime
3 cardamom pods, smashed
Mix everything together in a large bottle or kilner jar. Leave somewhere cool and dark for 2 weeks, shaking every other day.
Strain the gin and decant into an airtight and sterilised bottle.
Apple and Blackberry Pie Vodka
400g blackberry and apple pulp
1lt vodka
2 tbsp bourbon
splash of angostura bitters
Juice and zest of 1 lemon
1 tsp vanilla extract
250ml sugar syrup
1 tsp cinnamon
⅛ tsp freshly grated nutmeg
½ tsp ginger
Add all the ingredients together, store in a large bottle or kilner jar for 2 weeks, giving it a shake every other day.
Strain the vodka and decant into an airtight and sterilised bottle. Easy peasy pudding and pie.