This post contains affiliate links. Please read my disclosures.
The Best Homemade Coleslaw is packed with shredded cabbage, carrots, green pepper and onions. Lightly dressed with a vinaigrette/mayo/sour cream combo. You will turn to this deluxe coleslaw time and time again.
I make coleslaw all the time. It's quick and easy for weeknight dinner and also the one salad my four year old will eat happily. But it's also perfect for a crowd and can accompany pretty much anything. This recipe has been achieved by years of conscientious coleslaw making and is the secret weapon you need in your kitchen.
Coleslaw or just 'slaw' if you're being ultra casj can be eaten with anything. It's a plain fact.
(p.s. don't whatever you do get sucked down a half hour rabbit hole like I just did about how you should spell the abbreviation of casual – the outcome was that the internet has no ruddy idea)
Barbecues
Jacket potato
Roast Chicken
Sandwiches
Picnics
Glazed Christmas Ham (yup I serve it with my ham every year)
Pizza (coleslaw is a non-negotiable accompaniment in our house)
The Best Homemade Coleslaw coleslaw is light, creamy, packed with veg and is a salad for people who don't really like salads.
With all this slaw action it's imperative you have a really good recipe up your sleeve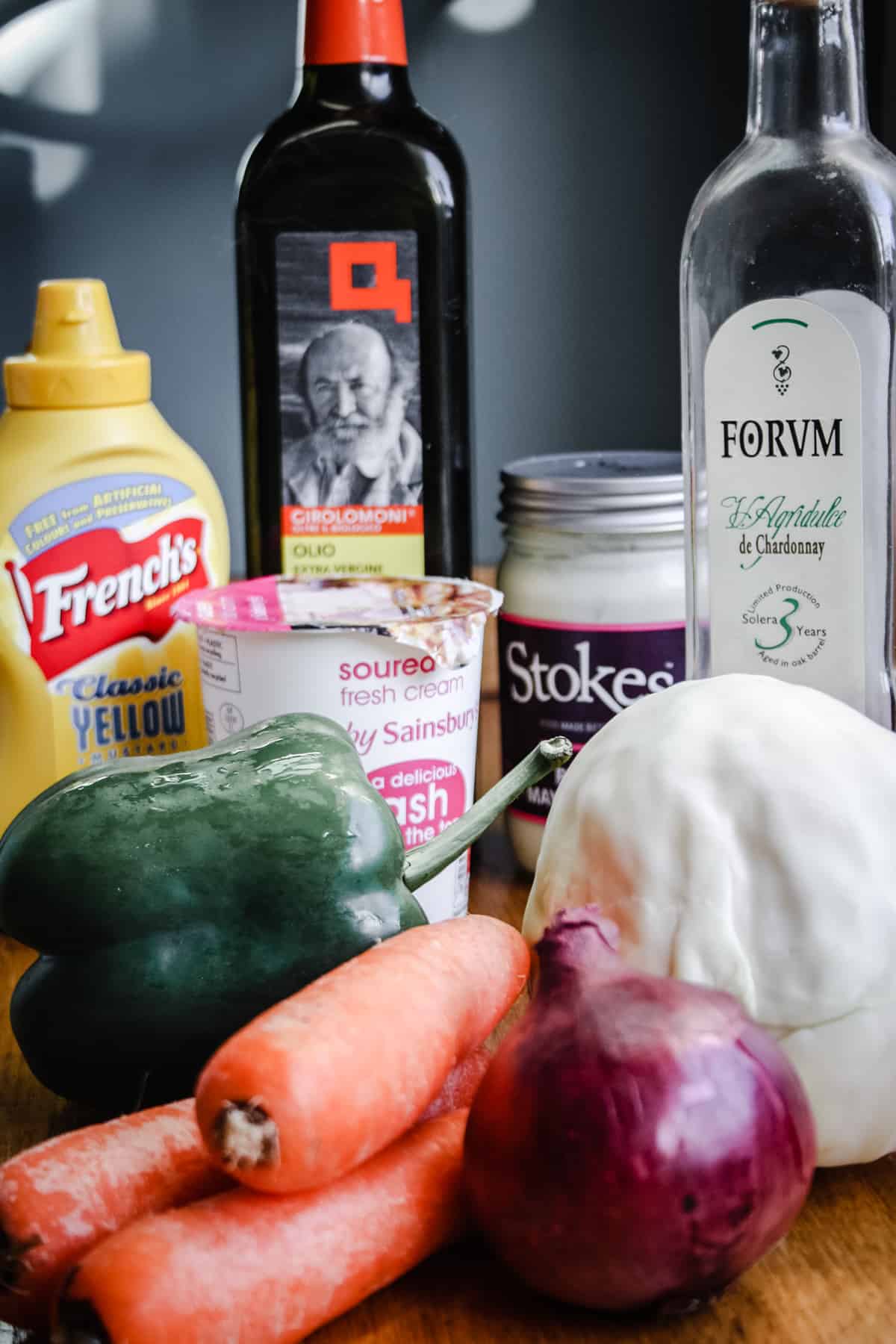 What vegetables do you put in the best homemade coleslaw?
For this version we'll keep things traditional but there may be a slight twist for the last ingredient:
cabbage
carrot
red onion
green pepper
Cabbage
The cabbage gives good body to the salad, ensuring that the slaw doesn't get weighed down or watery. I agree with Felicity Cloake that if it doesn't contain cabbage then it's a salad not a coleslaw.
TIP: If you can't get hold of white cabbage then try either green cabbage or chinese leaf. Savoy cabbage is not right here.
Carrots
Carrots add the sweetness. The better carrot you buy the more flavour will go into your coleslaw. Carrots is one of the veggies which I will always buy from the farmers' market, They need to be firm with good depth of flavour. These carrots are a completely different beast to the watery wobbly ones you can buy from the supermarket.
Red Onion
The final component is the onion. Now you might be tempted to bung any old eye shredding white onion which has been languishing in your veg box all week. Step away my friend as that baby is far too pungent. Instead choose a milder red onion.
Substitution for red onion. Spring onion can be substituted but do make sure you slice into ribbons lengthways. I am a stickler for all of the veg being uniformly cut.
Green Pepper
It's certainly not traditional but green pepper is our secret weapon in this coleslaw. Now, green pepper may not be to everyone's taste as it has a slight bitterness. This is exactly why we include it here as it contrasts so perfectly with the creamy dressing. It cuts through the richness of the mayo and adding piquancy to the finished result.
If you don't like green pepper then just leave it out, but by no means substitute it with red or yellow or orange as they would be overpowering. The carrot is all the sweetness you need.
Alternative veg for coleslaw
I actually don't agree that you can just include any veg or fruit languishing at the bottom of your fridge and expect it to work. You need your selection to be firm and stand up to the creamy dressing so it doesn't become watery. Nevertheless there are lots to choose from. Why not try:
Red cabbage
Beetroot – which will also colour your slaw an attractive pink
Fennel
Celeriac
Radish
Kohlrabi
Apple – yes this is a fruit but it's fantastic in coleslaw
TOP TIP: Whatever vegetables you choose be sure to slice them all the same size and shape. I recommend long thin strips.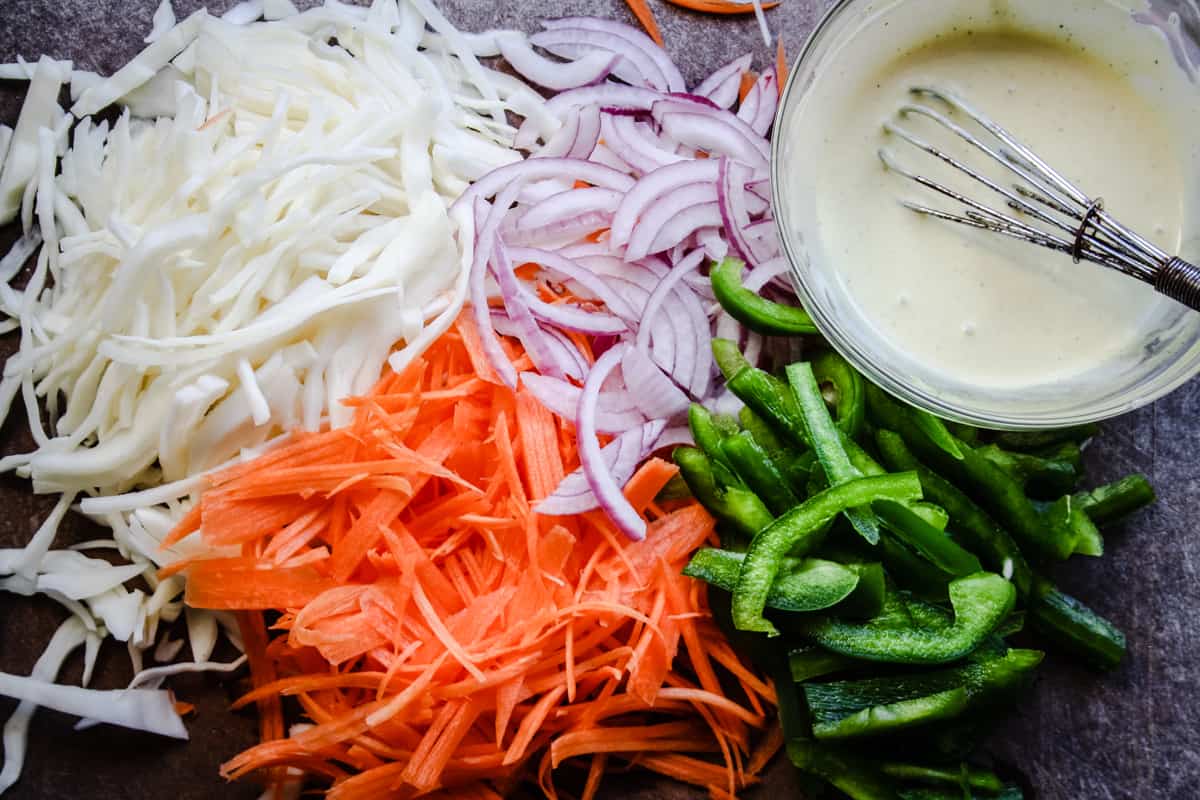 The best way to prepare veg for a quick coleslaw
The best way to shred raw vegetables for coleslaw is using the grating attachments which comes with your food processor. These create neat clean shreds which don't turn to mush like a regular grater. I have a Magimix and two attachments, one for a fine shred and one for a wider shred. If you are buying a food processor check to see if these attachments come as standard.
However, if you don't have a food processor or access to these fancypants attachments then a julienne grater will become your best friend. This grater is fantastic as it invokes minimal mess and is very easy to dash under the water for a quick clean afterwards. You should be so lucky with your food processor.
Julienne graters are inexpensive to buy and I have found mine invaluable, using it almost everyday to julienne one bit of veg or another.
However there is one exception to this method of preparation:
Always slice the onion by hand
Slicing the onion by hand is imperative as when chucked in the food processor the onion flavour is heightened and completely overpowers the coleslaw.
Cutting the onion by hand from end to end yields a milder flavour.
Now slicing the onion is a job that under no circumstances do I give to my husband. Despite my instructions he always insists on cutting the onion up into finger sized wedges. This only leads me to picking it all out when it gets to my plate. If you are too heavy handed with the onion then the whole thing is ruined.
The onion should be sliced so that it barely resembles a piece of onion at all but rather a delightfully transparent spider web. This way it can be mixed more thoroughly into the coleslaw so that each bite has just a hint of onion tang.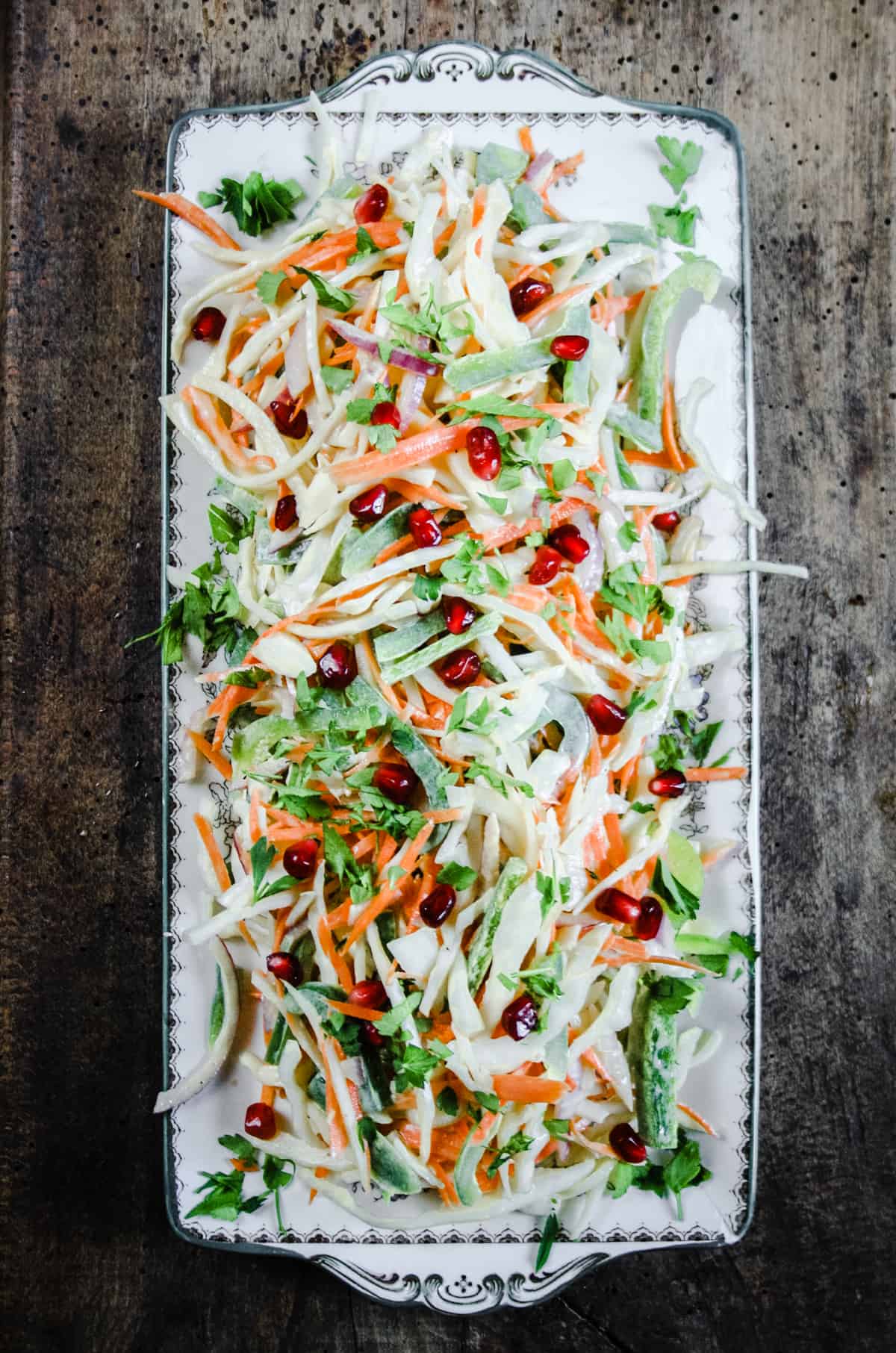 How do you make the best coleslaw dressing?
The dressing of one's coleslaw also requires a bit of thought. Traditionally you might choose to slather the vegetable ensemble with copious amounts of mayonnaise. However, I think that is a mistake as it weighs the ingredients down. Other slaw recipes might just add a bit of and oil and vinegar to create a light vinaigrette. However for the Best Homemade Coleslaw you need the best of both worlds and the following ingredients:
olive oil
white wine vinegar
mustard
mayonnaise
sour cream
Here we whisk up a small amount of mustard, oil and vinegar into a thick emulsion, just like a regular vinaigrette. Then add, not just a tablespoon of mayonnaise, but also a tablespoon of sour cream. The sour cream completely lightens the effect of the mayo.
Alternatives to sour cream. I have also used greek yoghurt for the same effect which lends a great tang. However, if you need a dairy-free coleslaw then just use coconut cream.
The Mustard
Now, the controversial part which my Mum was a little unsure about when I went to use it – the mustard used in the dressing. I could see her Britishness struggle for air inside when I reached for the French's yellow mustard. In her words, she sees it as a mere burger mustard, only to be brought out at barbecues and used with irony.
She is right that yellow mustard doesn't have the sophistication of Dijon or the pomposity of Coleman's English Mustard but it does have a unique tang which isn't dominating or too heady on the nose. Here it happily bunks down with the other ingredients to achieve the lightness and flavour we are aiming for.
UPDATE: Recently I have been having huge success with swapping out the yellow mustard for Honey Dijon. It adds sweetness and tang. Try Maille Honey Dijon Mustard.
So once all our ingredients are ready then there's nothing more to do than mix them all up into one gloriously creamy mess.
TOP TIP: Leave the coleslaw for at least an hour after you've tossed it. This gives the vegetables time to soften and the flavour to become a cohesive whole, rather than a ragtag assembly.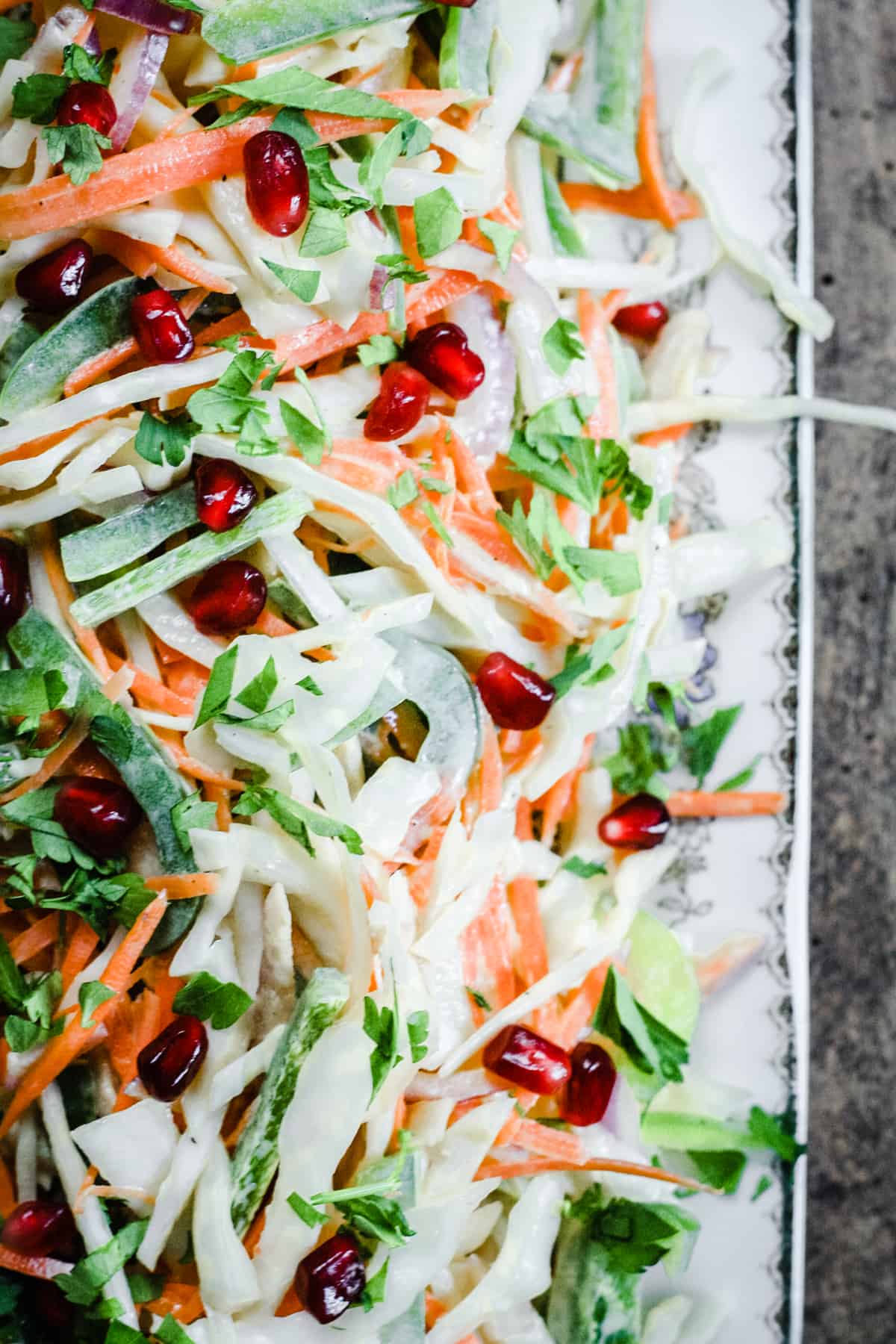 This recipe makes a whole bunch of deluxe coleslaw, suitable for at least 8-10 if you're having it as an accompaniment to a main meal. However for a light lunch I quite often have a bowlful of coleslaw with some grilled chicken arranged artfully on top. This version is light enough that you can do that and if so then it will serve 4.
Are you looking for alternative salad suggestions? Why not try:
Simple Brown Rice Salad with Pesto Vinaigrette
Coronation Chicken Wild Rice Salad
If you make The Best Homemade Coleslaw then please leave a comment below and/or give the recipe a rating. If you then go on to use this recipe as a launch pad for your own baking creation then I'd also love it if you'd share it and tag me on Instagram. It is so lovely for me to see your versions and variations of my recipes.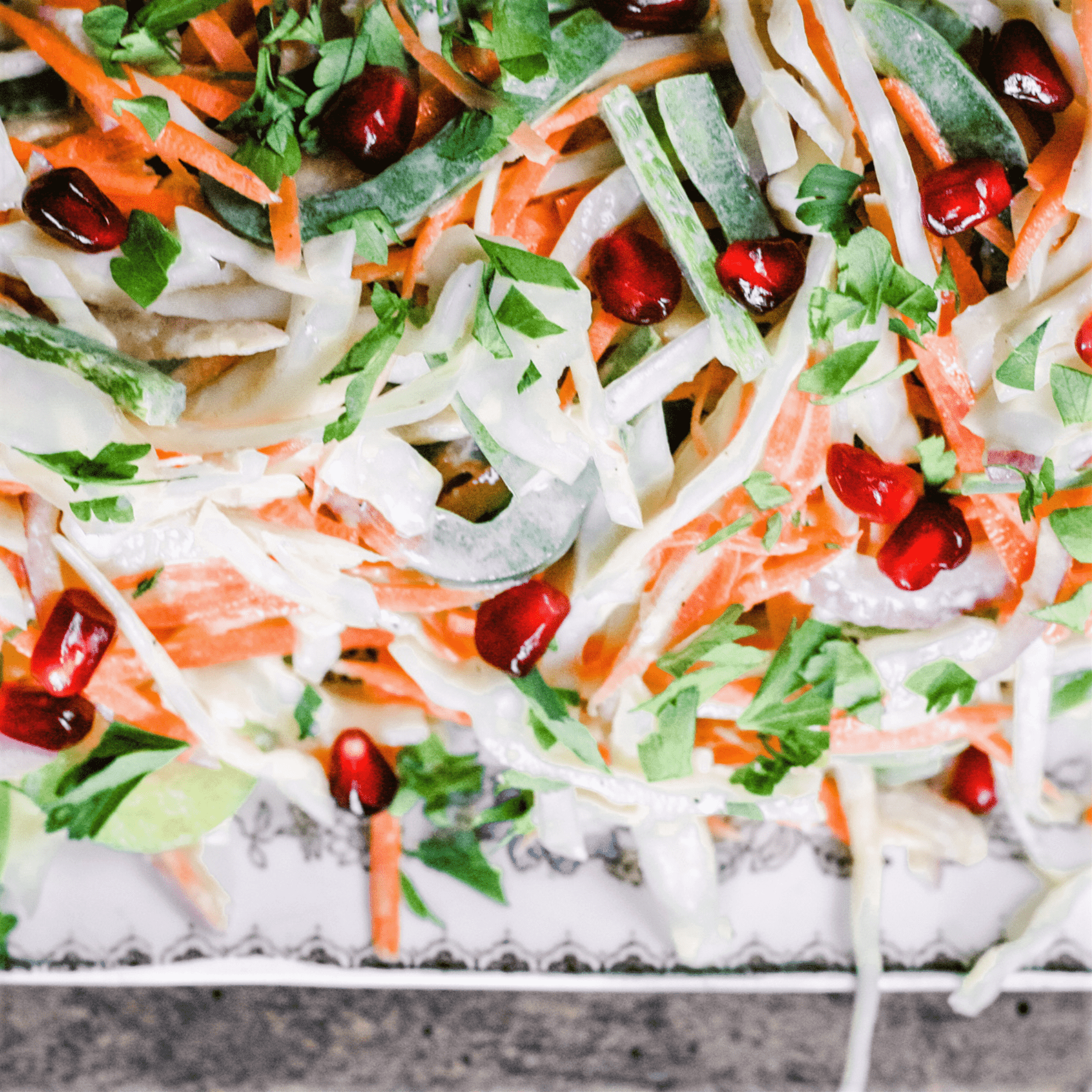 The Best Homemade Coleslaw
A light and creamy traditional coleslaw
Ingredients
½

small white cabbage

-

sliced very very thinly

2

carrots

-

julienned

1

red onion

-

sliced very very thinly

1

green pepper

-

sliced very very thinly

1

teaspoon

Frenchie's mustard

1

teaspoon

white wine vinegar

½

teaspoon

salt

⅛

teaspoon

ground white pepper

1

tablespoon

olive oil

1

tablespoon

mayonnaise

1

tablespoon

sour cream

pomegranate seeds

-

optional

small handful parsley leaves

-

chopped roughly (optional)
Instructions
In a large bowl toss together the sliced cabbage, onion, green pepper and julienned carrot and set aside whilst you prepare the dressing.

In a small bowl whisk together the mustard, white wine vinegar and seasoning until thoroughly combined and the salt has dissolved.

Drizzle in gradually the olive oil, whisking all the while until it has reached a thick emulsion.

Add the mayonnaise and sour cream and again whisk in until completely combined.

Pour the dressing over the vegetables and toss together until the dressing is evenly dispersed throughout.

Serve with a scattering of pomegranate seeds and chopped parsley.
Notes
Dress the coleslaw at least an hour before serving so that the vegetables can soften and the flavours can meld together.
Nutrition
Calories:
60
kcal
Carbohydrates:
7
g
Protein:
1
g
Fat:
4
g
Saturated Fat:
1
g
Cholesterol:
2
mg
Sodium:
187
mg
Potassium:
191
mg
Fiber:
2
g
Sugar:
4
g
Vitamin A:
2670
IU
Vitamin C:
34.7
mg
Calcium:
34
mg
Iron:
0.4
mg
Have you tried this recipe?
Head to the comment section and let me know what you think!
Some of the links included in this post are affiliate links so if you decide to buy anything using these links then I will get a small commission from Amazon at no cost to you. To learn more about how the data processing works when using these Amazon affiliate links then please visit my privacy policy page.