This post contains affiliate links. Please read my disclosures.
These Gluten-Free Blondies with White Chocolate and Pecans are incredible. Made with a tasty blend of gluten-free flours to enhance this celebration of butterscotch and vanilla flavours. These blondies are studded with white chocolate and pecans for a real crowd-pleasing traybake.
These are a gluten-free blondie recipe which you will truly love. Don't you think sometimes blondies can be a little disappointing? By their nature blondies are rich with butterscotch flavour but this can sometimes translate to a sickly sweet treat. Not so here.
These blondies can be mistaken for gluten-free white chocolate brownies as they evoke that same fudgy, chewy texture. They charm with vanilla, cheeky white chocolate and are deliciously nutty thanks to a scattering of chopped pecans.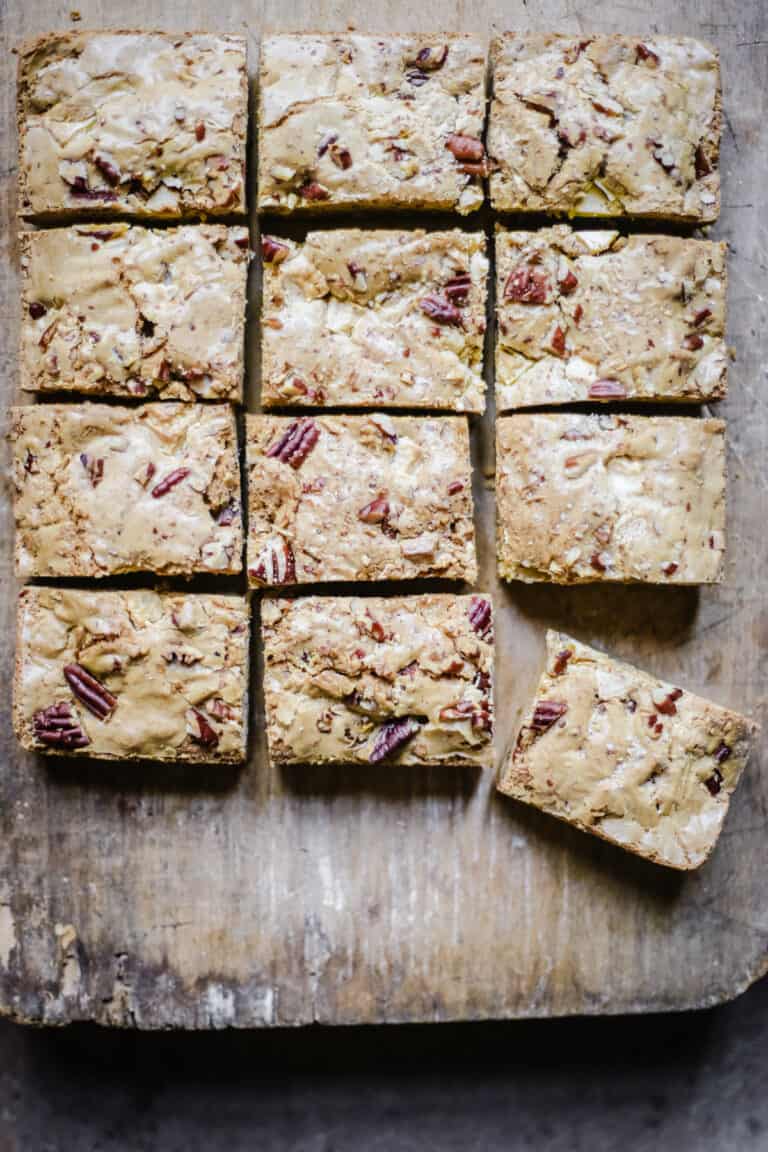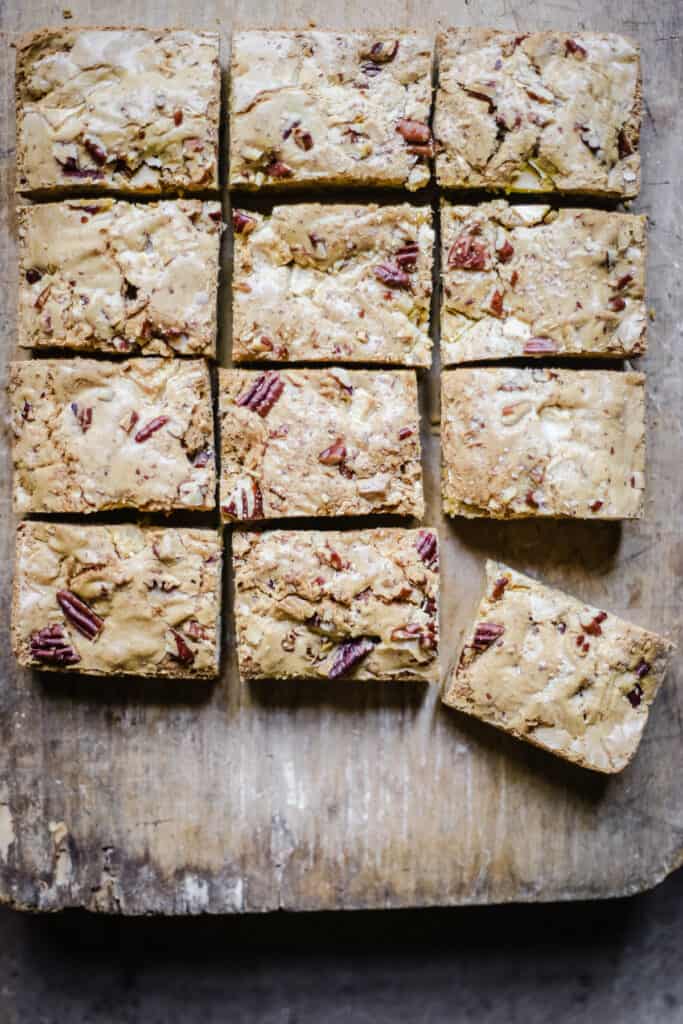 Top Tip for the Best Gluten-Free Blondies
Without delay I want to let you into the trick to achieving the absolute best blondies so there's no messing around and we get to the good stuff right away. The secret ingredient which makes these the best Gluten-Free Blondies is…
Coffee Powder.
The presence of a gentle hint of coffee powder seems to absorb the trappings of the sickly sweet blondie and balance it out, creating the most intense gluten-free butterscotch blondies without a sugar hangover.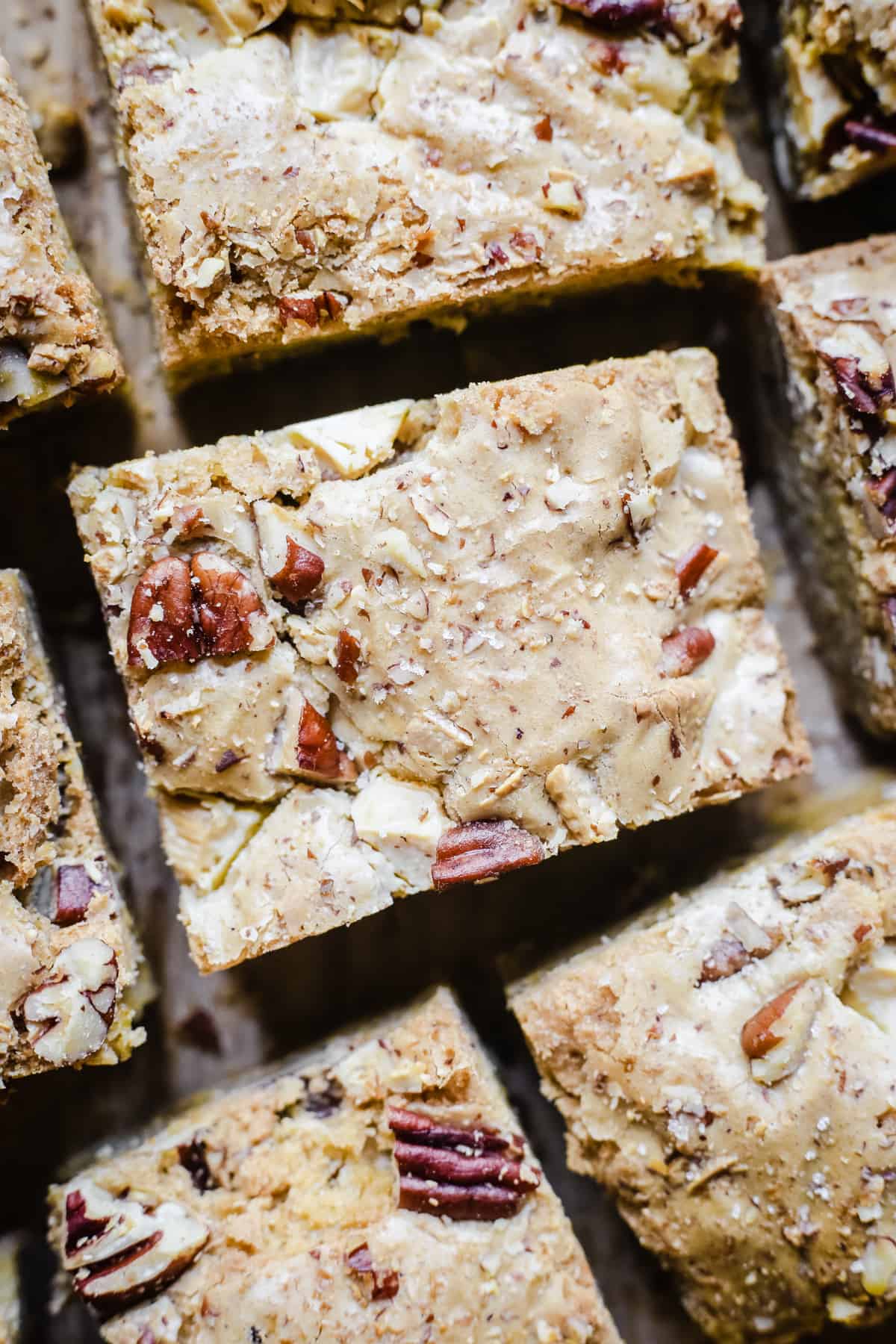 Stay tuned though as there are other steps, equally important, to ensure that these are the best blondies ever.
Pro Tip - Brown That Butter!
Blondies need melted butter anyway to ensure their delightfully soft chewy texture so why not take it one step further. All you need to do is melt your butter a little longer than needed so that toasty nutty flavour develops. Your finished butterscotch blondies will thank you for it.
Pro Tip - Two Different Types of Sugar!
It's also necessary to use two different types of sugar here. It sounds a little bit of a faff but I do it in a lot of my recipes and it's worth it:
Light muscovado is used for its gentle molasses taste. We're trying to evoke butterscotch tasting blondies here and light muscovado is the perfect choice. It also gives extra moisture to the bake so we're leaning into the fudgey chew that we like so much. However, too much and we'll have a sloppy blondie at the end of the day.
Caster sugar gives a little bit more body to the blondie and a firmer texture.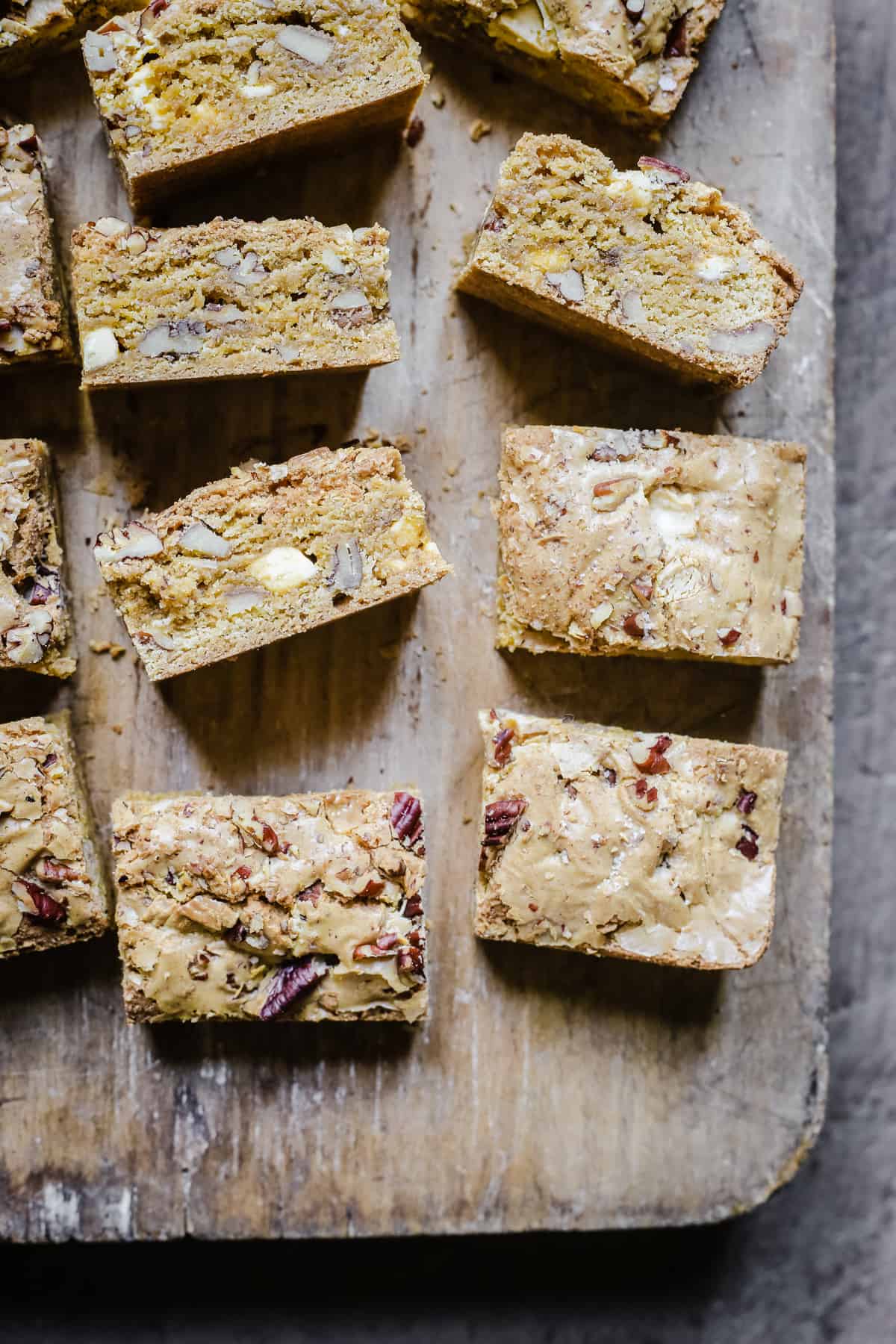 Which gluten-free flours do we need?
Oat flour - If we're looking for that butterscotch taste then this is the only contender. If you can't tolerate oats then never fear, you can substitute with sorghum flour. However, if you can tolerate oats then go with them as their flavour was made for these blondies.
Sweet rice flour - the gentle flavour works well here. But we also need it for its starchy qualities, to help the blondie stick together and promote the chew factor.
Potato starch - included here to balance out the two flours and give good structure.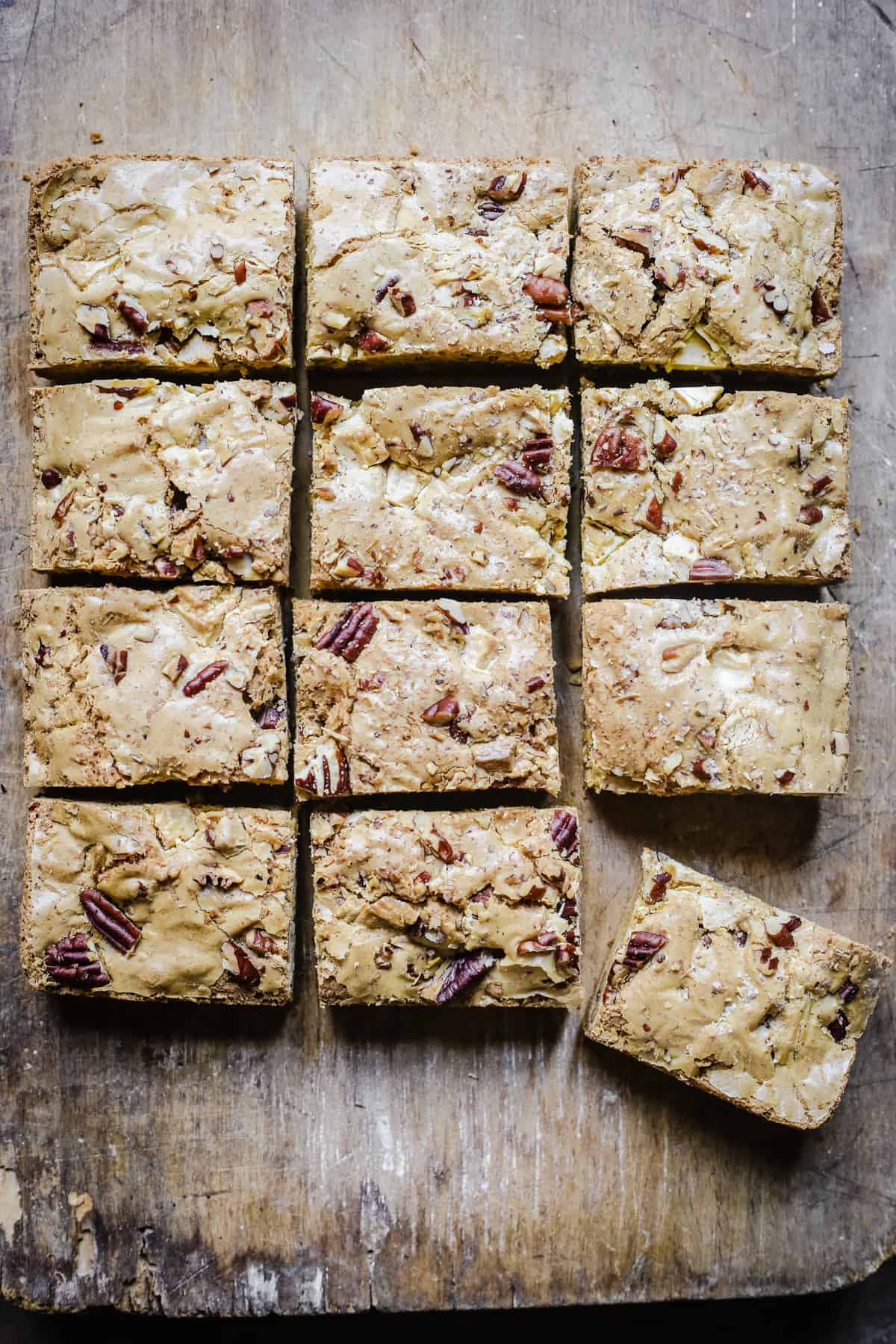 White Chocolate and Pecans
Blondies can be perfectly lovely plain but gluten-free white chocolate blondies are even better:
Use chopped white chocolate - We choose to chop our white chocolate into shards, some big some, small pieces. It's a preferred choice rather than chocolate chips as some of the shards may melt into the batter during the bake which just tastes really good. We also keep some bigger shards for texture.
Pecans - A few chopped nuts in the mix work so well for taste and texture too and pecans are my preferred choice.
Shop the Recipe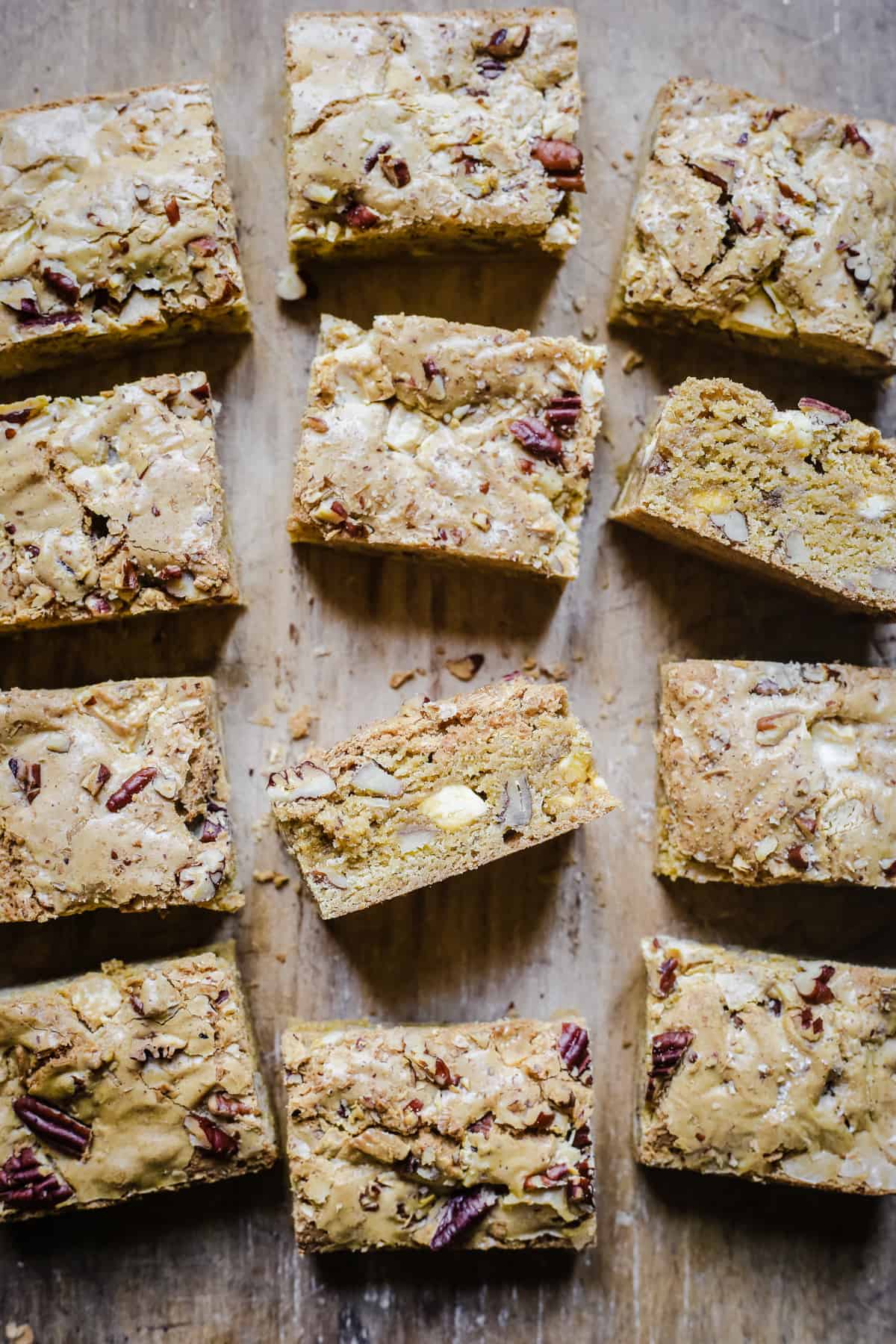 If you love these blondies then you may also love:
If you make these Gluten-Free Blondies with White Chocolate and Pecans then please leave a comment below and give the recipe a rating which helps others find the recipe on Google. If you then go on to use this recipe as a launch pad for your own baking creation then I'd also love it if you'd share it and tag me on Instagram. It is so lovely for me to see your versions and variations of my recipes.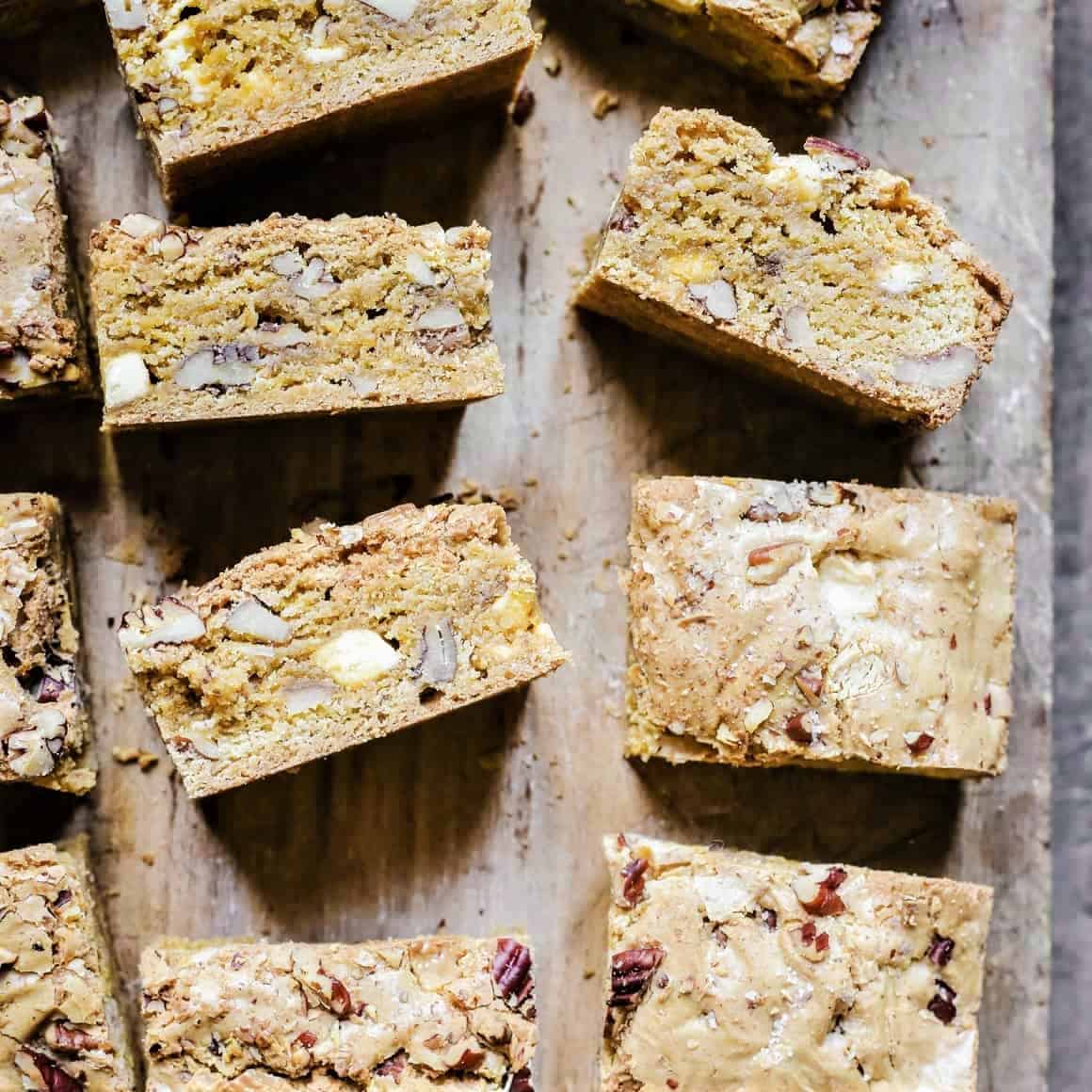 Gluten-Free Blondies with White Chocolate and Pecans
Gluten-Free Blondies with White Chocolate and Pecans are incredible. Made with a tasty blend of gluten-free flours to enhance this celebration of butterscotch and vanilla flavours.
Ingredients
165

g

unsalted butter

125

g

soft light brown muscovado sugar

100

g

caster sugar

2

eggs

-

medium sized

1

teaspoon

vanilla extract

100

g

sweet rice flour

90

g

oat flour

35

g

potato starch

1

teaspoon

baking powder

1

teaspoon

coffee powder

½

teaspoon

salt

100

g

white chocolate

-

chopped into small pieces

75

g

pecans

-

roughly chopped
Instructions
Pre-heat the oven to 180°C/160°C fan assisted/gas mark 4 and line and grease a 20cm square baking tin.

Brown the butter by melting the butter in a small saucepan over a medium heat. Once melted the butter will start hissing and cracking and forming little brown bits at the bottom of the pan. Wait until the noises start to subside and the butter smells toasty Remove from the heat straightaway and pour into a heatproof mixing bowl so it doesn't begin to burn.

Stir the sugars into the butter, followed by the eggs and vanilla extract.

Sift the sweet rice flour, oat flour and potato starch together, in a separate mixing bowl, with the baking powder, coffee powder and salt.

Beat the flour mix into the wet ingredients until completely combined.

Fold in the chopped white chocolate and pecans and pour the batter into the baking tin.

Bake for 30 minutes then leave in the tin to settle for 10 minutes.

Remove from the tin and leave to cool on a cooling rack before cutting into 12 bars.
Notes
Flour substitution - If you can't have oat flour then you can substitute with sorghum flour. How to store - These gluten-free blondies keep well for up to 5 days in an airtight container at room temperature. Can you freeze? - Yes, these blondies freeze well for up to 2 months. Place the cut blondies in an airtight container, layering up with parchment in between. Each blondie takes a couple of hours to defrost at room temperature.
Nutrition
Calories:
341
kcal
Carbohydrates:
38
g
Protein:
3
g
Fat:
19
g
Saturated Fat:
9
g
Cholesterol:
58
mg
Sodium:
122
mg
Potassium:
176
mg
Fiber:
1
g
Sugar:
23
g
Vitamin A:
385
IU
Vitamin C:
0.1
mg
Calcium:
57
mg
Iron:
0.8
mg
Have you tried this recipe?
Head to the comment section and let me know what you think!