This post contains affiliate links. Please read my disclosures.
Sweet Potato Feta Tortilla is a deliciously light spring lunch, utterly tasty and satisfying.
This feels like the first time in a couple of weeks where I have been able to take a breath. My prolonged absence from blogging wasn't intentional at all but it is only now that I have been able to sit down properly and decide what I'm going to have for dinner instead of relying on cobbled together salads of no import, chocolate or fish and chips from Stroud Green Road.
We were forced to vacate the house for a week or so whilst our builders have been in, rescuing the sorry state that had become of our floorboards and giving our hallway and landing a new lease of life so it didn't feel we were living in a run down shack. Many houses along our road have been sold recently and we've been passing them every day watching them being renovated and putting ours to shame. I decreed we simply had to do something about it before baby arrives and forces us suddenly to not care about such trivial matters as rotting floorboards and splattered tea stains on our walls.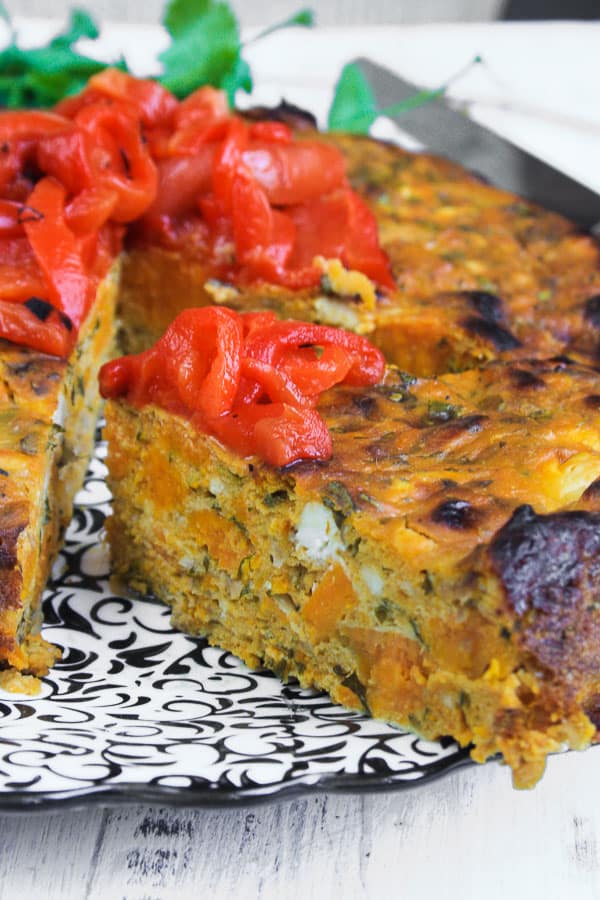 Not that the builders have left us yet, there is still one lonesome soldier finishing up the odds and sods, meaning that for the moment most of our belongings are still sequestered away in boxes in every room that isn't being worked on. It makes searching for things like my camera cable and the plate that I simply must photograph my tortilla on nigh impossible. I did manage to find them both in the end but it was to the detriment of any sort of order that the boxes and rooms might have been in earlier today. My heavily pregnant state also doesn't allow me to tidy any of it away which will be a lovely surprise to Luke when he arrives home late tonight after a long journey home from his meeting in Liverpool.
Not only has our house been taken over by builders but also in equal measure by cake as I have still been committed to my brilliant market stall and my kitchen has been the one room that has been builder free. This past weekend I took on a new challenge of hosting the café at Hornsey Flea Market. It was a long week of baking prep, actual baking and then two long days at the market which was a fantastic experience. The flea market was so wonderfully busy, it was estimated about 9000 people came through our doors throughout the weekend, most of whom needed some sort of sustenance. It was lovely to branch out and do some savoury baking as well as my usual flotilla of cakes which is how I developed my Sweet Potato and Feta Tortilla. It was a great gluten-free and vegetarian alternative to all the sausage rolls, pancetta and gruyere tartlets, spicy chicken croquettes and butternut squash and chilli scones which I was selling.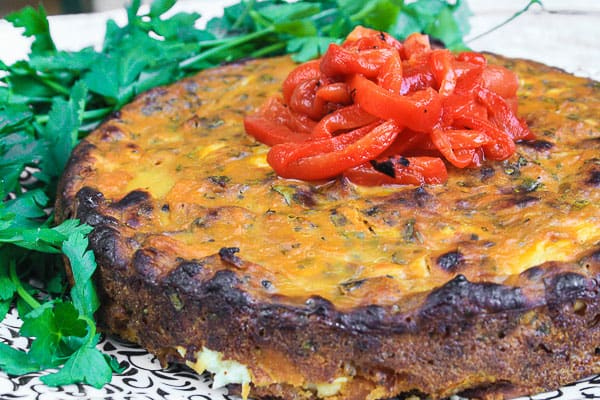 I made quite a few of these tortillas and they sold magnificently but I did keep one back for myself as it really is quite a special recipe. This tortilla simply bursts with flavour and spring like freshness, rich with the sweet potato but cool with feta and then packed with fresh coriander, parsley and mint. For ease I bake the tortilla in the oven instead of the traditional method of cooking in a large frying pan and having made the tortilla both ways in the past I haven't noticed a difference to the end result.
I recommend serving the tortilla for a weekend lunch, perhaps in the garden to make the most of this unseasonably beautiful weather. Dress the tortilla up with a herby salad and serve with a crisp glass of white wine.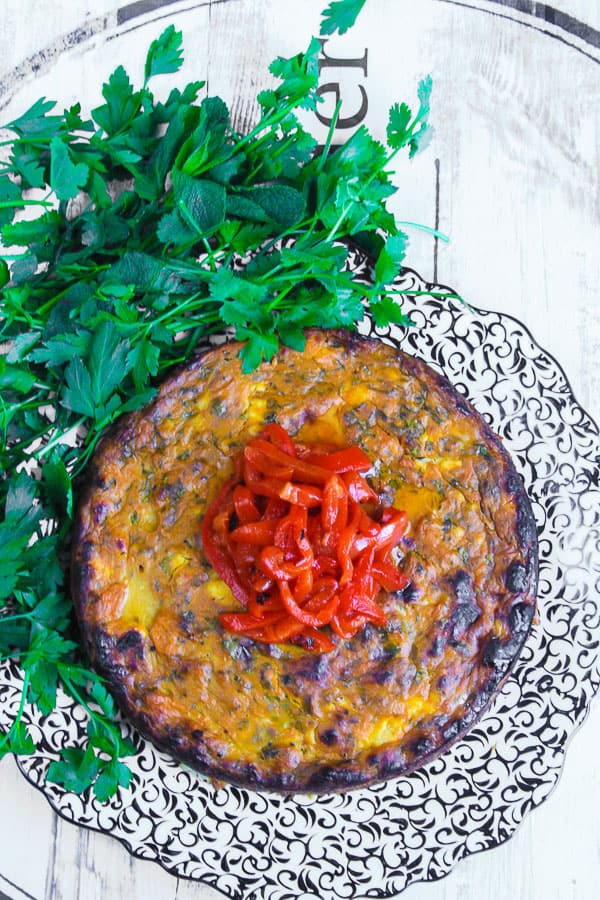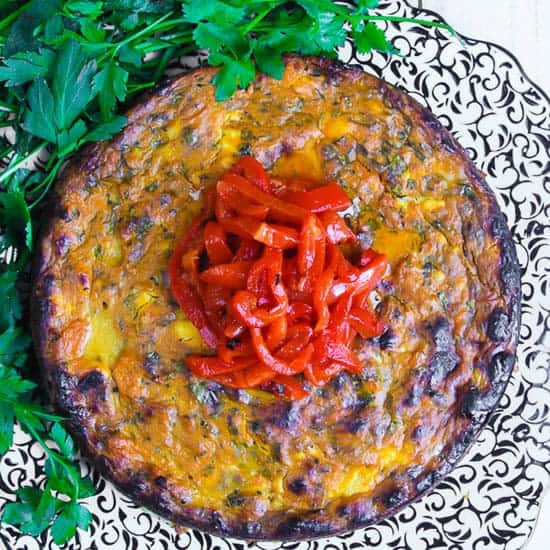 Sweet Potato Feta Tortilla
Sweet Potato Feta Tortilla is a deliciously light spring lunch, utterly tasty and satisfying.
Ingredients
2

tablespoons

olive oil

1

large Spanish onion

-

finely sliced

3

sweet potatoes

-

peeled and cubed into 2cm squares

½

teaspoon

smoked sweet paprika

¼

teaspoon

ground cumin

200

g

feta

5

medium eggs

-

whisked together

28

g

fresh coriander*

-

roughly chopped

28

g

fresh mint*

-

roughly chopped

28

g

fresh parsley*

-

roughly chopped

75

g

roasted red peppers

-

shredded
Instructions
Heat the olive oil in a flat bottomed saucepan then add the onions. Cook on a gentle heat for about 20 minutes or until the onions are caramelised.

Add the sweet potatoes and stir to thoroughly coat them in the olive oil. Place the lid on and cook for about 45 - 60 minutes or until the potatoes are softened.

Meanwhile pre-heat the oven to 170° and line and grease an 8 inch baking tin.

Take the saucepan of the heat then crumble the feta into the pan, stirring with a metal spoon to combine but not too much as you don't want the potato and feta to break down.

Pour in the eggs, add the herbs with plenty of seasoning and mix together.

Spoon the mixture into the baking tin, smoothing down so the surface is flat.

Place in the oven and bake for about 40-45 minutes until just browning.

Leave to cool for half an hour the tin before turning out. The tortilla is best served warm.

Serve with the roasted red peppers piled on top.
Notes
*Packets of herbs from the supermarket usually come in 28g bags - these are a perfect size for this recipe.
Nutrition
Calories:
381
kcal
Carbohydrates:
27
g
Protein:
17
g
Fat:
23
g
Saturated Fat:
10
g
Cholesterol:
249
mg
Sodium:
957
mg
Potassium:
618
mg
Fiber:
5
g
Sugar:
8
g
Vitamin A:
15920
IU
Vitamin C:
26.5
mg
Calcium:
352
mg
Iron:
3.1
mg
Have you tried this recipe?
Head to the comment section and let me know what you think!