This post contains affiliate links. Please read my disclosures.
This White Nectarine Thyme Limoncello Cake in all its glory was the first cake I made after Cole was born and as such has such a special place in my heart. Plus it's a pretty amazing cake in its own right. Lemon and thyme buttermilk sponge, pillowed together with a fresh thyme and limoncello laced mascarpone cream and loaded with sweet juicy white nectarines.
So it's been 12 weeks and 1 day since my life changed forever. Like all first time new mothers I have been completely clueless, terribly overwhelmed, joyously happy and apocalyptically exhausted – all within the space of 5 minutes on any given day.
So I had a baby. A gorgeous, healthy baby boy who has taught me that I should never bank on having any free time ever to indulge myself with kitchen frivolities. It's all Me Me Me with him – how rude!
So that pretty much explains why it's been an absolute age since I've last posted but believe me I've been thinking about writing a little something in this space every day and just as I've been getting excited about it and begin planning something the baby wakes and chaos reigns once more.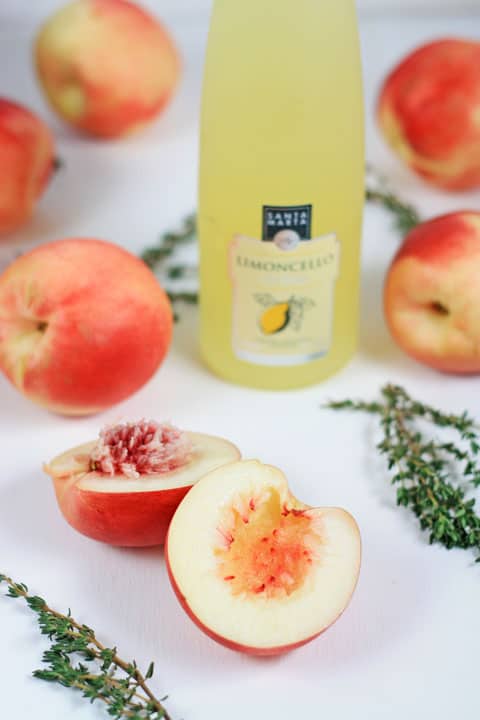 This post has been a labour of love, a month long desperate need to make this recipe, whereupon I finally threw caution to the wind over the weekend. I grabbed non-existing time to buy ingredients, remember to bring the butter to room temperature, bake, make the icing, fail at the icing, re-attempt the icing, quickly ice the damn thing, work out how to use my new photographic lights since by this time it's midnight and there ain't no natural light left, try and remember where the hell I had put my camera lenses then snap snap snap until I was falling asleep at the tripod. Thank goodness I had Luke around to see to the baby's every whim otherwise the butter would have got to room temperature like last weekend and then... well that was as far as I got – no cake.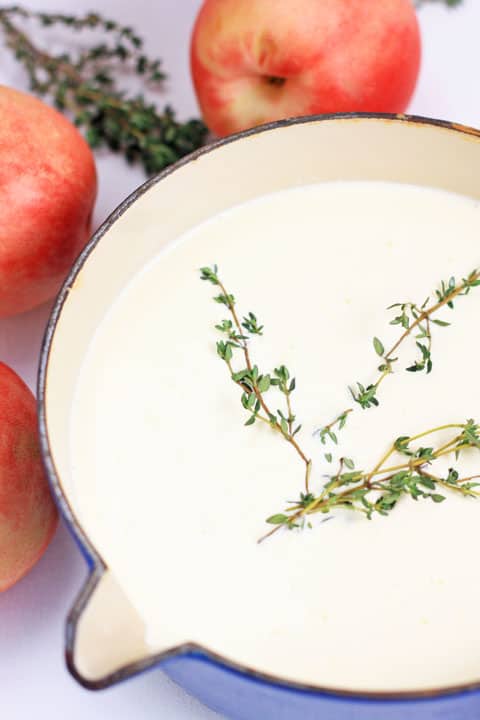 This was only the first hurdle to overcome though as I followed this up with a full week of snatched moments to take the photos off the camera, wang them up on the laptop, make them presentable and finally furiously scribble a few words down. Honestly a lack of sleep means I can barely finish a sentence in real life with the best of intentions so how I thought I would coherently ramble on here for a few paragraphs is anyone's guess. Seriously, I'm probably spewing rubbish – I have no idea. Still, I have done it – yay!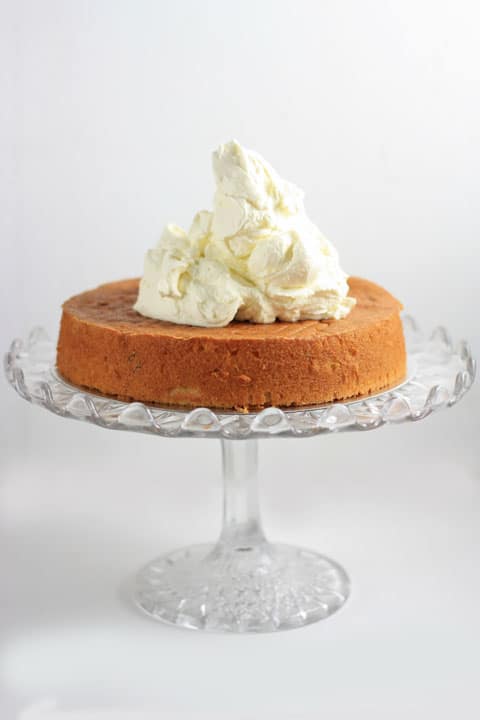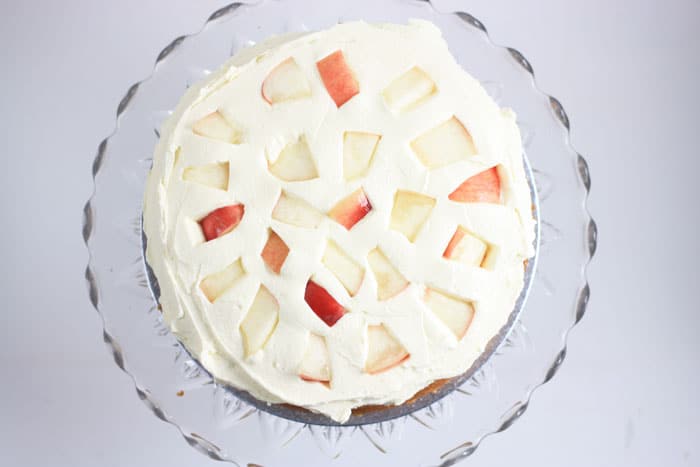 Now, I'm no stranger to cake but being a new mum seems to marry up entirely with stuffing yourself with as much cake as humanly possible at all hours of the day and night. I'm fully aware by the way that this may just be my own personal experience. Getting up for night feeds goes hand in hand with a huge wodge of cake at my side channelling the sugar directly to keeping my eyelids open and my baby at bay. So I have made and eaten, bought and eaten and also been brought and eaten an awful lot of cake these past few months. Therefore it seemed that no other recipe would be right to celebrate my first post après baby with a cake recipe. Plus I always astound myself that with the amount of cakes I usually bake every week that so few of my creations have ended up on the blog. This is definitely something I am planning on rectifying my friends. Far too many of my favourite bakes have been given short shrift with nary a mention on here.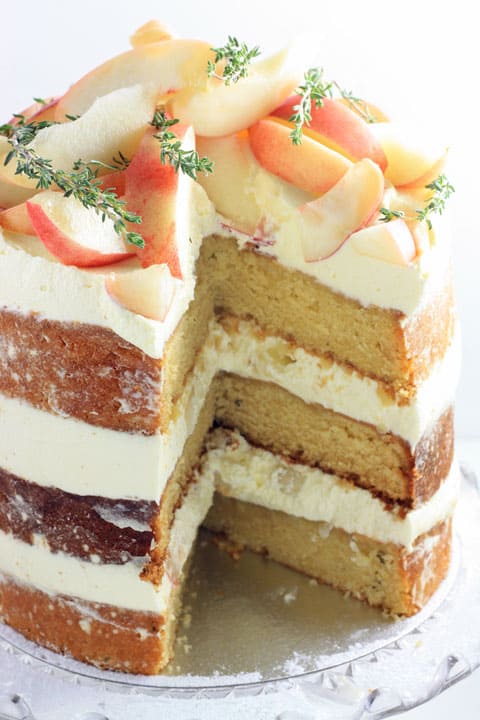 I have loved baking and eating this cake in particular as it has been a divine extravaganza. A late summer blowout, if you will, in the most precious of ways.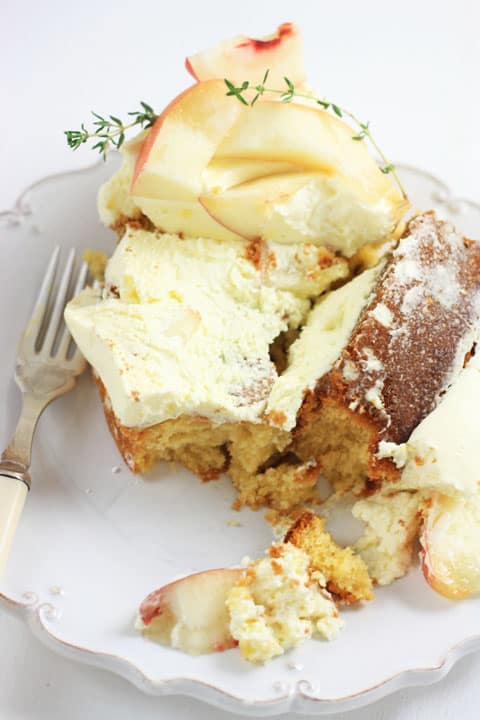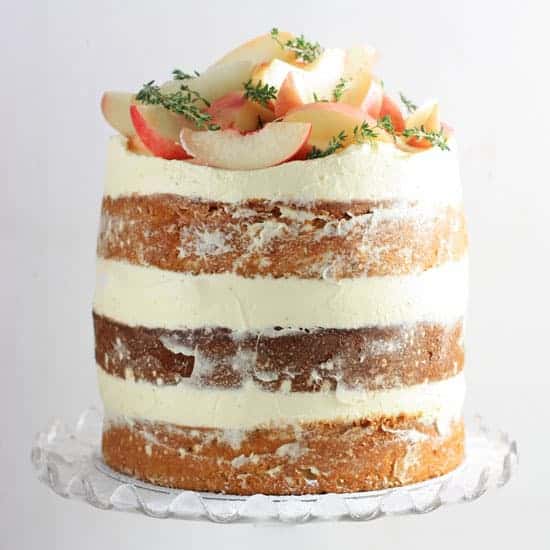 White Nectarine Thyme Limoncello Cake
Lemon and thyme buttermilk sponge, pillowed together with a fresh thyme and limoncello laced mascarpone cream and loaded with sweet juicy white nectarines.
Ingredients
300

g

unsalted butter

-

at room temperature

460

g

caster sugar

6

eggs

1

tablespoon

vanilla extract

Zest of 1½ lemons

1

tablespoon

heaped thyme leaves

230

g

gluten-free flour

-

I use Doves Gluten-Free Plain Flour

230

g

ground almonds

1½

teaspoons

baking powder

1

teaspoon

bicarbonate of soda

¾

teaspoon

sea salt

300

ml

buttermilk

1

tablespoon

limoncello

4

white nectarines

-

cut 2 of them into cubes and 2 of them into thin wedges
Limoncello Thyme Cream:
1200

ml

double cream

Large sprig thyme

500

ml

mascarpone

5

tablespoons

icing sugar

4

tablespoons

limoncello
Instructions
Preheat the oven to 170°C and line and grease 3 x 9 inch round cake tins.

Beat together the sugar and butter until pale, light and fluffy.

Add the eggs one at a time, beating on a low speed.

Add the vanilla extract, lemon zest and thyme leaves and stir in.

Sift the flour, baking powder, bicarbonate of soda and salt together.

Add the flour alternately with the buttermilk, adding the flour in three additions and the buttermilk in two (begin and end with the flour), scrape down the sides of the bowls as needed and mix until just combined.

Pour the batter equally across the cake tins and bake for about 35 minutes until an inserted cocktail stick comes out clean.

Once the cakes have been removed from the oven and taken carefully out of their tins, brush the limoncello over the top of the sponges then leave to cool.

Pour the double cream into a large saucepan along with the sprig of thyme. Heat until the cream is just starting to think about boiling then remove from the heat. Let the thyme infused cream cool in the fridge until cold (or overnight if you wish).

Remove the thyme from the cream and whisk until the cream forms soft peaks.

Add the mascarpone, icing sugar and limoncello and mix together until combined, the cream will probably stiffen up a little more but be careful not to overmix.
Assembly:
Place the first cake layer on a cake board then slather the cream generously over. Press half of the cubed nectarine into the cream then once you have filled your layer smooth over a little more cream on top.

Add the second layer then repeat with the cream and nectarine.

Add the third layer and slather over the rest of the cream, decorating the top with the nectarine wedges and thyme sprigs.

For the naked cake effect, just smooth the cream billowing out of the sides of the cake layers using a palette knife.
Notes
This cake was originally published as a non-gluten-free cake. If you would like to use non-gluten-free ingredients then substitute the amount of flour and ground almonds for 460g plain (AP) flour instead.
Nutrition
Calories:
679
kcal
Carbohydrates:
43
g
Protein:
9
g
Fat:
54
g
Saturated Fat:
30
g
Trans Fat:
1
g
Cholesterol:
190
mg
Sodium:
215
mg
Potassium:
178
mg
Fiber:
3
g
Sugar:
30
g
Vitamin A:
1814
IU
Vitamin C:
2
mg
Calcium:
150
mg
Iron:
1
mg
Have you tried this recipe?
Head to the comment section and let me know what you think!