This post contains affiliate links. Please read my disclosures.
This Sweet Potato Chocolate Truffle Torte is so decadently delicious you won't believe that it is dairy-free, flourless and refined sugar-free.
Sweet Potato Chocolate Truffle Torte will become your new dessert life-saver. It is made with seven ingredients, beaten together in one bowl and only takes 20 minutes in the oven. To really get you interested though I should also mention that it is dairy-free, flourless and refined sugar-free so should suit a lot of dietary restrictions you've placed on yourself this January. Basically what I'm saying is you can cheat and have dessert.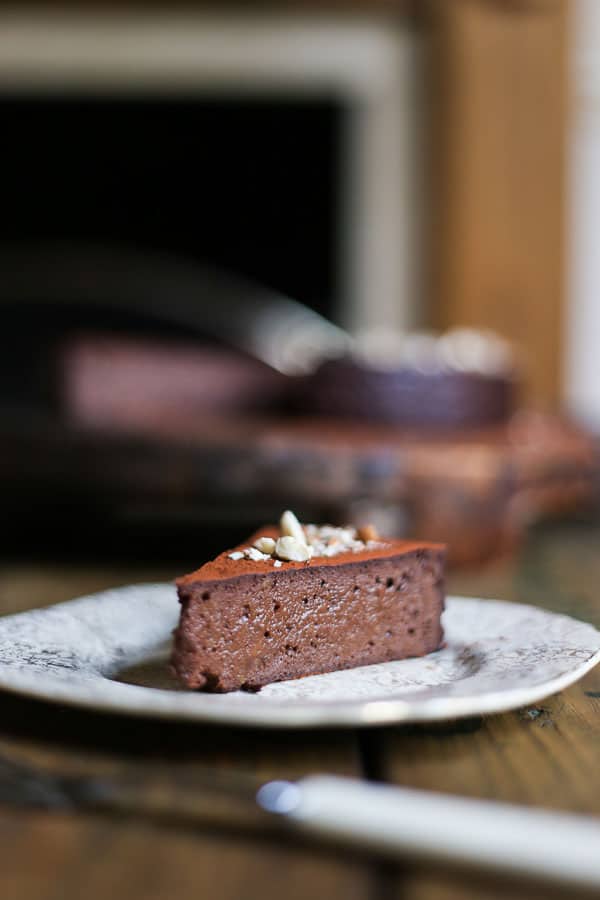 Baking and eating this Sweet Potato Chocolate Truffle Torte may not shrink your dress size, as let's face it this is dessert but it's a better choice than most. Since it is made without any refined sugar then one small wedge, served with a dollop of maple syrup sweetened whipped double cream or coconut cream hits the spot and doesn't leave you craving more. Until the next night after dinner when you remember you still have a slice left and you had better eat it as it will only sit there taunting you until you cave in.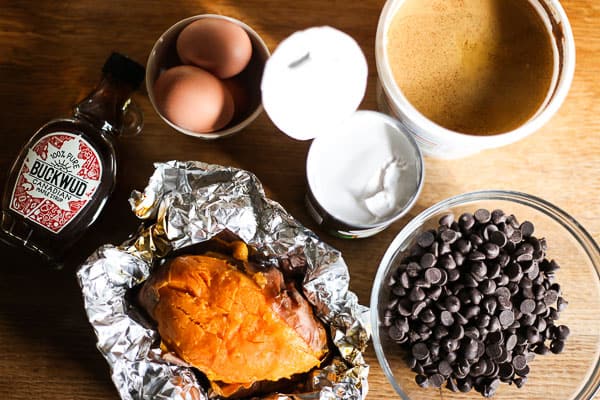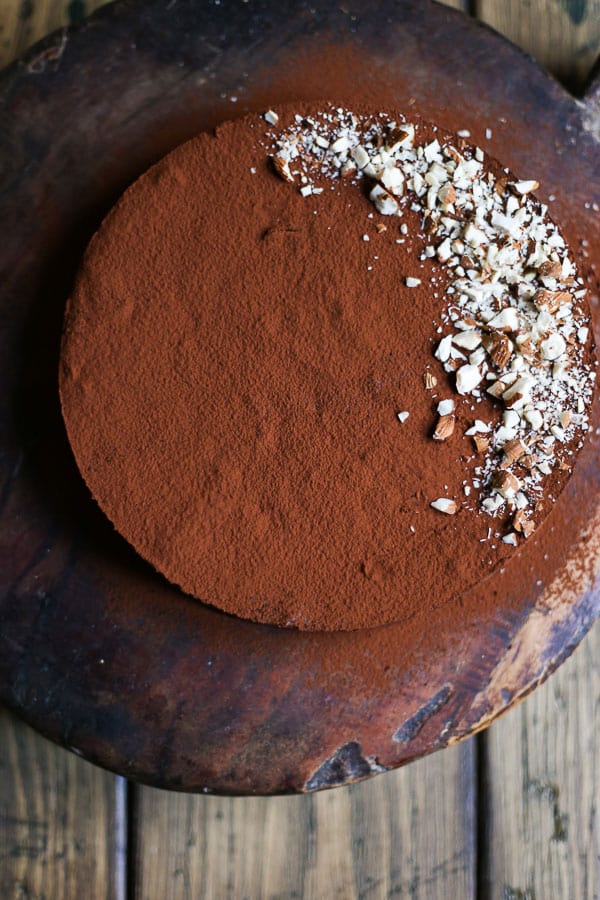 I can't remember what recipe I was trying to achieve when I developed this one, I think some sort of sweet potato chocolate brownie and what came out of the oven was this, so much better than what I had intended. I have now made it several times since on purpose and it bowls over anyone who cares to try it. Although I have yet to find anyone to refuse.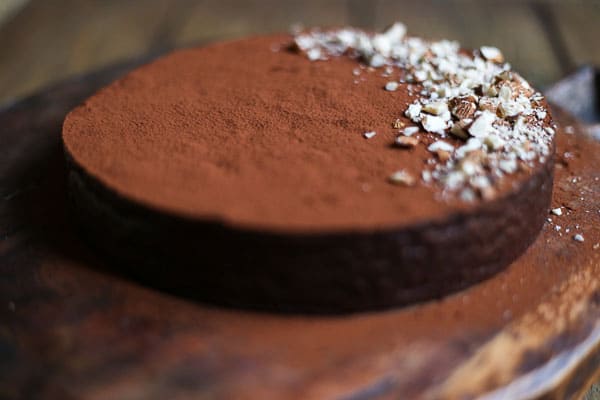 The consistency is very mousse like when it first comes out of the oven but if you leave it to cool then it settles into a fluffy truffly slice of chocolate heaven. You can't taste the sweet potato as such but it certainly gives the torte an amazingly rich texture and forgoes the need for any flour. It feels so decadent and sophisticated but is such a cinch to throw together. Ideal if you are looking for a dessert shortcut or you think you can't make a fancy dessert and you need to impress. Remember Valentines Day is just a stone's throw away.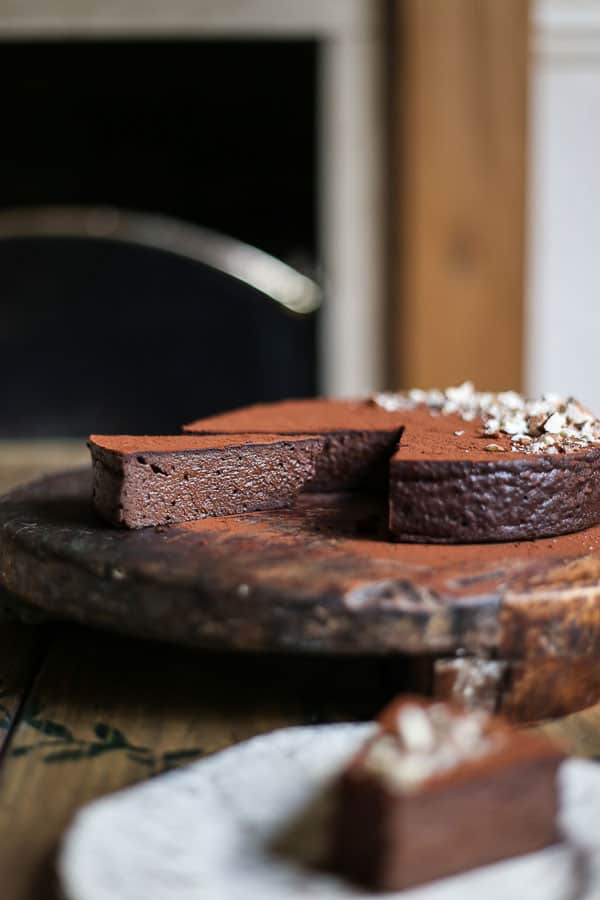 The only stumbling block for you may be that you don't have sweet potato puree just sitting around your fridge. I do, pretty much every day, but please don't hate me for it. Just before I arrange my weekly shop I delve into my sweet potato stash sitting on my kitchen work-top and wrap whatever potatoes are left individually in tin foil and bake in the oven until the potatoes are soft. I then scoop out the flesh which has pretty much turned into sweet potato puree by this stage and stash in the fridge until I find a purpose for them. To keep things simple you can re-heat the sweet potato puree in a saucepan with a good knob of butter and mash with a fork for a quick accompaniment to dinner. However, one of my favourite ways to use leftover sweet potato puree is to whisk into a couple of eggs with feta and kale and cook in a small omelette pan to make a very easy tortilla. Also let's not forget about Happiness Bread which is one of my favourite ways to start the day. So have I convinced you that you need to keep a stash of sweet potato puree on hand yet? I have? Fantastic.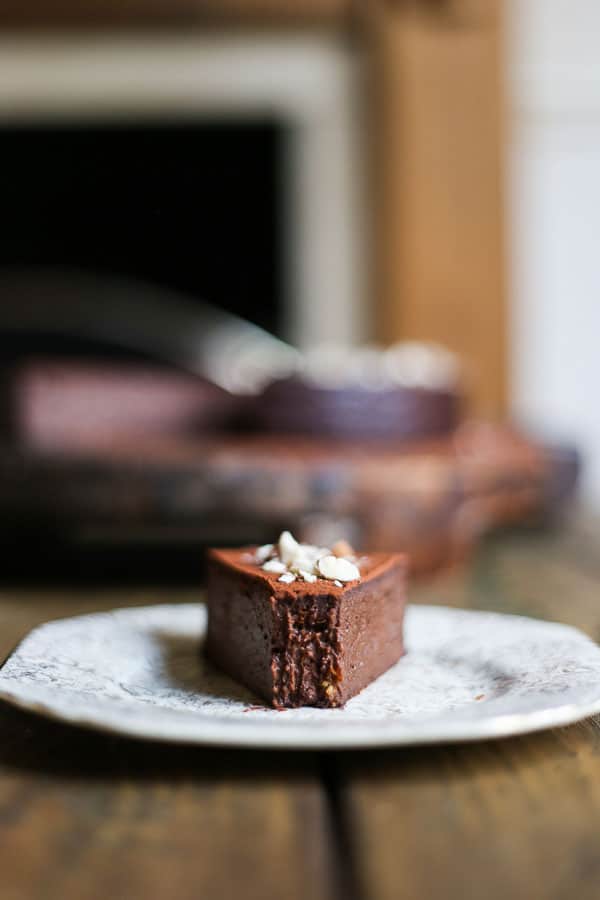 So now that you have your sweet potato puree happily residing in your fridge you have absolutely no excuse not to make this exceedingly simply yet uncompromisingly delicious Sweet Potato Chocolate Truffle Torte. However, if pre-preparing the sweet potato puree is never going to happen for you then feel free to use tinned pumpkin puree. I won't tell.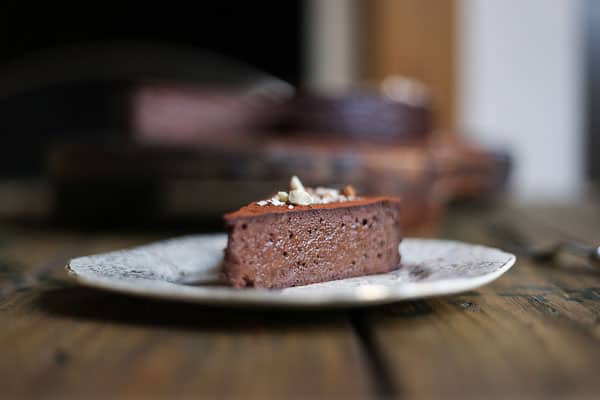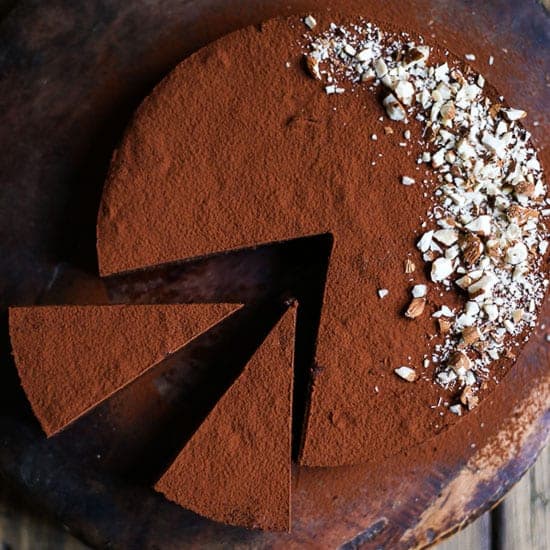 Sweet Potato Chocolate Truffle Torte
This Sweet Potato Chocolate Truffle Torte is so decadently delicious you won't believe that it is dairy-free, flourless and refined sugar-free.
Ingredients
300

g

70% dark chocolate

200

g

coconut milk

150

g

sweet potato puree*

100

g

almond butter

3

eggs

75

ml

maple syrup

½

teaspoon

salt
Instructions
Pre-heat the oven to 160°C and line and grease an 8 inch round cake tin.

Melt the chocolate in a bain marie or a bowl set over a saucepan of simmering water, then pour into a large mixing bowl.

Add the rest of the ingredients and beat until well mixed.

Pour into the prepared cake tin and bake for 20 minutes.

Remove from the oven and let cool in the tin for 10 minutes before turning and leaving to cool completely before serving.
Notes
*Prepare the sweet potato puree by wrapping whole sweet potatoes in tin foil, placing them on a baking tray and baking them for about 45 minutes (depending on the size of your potato). Use a tea towel to help you gauge when they are ready by protecting your hands from the heat as you press down lightly on the surface of the tin foil. They are ready when the potato within feels soft to touch. Remove the potatoes from the oven, leave to cool before unwrapping and scooping out the potato flesh. Stash the flesh in the fridge until ready to use.
*You can also use tinned pumpkin puree instead of the sweet potato puree.
*Serve with whipped double cream or coconut cream (if you want to keep it dairy free) sweetened with a little maple syrup.
Nutrition
Calories:
416
kcal
Carbohydrates:
30
g
Protein:
8
g
Fat:
29
g
Saturated Fat:
14
g
Cholesterol:
62
mg
Sodium:
187
mg
Potassium:
549
mg
Fiber:
5
g
Sugar:
16
g
Vitamin A:
3705
IU
Vitamin C:
4
mg
Calcium:
102
mg
Iron:
6.1
mg
Have you tried this recipe?
Head to the comment section and let me know what you think!