These Brazilian Cheese Rolls are crisp on the outside, chewy in the middle and utterly irresistible. They are naturally gluten-free as a complete bonus since they are made with tapioca flour.
These Brazilian Cheese Rolls have been on my to-bake list for a couple of years now, ever since my days at Tottenham Green Market where I would begin every market with a freshly baked 'cheese snack' (as they called them) from the Portuguese bakery stall Silmar's Taste. I never have any time for breakfast on market days and I was addicted to these rolls. I would get one, two or maybe more for breakfast and snacking throughout the day.
Then I changed markets to Stroud Green Market and blow me if these cheese rolls were not back in my life again but under a different guise. I am not understating it when I say that The Chef is Home at Stroud Green Market does the best burgers I have ever tasted. And they do a gluten-free option thanks to these amazing rolls. To be honest, I think it's the rolls that make them my favourite burgers.
Unfortunately I won't be attending the market every week for the next few months as a trader due to my burgeoning bump so I bit the bullet and finally made my own Brazilian Cheese Rolls. Gosh darn by golly wow, why haven't I made them sooner? The first 'test' batch I made I ate in one sitting. Please, I'm pregnant, forgive me. Also, don't remind me when I'm slogging my guts out in a few months time trying to shift the baby weight. So I guessed the recipe was pretty spot on from the off, although it doesn't mean I haven't made them most days over the past couple of weeks just to make sure.
These rolls are perfect directly from the oven, eaten by themselves. They are ridiculously addictive. Crisp on the outside, cheesy and chewy in the middle. The only flour they use is tapioca flour and here the flour shines, giving the rolls their unique texture and lightness but with a lovely crisp exterior. They are not like your average bread roll and Silmar's Taste were very clear that they shouldn't be associated with bread at all, they have their own identity. But really these rolls are so versatile. Here I have made them nice and big, burger roll size so I can make my own gluten-free burgers (more on those in my next post). However, the more traditional way to make them is just to spoon the dough in small amounts onto a baking tray for small bite sized rolls. If you do it that way then they really only need 15 minutes in the oven. You can mix up the cheeses, add stronger and different cheese. I used a mixture of mozzarella and cheddar as I didn't want to the cheese to be too powerful as I like to use these rolls with fillings.
These Brazilian Cheese Rolls are really quick and easy to make, unfortunately even quicker and easier to eat and I really encourage you to give them a go whether you're gluten-free or not. I cannot stress how good these bad boys are.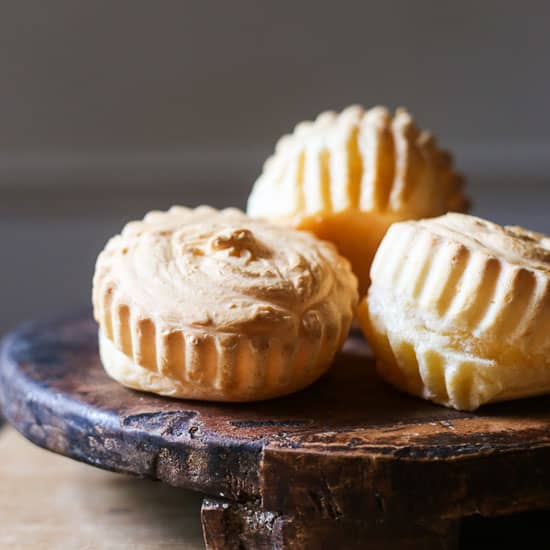 240

g

tapioca flour

150

ml

whole milk

60

ml

water

3

tablespoons

mild and light olive oil

1

egg

lightly beaten

1

teaspoon

salt

80

g

mozzarella cheese

cubed

40

g

cheddar cheese

grated
240

g

tapioca flour

150

ml

whole milk

60

ml

water

3

tablespoons

mild and light olive oil

1

egg

lightly beaten

1

teaspoon

salt

80

g

mozzarella cheese

cubed

40

g

cheddar cheese

grated
Pre-heat oven to 180°C fan.

Grease 4 x 10cm tart tins*

Place tapioca flour into a stand mixer or large bowl.

Pour milk, water and olive oil into a saucepan and bring to a boil.

Remove the saucepan from the hob and pour the hot liquid over the tapioca flour. Beat the mixture on medium-high speed for about 10 minutes until very sticky and cooled.

Add the egg and salt and beat in for a couple of minutes until the mixture is glossy and smooth.

Add the mozzarella and cheddar a little at a time until completely mixed in.

Using a spoon, divide mixture into 4 greased tart tins and bake for 25-30 minutes until golden.

Remove the rolls from the tins straightaway onto a cooling rack.
*It is not imperative to use tins to bake these rolls, you can just spoon the mixture and bake them directly onto a baking tray lined with greaseproof paper but it does ensure the rolls achieve the desired size.
*The rolls are delicious eaten directly from the oven and should really be eaten the same day. You can wrap them in foil once cooled and enjoy them the following day too but they get stale quite quickly.
*Recipe adapted from Olivia's Cuisine and BBC Good Food
If you like this recipe then you may like…