Pear and Cobnut Jam is one of my favourites to make during Autumn when jamable fruits are few and far between. Cobnuts are a bit like hazelnuts so if you can't get hold of local cobnuts then hazelnuts work well too.
I have so much to say but so little time. I thought that by now I would have motherhood under control, be back to regular blog posts and up and running again on my market stall but I see from the leaves changing colour outside that it's November and I don't know what is happening to the year. My baby boy is five months old today and seems to be growing before my very eyes, every day I am relegating more of his clothes to the too-small pile. He is suddenly becoming separate from me, an individual member of our family with his personality shining through his smile and his effervescent gurgling of ba-ba-ba which is the comforting soundtrack to my life.
This week we started weaning and as you can imagine it's something I have been looking forward to so much. I am convinced I am raising a mini baker or chef since food is the backbone to mine and Luke's life. Cole is being incredibly gung-ho about it after his unsure beginnings with a first taste of mashed sweet potato. Now he has also tried banana, apple and cauliflower but last night he had his favourite meal yet – carrot and swede mash which is also one of my most favourite things to eat and for the first time in his life, we ate the same dinner together.
Still I am just about pulling myself together at the moment. The seasons have come and gone taking my recipe inspiration with them but it has suddenly arrived at my favourite time of year and I have some definite ingredients that I am longing to play with. Now the baby has agreed to go to sleep at 7pm most nights, providing I am not too zombie-like after a day of singing Wind The Bobbin Up and Wheels on The Bus I may even utilise this time to my blog's benefit.
Until now I have been spending my evenings preparing for my annual preserve stall at the Stroud Green WInter Fair at the end of this month. I had high hopes of hitting a few Christmas markets this year but I have had to be realistic and have just made a select few of my favourite jams and chutneys to sell at this particular fair which is the most dear to me. Of course it's the one I help to organise on behalf of Stroud Green WI so of course I couldn't not have a stall at this most prestigious of events.
Alongside my usual homemade christmas puddings, mincemeats and chutneys I am also including this divine Pear and Cobnut Jam. Last year I didn't make nearly enough jams for my Christmas markets but this year I hadn't got my act together in time to make the most of the summer fruits so I was stuck with autumn's offerings. I remembered reading recently about a delicately flavoured pear jam and when I saw these juicy numbers sat alongside the cobnuts at our farmers' market in Ally Pally a couple of weeks ago it seemed obvious that was the route to go down.
The jam has turned out so well so I really wanted to share the recipe here. Pears have a tendency to go watery and mushy once cooked so in order to keep their structure in the jam I macerated them for a couple of days in the sugar with some apples and lemons for pectin and a fragrant hit of vanilla bean and mixed spice. The crunch of cobnuts which are added at the end of cooking are such a surprise in a jam and well worth hunting down at your local farmers' market.
This gentle amber coloured nectar tastes of wellies splashing in puddles, warm cosy evenings by the fire and Downton Abbey on a Sunday Night.
I hope it's not too long before my next post…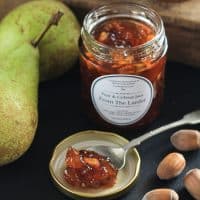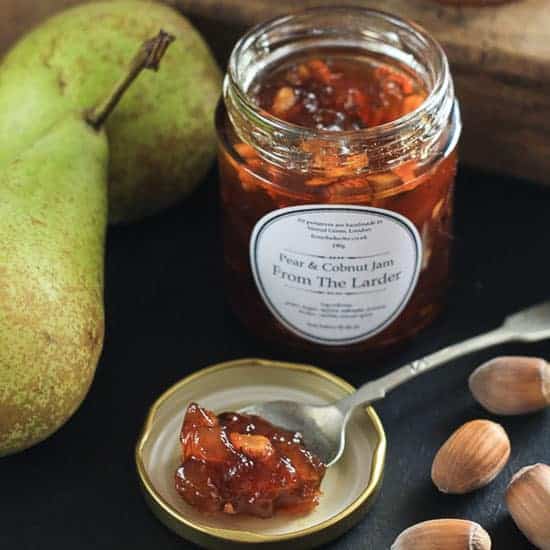 Pear and Cobnut Jam
A light fragrant jam speckled with sweet cobnuts
Print
Pin
Rate
Total Time:
2
days
1
hour
15
minutes
Ingredients
2

kg

pears

500

g

apples

1600

g

jam sugar

2

lemons

1

vanilla bean

3/4

teaspoon

mixed spice

300

g

cobnuts

1

tablespoon

butter
Instructions
Peel and core the apples and pears then dice into small pieces.

Place the fruit in a large dish and toss with the sugar, the juice of both lemons but the zest of only 1, the vanilla bean seeds, the pod of the vanilla bean and the mixed spice.

Cover with clingfilm pressed to the surface of the fruit then refrigerate overnight or up to 48 hours.

Meanwhile de-husk and shell the cobnuts and place in an oven pre-heated to 180°C for 10 minutes to toast. Leave to cool then chop roughly.

Place the pears and apples into a large preserving pan and bring to a rolling boil. Boil for 30 minutes and then test for set using the saucer wrinkle test*

Once the jam has set then stir in the chopped cobnuts and butter to disperse all the foam on the top and cook for a further minute before removing from the heat and decanting into sterilised jars.*
Notes
*The saucer wrinkle test basically requires you to put about 5 saucers in your freezer when you begin making your jam. Once you think the jam might be ready then you can double check by removing a saucer from the freezer, dropping a teaspoon of jam on it then placing the saucer in the fridge. After about 30 seconds remove the saucer and push the jam with your finger. If it wrinkles up it's ready, if it just pools back into the space your finger has left then it needs more bubbling time. Boil it another couple of minutes then turn off the heat and then test again with another saucer. *To sterilise the jars place the very clean jars you would like to use in an oven pre-heated to 140°C for 20 minutes. Sterilise the lids by dropping them into a saucepan of boiling water for 10 minutes with a splash of vinegar. I don't sterilise my lids in the oven as they tend to ruin. Yield 10 190ml jars
Nutrition
Calories:
70
kcal
|
Carbohydrates:
16
g
|
Protein:
1
g
|
Fat:
3
g
|
Saturated Fat:
1
g
|
Cholesterol:
1
mg
|
Sodium:
2
mg
|
Potassium:
79
mg
|
Fiber:
2
g
|
Sugar:
11
g
|
Vitamin A:
0.3
%
|
Vitamin C:
3.7
%
|
Calcium:
1
%
|
Iron:
1.8
%