This post contains affiliate links. Please read my disclosures.
Fleur de Sel Olive Oil Chocolate Truffles are the ultimate chocolate truffle. Rich, peppery from the olive oil, flavoured with the most delicate salt and with a crisp chocolate shell coating.
Last night I had the joy of addressing all of my lovely fellow members of Stroud Green Women's Institute about one of my favourite subjects – chocolate.
I was thrilled to be able to talk about how to make the perfect truffle, a subject for which I may be no expert but I certainly make up for it in enthusiasm. The most important aspect to making a good truffle is perfecting the ganache, which is the whipped filling inside a chocolate truffle, but can also be used as icing to adorn a glorious fudge cake. Ganache is made up of chocolate mixed together with a liquid ingredient, and the most common pairing is with cream. 250g of melted dark chocolate + 250ml double cream is the easiest ganache in the world to make. Just pop it in the fridge after you have mixed them together so they can firm up a little which will make it easier to ice your cake or roll them into truffles. You don't have to use cream in a ganache though or even dairy at all. You can make the most delicious ganache with all sorts of liquid added to the melted chocolate – fruit puree, tea, coffee, hot water infused with fresh mint. The choice is endless and that is the fun of making your own chocolate truffles.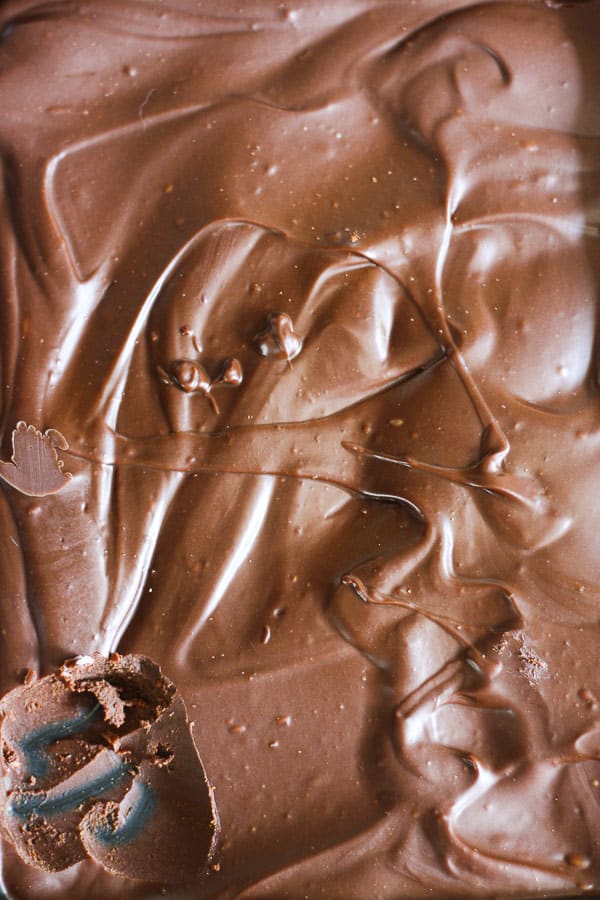 The ganache is only half the story though with truffle making. It's true that you can happily roll stiffened ganache into balls and then coat them in cocoa powder, sprinkles or spices, or even crushed biscuits to finish off a deliciously quick truffle. However, the truffle really comes alive when it is dipped into silky tempered chocolate. The truffle is then left for the tempered chocolate to harden around its soft centre. I have written a post about tempering chocolate here so if you are unsure of what the hell I'm talking about then this is the place to go.
The evening at the WI came together really well and we all got down and dirty with chocolate. We learnt all about where chocolate comes from, how it is made, all the various kinds of chocolate you can buy, what their cocoa percentages mean and most importantly what they all taste like. Getting everyone to taste the Valrhona's Dulcey chocolate which I was experimenting with earlier this year, was particularly fun with the consensus being that it was just expensive Caramac.
Then we came to the truffle making. I have a few ganache recipes up my sleeve that I have kept meaning to write about, then every time I go to blog about them, somehow they never make it to the picture stage. My most favourite of which is my fleur de sel and olive oil truffles. Guys – it's happening today. These truffles have been doing the rounds with my friends and family for months now and I have had the best comments from these truffles than anything I have ever made. Those that have been asking for the recipe and to which I have assured them that it will be on the blog soon can breathe a sigh of relief that the day has finally come, then hopefully rush off a whip up a batch.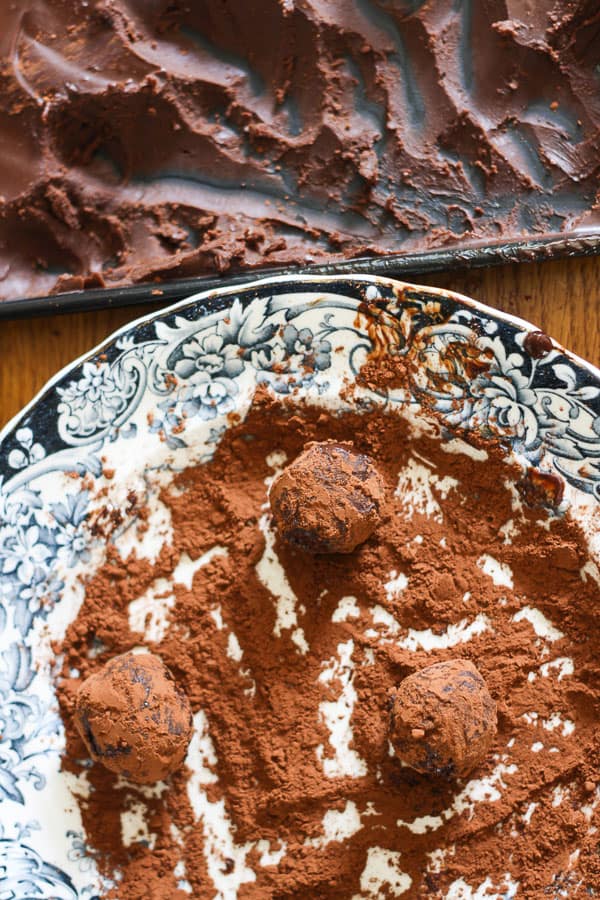 In fact I have made this ganache so many times that it has even been transported from the truffle stage and adapted for use in my favourite cake. Don't worry, the cake will come in time. Now you will just have to be placated by the glorious truffle version, which is the unadulterated way to eat this most divine of chocolates.
Fleur de Sel is just another word really for fancy salt. It hails most typically from Brittany where the salt crystals which lie on the rocks are left for the water to evaporate out, the top layer of salt crystals are then scraped off the top to become fleur de sel. It's easy to get hold of online but if you don't want to wait for the postman then a good sea salt like maldon can be used instead, just not table salt – it wouldn't be nice. The olive oil to use here should also be the good stuff and I save my best extra virgin olive oil for this very job. The olive oil is used for flavour here rather than anything else and it really does matter that you splash out a bit on this part. I get my fancy olive oil from The Italian Farmers on Stroud Green Road, a bottle of 750ml can cost about £9 but it's worth it when you try these truffles and you only need a little so it will last an age. The first time I had the combination of chocolate, sea salt and olive oil was at a tapas restaurant in Barcelona many years ago. I don't remember anything else about that meal but the memory of that sweet, salty, fruity intense combination was one of the most arresting food experiences of my life.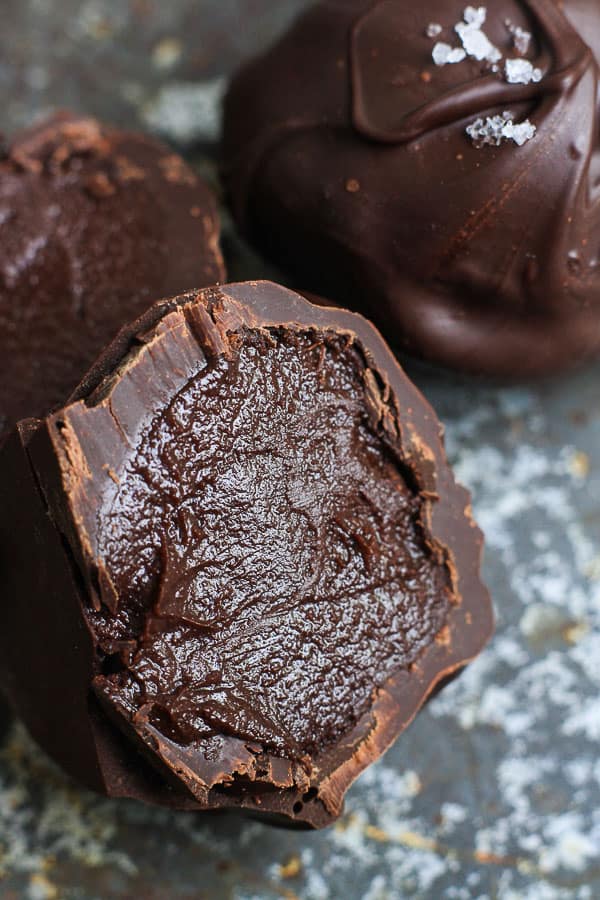 The fact that it takes about 10 minutes to knock the ingredients together for this truffle then 10 minutes to roll them out is just a boon. I went the extra haul here though and wrapped them in a snappy tempered chocolate coat and sprinkled a few fleur de sel crystals on top. That crisp shell really is worth the extra effort for the texture contrast between the initial crack of chocolate between your teeth, then the rich velvety chocolate oozing with the fruity notes of olive oil and pep of salt which rests within. The ladies in the class who dipped their truffles in the tempered chocolate definitely noted the difference and how it transforms an everyday chocolate that you make in your kitchen to something a little more professional.
Having said all of that, if you don't have time to temper the chocolate then you should by no means hold back on making the ganache and then coating them simply in cocoa powder, or even chocolate sprinkles. Believe me, they will go down with your recipients just as well.
So after having spent the past few days making copious amounts of this ganache for my chocolate masterclass, it came to my blog post today when I really wanted to talk about my fleur de sel and olive oil truffles and guess what, I still didn't have any to photograph – they had all been eaten. So what's a girl to do but make more. This time these truffles are all for you, no one is touching them before you get to see them. Although I can't promise what will happen as soon as these photos are taken.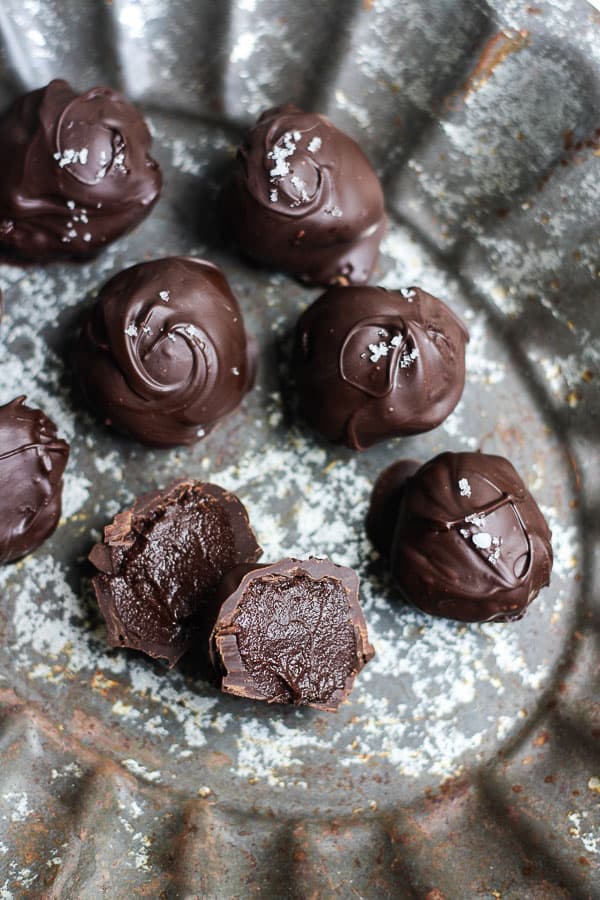 Fleur de Sel Olive Oil Chocolate Truffles
Fleur de Sel Olive Oil Chocolate Truffles are the ultimate chocolate truffle. Rich, peppery from the olive oil, flavoured with the most delicate salt and with a crisp chocolate shell coating.
Ingredients
320

g

dark chocolate

1

teaspoon

fleur de sel

270

g

whipping cream

2

teaspoon

light muscovado sugar

60

g

extra virgin olive oil

500

g

tempered chocolate or 60g cocoa powder

extra fleur de sel for decorating
Instructions
Chop the dark chocolate into small pieces, put into a large bowl with the fleur de sel and set aside.

Pour the cream and sugar into a small saucepan and bring to the boil. Stir through to make sure all the sugar is dissolved. Rest for one minute so as not to scorch the chocolate.

Pour the cream over the chocolate pieces and salt and stir together so the chocolate melts completely into the cream and turns thick and glossy.

Slowly pour the olive oil into the chocolate ganache, mixing all the while to ensure the oil is completely absorbed into the chocolate.

Rest the ganache in the fridge for 1 hour.

Remove the ganache from the fridge and shape your truffles by rolling into little balls in your hands. Each truffle should weigh about 18g so you should be able to produce about 30 truffles.

At this point you can either dust the truffles in cocoa powder or you can coat with tempered chocolate.
Nutrition
Calories:
198
kcal
Carbohydrates:
15
g
Protein:
2
g
Fat:
16
g
Saturated Fat:
8
g
Cholesterol:
13
mg
Sodium:
86
mg
Potassium:
131
mg
Fiber:
2
g
Sugar:
11
g
Vitamin A:
135
IU
Vitamin C:
0.1
mg
Calcium:
18
mg
Iron:
1.7
mg
Have you tried this recipe?
Head to the comment section and let me know what you think!