This post contains affiliate links. Please read my disclosures.
Garbage Salad is made at the end of the week to use up all the odds and ends from the fridge, supplemented by fridge staples such as salami and halloumi. No extra shopping required.
Garbage Salad has revolutionised the way I look at my fridge at the end of the week. Instead of gazing bleakly into the abyss claiming that there's nothing for supper but the dog ends of the week's eating, I can conjure up a delicious and satisfying salad in moments that everyone in the family will eat and enjoy.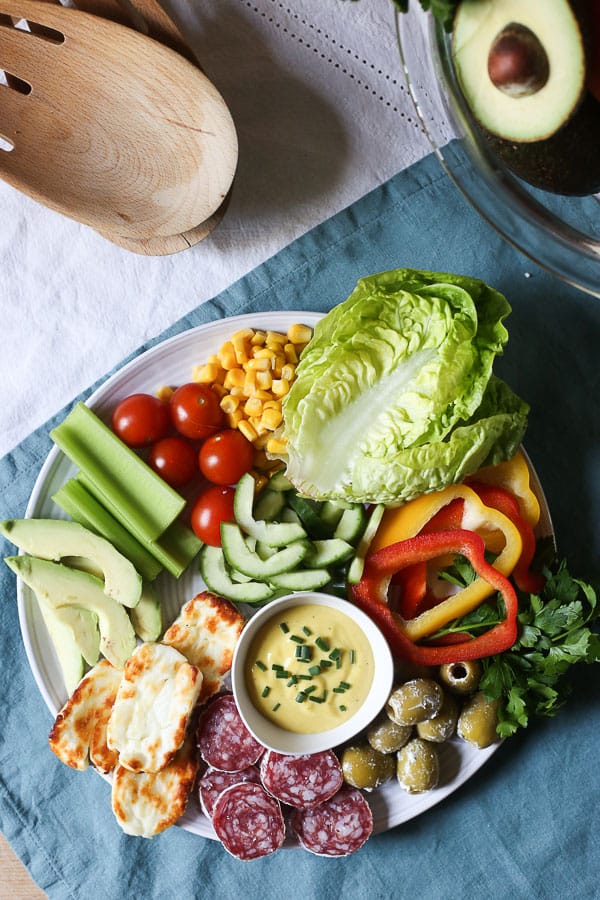 Garbage Salad began life for me when I was a wee one and my mum was trying to get me to eat more veg. She would simply cut up as much salad veg as she could, stick it in a bowl with tuna, grated cheese, salad cream, crumble crisps into it and call it Mish Mash. I would devour it. I remember clearly sitting on the kitchen counter next to her watching her prepare it whilst sneaking bits of salad and crisps.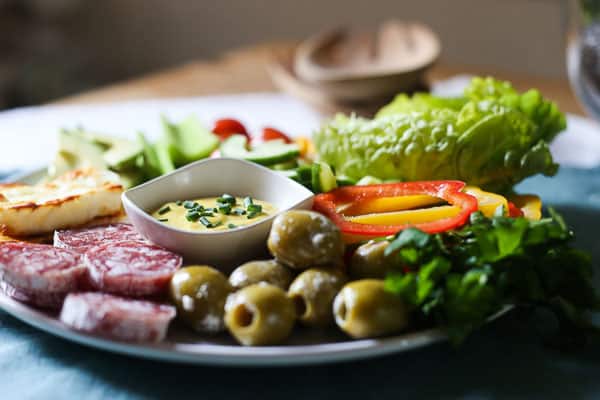 So I started making the same thing for Cole, with slight variations. Gone is the salad cream as I abhor it in adulthood, I don't bother with the crisps either as the salad is just as good without, although don't tell Cole that. What I have realised though is that he gets the majority of his salad in whilst I'm actually preparing it and it's an activity in itself. He helps make it, eats a load of healthy salad and dinner is done in the bargain. I'm telling you the child can eat his weight in yellow pepper and I'm all for it.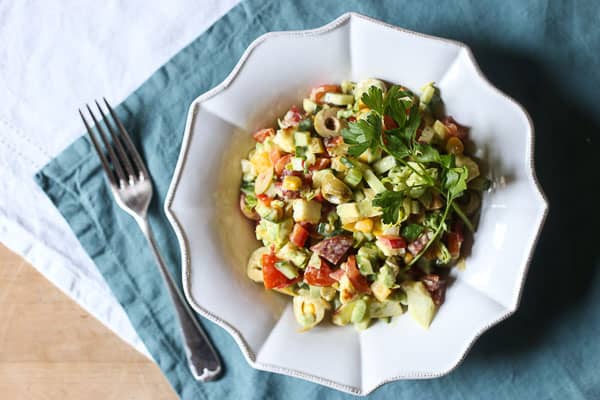 What I didn't expect since I started making it for Cole is how much nostalgia the meal would bring back and then actually how delicious it is. I've started making it for my lunches when Cole is at nursery and I'm not getting the slightest bit bored of it. The great thing is that the salad varies every time I make it as it depends on whatever odds and ends we've got hanging around the fridge. I used salami and halloumi in this particular recipe as I always keep a good supply of both in for emergency meals since they last an age unopened. If I don't want salami or halloumi then I substitute with tuna and cheddar. Or maybe bacon and feta. The dressing rarely changes since a bit of mayo, mustard and olive oil takes seconds to prepare but the other week I had some leftover Caesar salad dressing in so I used that instead and it revolutionised the meal once again.
So this recipe isn't so much a recipe but an inspiration for you to clear out your fridge at the end of the week, before the new shop arrives and make an amazing chopped salad. It makes you feel ultra organised, very healthy and is pretty damn delicious too.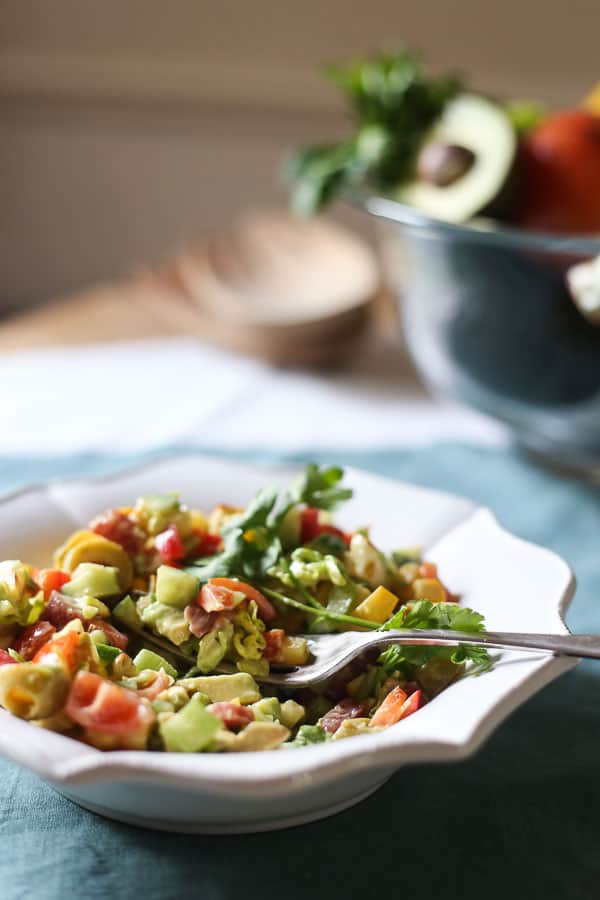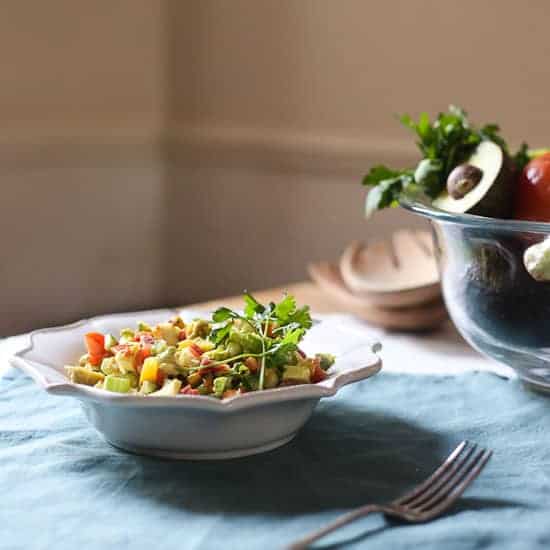 Garbage Salad
Garbage Salad is made at the end of the week to use up all the odds and ends from the fridge, supplemented by fridge staples such as salami and halloumi. No extra shopping required.
Ingredients
180

g

halloumi

-

sliced and grilled

100

g

salami

-

cubed

½

avocado

-

diced

½

little gem lettuce

-

chopped finely

¼

cucumber

-

halved, seeds removed and sliced

Handful of cherry tomatoes

-

diced finely

1

celery stick

-

diced

3

tablespoons

sweetcorn

¼

red pepper

-

diced

¼

yellow pepper

-

diced

2

tablespoons

olives

-

sliced

small handful parsley leaves

-

finely chopped
Dressing
2

tablespoons

mayonnaise

2

tablespoons

extra virgin olive oil

1

teaspoon

American yellow mustard

Pinch of salt and pepper
Instructions
Make the salad by tossing all the ingredients together in a large mixing bowl.

Whisk the dressing ingredients together then pour over the salad, mixing well with salad forks.
Nutrition
Calories:
853
kcal
Carbohydrates:
17
g
Protein:
34
g
Fat:
72
g
Saturated Fat:
26
g
Cholesterol:
45
mg
Sodium:
2472
mg
Potassium:
784
mg
Fiber:
6
g
Sugar:
5
g
Vitamin A:
1360
IU
Vitamin C:
57.5
mg
Calcium:
942
mg
Iron:
1.6
mg
Have you tried this recipe?
Head to the comment section and let me know what you think!