This post contains affiliate links. Please read my disclosures.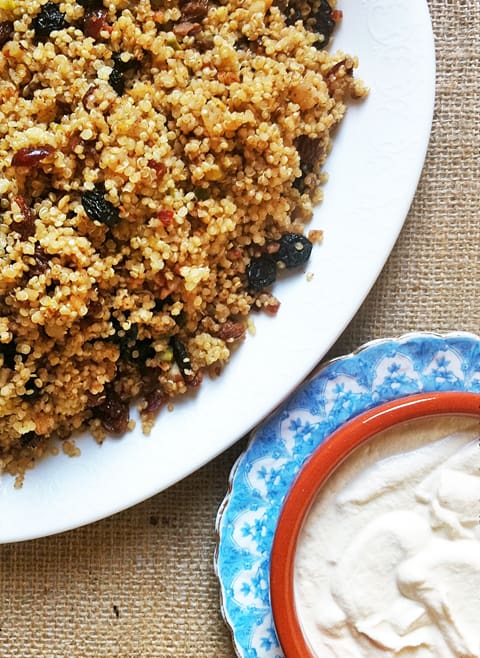 I remember when Sunday mornings were relaxed affairs, luxuriously long lie-ins garnished with the Sunday papers and lashings of tea and bacon.
Then why pray tell did my alarm go off this morning at an ungodly time only for me to leap out of bed, load myself up with iPod and trainers and forsake my duvet sanctuary.  It can only mean that I have fooled myself again into thinking I'm a pseudo sporty spice and signed myself up for some sort of unnatural activity.
The only consolation to killing yourself on a 5k race, legs going like the clappers and breathing barely going at all, is the thought of a well deserved breakfast at the finish line.  Today, I concocted a runners special, full of fabulous protein and plump sweetness topped with silky cream.  The best thing about it is that it was gluten free and dairy free in disguise.  And when even the non-runners approved I knew I was onto a winner.
This recipe is for a crowd and is easiest made the night before, ready for friends coming over for brunch the next day or to feed hungry runners.  It's also simple to scale down if you have your head screwed on and have opted to have breakfast in your duvet sanctuary.
Breakfast Quinoa with Cashew Cream
For the Breakfast Quinoa
125g dried fruit, I used a mix of sour cherries, cranberries and sultanas
1 lime
4-5 large oranges
1 pink grapefruit
250g quinoa
2 tbsp maple syrup
125g nuts, I used a mix of macadamias, pistachios and pecans
First juice one of the oranges and the lime.  Pour over the dried fruit and set aside for at least 3 hours, or overnight if you are making it the night before.
Juice the grapefruit, the other 3 oranges and measure.  For the 250g quinoa you need 500ml liquid so if there's not enough fruit juice add another orange, or top with water if it's still not enough.
Heat the quinoa with the fruit juice and maple syrup in a saucepan until it comes up to boil, stirring occasionally.  Simmer the quinoa for around 15-20 mins until the liquid has all been absorbed and the quinoa is soft but with a slight nutty bite.  If you need more liquid, just add more water.  Once ready, remove from heat and leave to cool
Meanwhile pour your nuts onto an oven tray and bake for around 10mins on 180°C, shaking them around halfway through so they don't burn.  They should be just starting to turn golden when they are ready.
Remove the nuts from the oven and leave to cool for 5-10mins.  Then either chop finely or pulse in a food processor until they are chipped into small pieces.  Set aside.
If you are making this the day before then the quinoa, nuts and fruit can be added together the next morning.  Or just wait until the quinoa is cool and mix them together there and then.  Once mixed, top with the cashew cream.
For the Cashew Cream
150g unsalted blanched cashews
1 tbsp coconut milk
125ml water to blend
1 tsp vanilla extract
1 tsp maple syrup
Cover the cashews with water and set aside to soak for at least a couple of hours or preferably overnight.
Drain the water from the cashews and tip them into a blender.  Add the coconut milk, vanilla extract, maple syrup and 2/3 of the water and blend for 30 seconds.
Scrape down the sides, pour in the rest of the water and blend for a further 30 seconds.  Check the consistency which should be like thick yoghurt and completely smooth.  Add more water if you think necessary.