This post contains affiliate links. Please read my disclosures.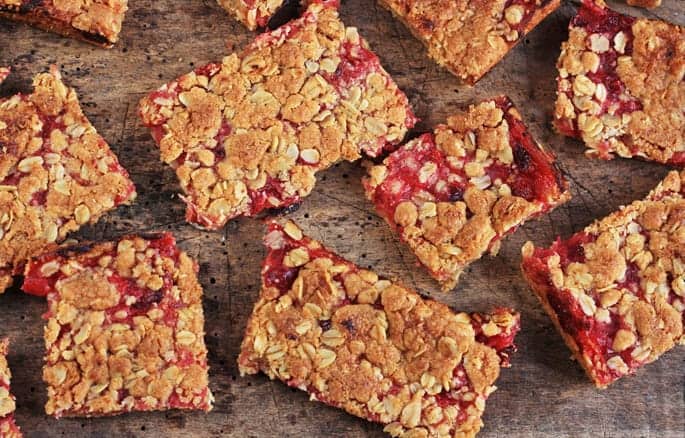 At 7.26pm a familiar crinkle of keys in the lock rouses puppy from his slumber in the corner of the kitchen. His tail begins to wag furiously as he hurls himself up and scurries into the hall. My husband opens the door with grandour and bends down to scuffle puppy's wriggling little body. Standing back up he loosens his tie and heads with long strides towards the kitchen. I watch him as he stands before the fridge, reaching up to a round tin which is perched on the top. He lifts it down giving a puzzled look, then shakes the tin which utters only hollow silence. His face crumples, "No cake?"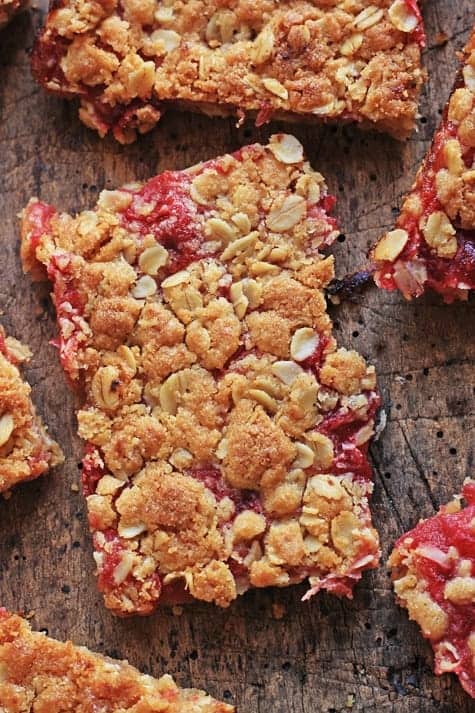 I know, it's crazy but true, since the beginning of January there has been no cake in this house and not surprisingly its absence is felt as keenly as a lost limb. Even though if at the end of December it felt like I would swear off cake, biscuits and chocolate for good, having indulged in Christmas excess. But like the sugar junkie I am I have been yanked off the wagon and thrown to the wolves. And I blame TV.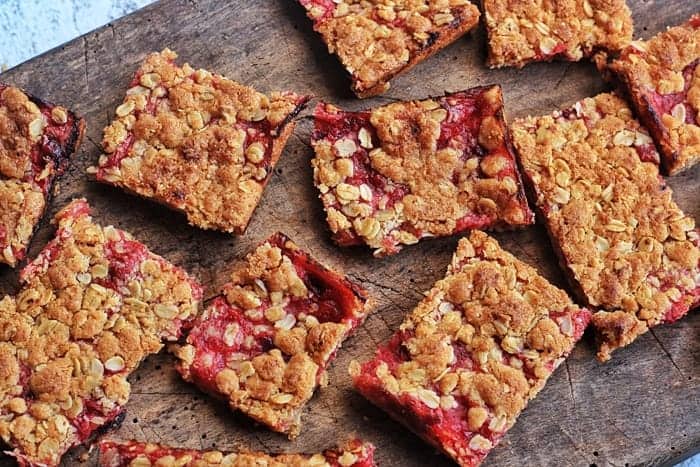 Just before hubby came home I was drifting across the food channels, avoiding anything with loud shouty men and I came across the cookery show of one of my favourite food bloggers. Now, this will come to no surprise to those who know me but I secretly like to think I'm a bit of a cowgirl. So what if I live 5000 miles away from the nearest cattle ranch, riding horses makes my bum hurt and I can't at any time be more than 15 mins away from the nearest Vietnamese restaurant. I strut down Stroud Green Road in my cowboy boots with pride. So when I started reading The Pioneer Woman's blog a few years ago, I fell in love. At the moment she has a cookery show and I love watching those vast landscapes and clear skies, imagining myself herding cattle at dawn followed by downtime in the lodge frying steaks as big as my head and whipping up peach cobblers. Ree Drummond always seems so happy and unflustered as she effortlessly fronts her own TV show, writes her blog, homeschools her children and still manages to reign supreme in her kitchen.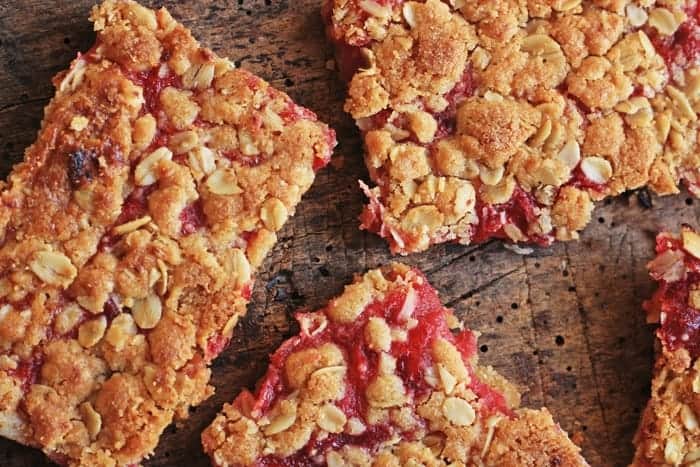 Now this blogger struggles to toilet train one puppy, barely manages a mediocre run round the block, never does her homework for writing class, always forgets at least two vitally important things from the shopping list and is constantly frustrated by the lack of workspace in my tiny North London kitchen. I might be the epitomy of fluster.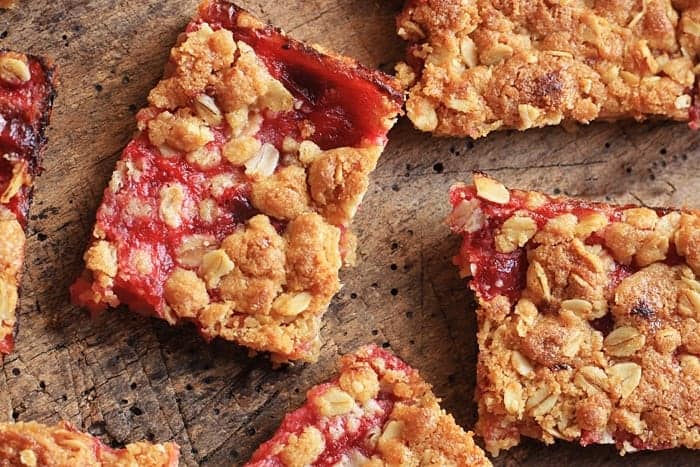 There is always one thing that calms me down though and that's getting involved in a new recipe. And these oat bars which Ree was making on her cookery programme just made me want to run into the kitchen and start mixing up a batch, mainly since I immediately foresaw them with a fluffy tart apple filling. I am on a bit of bramley apple kick at the moment, my current snack being unsweetened bramley apple sauce stirred up with a tablespoon of coconut milk for mid-afternoon fixes. It's addictive.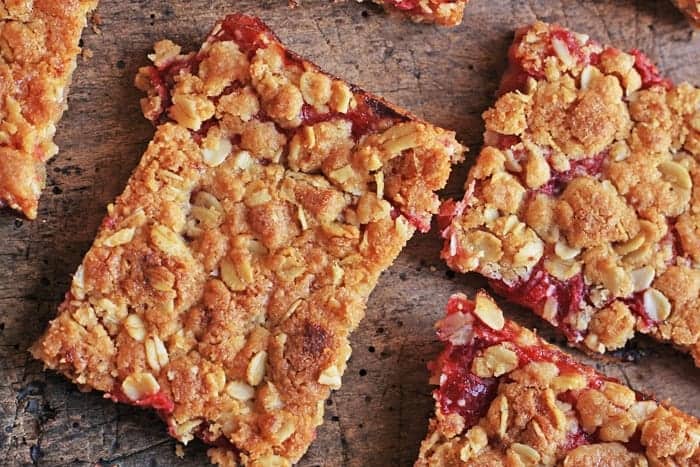 I also remembered about some leftover cranberries buried in the freezer which I am keen to use up before they become seasonally irrelevant. So I added some of those into a saucepan with the bramleys and stewed them up with just a touch of sugar. The oaty mixture encasing the fruit is packed with sweetness so balances out the slight sourness of the soft middle.
So, now my cake tin is happy. And so are the other members of the household.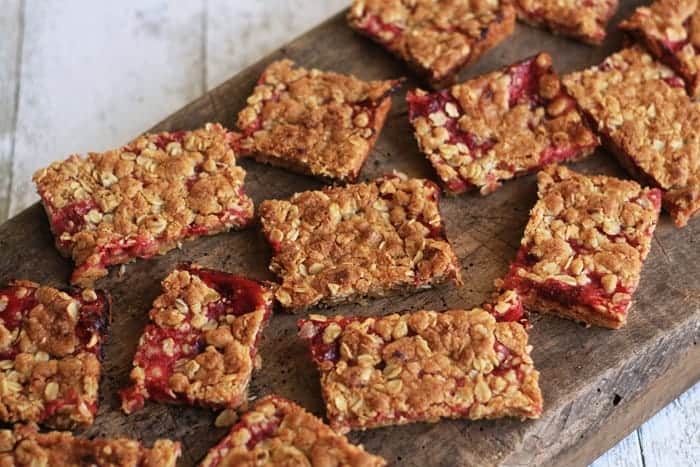 Bramley Apple and Cranberry Oat Bars
Adapted from The Pioneer Woman on the Food Network
2 medium bramley apples, about 450g, peeled, cored and diced
150g cranberries
1½ tbsp caster sugar
1 tbsp water
200g butter, at room temperature
185g plain flour
135g rolled oats
200g soft light brown sugar, sifted
1 tsp baking powder
½ tsp salt
Put the apples and cranberries in a medium saucepan with the caster sugar and water. Put the lid on and stew on a low heat for 20-30 mins, stirring occasionally until they have broken down and softened. Leave to cool.
Pre-heat the oven to 170°C and grease a rectangular baking tin 9" x 13".
In a large mixing bowl add the rest of the ingredients and rub together with your hands until everything has come together to form a light dough.
Press ½ the dough into the base of the baking tin to form an even layer.
Spread the cooled fruit on top.
Crumble the rest of the dough on the top and press down lightly into the fruit, don't worry too much about it spreading out evenly.
Bake in the oven for 20-30 mins until the top is golden brown and the fruit bubbling up.
Remove from the oven and leave to cool in the oven for an hour or so before removing from the tin and cutting into bars.