This post contains affiliate links. Please read my disclosures.
Bounty Cake is a light coconutty gluten-free sponge infused with coconut rum and filled and covered with a lush chocolate swiss meringue buttercream.
Did Bounty ever have a TV ad? If it did, I don't remember it. Does this mean that it was such a popular chocolate bar that it didn't need to advertise. The Bounty knew how amazing it was already. Adverts were for loser chocolate bars, Bounty was far too superior for that, it didn't need to tarnish itself with lame slogans and cartoon rabbits. There is a word in our house for that kind of attitude Mr Bounty, Smuggo. But it shouldn't be too complacent in its glory as I was not a big fan growing up. I think it was a chocolate bar designed for adults. I certainly remember my mum always choosing Bounties which we could never understand. Although I think this was clever planning on her part, as she could be confident that we wouldn't touch them with a bargepole. The chocolate was good but the coconut? Yuk. Give me a Boost and be done.
Now though, I'm partial to a bit of coconut (Chocolate has long been my soul mate. I love you chocolate, always be mine) which is present here four fold. This recipe includes coconut milk, desiccated coconut for that authentic Bounty taste,
coconut flour
and in keeping with the idea that Bounty is really adult terrain I have gone one better and added grown-up Calpol just to seal the deal. Malibu (although you can use any coconut rum). Which did have a commercial and a slogan which I love to sing-song with glee whenever I bring it out of the drinks cabinet 'the sun always shines when it pours'. It does, it really does.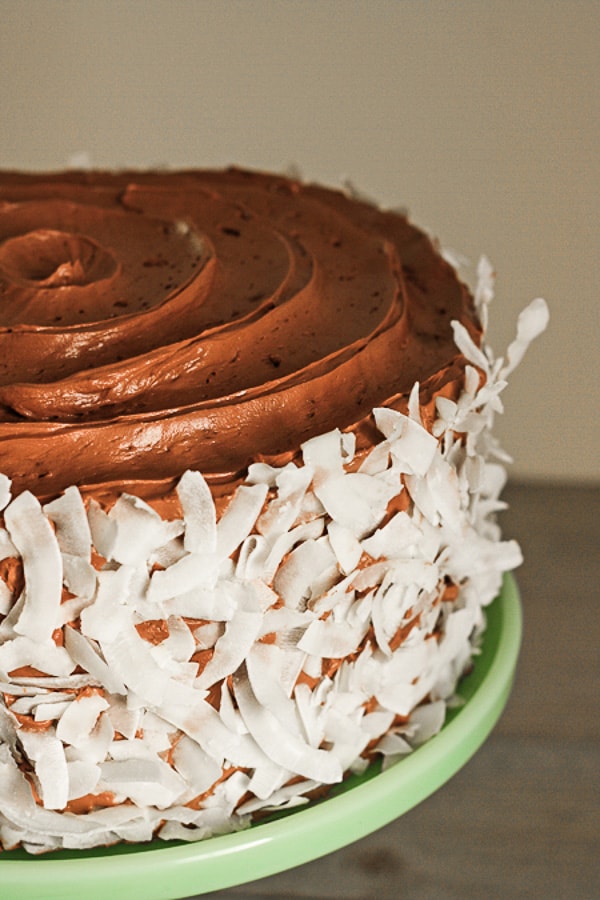 I almost didn't mention that this wonderful cake was gluten free in the title as I didn't want you to get all huffy and skip it. Please don't though as this cake has seriously passed the gluten-free haters test, namely my husband, and I would happily make this time and time again for anyone and everyone. As with the gluten-free sticky toffee cake last week the key is adding in as much extra moisture as you can. This time around, as well as the Malibu and the coconut milk in the cake batter, I used a sugar syrup which is brushed over the cake after baking. The warm sponge soaks up the delicious Malibu syrup, making the cake sticky, moist and scrumptious.
If you have never tried swiss meringue buttercream then you must have a go on your next cake. Do not be put off by the slightly complicated method, it's really quite easy. If you find normal buttercream a bit sweet and heavy then this is definitely the buttercream for you as it's the most light velvety buttercream you will ever taste. You could use fresh egg whites but since you need so many then I recommend you use Two Chicks egg whites which come in a handy carton. You only need half the carton so you can freeze the rest ready for your next swiss meringue buttercream cake as after you've tried it once you will never go back.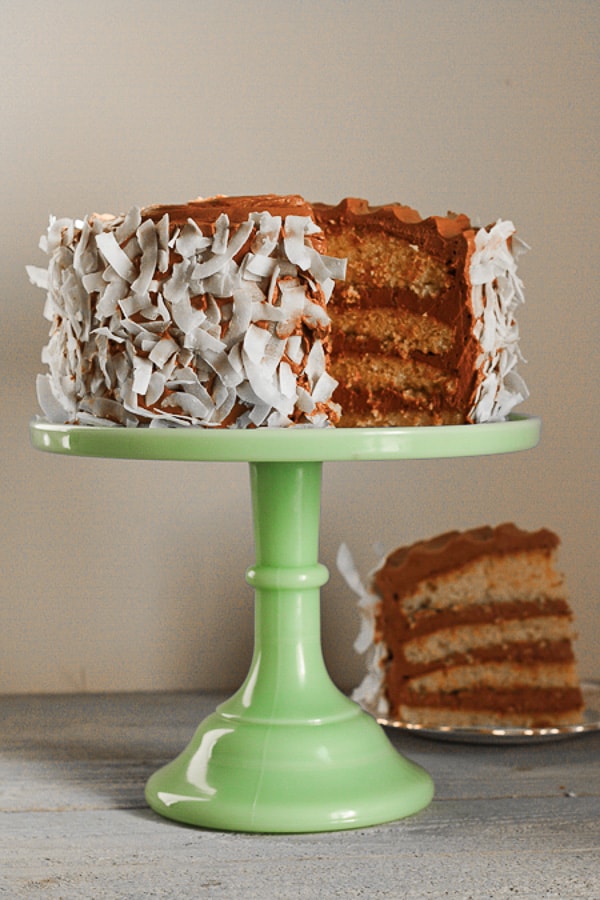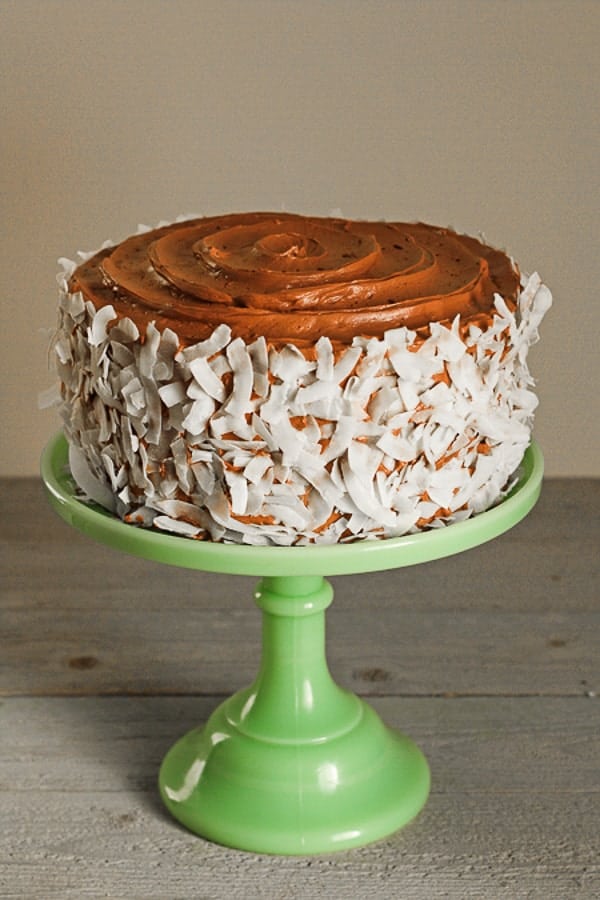 Bounty Cake (gluten-free)
Bounty Cake is a light coconutty gluten-free sponge infused with coconut rum and filled and covered with a lush chocolate swiss meringue buttercream.
Ingredients
200

ml

coconut milk

60

ml

Malibu

50

g

dessicated coconut

2

teaspoon

vanilla extract

300

g

caster sugar

300

g

unsalted butter

6

eggs

250

g

gluten-free plain flour

50

g

coconut flour

2

teaspoons

baking powder
Coconut Rum Syrup:
2

tablespoon

caster sugar

2

tablespoon

coconut rum

2

tablespoon

water
Chocolate Swiss Meringue Buttercream
8

egg whites

-

240g

400

g

caster sugar

560

g

unsalted butter

-

at room temperature, cubed

300

g

dark chocolate

-

melted then cooled.

A pinch of salt

2

teaspoons

vanilla extract

100

g

coconut flakes to decorate
Instructions
Pre-heat the oven to 180°C and prepare 2 x 8" round cake tins.

Pour the coconut milk, coconut rum, desiccated coconut and vanilla extract into a small saucepan and bring to the boil. Simmer for a couple of minutes, giving it a good stir, then turn off the heat and let sit for 30 minutes.

Cream the butter and sugar for a few minutes until light and fluffy.

Add the eggs in one at a time, don't worry if the mixture looks a bit lumpy it will come together.

Sift the flours and baking powder together.

Add the flour alternately with the coconut mixture, adding the flour in three additions and the milk in two (begin and end with the flour), scrape down the sides of the bowls as needed and mix until just combined.

Divide the cake batter between the two sandwich tins and bake for around 18-20 minutes until the cake starts to brown and come away from the sides.

Meanwhile you can make the sugar syrup. Put all the ingredients in a small saucepan and bring to the boil. Simmer for around three minutes then turn off the heat.

When the cakes are ready, take them out of their tins after five mins resting. Poke the top of the cakes several times with a cocktail stick.

Brush the sugar syrup all over the two cakes, then leave them to cool before slicing in half horizontally to make four sponge layers.

Heat egg whites and caster sugar in a bain marie, stirring constantly until the sugar has dissolved and the temperature has reached 71°C.

Remove the egg whites and sugar from the heat and pour into a stand mixer with whisk attachment. Whisk until the mixture forms stiff peaks.

Change the attachment to a paddle attachment. On a low speed add the butter slowly cube by cube. When you have almost added all the butter the mixture will look curdled. Do not fret – this is supposed to happen and just means you are nearly done. Just continue to add all the butter. Once the butter is totally incorporated the frosting will miraculously become a smooth velvety consistency.

Add the salt, the vanilla extract and the melted chocolate. Mix until thoroughly combined.

After frosting the cake, decorate with the coconut flakes.
Nutrition
Calories:
866
kcal
Carbohydrates:
69
g
Protein:
8
g
Fat:
63
g
Saturated Fat:
41
g
Cholesterol:
178
mg
Sodium:
71
mg
Potassium:
323
mg
Fiber:
6
g
Sugar:
51
g
Vitamin A:
1440
IU
Vitamin C:
0.2
mg
Calcium:
72
mg
Iron:
3.9
mg
Have you tried this recipe?
Head to the comment section and let me know what you think!