This post contains affiliate links. Please read my disclosures.
This Pecan Butterscotch Latte Cake is a gluten-free delight, the sponge flavourful with ground pecans, oat flour and muscovado sugar. The buttercream whipped to light perfection with a touch of mascarpone and all imbued with a rich coffee aroma.
I am hooked into stories. I was an early reader and would consume book after book. Now, I'm not saying these books I read were all that literary, I grew up reading a lot of Jilly Cooper. But I studied English Literature at A-Level and then Film and Literature at university so my love for fictional worlds and their impact on society continued and evolved, my life became analysing books and films for credit and I was consumed by it. Although Jilly Cooper never made the syllabus for some reason.
I get totally invested in these stories, obsessed by the characters in them and although I am not reading that much at the moment, as the mere action of picking up a book seems to summon sleep in seconds, I still watch a bit of TV. I would have professed to have left my obsessive nature of it behind though since being a mother, running my own business and paying a mortgage has really made me grow up. Then on Crazy Ex-Girlfriend this week I discovered that Greg, one of the main characters in the series, has left the show for good and I broke down and cried when the internet confirmed it. But I loved him, my nearly 36 year old self sobbed to my husband, why won't he come back.
The sadness I feel when I have to say goodbye to these characters is weird but real. In times gone by I have had to bid a fond adieu to Buffy Summers which took me years to get over, Felicity Porter and Ben Covington and not to mention the loss of Veronica Mars. In 2007 though I was struck by devastation again when I was forced by the powers that be to say goodbye to Stars Hollow, a place I had come to think of as a second home. I had heard about Gilmore Girls just after it finished airing in the US but it hadn't been on TV in the UK so I imported the first box set over on a whim. Soon I had binged the whole seven series, getting up at 6am so I could sneak in an episode before work and staying up into the early hours to get them in. I was not enjoying my job and these girls and their life was a pleasant refuge.
I shared the DVDs with my Mum and we would mail them to each other back and forth, bickering over which of Rory's boyfriends was the best (duh, Jess forever!!), how thoughtless Lorelei was being and why the hell was April suddenly on the scene. Then it was over, season seven finished a bit up in the air and we couldn't believe there wasn't any more. I scoured for any articles or a glimpse of information on another series, a movie but nothing. It was done.
In my last days of pregnancy Mum sent me the DVDs back through the post and for the first few weeks of Cole's life I re-watched the whole thing again, babe in arms, on the sofa. Too petrified to leave the house with my newborn and too tired to do anything other than nurse and watch TV. I was sure I could see his little eyes flutter every time he heard the Carol King theme tune (rolling his eyes- never!) and I would sing it to him to calm him down when he was fractious. I still do (despite his protests).
So incase you don't know, Gilmore Girls is back tomorrow. Friday November 25th a special day, and to say I am excited is to underestimate my devotion, fandom and the fact that I probably don't have a social life. It's like PI day all over again (March 14th 2014 when Veronica Mars returned to me). So this week I have done what any sane baker would do in this instance, I baked a cake to commemorate the day and I'm going to eat it all tomorrow, fork in one hand, remote in the other. Of course if you know Gilmore Girls then I had no choice but to bake a coffee cake as those girls sure do like their coffee coffee coffee. It's a Pecan Butterscotch Latte cake and I think one of the most delicious cakes I sell on my market stall so I am thrilled to find an excellent reason to share it with you.
I came up with the recipe as customers kept asking me if I did a coffee and walnut cake and although I have baked many a coffee and walnut in the past I never thought it was that special to warrant a place on the stall. So I fixed it. This Pecan Butterscotch Latte cake is truly wonderful, packed full of pecans, which are finely ground and add a really rich flavour, further impounded by the toffee taste of the light muscovado sugar and the butterscotch notes of the oat flour. The coffee powder I use is Nescafé Azera which can be used directly into the batter and icing without needing to be dissolved. It's a strong and deep coffee flavour, perfectly balanced by the sweet notes of the sponge. The icing is a traditional buttercream but made creamier by the mascarpone so you feel you are drinking a light frothy coffee. A latte if I may be so bold. It's my perfect cake for a celebration and tomorrow you betcha I'll be celebrating.
Oh, and if you too are a fan of Gilmore Girls and are as excited about the reunion as me then I hope you also know about the Gilmore Guys podcast which is brilliant and funny and excellent company for me during my baking days. You must check them out as they really make me smile.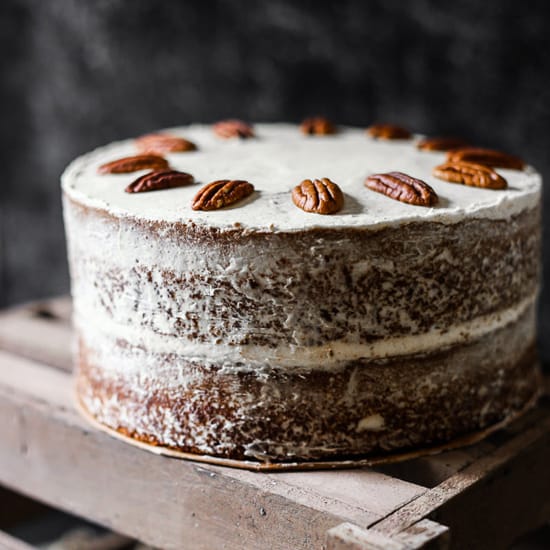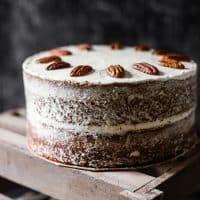 Pecan Butterscotch Latte Cake
This Pecan Butterscotch Latte Cake is a gluten-free delight, the sponge flavourful with ground pecans, oat flour and muscovado sugar. The buttercream whipped to light perfection with a touch of mascarpone and all imbued with a rich coffee aroma.
Print
Pin
Rate
Ingredients
Cake
440

g

light muscovado sugar

350

g

unsalted butter

at room temperature

5

eggs

2

tablespoons

maple syrup

1

teaspoon

vanilla extract

160

g

rice flour

50

g

oat flour

160

g

ground pecans

1½

tablespoons

coffee powder

½

teaspoon

salt

1

teaspoon

baking powder
Icing
300

g

unsalted butter

at room temperature

300

g

icing sugar

3

tablespoons

mascarpone

1

teaspoon

coffee powder

a

pinch

of salt

12

pecan halves to decorate
Instructions
Pre-heat the oven to 160°C and line and grease 2 x 20cm round baking tins

Cream the sugar and butter for a few minutes until light and fluffy.

Add the eggs, one at a time, scraping down after each addition and mix until thoroughly combined.

Then add the maple syrup and vanilla extract, mixing in well.

In a separate bowl whisk together the flours, ground pecans, coffee powder, baking powder and salt. Add it to the rest of the batter and beat well until the batter is smooth.

Divide the mixture between the two cake tins and bake in the oven for 40 minutes or until an inserted toothpick comes out clean.

Remove the cakes from the oven and carefully turn out onto wire racks to cool completely before icing.

For the icing beat the butter and sugar together for ten minutes until airy.

Add the mascarpone, coffee powder and salt and beat again until incorporated.

To assemble the cake spread the icing on one layer of the cake, enough so that the icing spills out a little over the sides. Place the second layer on top and spread some more icing evenly over the surface.

Smooth the icing which is peeking out of the middle over the sides of the cake very thinly to achieve the naked cake effect.

Decorate the top of the cake with the pecan halves.
Nutrition
Calories:
839
kcal
|
Carbohydrates:
79
g
|
Protein:
6
g
|
Fat:
58
g
|
Saturated Fat:
30
g
|
Cholesterol:
188
mg
|
Sodium:
143
mg
|
Potassium:
234
mg
|
Fiber:
2
g
|
Sugar:
63
g
|
Vitamin A:
1515
IU
|
Vitamin C:
0.2
mg
|
Calcium:
91
mg
|
Iron:
1.2
mg