This post contains affiliate links. Please read my disclosures.
These Almond Butter Fudgsicles are an easy vegan, gluten-free and refined sugar-free treat to see us through the summer months.
Like everyone experiencing this massive heatwave we are feeling a little frayed around the edges in our house. We live in a compact railway cottage in North London and at the moment it feels like a hotbox. It seems impossible to get any room cool. All curtains are drawn throughout the day, windows as wide open as can be, extravagantly purchased oscillating tower fans constantly following us around the house. Yet still our bedrooms are measuring 30 degrees at 2am. This is weather I cannot get accustomed to. Hey, I signed up for the drizzly grey weather London is renowned for. I am a firm believer that brollies should be a staple companion and one never leaves the house without the buggy rain cover and a waterproof mac.
No such luck at the moment. Our poor bay tree, the only plant I truly love and tend to in our garden has succumbed to the elements and boasts beautifully crisp brown leaves where luscious fragrant green ones used to be. However, the fault probably lies in the fact that I got involved in its wellbeing at all. It's just as well that old death fingers here had astroturf laid in lieu of a lawn a few years ago so thankfully our fake grass is thriving. Not that sitting out in the garden is an option at the moment. We spend most mornings in the park or local paddling pool and those couple of hours are enough to ensure you don't venture out for the rest of the day.
Anything cold is a godsend in our life at the moment and I'm basically living off iced tea and salads. We are going through bags of ice and cucumber like there is no tomorrow and I've really been working on my vinaigrette repertoire to ensure varied meals.
I'm trying to be more mindful in my eating these days, as I'd let laziness creep into my food choices. Turns out oatcakes with almond butter are not a valid meal choice. So when the craving for a popsicle hits both Cole and I (a daily occurrence) then I need to reach for something that aren't Tangle Twisters. Although I think they are just called Twisters these days, and not nearly as tasty as I remember either, having given into temptation a few weeks back.
These Almond Butter Fudgsicles though have been really hitting the spot and so much more satisfying than your average popsicle. Not only are they tremendously easy to bring together, merely requiring 5 minutes, a blender and a popsicle mould. But all of the ingredients, almond butter, coconut milk, maple syrup, chocolate and salted almonds are my larder staples. They might actually all be in my top ten favourite ingredients in the larder so it is no wonder that I have become quite enamoured with these Fudgsicles.
I think it tells a great deal about how simple these Almond Butter Fudgsicles are to make if I am getting the blender out a 9pm on a weekday, having only just got the children to sleep after a mammoth two hour settle from hell, dinner yet to be made and an episode of Marvel's Agents of Shield waiting in the wings.
So the fudgsicles themselves are a cinch but even the chocolate almond dip is a five minute job once the fudgsicles are frozen. Dark chocolate melted with coconut oil is a bit of a magical beast, as it freezes immediately into a hard shell as soon as it touches the fudgsicle. Meaning that you pour your coconut chocolate into a tall glass, dip your fudgsicle in and out, and then by the time you are presenting it onto parchment so you can do the next one, the chocolate is practically set. It just leaves you enough time to sprinkle in some crushed salty almonds and then you are done. I'd recommend placing them in the freezer to set nice and hard but that only takes about 10 minutes. Then they are ready for your cool down. Gosh, don't we need it.
Shop the recipe:
Ice Pop Maker - this is one of my favourite moulds to use. Very sturdy and easy to remove the fudgsicles if you run them briefly under hot water then they slide out.
If you like this recipe then you may like...
I urge you to give these Almond Butter Fudgsicles a try. If you do then please leave a comment below and give the recipe a rating which helps others find the recipe on Google. If you then go on to use this recipe as a launch pad for your own culinary creation then I'd also love it if you'd share it and tag me on Instagram. It is so lovely for me to see your versions and variations of my recipes.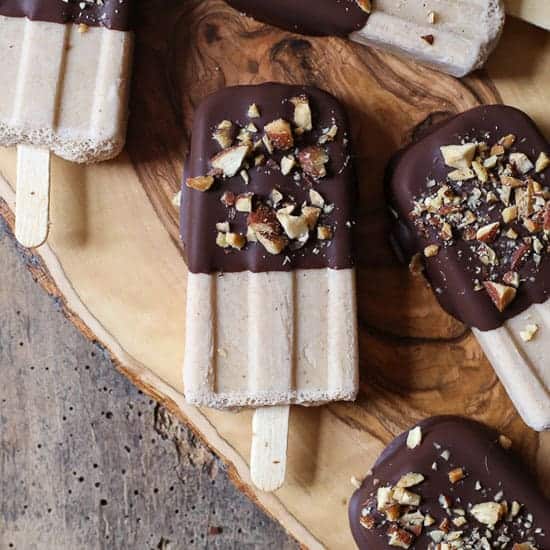 Almond Butter Fudgsicles
These Almond Butter Fudgsicles are an easy vegan, gluten-free and refined sugar-free treat to see us through this heatwave.
Ingredients
1

tin

coconut milk

-

400g

100

g

drippy almond butter

½

teaspoon

vanilla extract

50

ml

maple syrup

¼

teaspoon

salt

200

g

70% dark vegan chocolate

2

tablespoons

coconut oil

2

tablespoons

salted almonds

-

roughly chopped
Instructions
Pour the coconut milk, almond butter, vanilla extract, maple syrup and salt into a blender and whizz together until smooth.

Pour into popsicle moulds, sticking a wooden stick through each one and place in the freezer overnight to set.

Remove the fudgsicles from the moulds, running briefly under the hot water tap if they are proving stubborn, and place on a parchment lined baking tray and back into the freezer until ready to dip.

Melt the chocolate with the coconut oil in a bain marie or a metal bowl set over simmering water, then once melted pour into a glass.

Get your chopped almonds to hand.

Remove your fudgsicles from the freezer and dip in and out of the melted chocolate quickly. Place back onto the parchment lined baking tray and sprinkle with the crushed almonds.

Repeat with each fudgsicle then place back into the freezer for 10 minutes to set firm. At this point they are ready to eat or you can decant them into a more convenient sized freezer safe container until needed.
Nutrition
Calories:
288
kcal
Carbohydrates:
18
g
Protein:
5
g
Fat:
22
g
Saturated Fat:
9
g
Sodium:
79
mg
Potassium:
303
mg
Fiber:
4
g
Sugar:
10
g
Vitamin A:
10
IU
Calcium:
75
mg
Iron:
3.5
mg
Have you tried this recipe?
Head to the comment section and let me know what you think!