This post contains affiliate links. Please read my disclosures.
These Vegan Fudgsicles with Almond Butter are an easy gluten-free and refined sugar-free treat to see us through the summer months.
Jump to:
These Almond Butter Fudgsicles really hit the spot during lazy hazy summer days and they are so much more satisfying than your average ice lolly. Not only are they tremendously easy to bring together, merely requiring 5 minutes, a blender and a popsicle mould. But all of the ingredients, almond butter, coconut milk, maple syrup, chocolate and salted almonds are larder/pantry staples. They might actually all be in my top ten favourite ingredients in my own larder so it is no wonder that I am totally enamoured with these Vegan Fudgsicles.
The fudgsicles themselves are a cinch to make and the chocolate almond dip is also a five minute job once the fudgsicles are frozen.
Dark chocolate melted with coconut oil is a bit of a magical beast, as it freezes immediately into a hard shell as soon as it touches the fudgsicle. Meaning that you pour your coconut chocolate into a tall glass, dip your fudgsicle in and out, and then by the time you are presenting it onto parchment so you can do the next one, the chocolate is practically set.
It just leaves you enough time to sprinkle in some crushed salty almonds and then you are done. I'd recommend placing these dairy-free fudgsicles in the freezer to set nice and hard but that only takes about 10 minutes.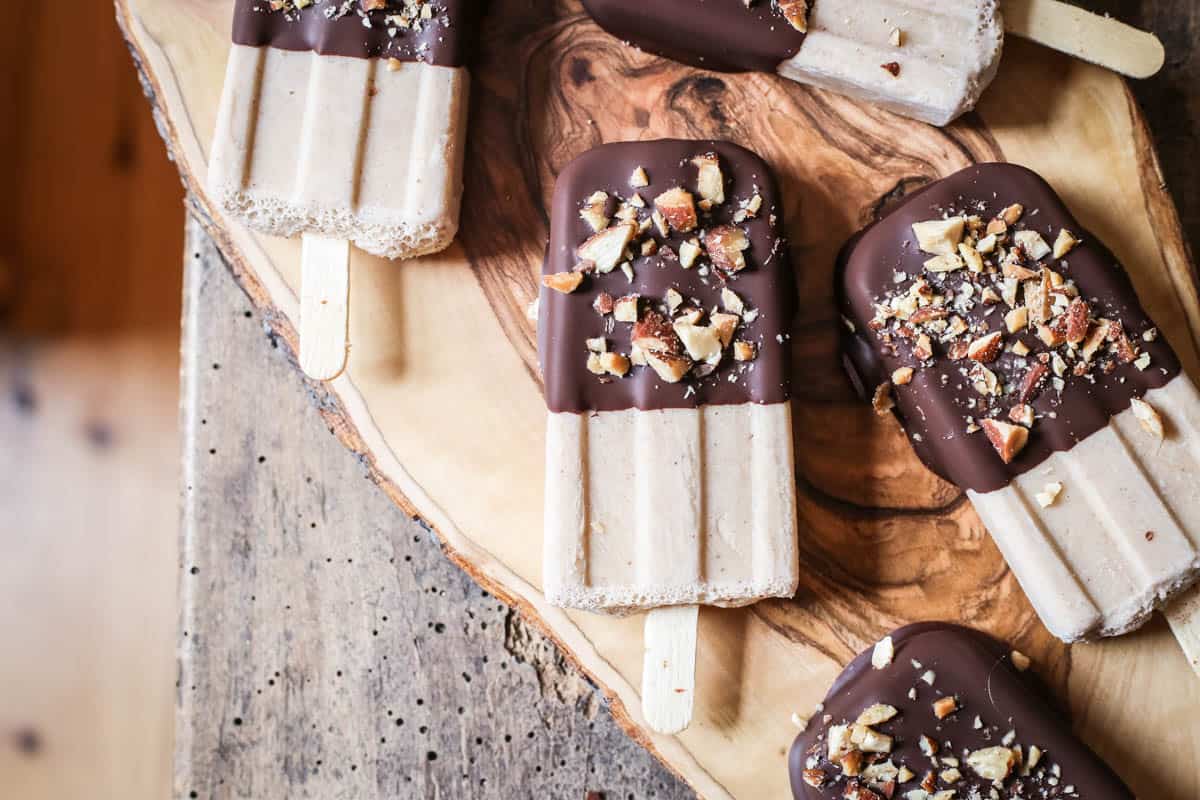 Why you'll love this recipe
Simple and quick to make -just 5 minutes in the blender.
Only 8 ingredients.
Gorgeous fudgy texture.
Lovely crackly chocolate coating.
A little salty.
Fabulous crunch from the crumbled almonds.
Refined sugar-free. Just a little maple syrup to sweeten things up.
Feels like a total treat but so much more healthy and satisfying than your usual ice lolly.
Easy to find vegan ingredients.
Naturally gluten-free.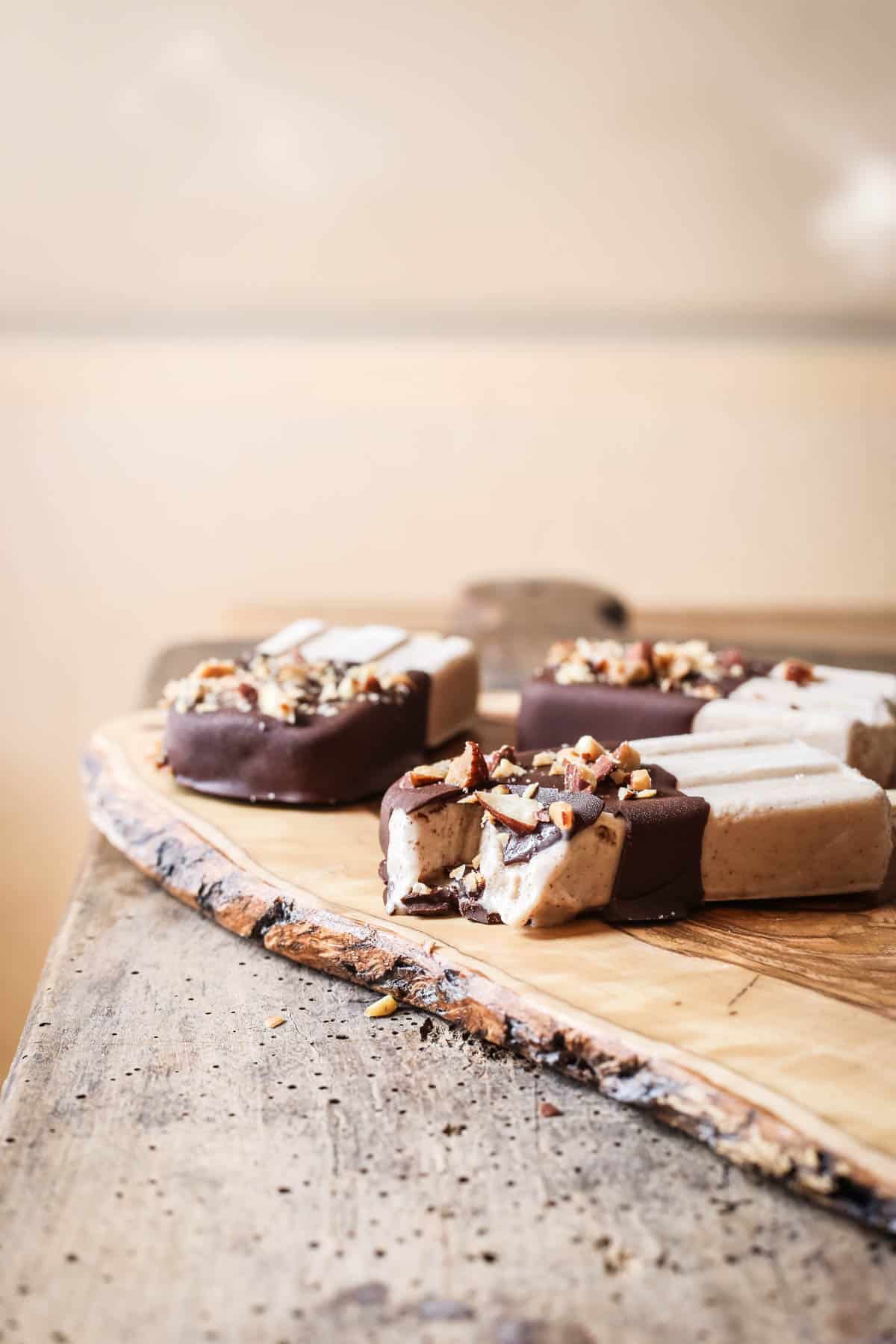 Total list of ingredients
Coconut milk (tinned)
Almond butter (make sure it's the drippy stuff from the top of the jar - not the hardened sludge at the bottom)
Vanilla extract
Maple syrup
Chocolate - dark chocolate is great here for these chocolate fudgsicles. Do check it's vegan if you need it to be.
Coconut oil
Salted almonds - these are for crumbling over the chocolate dip so they are optional but the crunch is so good.
Salt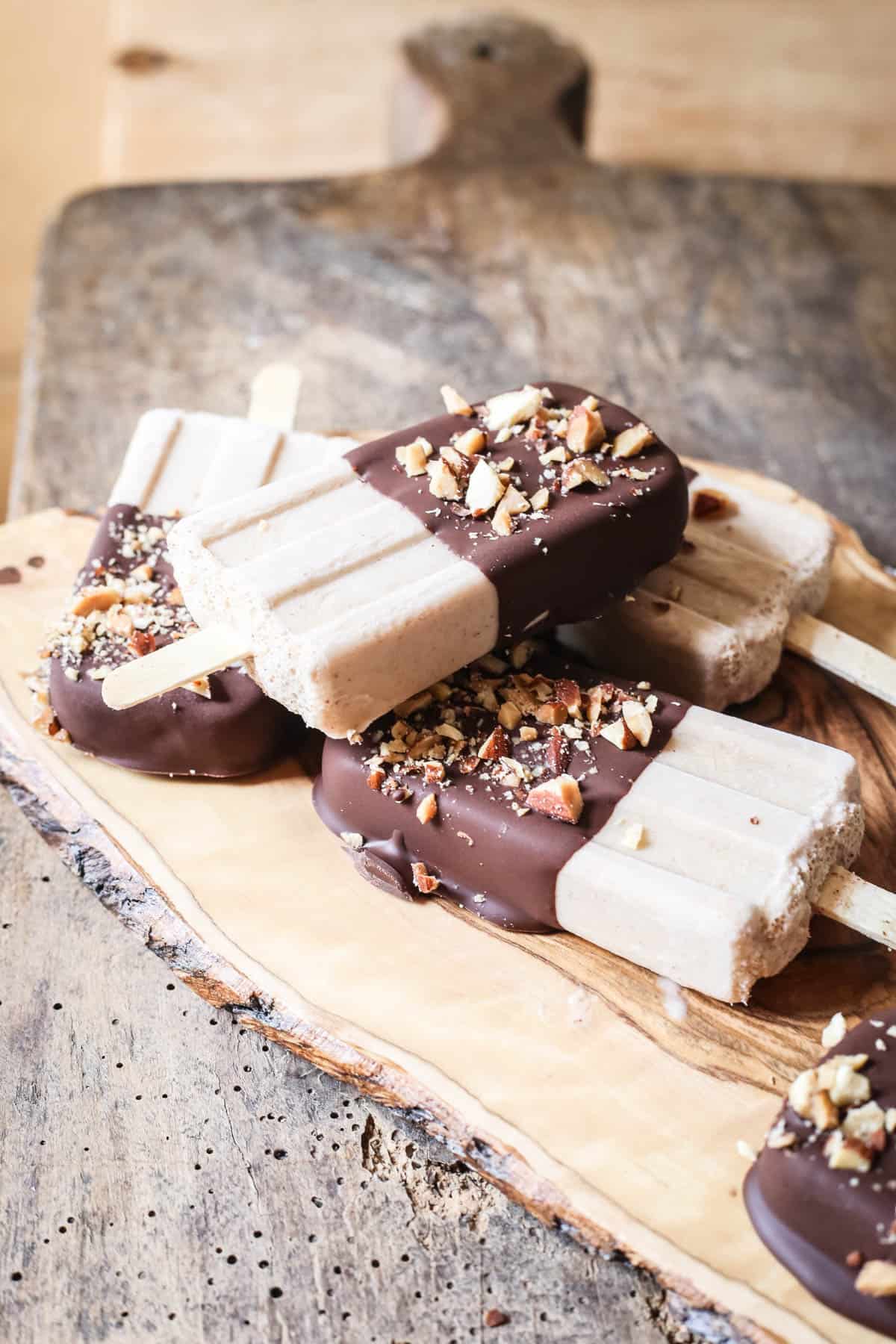 How to make them
(For full recipe instructions go to the recipe card at the end of this post)
Blend. Pour the coconut milk, almond butter, vanilla extract, maple syrup and salt into a blender and whizz together until smooth.
Freeze. Pour into popsicle moulds, stick a wooden stick in each one and freeze overnight.
Remove. Remove the almond fudgsicles from the mould and place back in the freezer until ready to coat in chocolate.
Chocolate dip. Melt chocolate with coconut oil, pour into a tall glass and dip each fudgsicle into the chocolate. Scatter with almonds.
Freeze again. They will be ready after 10 minutes or you can leave until ready to eat.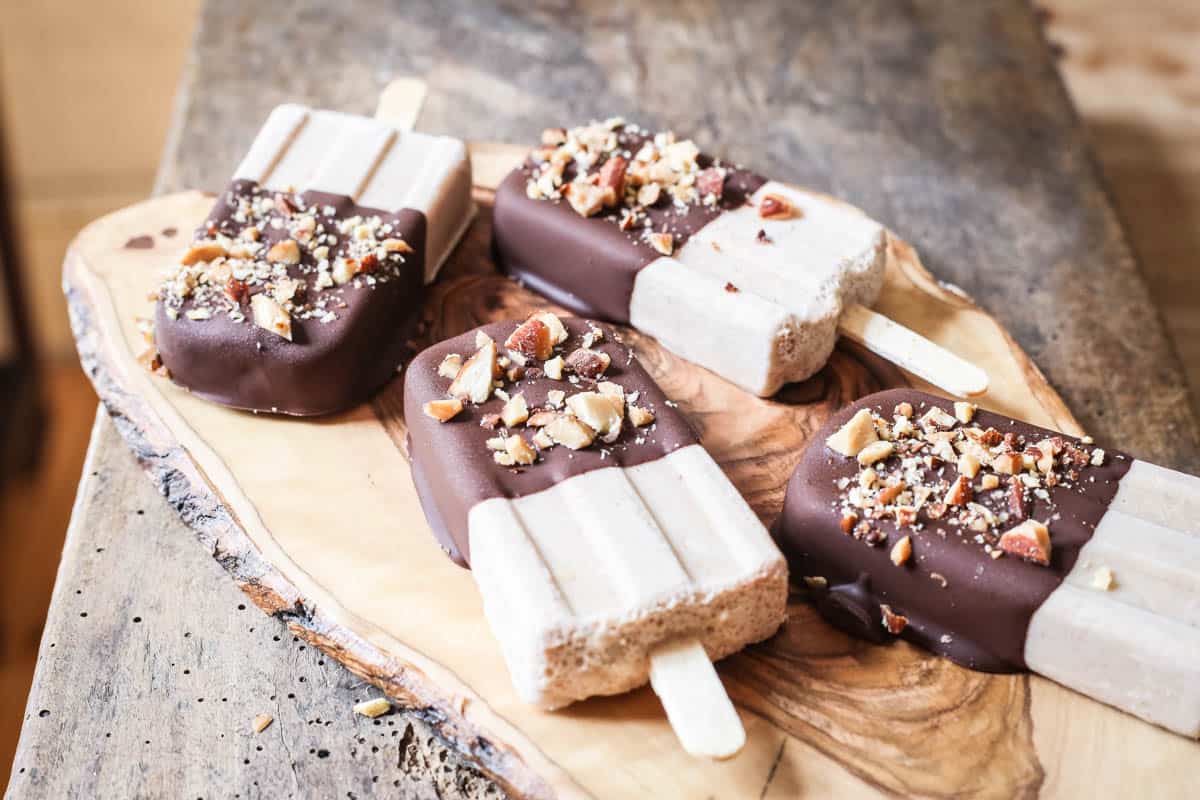 Shop the recipe
Ice Pop Maker - this is one of my favourite moulds to use. Very sturdy and easy to remove the vegan fudgsicles if you run them briefly under hot water then they slide out.
Other easy freezy recipes you'll love
I urge you to give these Vegan Fudgsicles with Almond Butter a try. If you do then please leave a comment below and give the recipe a rating which helps others find the recipe on Google. If you then go on to use this recipe as a launch pad for your own culinary creation then I'd also love it if you'd share it and tag me on Instagram. It is so lovely for me to see your versions and variations of my recipes.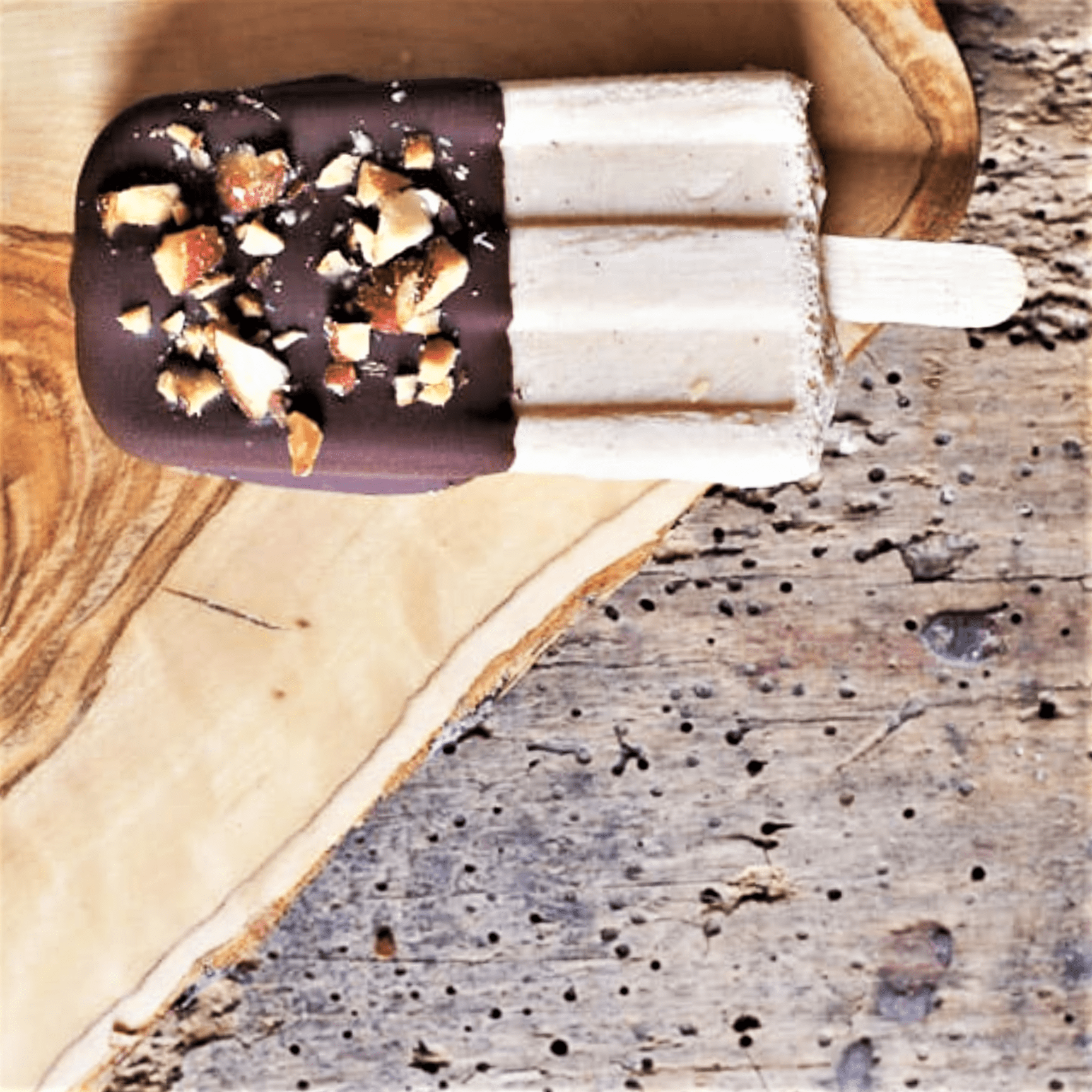 Vegan Fudgsicles with Almond Butter
These Vegan Fudgsicles with Almond Butter are a quick and easy gluten-free and refined sugar-free treat to see us through the summer months.
Ingredients
400

g

coconut milk

100

g

drippy almond butter

½

teaspoon

vanilla extract

50

g

maple syrup

¼

teaspoon

salt

200

g

dark vegan chocolate

-

70%

2

tablespoons

coconut oil

2

tablespoons

salted almonds

-

roughly chopped
Instructions
Pour the coconut milk, almond butter, vanilla extract, maple syrup and salt into a blender and whizz together until smooth.

Pour into popsicle moulds, sticking a wooden stick through each one and place in the freezer overnight to set.

Remove the fudgsicles from the moulds, running briefly under the hot water tap if they are proving stubborn, and place on a parchment lined baking tray and back into the freezer until ready to dip.

Melt the chocolate with the coconut oil in a bain marie or a metal bowl set over simmering water, then once melted pour into a glass.

Get your chopped almonds to hand.

Remove your fudgsicles from the freezer and dip in and out of the melted chocolate quickly. Place back onto the parchment lined baking tray and sprinkle with the crushed almonds.

Repeat with each fudgsicle then place back into the freezer for 10 minutes to set firm. At this point they are ready to eat or you can decant them into a more convenient sized freezer safe container until needed.
Notes
Ingredient measurements
Please note when you see 'grams' listed as opposed to 'millilitres,' or any other term of measurement, that is not incorrect. I weigh all of my ingredients, including liquids, for accuracy.
US customary measurements for the ingredients provided are based on a conversion calculator. This recipe was tested with metric measurements and I recommend using a digital scale to weigh ingredients for the most accurate results. READ MORE >>> Why you should always weigh vs measuring with cups
Nutrition information
Please note that the nutrition information provided below is an estimate based on an online nutrition calculator. It will vary based on the specific ingredients you use. Please seek a professional nutritionist's advice for further clarification.
The nutrition serving is for 1 fudgsicle.
Nutrition
Calories:
288
kcal
Carbohydrates:
18
g
Protein:
5
g
Fat:
22
g
Saturated Fat:
9
g
Sodium:
79
mg
Potassium:
303
mg
Fiber:
4
g
Sugar:
10
g
Vitamin A:
10
IU
Calcium:
75
mg
Iron:
3.5
mg
Have you tried this recipe?
Head to the comment section and let me know what you think!