Blood Orange Buckwheat Hazelnut Friands are gluten-free and deliciously light and nutty, drizzled with a zingy blood orange icing.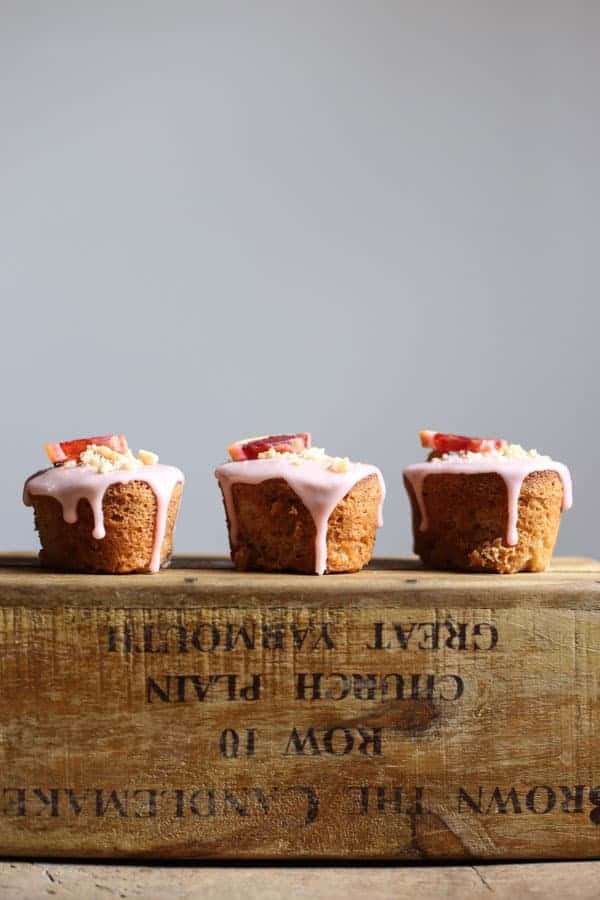 Friands are lovely light little cakes, usually made from ground almonds, icing sugar, melted butter, a little flour and egg whites. They are incredibly quick and easy to make and the best thing is that you can pretty much grab any friand recipe and adapt it to become gluten-free with minimal effort and no compromises. This is because friands don't actually require a lot of flour anyway since their main structure comes from ground nuts, usually almonds. You then suffer no losses if you switch up the flour for any flour of your choice, even the regular gluten-free flour which can be found in any supermarket.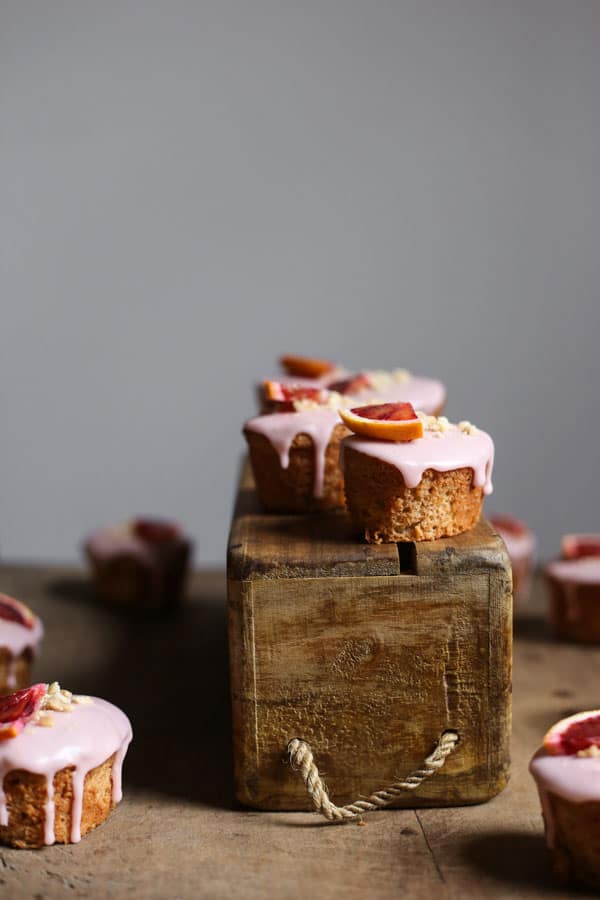 I have had great success using all manner of gluten-free flours in place of the regular wheat flour in friands but I have found buckwheat flour is the absolute perfect choice in these Blood Orange Hazelnut Buckwheat Friands. Buckwheat is a delightful gluten-free flour (no wheat involved despite it's confusing name) and has a wonderfully earthy wholegrain flavour which pairs beautifully with the sweetness of the hazelnuts and wholesome citrus vibe of the blood oranges.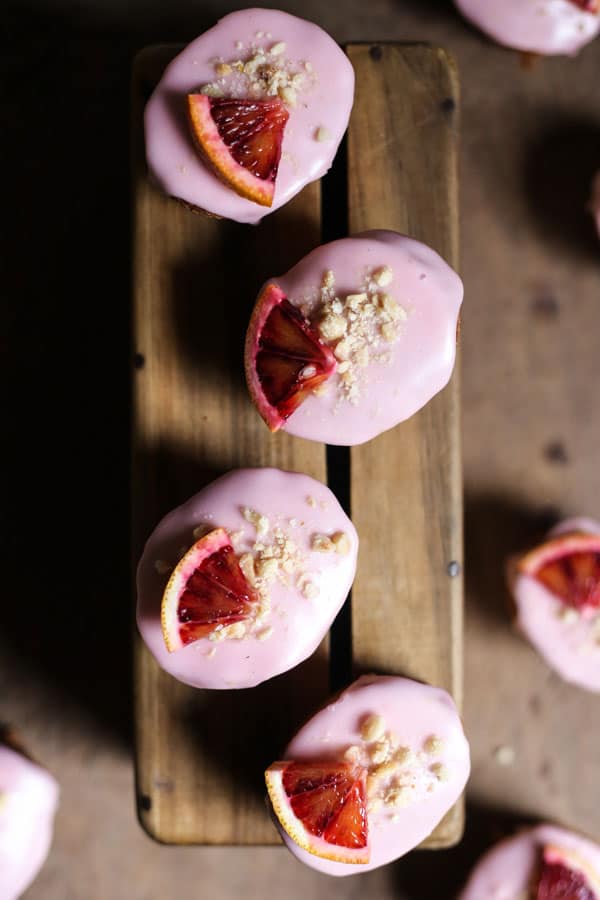 A traditional friand is made with ground almonds sitting alongside the flour, but I have switched them up for hazelnuts which are just gorgeous here. You will probably have to grind the hazelnuts yourself, so go with the regular blanched hazelnuts and just pulse them in a food processor until they are as fine as possible before they start releasing their oils (only a minute or so). You'll probably find they come out a little nubby but it just adds to the texture of these friands.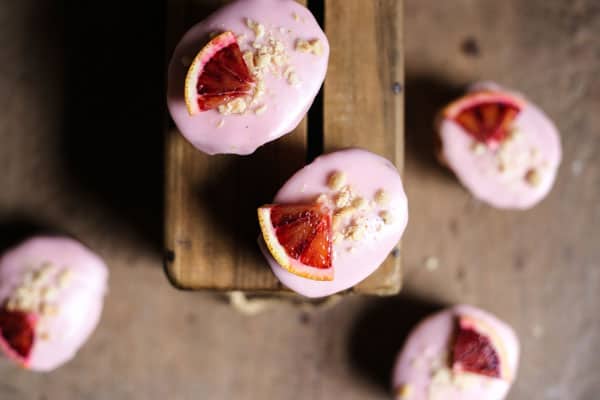 A friand usually requires melted butter in the batter but this recipe has gone one step further and made browned butter. All you need to do is melt your butter a little longer than you would normally so that the milk solids turn brown, almost caramelising them. The result is a deliciously nutty flavour which adds another layer to these friands. I have to say there is a lot going on here but the flour choice, the change up of the nuts, the sparky warmth of the orange zest and now the nutty butter all come together perfectly. These Blood Orange Buckwheat Hazelnut Friands are such a special tea time treat. Let no one tell you gluten-free baking has to be boring.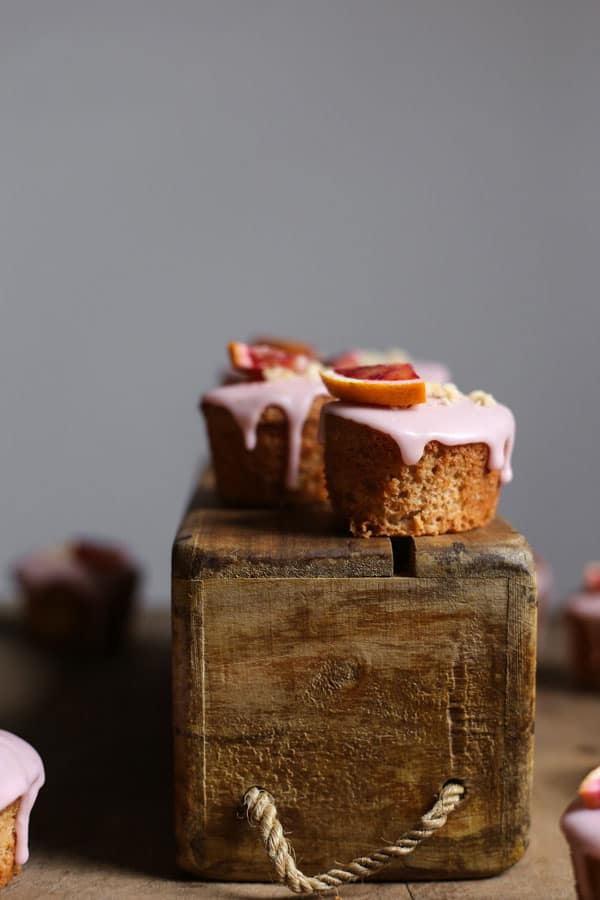 Unless you make a lot of friands so have made the investment then it is unlikely you have a friand tin. I love my tin and use it a lot but you certainly don't have to get one, you could just use a regular muffin tin instead.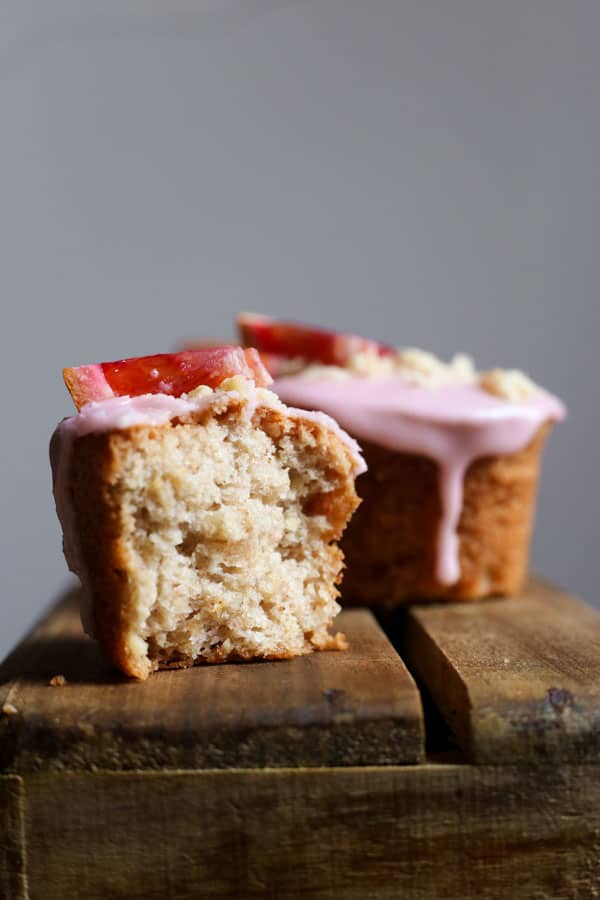 REMEMBER TO SUBSCRIBE TO THE FROM THE LARDER NEWSLETTER FOR EXCLUSIVE RECIPES, UPDATES AND LOADS OF GLUTEN-FREE LINKS PLUS RECEIVE ALL THE LATEST RECIPES DELIVERED INTO YOUR INBOX!
If you make these Blood Orange Buckwheat Hazelnut Friands then please leave a comment below and/or give the recipe a rating. If you then go on to use this recipe as a launch pad for your own cake creation then I'd also love it if you'd share it and tag me on Instagram. It is so lovely for me to see your versions and variations of my recipes.
PIN THIS POST TO READ LATER!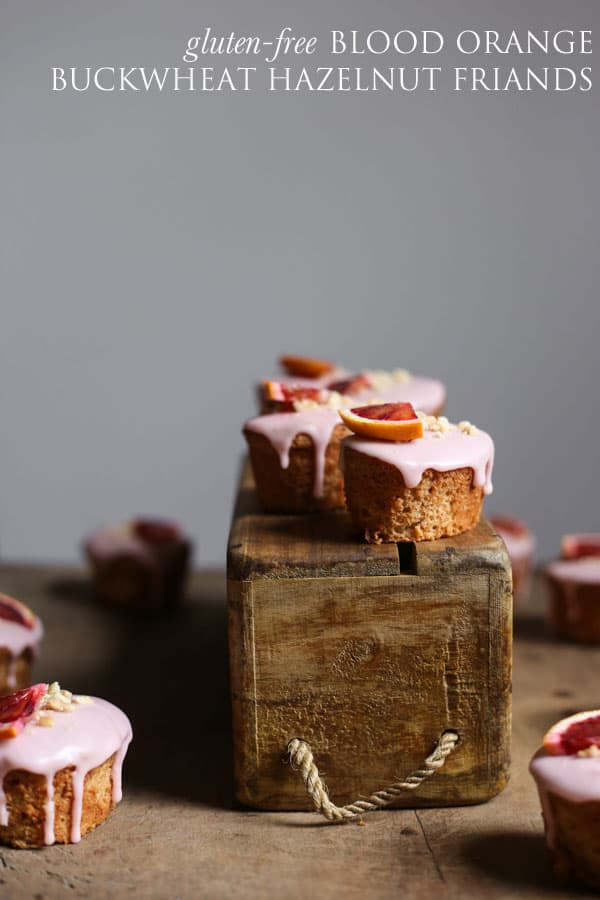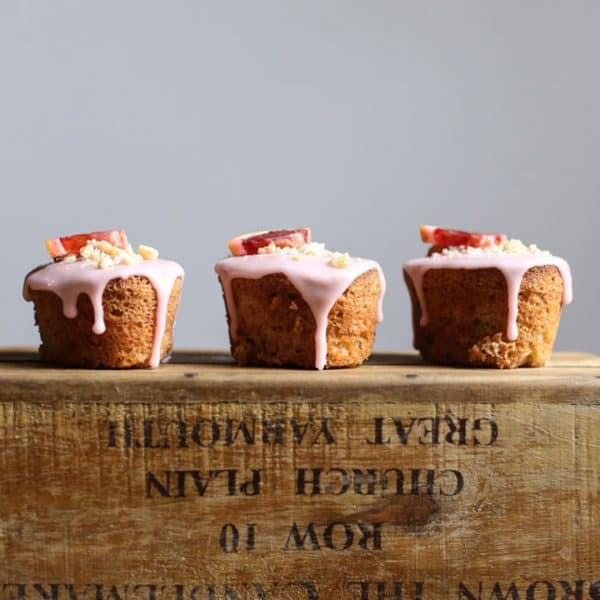 150

g

unsalted butter

250

g

icing sugar

115

g

buckwheat flour

1¼

teaspoons

baking powder

½

teaspoon

salt

100

g

ground hazelnuts + 20g extra to decorate

zest 1 blood orange

290

g

egg whites

about 8
240

g

icing sugar

juice of 1 blood orange

1

blood orange to decorate
150

g

unsalted butter

250

g

icing sugar

115

g

buckwheat flour

1¼

teaspoons

baking powder

½

teaspoon

salt

100

g

ground hazelnuts + 20g extra to decorate

zest 1 blood orange

290

g

egg whites

about 8

240

g

icing sugar

juice of 1 blood orange

1

blood orange to decorate
Pre-heat the oven to 180°C/160°C fan/gas mark 4 and grease a 12 hole friand tin.

Place the butter in a saucepan and heat over a medium flame. The butter will melt. Listen carefully and the butter will start hissing and cracking and forming little brown bits at the bottom of the pan. You want to wait until the noises start to subside, the butter smells toasty and is turning a darker colour. Remove from the heat as soon as it gets to this stage so it doesn't begin to burn. Pour the butter into a heatproof container and set aside to cool for 5 minutes, you don't want it too hot when you add to the rest of the ingredients.

Sift together the buckwheat flour, icing sugar, baking powder and salt.

Stir in the ground hazelnuts and the blood orange zest.

Pour in the browned butter and stir until completely combined.

Whisk the egg whites in a separate clean bowl until light and foamy.

Fold the egg whites into the rest of the batter until combined.

Divide the batter between the friand moulds then bake for 25 minutes.

Leave to cool in the tins for 10 minutes then turn out and finish cooling on a wire rack.

Make the icing by beating together the blood orange juice gradually with the icing sugar until the icing is just pourable. If the icing is a little thick then add a drop or two of water to achieve the right consistency.

Spoon the icing over the cooled friands. Sprinkle over the extra ground hazelnuts and decorate with a segment of blood orange and leave to set.
Recipe adapted from Coffee and Walnut Financiers in Sweet
 by Yotam Ottolenghi and Helen Goh (amazon affiliate link)
SHOP THE RECIPE
I use this KitchenCraft MasterClass 12-Hole Non-Stick Friand Tin, 35.5 x 26.5 cm
to make my friands. The tin is extremely hard wearing and it's very easy to get the friands out. Just wobble the edges with a small palette knife and you can more or less just slip your friands straight out of the tin.
Speaking of small palette knives, I use this little guy Dexam Spatula with Wooden Handle 10.5cm
in almost all my baking – there is usually a need for him. Like in this case, easing my friands out of my tin. You really can't use any other implement as it won't damage the cake tin or cut into the friands at all. I also use it for icing cupcakes, large cakes, releasing almost all cakes out of their cake tins. Because it's not that big it's easier to wield with more control than a larger palette knife.
For these friands I used Wholefood Earth Organic Buckwheat Flour, 1 kg
which is a really lovely brand of buckwheat flour. It's a very softly textured flour which really helped lighten up these little friands.
This post is not sponsored but the images above are affiliate links which means if you decide you want to use these link to make your purchases then Amazon gives me a small commission at no cost to you whatsoever. I will only recommend products I use in my kitchen and love. To learn more about how the data processing works when using these Amazon affiliate links then please visit my privacy policy page.
If you like this recipe then you may like…