This post contains affiliate links. Please read my disclosures.
These Gluten-Free Fish and Chips are a healthier alternative to the chip shop. Perfectly crisp pan-fried cod, oven baked chips and of course a cheeky side of from-scratch curry sauce.
What are you going to be enjoying Good Friday? We are old school and will be having Hot Cross Buns and Fish and Chips. I have very strong memories of my Mum and Nan standing by a bubbling pan of hot oil about to embark on our annual attempt at deep frying. It was such a treat having homemade fish and chips at home. I'm sure they weren't perfectly cooked, my Mum is the first to admit her strengths did not lie in the kitchen, but I remember them being utterly delicious. We're setting aside the deep fat fryer today for a slightly healthier version but believe me it's no less delicious.
Why are Fish and Chips traditional in Britain?
The tradition of Great British Fish and Chips goes back over 160 years. It's a bit of a fusion dish, the fried fish having made its way from Portugal or Spain. Meanwhile in the North of England deep fried chipped potatoes were becoming popular. It seems the two met in the middle and fish and chip shops became highly popular in Victorian England.
Of course we now consider Fish and Chips our national dish with the local chippy being the stalwart of the British high street. In our house Fish and Chips is usually a Friday affair and on Good Friday it's a firm tradition.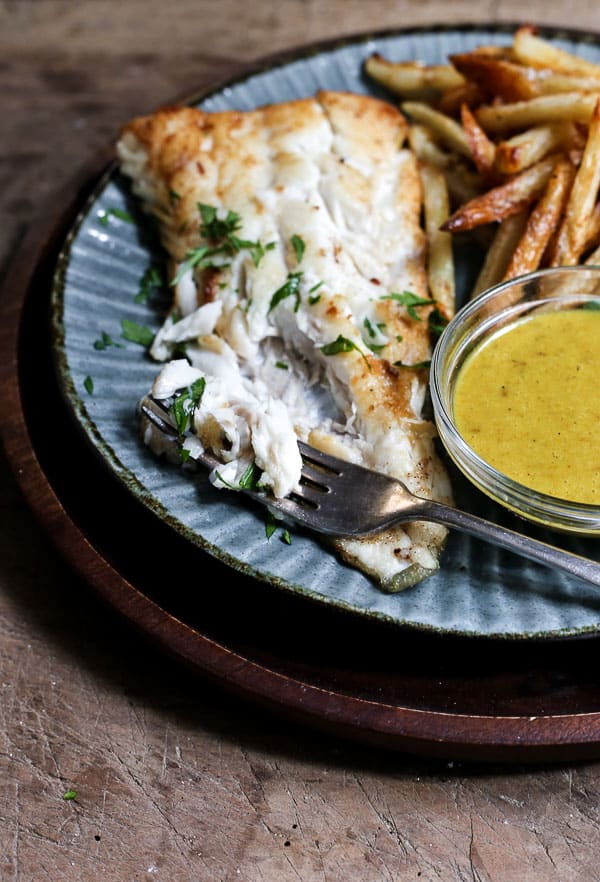 Why do you eat fish on Good Friday?
Red meat is often avoided on Good Friday. This stems back centuries with Christians wishing to honour the death of Christ by abstaining from the consumption of warm blooded animals. Fish was considered an every day meal and thus, fine for Good Friday.
Battered, Grilled or Pan-Fried?
These days I usually eschew the deep fried fish when we go out for a family meal to the chippy. Yes, it's partly because I'm gluten-free, although it's good to know that a lot of Fish and Chip shops offer gluten-free batter these days. However, I often find fish can often be overwhelmed by the batter and I enjoy it without the heavy jacket.
This recipe enjoys the best of both worlds. Here we take beautifully fresh cod fillets and pan fry them in a light coating of almond flour and tapioca flour. I have in the past been intimidated to pan fry fish, frightened that it will all fall apart but I'm here to tell you that it's quick and easy.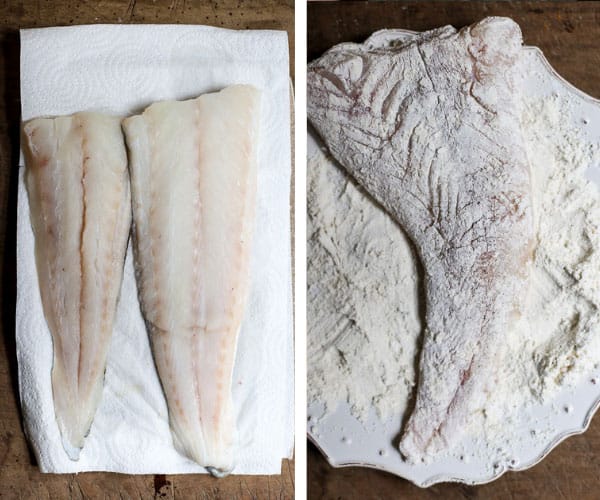 How to pan-fry fish
Cook your chips and your curry sauce before you start on the fish. That way your attention won't be diverted. Don't worry the fish takes no time at all so nothing will go cold.
Whisk the flours together with the seasoning on a large plate.
Pat the fish dry with kitchen paper.
Dredge the fish through the flour mix, shaking off the excess.
Heat the pan for about 1 minute until it just begins to smoke.
Add the ghee or oil. Then immediately…
Pan fry the fish. Cook for 2 minutes on one side, flip carefully with a spatula then finish for 2 minutes on the other side.
Serve immediately.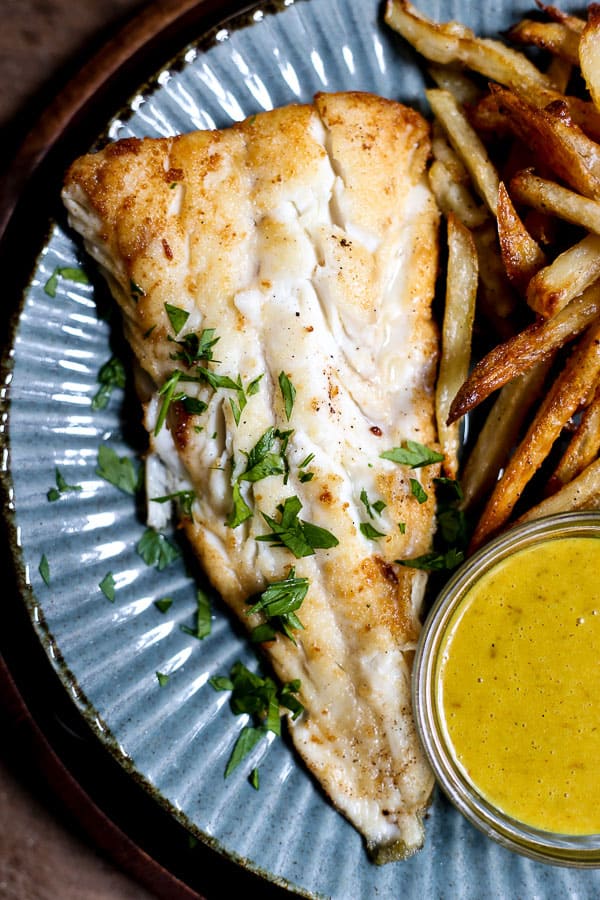 Cook's Tips
The Skin. You can choose to fry the fish with the skin on or off. Skin-on means the fillet holds together slightly better. But if you don't like eating the skin then the crisp underside of the fish seems wasted. I prefer skin off.
Cast Iron Skillet. This is the perfect pan to use to pan-fry your fish as it heats evenly. Heat the pan up before you add the oil. This ensures you are cooking the fish at the optimum temperature. The thick heavy base also means the fish isn't too close to the heat source which helps for this delicate ingredient.
How to buy sustainable fish
Cod is one of the five most popular fish to buy in the UK. As such it can be problematic so make sure you are buying from a certified sustainable source. If you are in doubt a few great alternatives to cod are coley, pouting or pollock.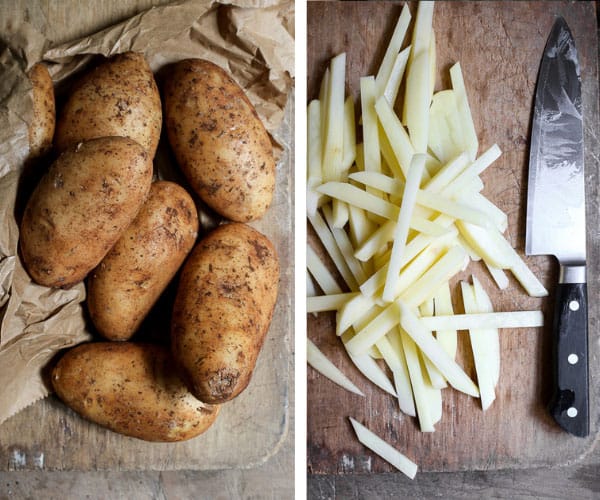 Oven-Baked Chips
Home-baked chips are legendary in our household. I have never felt them inferior to the deep fried variety. They are safe, no spitting fat and no drama. Par-boiling is also unnecessary if the potatoes are cut thin enough.
Cooking Fat. Use a light olive oil which is flavourless but give a good crispy chip. However, if you are feeling like a splurge there is nothing like beef dripping or chicken dripping chips. Maybe not for abstentious Good Friday though.
Potato Variety. Use a waxy variety of potato, it holds together more with lovely texture. Try Charlotte potatoes or Cyprus potatoes.
Vinegar. It is necessary to serve your chips with salt and vinegar once they are cooked. Malt vinegar is traditional but not gluten-free. To be honest I prefer the sweeter vinegars anyway such as apple cider vinegar or even chardonnay wine vinegar.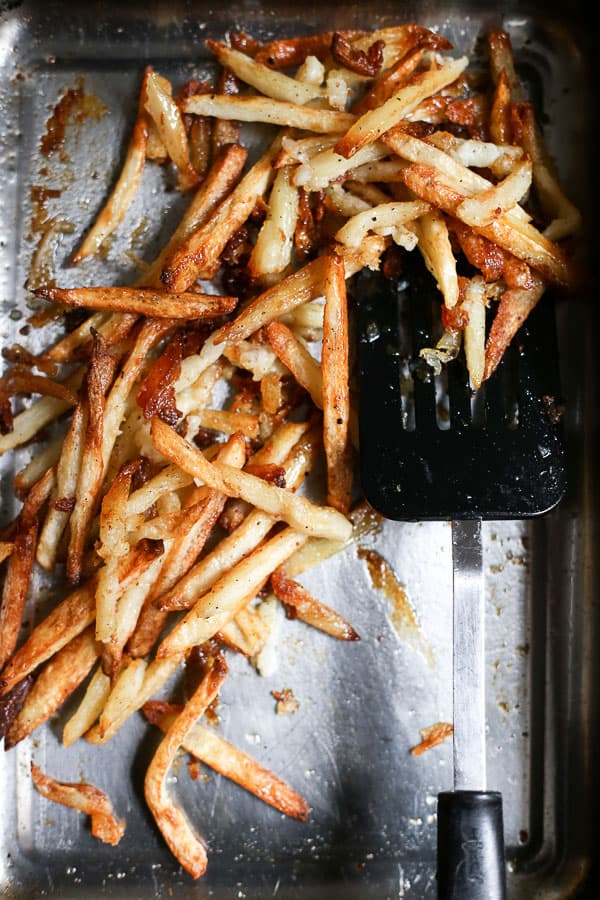 The Sides
Do you prefer curry sauce, mushy peas or gravy with your fish and chips? Curry sauce is a favourite of mine. It is often criticised for interfering with the fish batter too much and getting it all soggy. However it goes excellently with our pan-fried fish.
The curry sauce you get from the chippy usually contains gluten which is a great pity. Lucky then for this recipe that it's easy to make your own from scratch.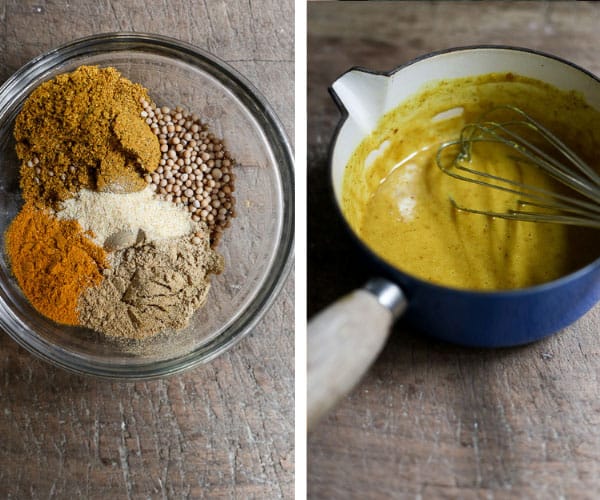 How to make gluten-free Chip Shop Curry Sauce
This is a quick curry sauce. Not as quick as the one at the chippy which often use a ready-made mix that you just add water to. But we're not far off. This recipe is full of spice and a little sweet and tangy. Perfect for dunking your chips into.
Pop the mustard seeds
Add the ghee, the spices then the tapioca flour
Whisk in the stock, slowly
Add the date and vinegar
Cook for 5 minutes
Blend and serve
Cook's Tips
The ghee isn't a hard and fast choice, although I do love the flavour. You can use light olive oil or coconut oil.
Fresh chicken stock elevates the curry sauce into something really special. However, you can use vegetable stock.
I like to use a medjool date to sweeten this curry sauce. However, you can use 2 teaspoons of honey or 1 teaspoon sugar. If you are using an alternative then you can skip the blending.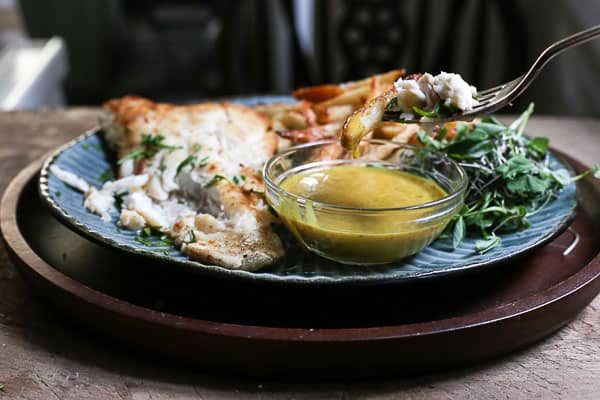 The beauty of this Gluten-Free Fish and Chip recipe is that with just a few tweaks you can completely transform the final outcome.
Make Fish and Chips Your Way
Add some flavour to your chips. Try ½ teaspoon of Old Bay Seasoning.
Swap the regular chips for sweet potato chips.
Add lemon zest, a ¼ teaspoon of paprika and ¼ teaspoon mustard powder to the flour coating of the fish.
If curry sauce isn't your thing then try parsley butter, a squeeze of lime or salsa verde.
Shop the Recipe:
More Classic British recipes you may like
Gluten-Free Shepherd's Pie
Gluten-Free Yorkshire Puddings
Simple Salmon Fishcakes
Bangers and Mash
If you make these Gluten-Free Fish and Chips then please leave a comment below and give the recipe a rating which helps others find the recipe on Google. If you then go on to use this recipe as a launch pad for your own culinary creation then I'd also love it if you'd share it and tag me on Instagram. It is so lovely for me to see your versions and variations of my recipes.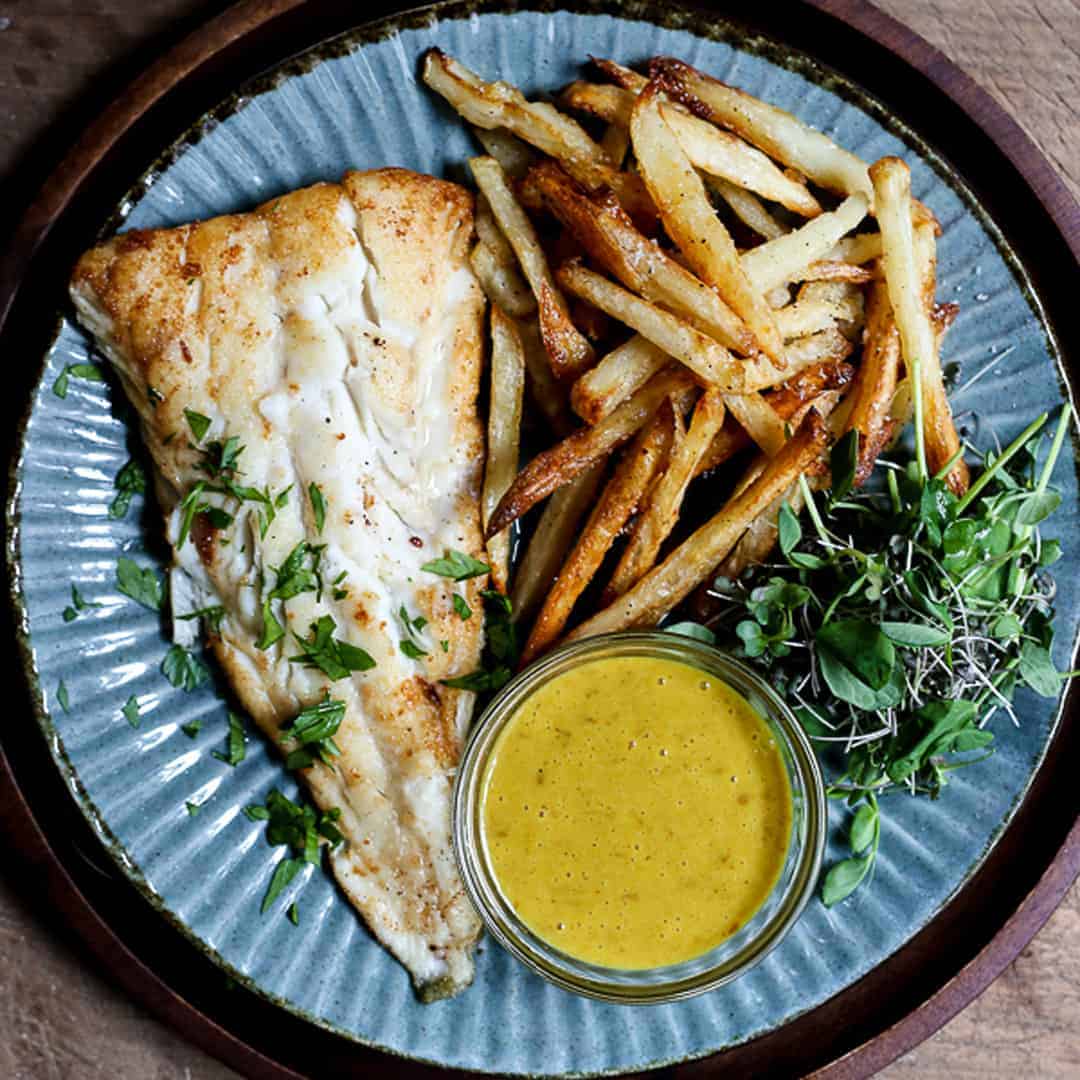 Gluten-Free Fish and Chips
These Gluten-Free Fish and Chips are a healthier alternative to the chip shop. Perfectly crisp pan-fried cod, oven baked chips and of course a cheeky side of from-scratch curry sauce.
Ingredients
Chips
400

g

white potatoes

-

cut into chips

4

tablespoons

light olive oil

½

teaspoon

salt

¼

teaspoon

ground black pepper

Splash of apple cider vinegar
Chip Shop Curry Sauce
¼

teaspoon

mustard seeds

2

teaspoons

ghee

-

or coconut oil

½

teaspoon

curry powder

¼

teaspoon

ground ginger

¼

teaspoon

turmeric

⅛

teaspoon

garlic powder

pinch

of kosher salt

-

depending on if you are using stock

1½

tablespoons

tapioca flour

1

medjool date

-

pitted, chopped finely

1

teaspoon

apple cider vinegar

150

ml

chicken stock
Fish
2

x 200g cod fillets

40

g

almond flour

15

g

tapioca flour

⅛

teaspoon

salt

⅛

teaspoon

black pepper

1

tablespoon

ghee

-

or olive oil or coconut oil
Instructions
Chips
Pre-heat oven to 190°C/170°C fan assisted/gas mark 5.

Place a roasting tray into oven to heat up.

Peel the potatoes and cut into chips, 1cm width.

Remove roasting tray from the oven and pour in the olive oil.

Toss the chips in the olive oil and add the seasoning. Make sure the chips are spread out as evenly as possible.

Bake the chips for 45 minutes, carefully tossing the chips every 15 minutes.

Serve the chips with a small drizzle of apple cider vinegar.
Chip Shop Curry Sauce
Place the mustard seeds in a small saucepan and dry fry for 30 seconds so they pop.

Add the ghee which will then melt.

Add the spices and stir for a couple of minutes.

Add the tapioca flour and whisk to combine.

Add the stock slowly, whisking all the time until the sauce becomes very thick.

Add the medjool date and the apple cider vinegar, lower the heat and cook gently for 5 minutes.

Remove from the heat and blend with a hand blender.
Fish
Pat the fish dry with kitchen paper. Set aside while you prepare the pan.

Place your dry cast iron skillet on medium heat and bring up to temperature. The pan will start to smoke slightly when ready.

Mix the flours with the seasoning on a large plate, then dredge the fish fillets with the flour. Shake off the excess.

Add the ghee to the pan then immediately place the fish fillets in the pan.

Cook for two minutes, then flip the fish over carefully and cook on the other side for a further two minutes.
Notes
CHIPS
Waxy Potatoes. I use waxy potatoes which means the chips hold together better. How to cut the chips. Cut the potato into 1cm slices lengthways, then cut the slices into 1cm width chips.
Spatula. Toss the chips gently with a silicone or plastic spatula. A metal one tends to break up the potato too much.
Vinegar. It's traditional to splash a bit of vinegar over your chips. I love a bit of apple cider vinegar and plenty of salt. You could also use a good white wine vinegar such as chardonnay.
CURRY SAUCE
Tapioca Flour. You could also use sweet rice flour.
Chicken Stock. You can use vegetable stock or bouillon or just plain water. The chicken stocks gives a fuller flavour.
Medjool Date – you can swap for 2 teaspoons honey or 1 teaspoon sugar. Apple Cider Vinegar. You can sub for lemon juice or white wine vinegar.
FISH
Cod. You can also use coley or pollock.
Skin. You can remove or retain the skin. I found if I left the skin on the fish holds together a little better but not enough that it was worth it. I prefer no skin.
Cast iron skillet. This will help the fish cook evenly.
Ghee. I use ghee because of its high smoking temperature so it doesn't burn easily and has a lot of flavour. You can substitute with olive oil or coconut oil. Fry your fish one fillet at a time so you don't crowd the pan and you can concentrate on each one.
Have you tried this recipe?
Head to the comment section and let me know what you think!