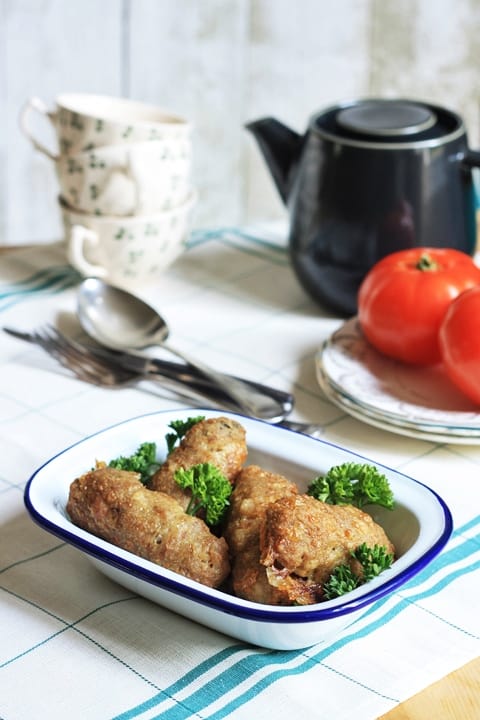 One of the common concerns that surrounds embarking on the Whole30 is the issue of breakfast. After all grains are banned so that means no toast, no cereal, no porridge. Dairy is banned so no yoghurt. And it goes without saying that pastries are a resounding no no. So what else is there?
The Whole30 way of eating would like to discourage you from thinking that there should be any difference between the kinds of food we would have for breakfast, lunch or dinner. After all that is how food is eaten in lots of other cultures, why should we reserve a set of foods only for breakfast, isn't this quite restrictive? When I was in Ghana I was surprised that my work colleagues at the newsroom would eat the same sort of food – cassava and perhaps some meat for breakfast, lunch and dinner. I found it very strange at the time but now it seems odd that we would limit ourselves so much at breakfast time. After all, as a student, cold pizza for breakfast was the ultimate luxury. Let's embrace that attitude! Although pizza might be frowned upon.
Having said that there are some breakfast foods which are definitely supported on the Whole30. Eggs, for example. However, for someone who is not a fussy eater at all, I can be very picky over my breakfast. I never liked cereal anyway or milk, toast always seemed a waste of time as it never filled me up but the worst crime of all is my aversion to eggs. This is a bit of a problem in the Whole30 as it's one of the most celebrated ingredients on your meal plan. It's the king of breakfast and if you don't eat them you have to start getting pretty creative.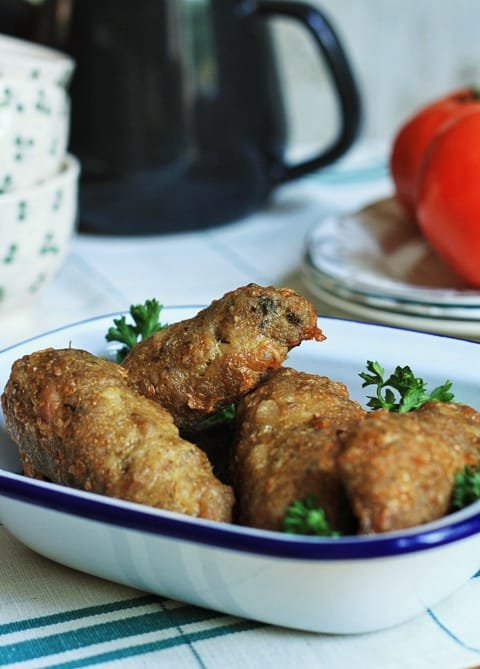 I like my breakfast to consist mainly of protein, this is what I do well on first thing. It gives me energy and satisfies me until lunch. So, sausages and bacon are my go to foods. However, whereas bacon is okay on the Whole30, sausages are a bit more complicated. Supermarket sausages usually contain all sorts of preservatives which are not that good for you and although butchers' sausages may not contain those sorts of products, they are more than likely made with breadcrumbs or some sort of wheat product holding them all together. So I started making my own sausages for breakfast, this way I know exactly what is in them and I can tailor them for my specific picky palette, after all I don't want a sausage that too rich or garlicky first thing in the morning.
I have found that this flavour combination of thyme and fennel really makes the most delicious sausage, it is light, meaty, juicy and full of flavour. The sausages are roasted without any added fat or binding agent as the chicken skin is included in the mince. This keeps its moisture in and means that during the roast the sweet sticky chicken juices encase the outside of the sausage which is a treat you just don't find in Walls' bangers.
They are simple to make to boot. All you need to do is de-bone your chicken thighs, then place them in the food processor along with the rest of your ingredients and whizz them up. Don't worry that at this stage the chicken looks like something Jamie Oliver would produce to put children off food for life, there is only good chicken in your sausage.   Then once it's been completely minced up, shape them into sausage shapes and roast them on baking parchment for 40 minutes in the oven. I eat these sausages wrapped in lettuce or served up with some stewed tomatoes. They are brilliantly filling and feel like such a treat. It's recipes like this that have kicked off my Whole30 with a bang and made breakfast time a whole lot easier.
Chicken, Thyme and Fennel Sausages
Makes 6 sausages
6 chicken thighs with skin on, boneless
1½ tsp bacon salt or regular sea salt
1 tsp fresh thyme leaves
½ tsp fennel seeds
½ tsp ground white pepper
¼ tsp mace
¼ tsp mustard powder
Pre-heat the oven to 180°C.
Chop the chicken up roughly and place it in the food processor with the rest of the ingredients. Whizz up to a smooth paste.
Shape the chicken mince into sausages, about 100g each depending on how large your chicken thighs were. You should be able to get 6 sausages out of the mince.
Place the sausages on baking parchment on a baking tray.
Roast the sausage for 40 minutes in the oven when they will have turned golden.