This post contains affiliate links. Please read my disclosures.
This Homemade Smoky Fajita Seasoning Paste takes about 10 minutes to make, it's smoky, spicy, zingy and will soon become an absolute staple in your kitchen. Think of this Homemade Smoky Fajita Seasoning as a completely inauthentic Mexican pesto and then let your imagination run riot with the possibility of its uses.
It's no secret that I am head over heels for anything fajita related. As children, Mum would treat us to chicken fajitas at Chiquitos before going to the cinema at the Swindon retail park where we would be enchanted by such delights as Sister Act 2. In fact I believe that is how I spent my 13th birthday. My salivation over flour tortillas stuffed to bursting with chargrilled chicken, onions, bell peppers, lashings of sour cream, guacamole and cheese has never diminished. It wouldn't stop there either, on very special Saturday nights dinners we would re-create these fajitas at home using shop bought seasoning, which to be honest was always a bit of a winner as well.
So my background of tex mex is as pedestrian as they come and it wasn't until my mid-twenties when I ran out of my fajita seasoning that I first googled how to make it myself.
I never looked back and I have a homemade fajita spice mix in my cupboard at all times which is basically a bastardisation of this recipe, using only the dry ingredients. This Homemade Smoky Fajita Seasoning Paste though is the real deal and is truly my messiah, although it wouldn't have been possible at all without my discovery of chipotle in adobo.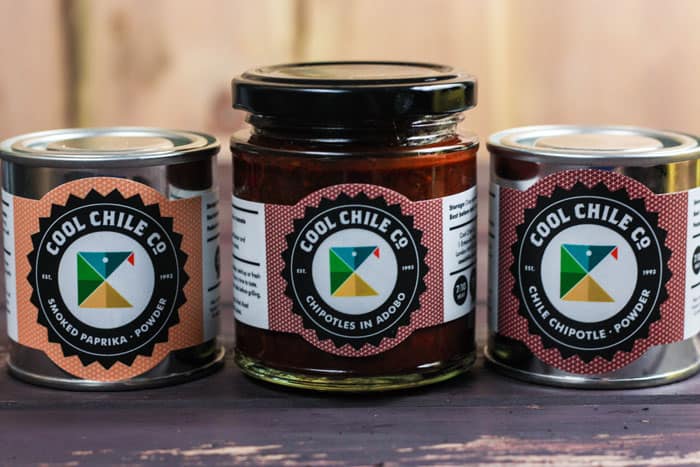 This is not the first recipe I have included with chipotle in adobo or chipotle powder, I use them all the time to add a smoky heat to a dish, whether it's chilli con carne, this bacon jam or barbecue sauce.
I know these ingredients may not be essentials in everyone's larder but they definitely are in mine. I go into panic mode when I use the last of my chipotle in adobo or chipotle powder as they are not the easiest to get hold of.
If you have a Cool Chile Co. stockist near you then you are in luck but if not you will have to order their products online. It's definitely worth it though – your fajitas will soar into the highest of echelons and you will become as addicted to them as I am.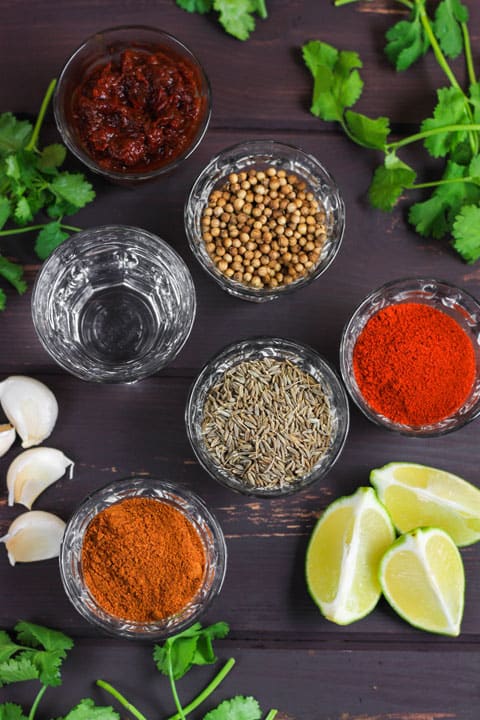 Uses for your Homemade Smoky Fajita Seasoning Paste:
Chicken Fajitas! Add to your stir fried chicken, mixed bell peppers and onions for the most delicious chicken fajita filling.
Mexican Pulled Pork! Smother over a pork shoulder and cook in a large casserole dish with a cup of water and the lid on for 4-5 hours for outstanding pulled pork.
Grilled Salmon! Brush the paste over a fillet of salmon then place under the grill for 10 minutes for super sublime Mexican salmon.
Cinquo de Mayo! Add a dollop to a mixture of half mayo/half sour cream for the most amazing mayonnaise for dunking sweet potato fries.
Smashed Avo on Toast! Toast one side of sliced sourdough, add a generous smear of homemade fajita seasoning paste to the untoasted side then place back under the grill. Serve with a mound of avocado smashed on top, plenty of salt and some fresh summer tomatoes if you're feeling fancy.
See? The dividends of your Homemade Smoky Fajita Seasoning Paste know no ends. A little goes a long way in a dish so start off with a couple of teaspoons and take it from there.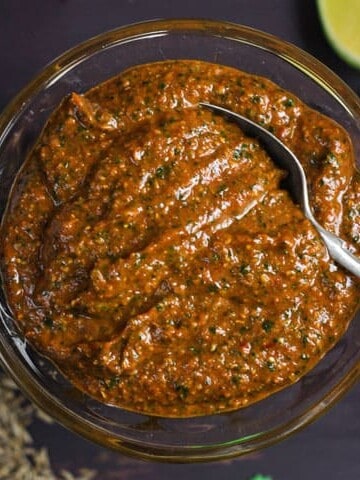 Homemade Smoky Fajita Seasoning Paste
A smoky, spicy, zingy essential ingredient for your kitchen
Ingredients
2

tablespoons

cumin seeds

2

tablespoons

coriander seeds

1

tablespoon

chipotle in adobo

1

tablespoon

tequila

-

optional – substitute with water

2

teaspoons

chipotle powder

2

teaspoons

smoked paprika

2

teaspoons

agave nectar

-

or a very light honey or rice malt syrup

3

garlic cloves

30

g

fresh coriander

1½

limes

-

just the juice

½

teaspoon

salt

½

teaspoon

ground white pepper

6

tablespoons

olive oil
Instructions
Place the cumin seeds and coriander seeds in a small saucepan and heat for about a minute until the spices are just starting to toast.

Remove from the heat and grind to a powder, either in a pestle and mortar or spice grinder.

Add the cumin and coriander into a food processor long with all the other ingredients except the olive oil.

Blitz it all up until smooth then add the olive oil and blitz again to make a thick paste. Use straightaway or store in the fridge until needed.
Notes
I am happy to keep this paste for a couple of weeks in my fridge, topping up with a bit of olive oil to seal the top every time I use it.
Yield 200g
Nutrition
Calories:
125
kcal
Carbohydrates:
6
g
Protein:
1
g
Fat:
11
g
Saturated Fat:
2
g
Sodium:
183
mg
Potassium:
101
mg
Fiber:
2
g
Sugar:
2
g
Vitamin A:
760
IU
Vitamin C:
5.4
mg
Calcium:
33
mg
Iron:
1.6
mg
Have you tried this recipe?
Head to the comment section and let me know what you think!