This post contains affiliate links. Please read my disclosures.
Make this Vegan Mango Lime Fro-Yo using only three ingredients. If you can get hold of Alphonso mangos then your frozen yoghurt will be the sweetest, most fragrant and refreshing treat you'll make this summer.
When I was sixteen one of my close friends moved to Singapore with her family for a year. I seized on this opportunity to visit her during the school Easter holidays and had a brilliant time. But of all the things we did and experiences we had the three major memories about my trip are as follows.
How amazing the food was at the food court in the mall.
I had the worst sunburn of my life. Then the next day I went out and got sunburnt again. Ouchy.
The only cure for sunburn, according to my friend's mother was plenty of aloe vera on the skin and lots of frozen mango in the tummy.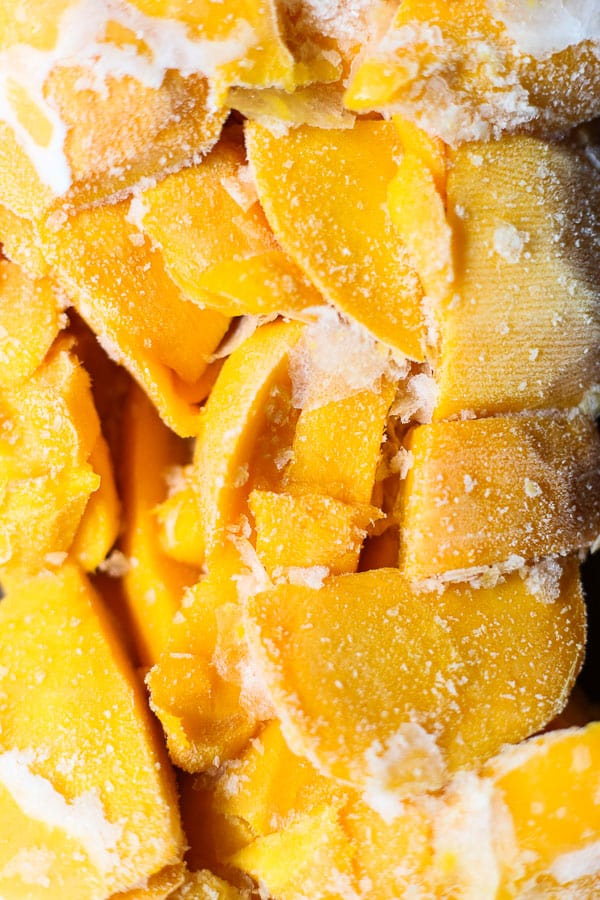 We would halve our mangos and put them in the freezer in the morning. When we returned from our gallivanting around the city we dug into our frozen mango halves with a spoon. At first they were rock solid but half way through the fruit would yield and become the most delicious and deserved treat after a day in the smoggy heat. In my mind there is no better respite from a muggy June in the city than copious amounts of frozen mango. But just to take it up a notch I have been treating us all these past couple of weeks to this easy Mango Lime Fro-Yo.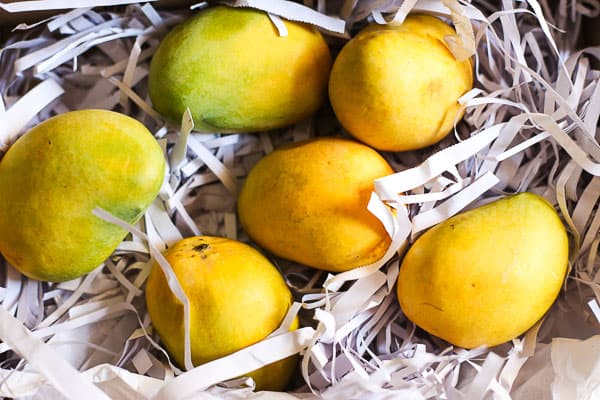 This Fro-Yo has just three ingredients:
Mango
Lime
Coconut Yoghurt
As such the quality of the ingredients really matters.
Alphonso Mangos
Lately our local farmers' market has had an Alphonso mango stall. Now in general Alphonso mangos are considered to be quite expensive but this isn't always the case. On my recent Ocado shop I was astounded how much they charged me for two rock hard, bland and pale regular mangos.
The Alphonso mangos I bought from the farmers' market were actually about a similar price, £7.99 for a box of six. Now the mangos might have been a little small but inside they harboured the most beautifully vibrant orange flesh and were the sweetest, creamiest and richest mangos I have ever tasted. When you are making a three ingredient mango fro-yo, Alphonso Mangos are the mangos you need.
However, playing devil's advocate, I also made this fro-yo using my regular Ocado mangos. Then another version with the packets of pre-frozen mango. It has to be said all fro-yo iterations were still pretty fabulous so if you can't get hold of Alphonso mangos. You can certainly make do and still be a happy bunny.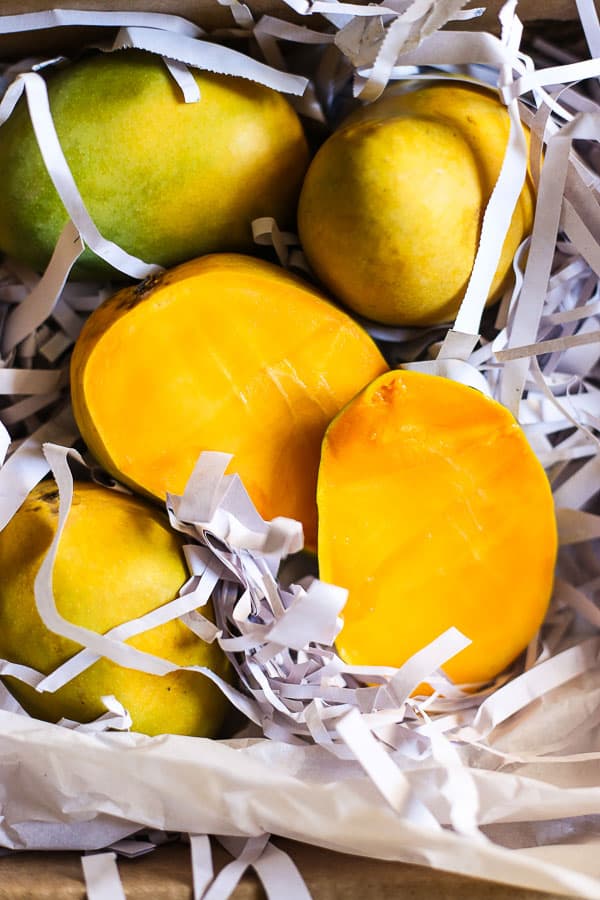 Dairy-Free Fro-Yo
I am not vegan but chose to make this Mango Lime Fro-Yo vegan stylee because dairy and I don't always get on so well. If there is a recourse to switch up a recipe without compromising then I'm all for a dairy-free version. Plus using coconut yoghurt adds a little sweetness meaning that teamed with the luscious Alphonsos there is no need to add any extra sweetener.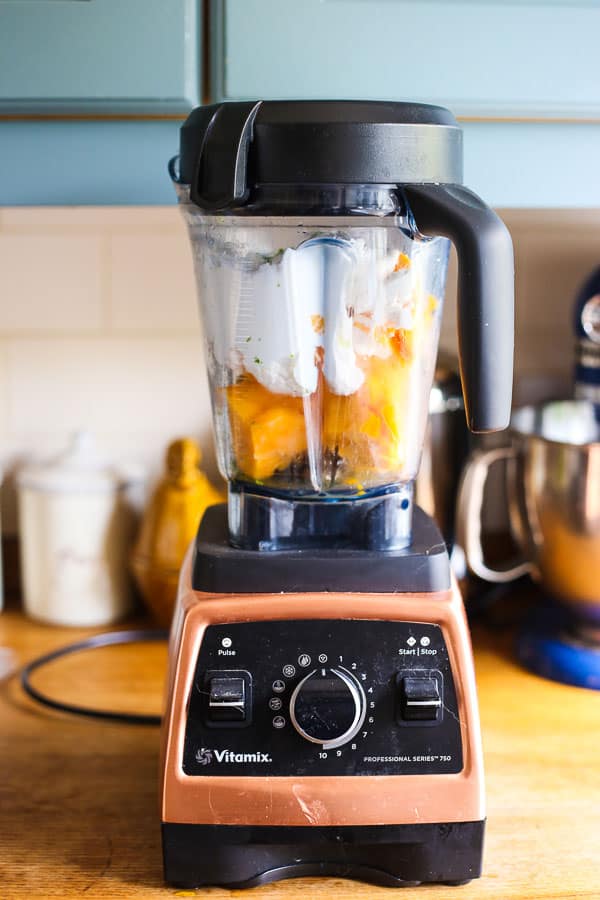 How to make Vegan Mango Lime Fro-Yo
The recipe is so simple:
peel and de-stone your mangos, cutting the flesh into cubes.
Place in the freezer overnight
Blend it the next day with the limes and coconut yoghurt.
Blending Tip: You might need to really push the mixture down to the blender's blades and scrape the sides often as there is not a lot of liquid involved.
This fro-yo is best straightaway out of the blender when it's very scoopable and smooth. However, you can decant it and place the fro-yo into the freezer for a couple of hours to firm up a little. The longer you leave it in the freezer though the more icy it will become.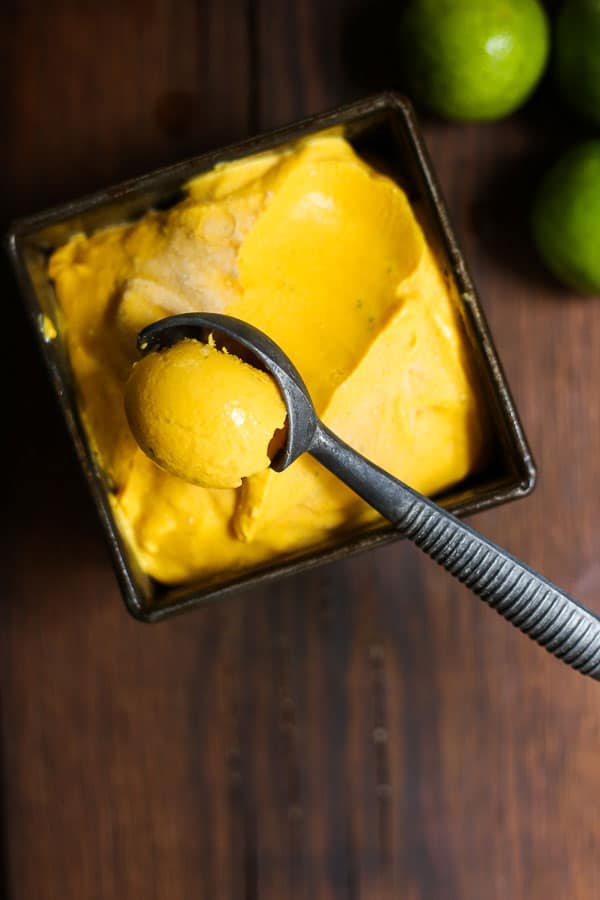 In our house every season is fro-yo season but it's pretty exciting now we are dangerously entering summer territory and there is absolutely no excuse not to be eating homemade fro-yo.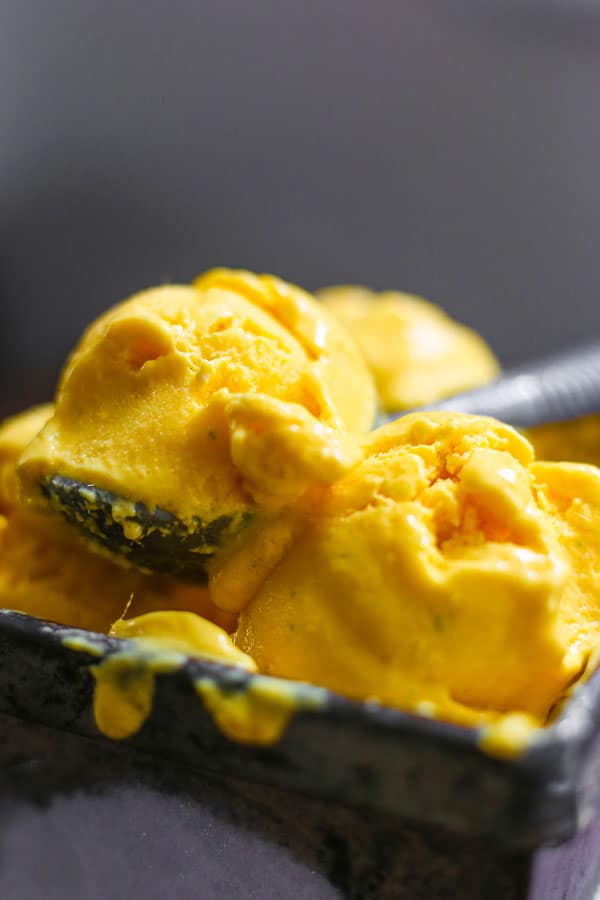 Are you looking for another easy vegan frozen treat?
Then why not try this Watermelon Mint Granita?
SHOP THE RECIPE >>> Blender
I urge you to give this Vegan Mango Lime Fro-Yo a try. If you do then please leave a comment below and give the recipe a rating which helps others find the recipe on Google. If you then go on to use this recipe as a launch pad for your own culinary creation then I'd also love it if you'd share it and tag me on Instagram. It is so lovely for me to see your versions and variations of my recipes.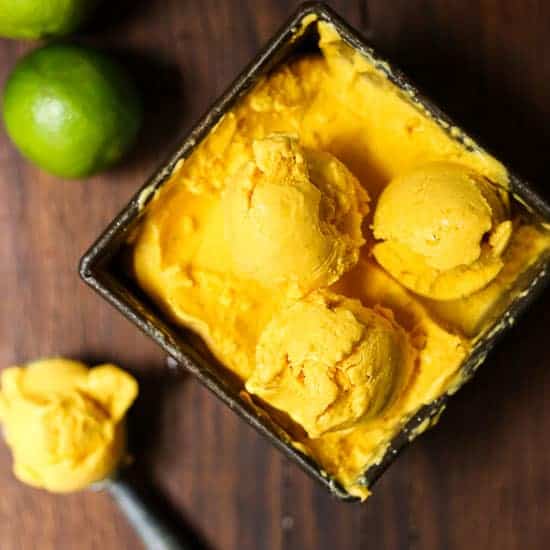 Vegan Mango Lime Fro-Yo
This Vegan Mango Lime Fro-Yo is made using just three ingredients. If you can get hold of Alphonso mangos then your frozen yoghurt will be the sweetest, most fragrant and refreshing treat you'll make this summer.
Ingredients
600

g

frozen mango*

zest and juice of 2 limes

250

g

coconut yoghurt
Instructions
Place all the ingredients into the blender.

Blend on medium speed, pushing everything down to meet the blade and scraping the sides often until the fro-yo is smooth.

Eat straightaway or decant and place in the freezer for a couple of hours to firm up a little.
Notes
*If using fresh mango then peel, de-stone and cube the mango and place in the freezer overnight before using. I used Alphonso mangos in this recipe.
Nutrition
Calories:
85
kcal
Carbohydrates:
16
g
Protein:
2
g
Fat:
1
g
Cholesterol:
5
mg
Sodium:
20
mg
Potassium:
232
mg
Fiber:
1
g
Sugar:
15
g
Vitamin A:
1125
IU
Vitamin C:
36.6
mg
Calcium:
61
mg
Iron:
0.2
mg
Have you tried this recipe?
Head to the comment section and let me know what you think!