If you cook a lot then there are a bunch of tasks which you will be doing on a regular basis like chopping onions or crushing garlic. It's these menial jobs which can sometimes add a good few minutes onto preparing your meal and let's be honest, those few minutes can sometimes be better spent thumbing through Grazia or hopping amongst the Sky channels.
This is why I love infused oils; garlic is such a good infused oil mainly because of garlic's innate tendency to burn easily, so while I am very careful about using fresh garlic in the oven, if all the garlic flavour is within the oil then you don't need to worry. Also I do get fed up of always peeling and crushing those suckers, I must do it nearly every day. So having an oil where the hard work is done for you is so useful.
This particular infusion of olive oil is brilliant for slathering over a chicken before it goes on to roast. You can also use it drizzled over barbecued meats or steamed vegetables for instant flavour or in salad dressings which cuts out mincing about with mustard and vinegar emulsions, chuck this onto your leaves and you're golden.
So the main thing I am really trying to get across here is that for about 30 minutes of not too stressful labour of a weekend you can produce an oil that will help you cut down time on your cooking for the next couple of weeks. Just as long as you like all your meals flavoured with lemon and garlic, but who doesn't?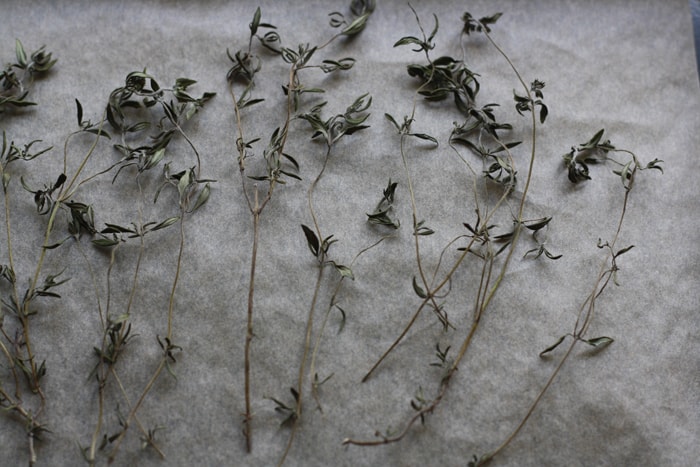 Of course you can use whatever herbs you like, the woodier herbs tend to dry better than the more leafy ones so will impart flavour more easily. It is important to use dried herbs rather than ones picked fresh as mould will gather on fresh herbs floating about in oil. The same goes for the garlic and lemon but I advise you fish those out of the oil anyway then you don't have to worry about botulism or anything. The other oil infusion I also regularly make is chilli oil. Prepare it in the same way as the garlic infusion by simmering the oil with the chilli then removing the chilli before you decant it.
As a footnote, one of the directions below calls you to peel a whole head of garlic. If you find this a bit of a nuisance then you obviously haven't seen Martha Stewart's excellent tutorial which explains how the job can be done in under a minute. And since I tested it out for this recipe I can confirm that it does actually work.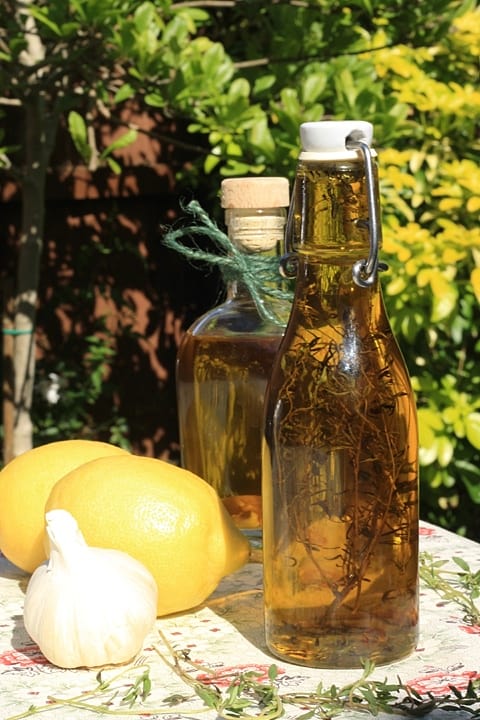 Lemon, Garlic and Thyme Infused Olive Oil
A few sprigs of thyme
1 head of garlic
3 strips lemon zest
500ml olive oil
First of all dry the thyme by putting the herb on baking parchment on a baking tray and place in the bottom tray of an oven at the lowest setting you have. Leave the door slightly ajar and bake for about 20 minutes. Remove and set aside.
Remove and peel all the garlic cloves from the head of the garlic.
Then place the garlic, along with the lemon zest and olive oil in a wide bottomed saucepan.
Heat the oil on a low setting, never bringing to a simmer, for about 30 minutes.
Remove the lemon and garlic with a slotted spoon and leave the oil to cool before decanting into a jar along with the dried thyme.
This should keep well for about 2 weeks.