This post contains affiliate links. Please read my disclosures.
Nothing brings in summer like a cool refreshing glass of Pimms. This Homemade Pimms is delicious and great fun to have a bash at.
Last week I had a helluva time fine tuning my Homemade Pimms recipe let me tell you. Exhausting taste testings were happening at all hours of the day just so I could get the recipe extra right.
It was essential that these taste testings happened in the garden as well, when the sun was just so, to guarantee the drink would work perfectly in an authentic environment. Even when I was ultra sure that the balance of sweetness from my cucumber, lemon verbena and mint syrup was exactly correct and the blend of the gin, vermouth, orange curacao and aperol complimented each other impeccably, well, then started the road testing of all the mixers.
I cannot tell a lie, it was a very trying week, and did not at all involve getting terribly merry in the middle of the working week for kicks. It was extremely hard work. You can thank me later.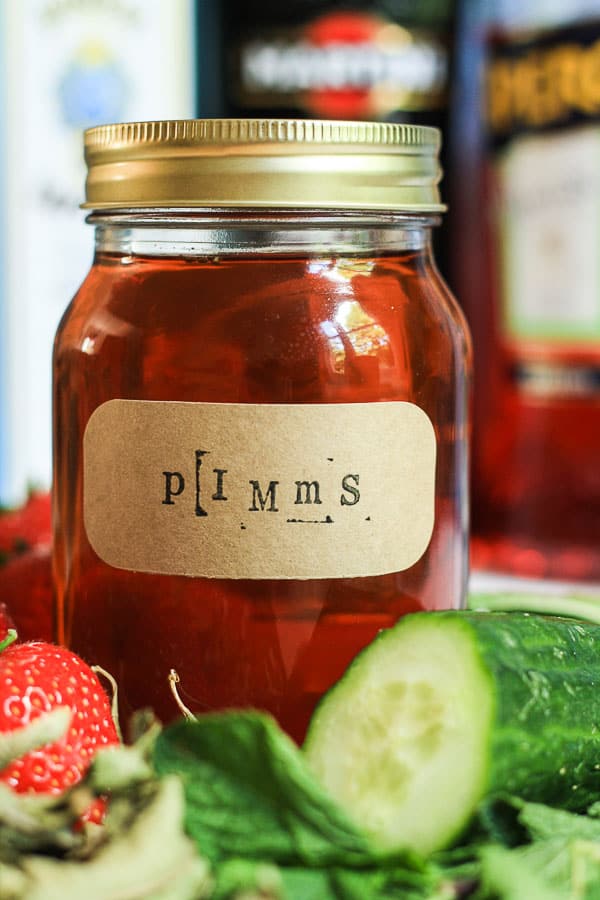 Pimms is the best-known brand of summer fruit cup and it has become synonymous with the cocktail. It was invented in 1823 by James Pimm at The Oyster Bay in Lombard Street, London and was the first mass-produced summer fruit cup.
Before then pubs and households just used to make their own blend, consisting of an alcohol base, usually gin, infused with herb and fruit extracts, then topped with a mixer to create a long drink.
These days we are completely reliant on trusty old Pimms to herald our barbecues, sports days and of course Wimbledon, and why not, it's a best seller for a reason.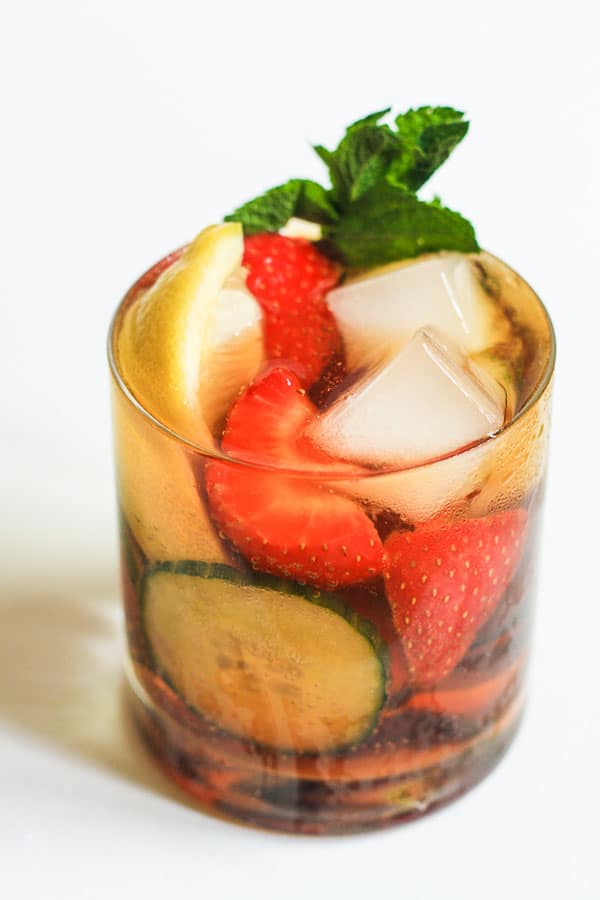 It has been very important for me to get a good homemade version of the summer cup on the go. It's absolutely quintessential this time of year and should you run out mid-barbecue it can incite riots amongst even the most polite members of middle England.
A social gathering throughout the months of May-September would not be worthy of this country should Pimms not be involved and the great thing about it is how healthy it is. You should stuff as much fruit into your huge plastic jugs as you possibly can as then it has the added benefit of counting as part of your five a day, and that's not even being facetious, like when you're swigging back the sunny d and claiming it's all for the greater good.
In the early 1800s when summer cups were at the most popular they were sold as having health benefits, and I don't see why we need to quibble, they all lived to a ripe old age back then didn't they?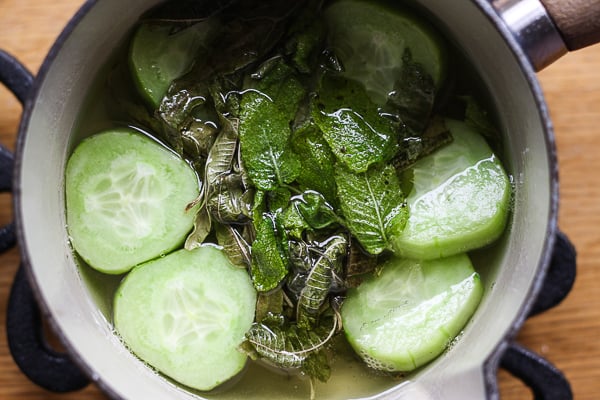 Making your own Pimms is extremely easy; it begins with an infused sugar syrup. All you need to do is add equal quantities of sugar and water in a saucepan and heat until the sugar has dissolved, then tuck in mint leaves, lemon verbena and cucumber, which are the quintessential flavours to a summer cup.
Simmer for a couple of minutes then take off the heat to infuse for an hour or so. This sugar syrup is then the base to which you add the alcohol, it just takes the edge of the potent concoction and sparks up notes of summer before you have even mixed it with all the fruit.
The recipe for the syrup below is slightly too much for the amount of summer cup I made, I would have reduced the quantities for you, but making extra is a huge boon as I have been experimenting with this syrup in my drinks left, right and centre. It turns out it is pretty versatile, but the most successful use of it has been drizzling a bit in the bottom of a glass of prosecco to make the most summery bellini you could ever imagine. It's definitely worth making the syrup for this purpose alone.
I didn't want my Pimms to be as sweet as the commercial stuff so I was a bit restrained when adding the sugar syrup. I also achieved a more personal blend by adding a splosh more gin that a traditional recipe might include and also a little spritz of aperol which just grabs you just at the end.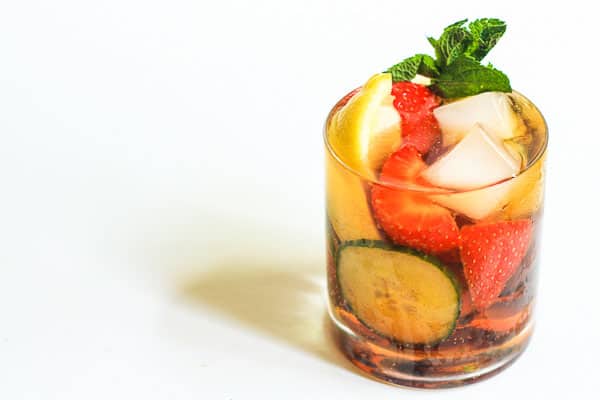 Now, the main issue I have when drinking Pimms out and about is not the drink itself but the mixer that it generally paired with – commercial lemonade. It's just too sweet for me and I can usually just about manage a whole glass before I'm done.
I much prefer the taste of the other traditional mixer, ginger ale, but even that can be a bit sweet towards the end of the glass, particularly when you have reached the booze soaked strawberries.
After my trials and tribulations going through all the mixers last week I had two absolute standouts. My preferred mixer was half ginger ale (preferably Fever tree) and half tonic water (ditto). Or, my personal favourite, if you want to go completely off piste, was when I paired the summer cup with iced tea. For me, it had the perfect levels of sweetness and refreshing vitality.
I find the best ratio of any of your preferred mixer is 1 part summer cup to 3 parts mixer.
The final step is to make a huge jug of the stuff, fill with ice and a fruit salad of your choice, but the absolute necessities to include are cucumber, strawberries and fresh mint. The latter of which you must leave whole, there is nothing worse that picking bits of chopped mint out of your teeth when you're trying to have a civilised conversation. Although feel free to add any other fruit you fancy as anything else is just fruity gravy.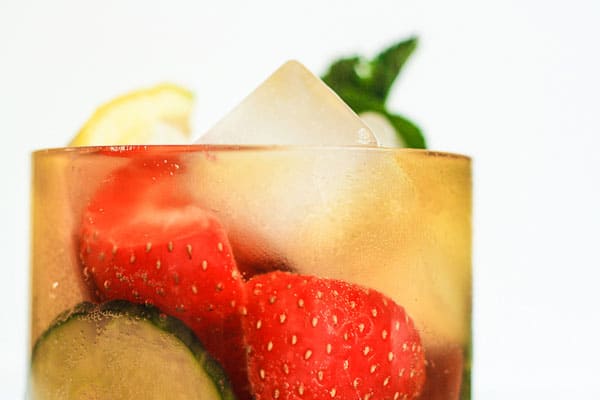 I urge you to experiment with your own summer cup this summer and you'll grow even more fond of this most cherished British summertime tradition.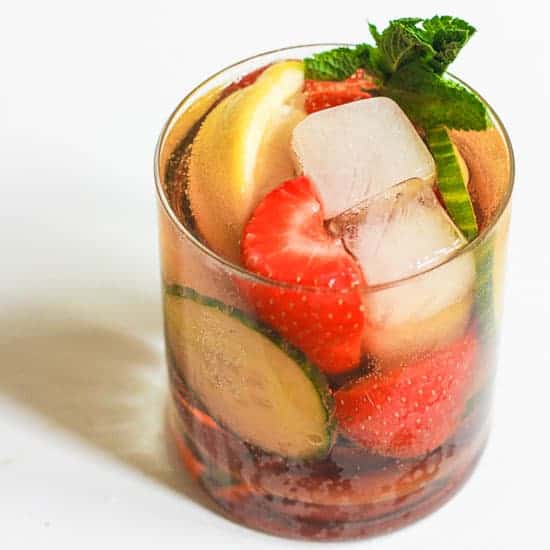 Homemade Pimms
Nothing brings in summer like a cool refreshing glass of Pimms. This homemade version is delicious and great fun to have a bash at.
Ingredients
For the cucumber mint syrup:
250

ml

water

250

ml

white sugar

½

cucumber

tiny handful lemon verbena

2

sprigs apple mint
For the Pimms:
300

ml

Gin

200

ml

Red Vermouth

-

Martini Rosso

100

ml

Orange Curacao

-

Triple Sec

1

tbsp

Aperol

200

ml

summer cup syrup
For mixing:
Either lemonade, ginger ale, tonic water or iced tea
For serving:
Strawberries, mint leaves and cucumber

Slices of orange, apple, lemon and other fruits are optional
Instructions
To make the syrup, heat the water and sugar in a small saucepan until the sugar has completely dissolved.

Add the other ingredients and bring to a gentle simmer. Simmer for 5 minutes.

Remove from the heat and set aside the saucepan to cool and the flavours to infuse for 1-2 hours. Strain then decant the syrup into a jar, you won't need all of it for the recipe.

Mix 200ml of the syrup with the alcohol, stirring it all together well. Decant into a jar until you are ready to drink it.

Make up with 1 part summer cup to 3 parts mixer, plenty of ice and lots of mint, cucumber and chopped fruit.

The summer cup will keep happily in your drinks cabinet for the whole of the summer, not that mine lasted the week.
Nutrition
Calories:
590
kcal
Carbohydrates:
64
g
Protein:
1
g
Fat:
1
g
Saturated Fat:
1
g
Cholesterol:
3
mg
Sodium:
74
mg
Potassium:
68
mg
Fiber:
1
g
Sugar:
11
g
Vitamin A:
75
IU
Vitamin C:
1.6
mg
Calcium:
7
mg
Iron:
0.1
mg
Have you tried this recipe?
Head to the comment section and let me know what you think!