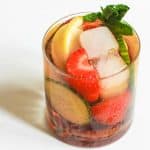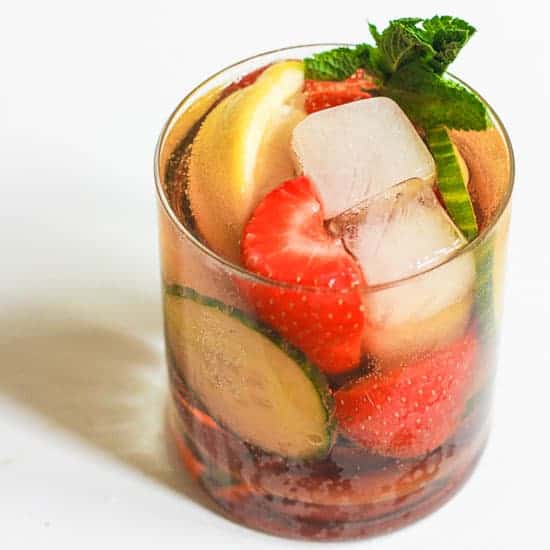 Print Recipe
Homemade Pimms
Nothing brings in summer like a cool refreshing glass of Pimms. This homemade version is delicious and great fun to have a bash at.
For the cucumber mint syrup:
For the Pimms:
300

ml

Gin

200

ml

Red Vermouth

Martini Rosso

100

ml

Orange Curacao

Triple Sec

1

tbsp

Aperol

200

ml

summer cup syrup
For serving:
Strawberries, mint leaves and cucumber

Slices of orange, apple, lemon and other fruits are optional
To make the syrup, heat the water and sugar in a small saucepan until the sugar has completely dissolved.

Add the other ingredients and bring to a gentle simmer. Simmer for 5 minutes.

Remove from the heat and set aside the saucepan to cool and the flavours to infuse for 1-2 hours. Strain then decant the syrup into a jar, you won't need all of it for the recipe.

Mix 200ml of the syrup with the alcohol, stirring it all together well. Decant into a jar until you are ready to drink it.

Make up with 1 part summer cup to 3 parts mixer, plenty of ice and lots of mint, cucumber and chopped fruit.

The summer cup will keep happily in your drinks cabinet for the whole of the summer, not that mine lasted the week.
Calories:
590
kcal
|
Carbohydrates:
64
g
|
Protein:
1
g
|
Fat:
1
g
|
Saturated Fat:
1
g
|
Cholesterol:
3
mg
|
Sodium:
74
mg
|
Potassium:
68
mg
|
Fiber:
1
g
|
Sugar:
11
g
|
Vitamin A:
75
IU
|
Vitamin C:
1.6
mg
|
Calcium:
7
mg
|
Iron:
0.1
mg