This post contains affiliate links. Please read my disclosures.
Goats Cheese, Honey and Thyme Cheesecake is the perfect end to a meal. Use the best honey you can find for the deliciously complex and delicate taste.
Last week we were treated to a wonderful talk on bees and beekeeping at our WI meeting. I learnt basic bee stuff in Biology back in the day but I don't remember them being this fascinating. They are like little machines, programmed to do their own special job within their ecosystem.
If something breaks down in the chain then they intuitively follow through with a back-up plan, for instance if the queen dies then they just automatically make another by feeding one of the cells solely with royal jelly rather than honey and pollen. Nature really has it in for the honey bee though and they are constantly under threat by all sorts of diseases and mite infestations.
After the talk we were encouraged to try a selection of local honey. In the past I have never been the greatest honey monster, it always just seemed like sweet goop. However, this honey isn't like your Sainsburys Basic brand. Instead it is so florally fragrant, you can almost see the wildflowers dancing about in the breeze.
It was so interesting that the pots of honey brought from two different producers had completely different tastes, I never knew honey was this complex. The joy of good ingredients is that they can speak directly to you and after my second taste of the honey I immediately imagined this delicate cheesecake sweetened only by the honey bouquet.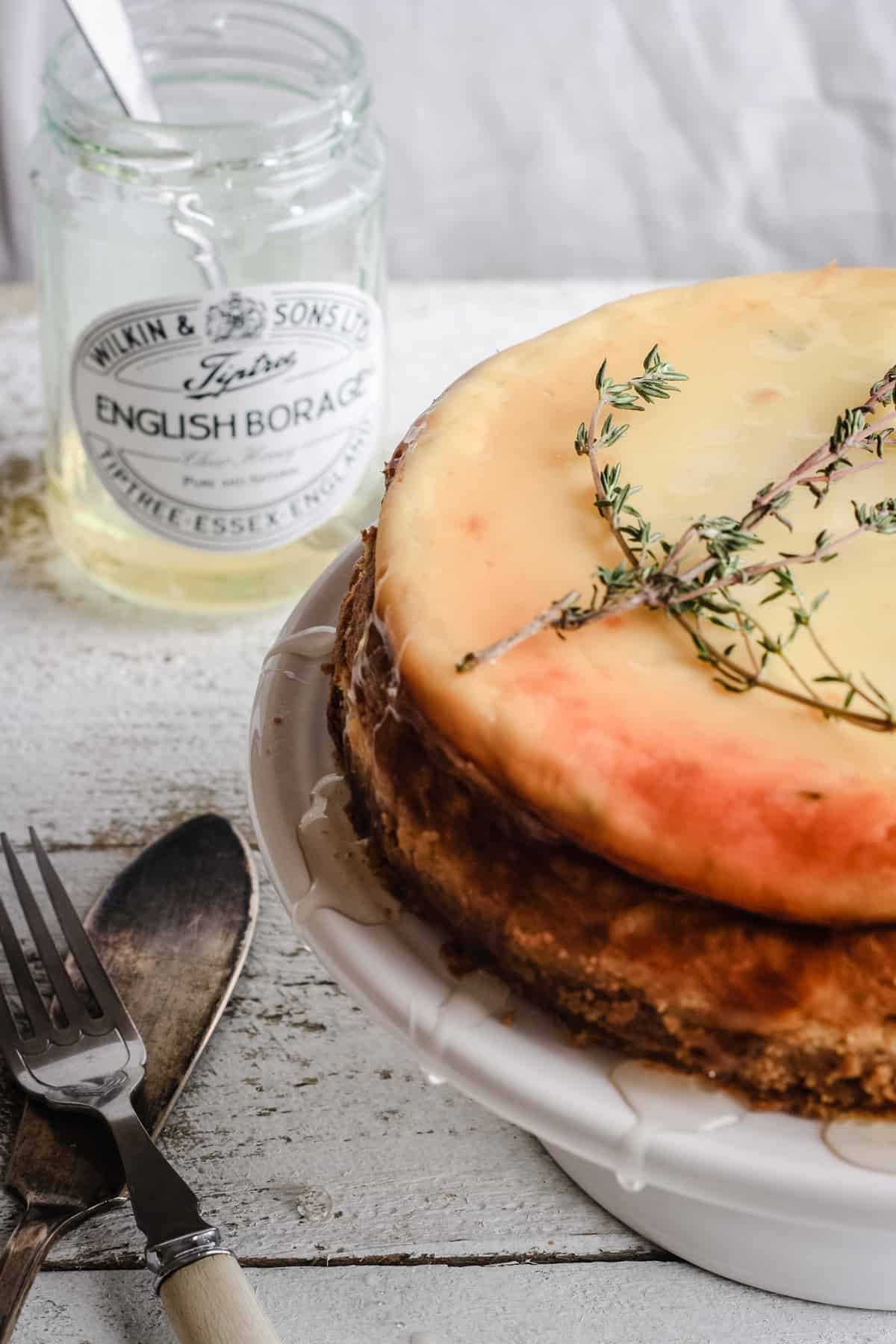 London honey is considered a particular delicacy would you believe due to the vast variety of flowers that the bees have access to. It's not cheap as the batches are made by independent beekeepers, but if you can possibly source local honey from your local farmers market it is totally worth it and the best thing is that you will also be supporting your neighbourhood honey bee.
This honey doesn't need to be relegated to merely toast or crumpets, although would certainly would pep up breakfast time no end, but try it in delicate dressings on your salad leaves, drizzled on top of a light vanilla ice cream or do what I've done with this Goats Cheese, Honey and Thyme Cheesecake and create a bit of an event out of it.
If you don't have a food processor, then you can easily prepare the digestive base by hand by placing the biscuits in a plastic food bag, tying the end off so the crumbs don't escape and giving them a good bash with something heavy, like a rolling pin. It's really very satisfying.
This cheesecake would be perfect at the end of a meal in lieu of a cheese course, it's not entirely sweet or savoury but steals pleasurably from both camps.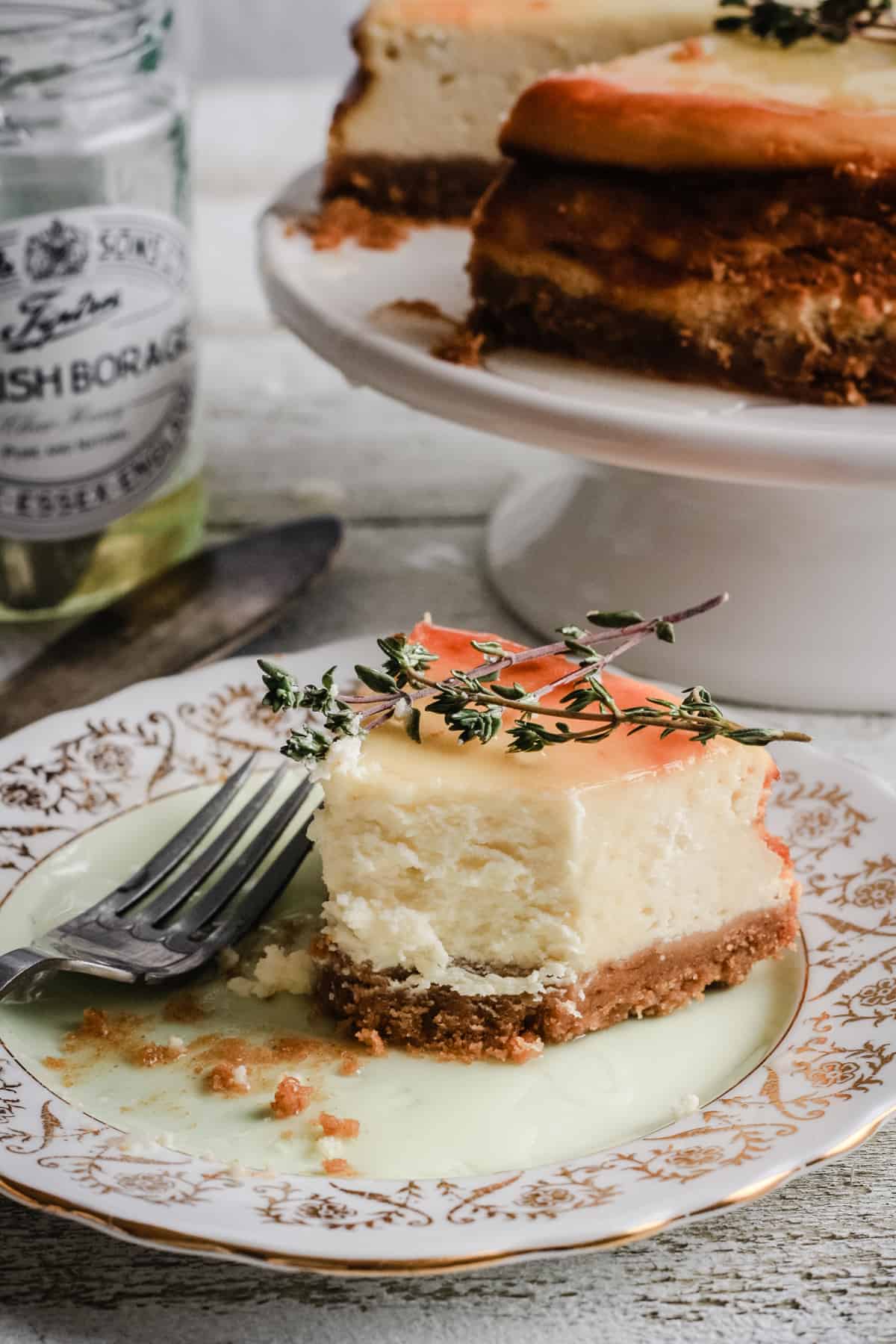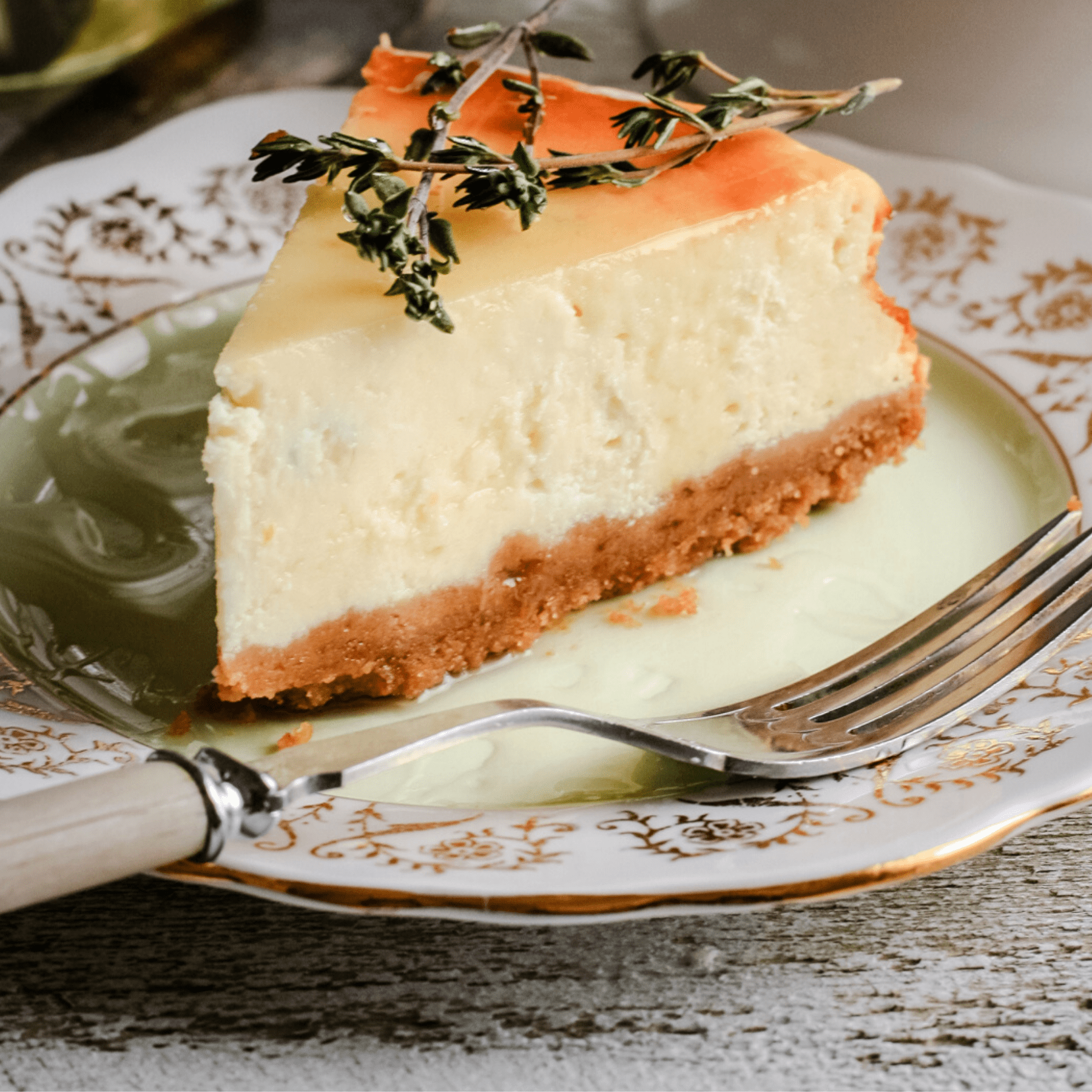 Goats Cheese, Honey and Thyme Cheesecake
Goats Cheese, Honey and Thyme Cheesecake is the perfect end to a meal. Use the best honey you can find for the deliciously complex and delicate taste.
Ingredients
175

g

gluten-free digestives*

75

g

unsalted butter

-

melted

pinch

of salt

375

g

soft goats cheese

150

ml

british wildflower honey

-

or whatever honey is local to you

150

g

sour cream

3

eggs

1

teaspoon

fresh thyme leaves

zest of 1 lemon

pinch

of salt

Extra honey to drizzle
Instructions
In a food processor whizz up the digestive biscuits until they resemble breadcrumbs and then pour in the melted butter until completely combined.

Press into an 18cm loose-bottomed cake tin and place in the fridge for 15 minutes. Meanwhile pre-heat the oven to 150°C.

Then place the digestive base in the oven to bake for 15 minutes.

While it's baking, beat the goats cheese and the honey in a large bowl until smooth.

Add the sour cream and beat again until smooth.

Mix in the eggs, one at a time.

Add the thyme leaves, lemon zest and a pinch of salt and stir in until everything is well incorporated.

Pour the batter on top of the biscuit base and bake for 40 minutes until the top has set but still has a little wobble in the centre.

Remove from the oven and leave to come to room temperature in the tin. Then transfer to the fridge and leave to chill for at least 4 hours.

Remove from the tin and drizzle with honey before serving.
Nutrition
Calories:
401
kcal
Carbohydrates:
33
g
Protein:
13
g
Fat:
25
g
Saturated Fat:
15
g
Cholesterol:
113
mg
Sodium:
317
mg
Potassium:
101
mg
Fiber:
1
g
Sugar:
23
g
Vitamin A:
935
IU
Vitamin C:
0.6
mg
Calcium:
103
mg
Iron:
2.1
mg
Have you tried this recipe?
Head to the comment section and let me know what you think!